A great week with some of our favourite regular customers at the lodge with us!
Belize has settled into a regular cycle of good weather and the fishing was excellent. Our overcast days produced good early morning Tarpon fishing, including the big migratory fish. The early morning calm winds allowed us to fish some mainland spots for Tarpon, also, even getting up some of the river systems. A couple of Snook were caught over there also, and many more spotted and stalked. Our sunny days were all about the Permit. Dan and Sandy both caught their first Permit. Dan caught a big one while his guide was cooking a shore lunch. Dan was the first to say that it was only because of everything Michael taught him, though.
Paul has fished with us and Captain Junior many times, but Junior showed him a lot of new water this week as they explored several new areas. Paul wore himself out early catching some big tarpon, but rested one day while fishing a few hours with Mariano in the lagoons. He has a few days left to find some more Permit!
Our good friend Bob finally got all of his Grand Slam fish caught in one day and he will be enshrined in our Grand Slam Wall of Fame! He has been very successful while fishing with us but this one accomplishment has been very elusive for him. Congratulations Bob!
Forrest has returned to host an Orvis trip and we look forward to the fish tales from the group in our next fishing report. Good luck to everyone out there chasing the dream!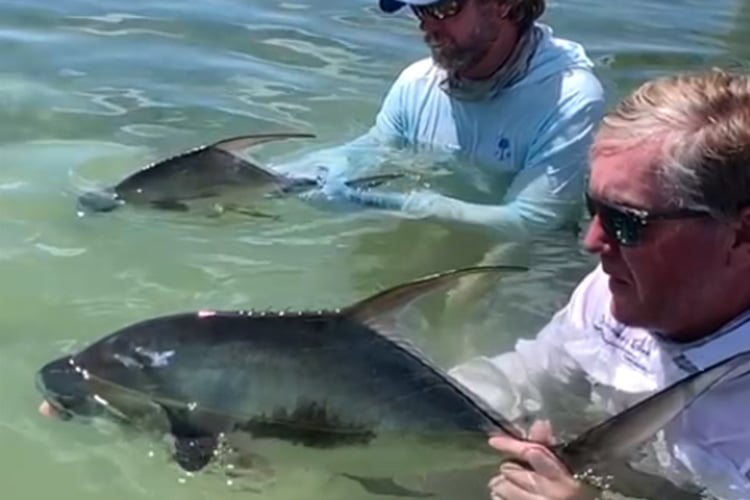 WEATHER:
The ideal mix of overcast mornings and sunny afternoons provided the perfect conditions for targeting tarpon early and permit later in the day.
Wind:
Mixed, 3-13 Mph
Air Temp:
Hi: mid 80s Low: low 80s
Moon Phase:
Waning crescent September 6
Sunrise / Sunset:
Sunrise 5:39 am Sunset: 5:59 pm
WHAT GUESTS WERE CATCHING
Bonefish
More than 220 Bonefish were landed averaging 2 to 3 lbs, several ranging 3 to 5 lbs
Permit
7 for the week.
Tarpon
9 Tarpon landed.
Other Species
Two snook plus some Mangrove Snapper, Barracuda, Mutton Snapper, and Jack Crevalle.
Grand Slams
Bob, A regular angler who has had many successful trips with us, finally added a Grand Slam to his list of accomplishments. Congratulations Bob!
CONTACT US
If you would like to learn more about the stunning El Pescador Lodge, make sure you take a look at our tour page for all dates, pricing and availability. If you have any questions regarding any of our other saltwater fly fishing destinations, contact Peter Collingsworth on 01603 407596 or via email at peter@sportquestholidays.com.