Another epic week on Farquhar, to say the least. The new moon on the 25th of October meant that the week's tides were very much suited for surf walks and the walks did not disappoint.
Father and son duo, Shaun with his dad, Toni, had a magical week. The pair are responsible for the driftwood sculptures you may have seen, or will one day (soon) see around Alphonse Fishing Co. managed destinations. This week they brought a very unique and lifelike Bumped Parrotfish sculpture to the home of the Bumpy, Farquhar. So, understandably, their goal for the week was to capture one of these majestic fish.
On the first day Shaun managed a nice Giant Trevally of 84 cm. He then managed another GT throughout the week. While on a surf walk, he managed what he set out to do, getting his hands on not only one but two Bumpy's, the biggest being 108 cm. Also on the top of his dream catch list was a Napoleon Wrasse, which he managed to land on the walk too.
With no luck on his Bumpy yet, Toni was determined on the last day to bring it home. He came back with a 113 cm Bumpy, a Napoleon wrasse and a Saddleback Grouper – a very happy man!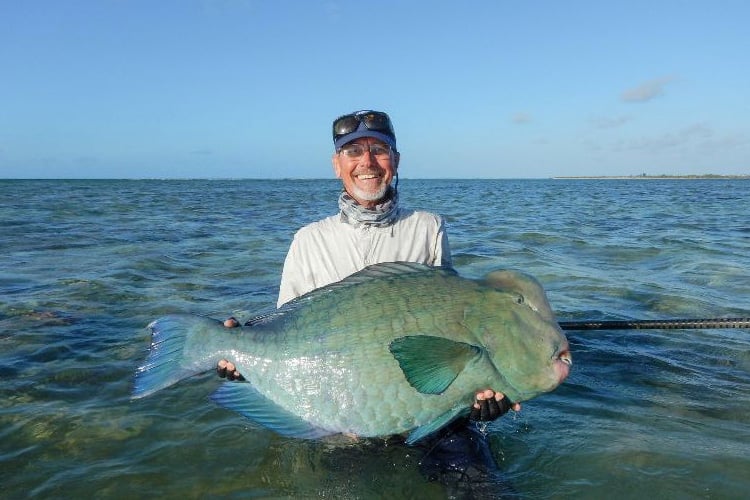 Tapani, a return guest, had an unquestionably fabulous week. He managed three Bumphead Parrotfish, the biggest being 110 cm, a great-sized fish. He also managed to get a Moustache Triggerfish.
Alexander and Rafael, on their first trip to the Seychelles, had a great time. Between them they managed to get the most Bonefish on a skiff for the week. On a surf walk, they landed a Moustache Triggerfish – a first for both of them and a special memory that they will be able to share for years to come!
Rasmus and Martin from In The Loop magazine also joined us and had an incredible week getting some good fish to hand. Martin managed a beautiful GT and a nice 103 cm Bumpy. Rasmus wasn't going to be outdone by his boat partner and managed two Bumps in a day on the flats. He also got a Moustache Triggerfish and a lifetime catch of a Golden Trevally of 79 cm.
Stay tuned for more from Farquhar next week!
Tight lines,
Alphonse Fishing Co. on Farquhar Atoll
TOTAL CATCH STATS THIS WEEK:
Giant Trevally 3
Bonefish 36
Triggerfish 4
Bumphead Parrotfish 9
Tight lines,
From Alphonse Fishing Co. on Farquhar Atoll
CONTACT US
If you would like to know more about the fantastic fishing opportunities on offer on Farquhar Atoll, you can contact our saltwater fly fishing expert Peter Collingsworth on 01603 407596 or via email at peter@sportquestholidays.com. He would love to speak with you.