"Africa is not for sissies", the thick bush in Gassa Camp Cameroon along the Faro river is definitely the location that this saying originated from. Immense, debilitating heat, leaving you constantly covered in sweat. The Tsetse flies swarm around you from dawn to dusk trying their best to spill your blood and avoiding any attempt to swat them away. Sweat-Bees and mosquitos also join in on the action. These are just a few things that one will need to deal with, but if you can make it through the onslaught of various insects and appreciate your surroundings, with a spirit of adventure and passion to explore with a fishing rod in hand, one with being rewarded with great fish, epic stories, memories to last a lifetime, some scars and some new friends.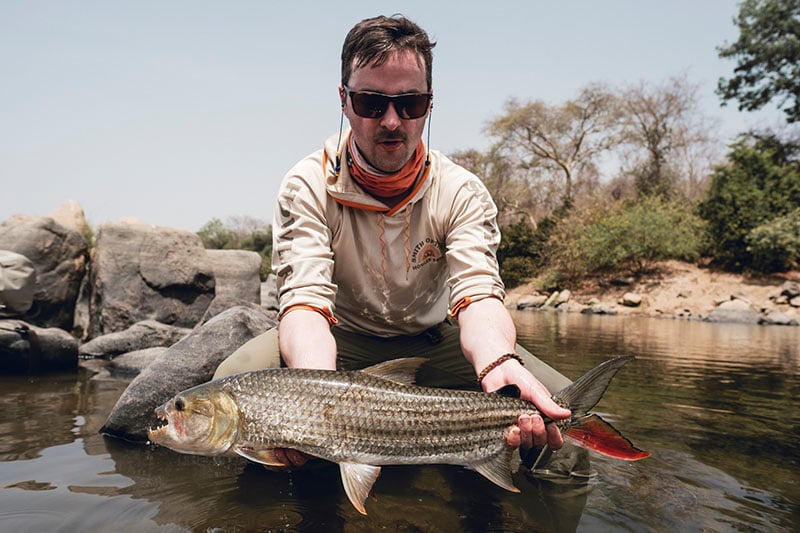 Henry, Sydney, George and Declan left the stormy United Kingdom to challenge themselves with some new species targeted on the fly. The fishing on the Faro is quite different to the salmon, trout and pike they regularly target. A challenge set and positive energy make for a deadly combination on any fishing trip. Confidence and patience are key, learning new skills and techniques that are transferable to other species across the globe will make for a better flyfisher with a well-rounded arsenal of tricks to target any species.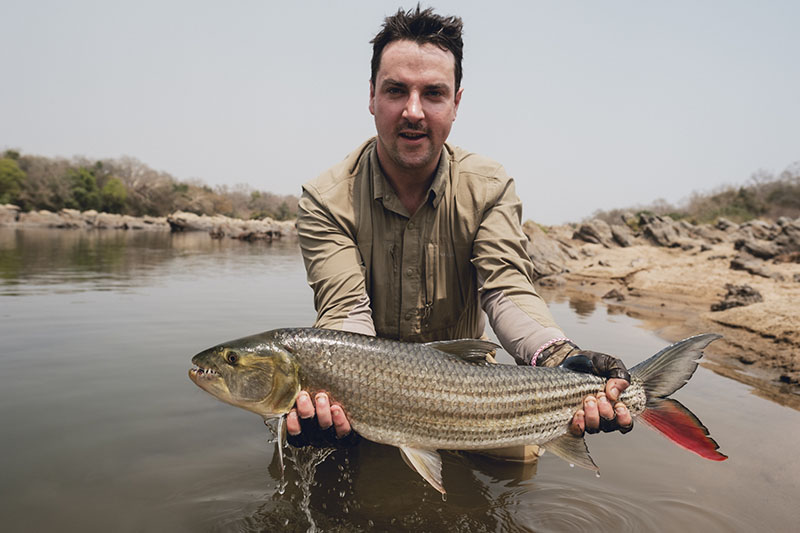 The Tigers were on form, aggressive eats and acrobatic antics that take one's breath away, sending adrenaline and stress levels through the roof. Sight fishing tigers is not a common occurrence on other rivers and seeing these brutes bully baitfish in the shallows is something truly astonishing. Explosive speed and gnashing teeth are what dreams and nightmares (if you are a baitfish) are made of. A good double-handed retrieve and solid strip-strike are paramount to success, sending a debarbed Clouser into a bony mouth is no easy feat. It takes a bit of practice if you are not familiar but the gents were eager to learn and quick to perfect it, resulting in some good tigers landing and many others lost in a battle of attrition and wits.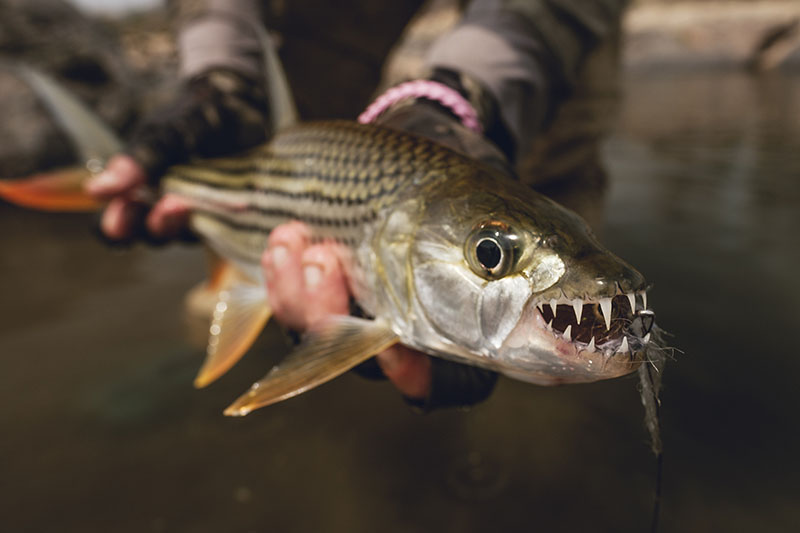 As a guide, we often witness some extraordinary sightings on the river and some highlights for myself personally this week we're watching a tiger of well over 12lbs hunting Tetra between 3 and 4lbs. Another group of six smaller tigers ranging between 4-6lbs hunting as a pack with a coordinated attack on some unsuspecting barbs and njuju at our feet. On another occasion Declan and Henry each hooking into good fish in short succession with these fish going aerial, higher than I have ever witnessed before, probably between 6 and 7 feet skywards, all in a small run one would imagine high altitude trout would call home.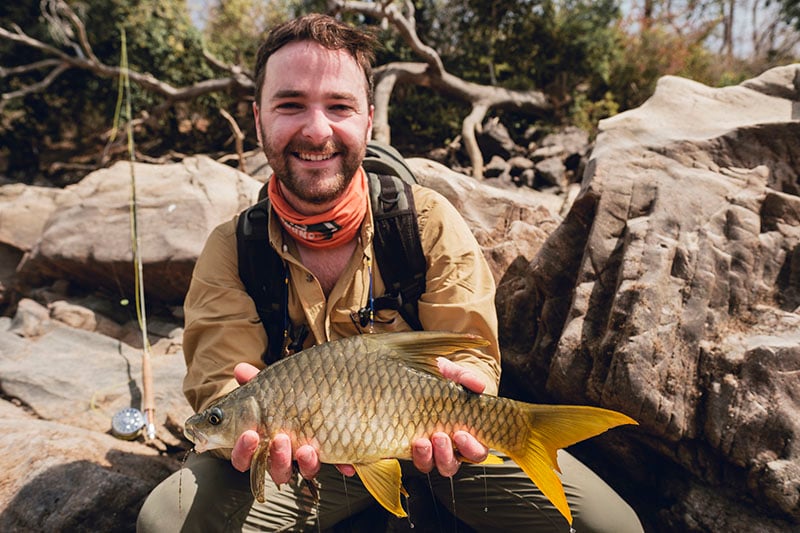 There were barbs aplenty and their technical requirements took a bit of patience and cunning. Many fly changes and more casts trying to intercept their constant change of depth and path. Some hooks opened on powerful runs, a few miss-timed strikes, tippets parted on excited hooksets and some running so far into the backing resulting in George nearly getting spooled. With only about two meters of backing left on the reel before the battle began and the distant fish was brought all the way back to be photographed.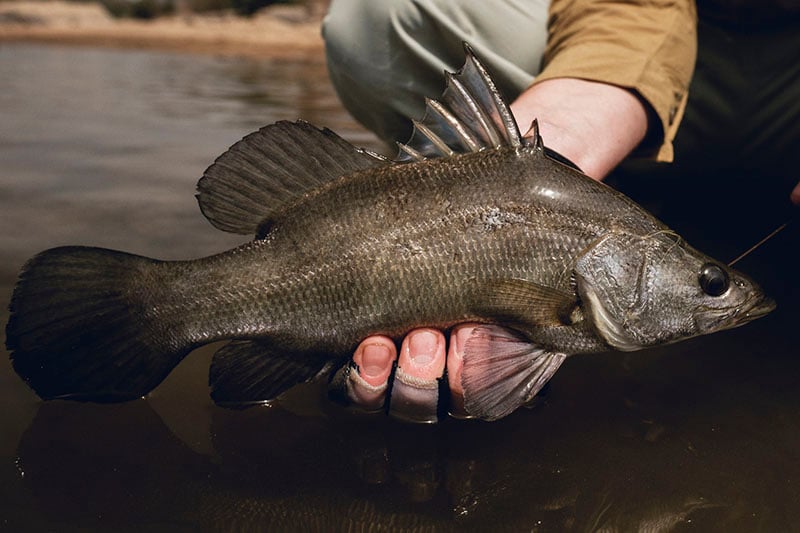 The eerie nighttime fishing under the Milkyway with Orion, the hunter, overhead and red LED lights to become disorientating navigating the uneven, rocky banks of the Faro is challenging enough, now imagine doing so with a 120cm, bucket mouthed Nile Perch on your line, keeping these monsters out of the oysters, caves and ledges is a challenge that takes all of your skill, a whole lot of luck and some quick thinking and reactions. Declan was challenged and rewarded with the fish of a lifetime. A fish so big, with such girth, is difficult to lift for photographs after an adrenaline-fuelled battle.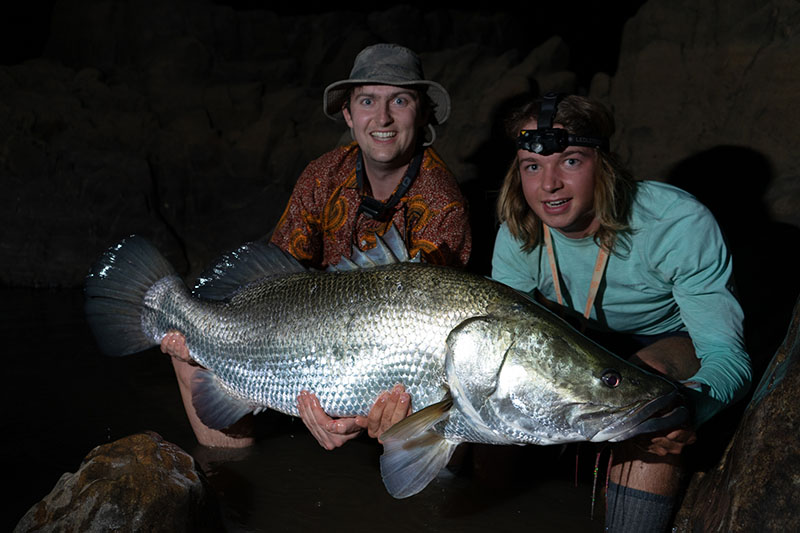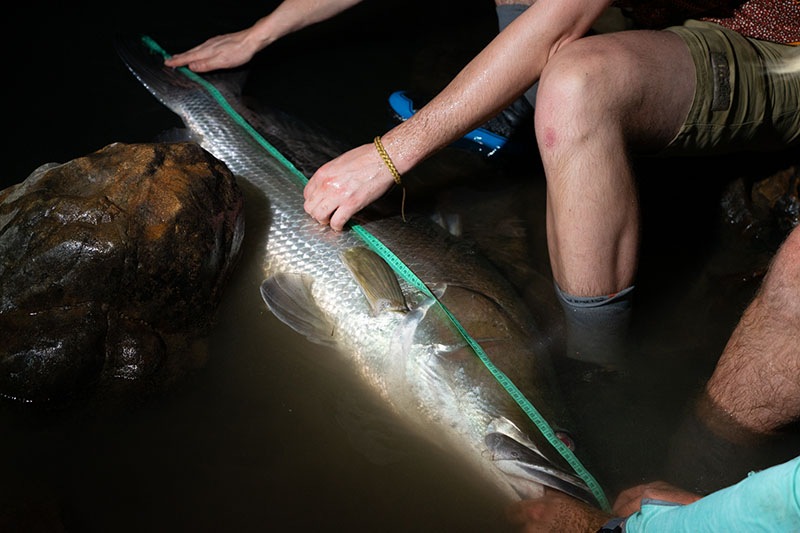 There were many other perch landed and some getting away right at the bank with one final headshake with wide-open mouth allowing slack in the line and hooks to come unbuttoned, leaving the angler and guide dejected, confused but still smiling from ear-to-ear. The one that got away will always heighten the longing for the next opportunity, it's what keeps us coming back and keeps us motivated to continue fishing late into the night while most others would be asleep, it makes the reward so much sweeter.
Besides the perch, barbs and tigers other species came to hand too. These included some good-sized tetra, giraffe catfish, vundu as well as a small labeo (Labeo coubie).
With new friends made and some great stories to share it was sad to have to bid farewell to the four gents. 'Africa is not for sissies' and these gents most definitely were not sissies, embracing the bush, the wildlife, birds and of course those irritating Tsetse flies. We are already looking forward to their return.
Until next time
Greg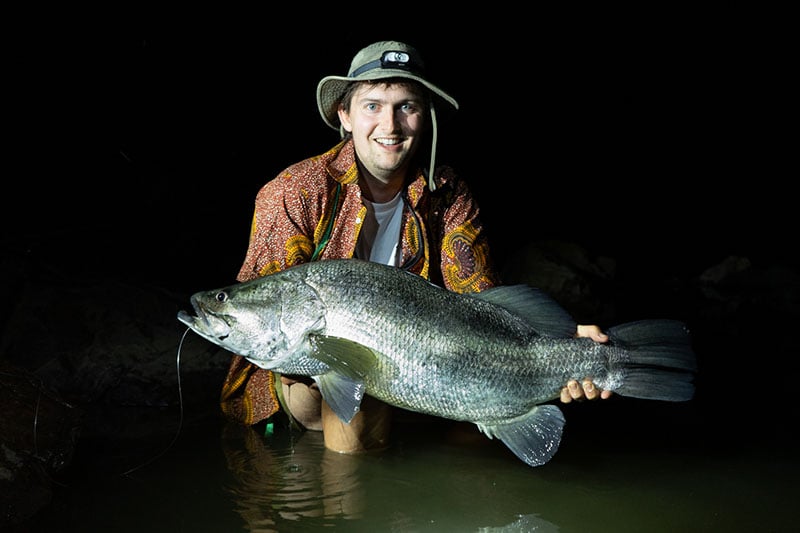 CONTACT US
If you fancy doing battle with the hard fighting Nile Perch of Cameroon then the Gassa Camp is a destination for you. If you'd also like any further information, you can contact our fly fishing specialist Peter Collingsworth on 01603 407 596 or email at peter@sportquestholidays.com.