We are really now starting to get regular reports from Northern Norway and its about time, these reports are what we have been waiting for, people fishing and having the best of times and hopefully not even thinking about what has been happening over the last few months.
This report has just been given to us from Nordic Sea Angling and comes from Alex and André who are the guides located at Å on the Lofoten Islands. For those of you who know this destination are very familiar with reports of huge Halibut and the amazing Coalfish, well it certainly didn't let this group down and they are smashing it. The guys who appear in the pictures, Jakob Lindberg, is a regular for Nordic Sea Angling and I have personally fished alongside him at Soroya and the guy is an animal when it comes to fishing. I thought I could fish for a few hours but this guy is hardcore and anybody who has ever fished with him will totally agree.
Anyway, I will hand you over to their report and hopefully some who are reading this are due to travel out with us this year and this really will get you all fired up:
Å On The Lofoten Islands Fishing Report 17th July
The monster Halibut have really lined up at our fishing spots lately! Just last week, our guests have landed another 4 over magic 2 meters!
Just over a week ago, giant # 4 came here on Å. On a jig, Petter Handeland hooked a real giant that they saw on the sonar coming up and looking at the baits before it took off. Petter had a waterwolf camera 3 meters above his jig but unfortunately, the camera broke and we did not get to see the film, it had been really tough! But after a hard fight, Petter finally landed a sick fish of a cruel 216 cm! Congratulations Petter!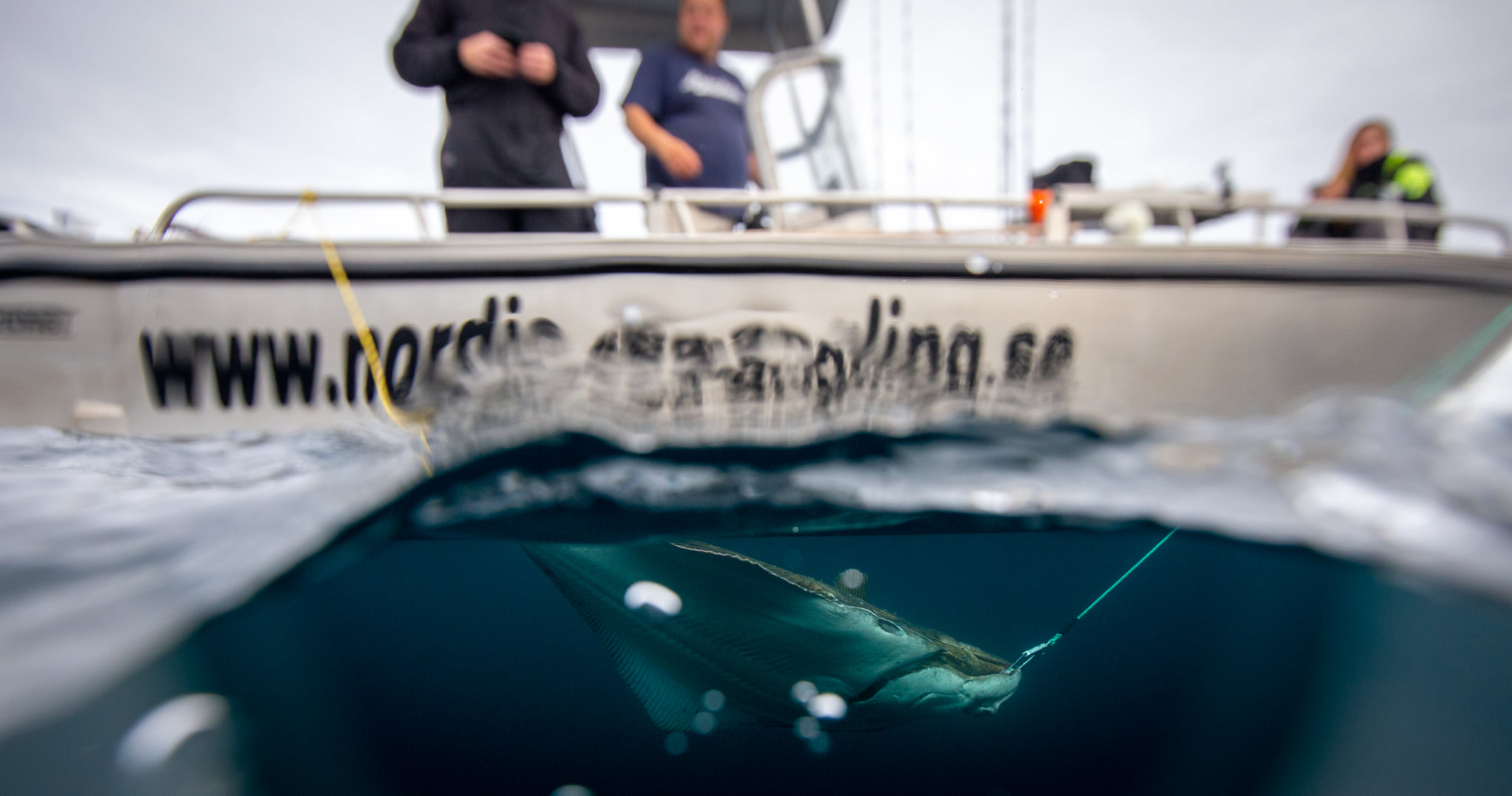 Sunday night it was time for # 5 when Nils, Frank and Lars were out for an evening/night shift. Lars hooked in a really heavy fish that the gang finally landed and measured to 202 cm!/est. 270lb Absolutely sick well done! Later that evening, Lars hooked in still really heavy fish. Unfortunately, this fish breaks loose at the boat's edge, but they estimated it to be even larger than the one they had just landed. Really sad that it came loose…
Last Saturday, a real regular came here, Jakob Lindberg who has many really big fish under his belt. His goal was nailed, halibut over 2 meters! This Tuesday it came, 235 cm/est. 440lb and a new NSA best of the year! A completely sick fish and the goal of the trip was completed! But it would not end there. During the week, Jakob has landed many real dream fish with a whole group that has gone over 150 cm/est. 104lb, with 170cm/est. 155lb and 188cm/est. 215cm on top of the "little" Halibut.
Last night I got a call from a slightly strained Jakob who was out fishing alone. He had hooked another monster and he needed help landing it. We jumped straight into the boat and were quickly on hand to assist! A couple of minutes after we arrived, he got it up to the boat and we were able to secure another magic fish of 223 cm/ est. 375lb Awesome Jacob!
We will see what this week can give, but you have to say that it feels, to say the least, hot out there right now!
Tight lines!
André & Alex
A huge congratulations to Jacob. Any one out there reading this may of noticed that they reported that he was out on his own….. Jacob normally fishes alone in Norway, we don't recommend this but if you saw his top weights of all the Species he has caught in Norway then who are we to comment.
With our very first group heading out there this coming Thursday we are very much looking forward to hearing about their trip.

If you would like to fish this destination then simply get in touch with us on 01603 407596 as we have very limited weeks available for the 2021 season but are NOW taking bookings for 2022 for as little deposit as £200pp
All the best, stay safe and tight lines
Paul