What a week on Å! The big girls are really coming out now!
Å on the Lofoten islands in northern Norway is probably one of our most popular destinations and dates sell out so quickly, we strongly recommend you get some dates booked in if you are in search of a giant Halibut. This report has been given to us by the guides over at Å of Giant number 9, 10 and 11!
It has been packed Here on Å. In the last two weeks, three giants have been landed, but another giant, in another sense, has stopped at Nordic Sea Angling. Alexander Lindgren, who has guided in Norway for 6 years, has chosen to move home to Sweden. An enormously good guide and beloved friend. Good luck to you and thank you for your years here at Å and Nordic Sea Angling you will really be missed.
You may have seen the video that we posted on our Facebook page where a giant Halibut appeared in the middle of a Coalfish fishing session. It swam around the boat and wanted to eat the five-kilo Coalfish one of the Dutch in the boat that was hooked. André, who was guiding the Dutch group, lowered a Mackerel attached to a circle hook. At first, the Halibut showed no interest, it just chased the much larger Coalfish. André tried everything, he put the Mackerel so close to his mouth that the antitwist-rig sinker happened to knock the giant in the head but it was completely untouched, it was on the warpath and completely set on a hull target. Eventually, that focus shifted from Coalfish to Mackerel and it was not long before the fight was in full swing. Everyone in the boat took turns fighting the fish. After a few turns up and down from the bottom, giant # 9 was secured at the boat edge and measured to 210 centimeters. Talk about a cool fishing experience.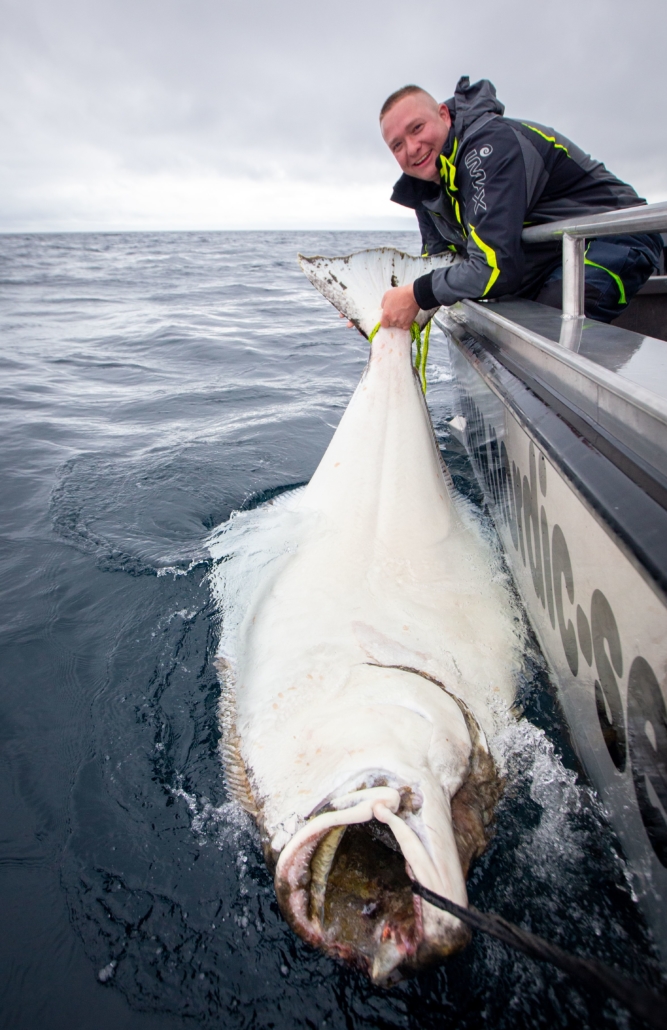 The following week we were visited once again by the big fish hunter Jakob Lindberg. A month ago, he managed to land two giants who both stepped over 220cm. Now it was time again. The first days he fished with his friend and they managed to get nice Halibut of 150cm + and Cod of 23.2 kilos but it was not until the end of the week when Jakob was alone in the boat that his rod would bend all the way to the cork. A short call over the vhf that he was hooked on something bigger and maybe needed assistance. Andreas who drove the guide boat was not far away and immediately drove there. Andreas jumped over to Jakob's boat where a barn door was seen that was about to break the surface. Quick jerks here and there and giant number 10 was landed which was measured at 220 cm. After shouts of joy and some pictures, it was allowed to swim back.
The next day it was quiet on the radio. All boats had tough fishing, and Jakob, who fished for about ten hours, had not had a single bite. But then suddenly the radio silence is broken. "I'm teasing a bigger fish." This time André lay closer and headed towards the Dane's boat. It took a while before the next update came. Over the VHF we could hear talking about how a fish, which made the giant the day before into a relatively small fish. During 40 minutes and 3 knots of current, Jakob fought the fish that would prove to be the new NSA best of the year and his fourth Halibut over 220cm this year. A monster of 237cm and giant # 11. Absolutely unbelievable, it's just lifting the hat. Congratulations.
This week it is quiet at the camp but next week we will have guests which we are really looking forward to.
Tight lines!
Andreas and André
Contact us
Looking to experience this destination for yourself? Give us a call anytime on 01603 407596 and we can discuss any open weeks at the time of you contacting. You can also have a look at all of our Sea Fishing Holidays here to get a head start.
Tight lines,
Paul