As many of us are restricted on our movements, the guides at many of the Nordic Sea Angling camps such as Havoysund, Vesterålen, Nappstraumen and Å are still in place and are gagging to take people out fishing. These guys live for guiding and it's in their blood to make anglers dreams come true so when they can not do this it must be driving them mad.
The weather has been awful up in Norway this year with many many days being blown off the guides are trying to keep busy with maintenance around the camp and other essential repair works, but sometimes when the weather breaks they simply must get themselves out there.
Remember, the fish are all still there and will be mega up for it when this is all over and the guides will be chomping at the bit to get you on the fish. So if you keep putting off booking something for 2021, now's the time to get something in place which will give you all something to plan for as having a holiday planned will keep you looking forward.
I will now hand you over to Douglas Dahlberg, head Guide at Havoysund fishing camp for a little report:
Havoysund Report
As you know, we have continued with no guests on our camp so decided to fish solo as we have really good weather with sun and 0 degrees in the air. Here comes a little report.
Now I have been up here in Havöysund for a month, winter has been extremely hard and when you just think winter is starting to let go, you wake up the day after with full snow chaos again. But nice spring days are starting to come closer and closer, my fingers start to itch as I really must go out fishing and for those of you who know me, I think you can just about understand what withdrawal I have when I am not allowed to guide in regular order…..
After a few hours of digging out the snow from a boat, I finally got out on the water, and last Thursday I finally got to go out on a Halibut pass.
The weather last Thursday was absolutely amazing and I went out in search of the first Halibut of the year, the big fish I lost in Nappstraumen at the beginning of March still terrorises me… so felt it was time for some revenge. After starting fishing in a shallow area and realizing after a while that I would have to come back there in the afternoon under the high tide to get better power, I made a transfer to a nice edge with 250-meter deep water just outside. It took no more than a minute in the new place before my rod arched over and the line came from my reel. Unfortunately, it was not much of revenge when it was only 70 centimetres but still a nice little Halibut that obviously got to swim back when it was not over 80 centimetres.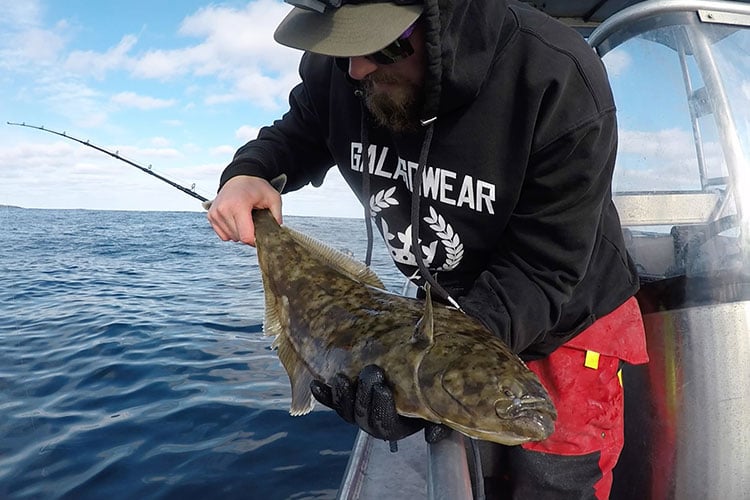 After that, I had a couple of fish on the sonar, one that bit a little on my baitfish but didn't take so I put a new operation along the edge and SMACK I was hooked up. It wasn't long before I set the circle hook into another fish but now a fish that offered some sweet bend in the rod and screams on the reel, a very nice fish of 105 centimetres.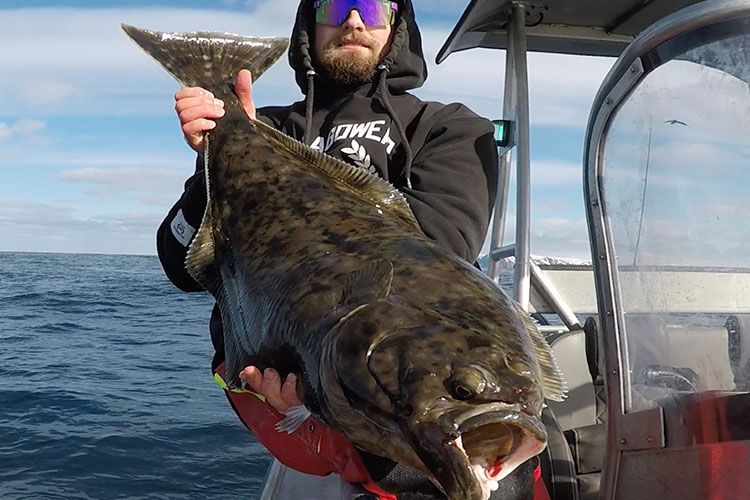 After that fish, the fishing got much tougher. I noticed that one came up and looked at my bait which I noticed on the sonar, so I rigged up a flapper instead and put a new drift hoping they would go for it. Immediately in the new drift, I saw how the halibut came up which was a lot more aggressive and when I had played around with the flapper for a while, I could finally set the hook on number 3 of the day. So a good lesson here if the fish are being sneaky try a flapper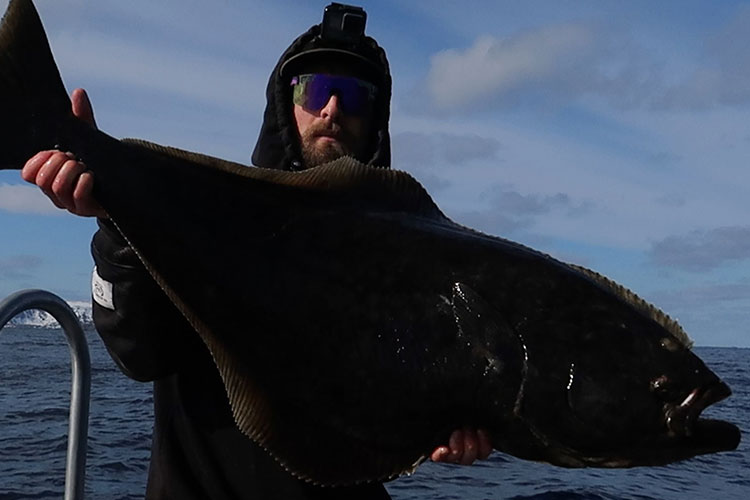 Unfortunately, we have really hard winds and a lot of snow in the air, but in the next week, more really good weather is promised so it will be out again and I write a report as soon as I get out. Will be to test some new places until I find the big madams.
Tight Lines// Douglas Dahlberg
Remember, we are currently taking many bookings for the 2021 season so if you would like to get something pencilled in then give us a call and we can give you something to plan for. If you have any questions about any of our Norway destination feel free to contact our sea fishing team. All our Norway destinations can be found HERE
Tight Lines Sportquest