This week has really offered absolutely fantastic weather, lots of fish and above all a completely fabulous time at the camp where everyone has really just enjoyed every second both on land and out on the water.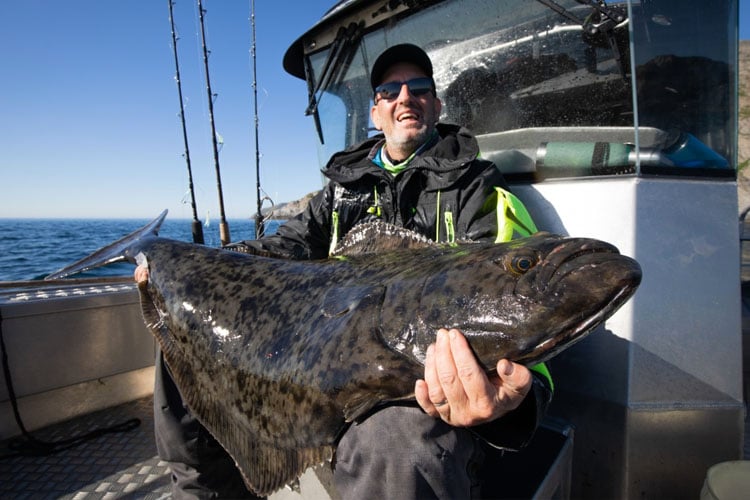 The week started in the best possible way with good weather conditions and a bunch of anglers who were tagged to a thousand. All boats chose to move northwest to kick start the week with a bit of mixed fishing for Halibut and Cod, once out on site, guests will find the absolutely huge hour of sailing that sweeps along the giant flakes between the peaks just before it dips from 50 meters to 200 meter deep water. It was not long before all the boats stood with several double cuts on fantastic food Cod in the 7-kilo class, the best bait for the day was clearly jigs in a slightly smaller model that you pulled home just above the bottom, the reason is most likely that because we have so much capelin in the water, the fish only want to bite into smaller bait fish.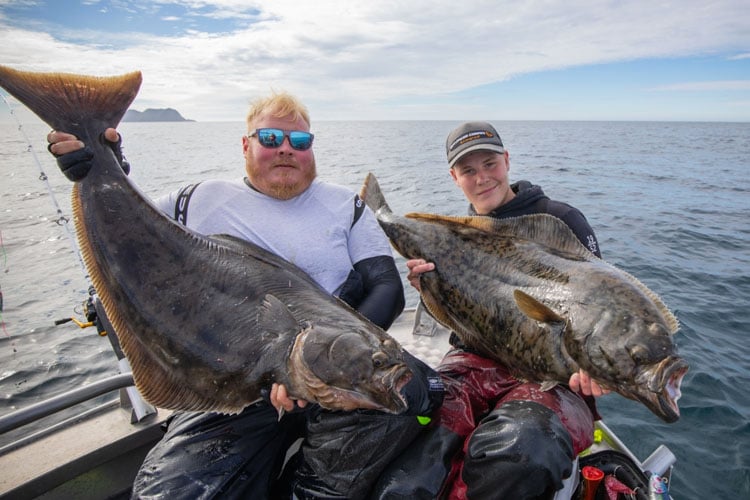 But between the Cod, it would turn out that the Halibut were diligently in search of food and at regular intervals, the boats reported fine Halibut to just around 130 cm, several on jigs but also on bait fish in smaller formats.
After a long silence over the radio, you can hear how boat 3 bursts out on the radio that they have landed a giant, the fish that grabbed a bait fish in 50 meters deep water had been quite calm during the fight but after getting up to the boat edge became completely crazy when they put the Halibut hook in the lower jaw, unfortunately they did not have time to pull through the hook on the Halibut before it steamed loose so unfortunately it released from the Halibut hook before a proper measurement of the fish could be done. We guides then got to see a film of everything and can with quite great certainty say that this fish was somewhere between 200-210 cm, sad that we did not get a proper length of it but talk about an absolutely fantastic experience for the guests who barely had time to dip their fishing gear in the water on this year's Norway trip.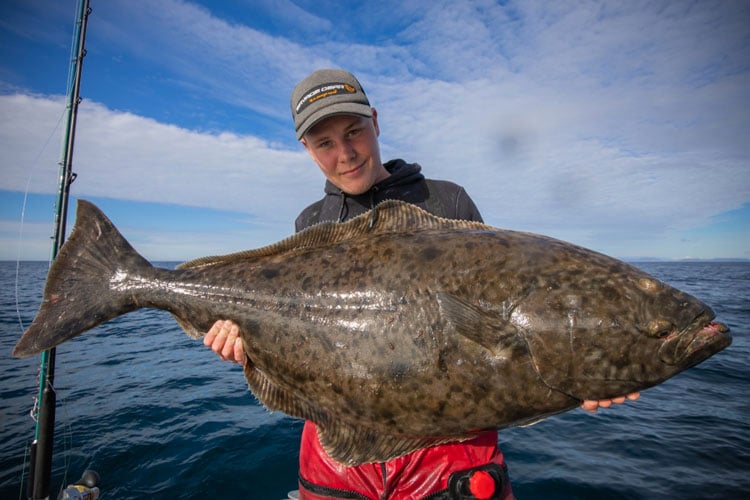 Last Friday we had a long trip and after talking to us guides and all the guests we went out of port at 09.00, the boat trip there went just fine and once in place we drove a familiar area that worked earlier this year. Already the first operation for all boats, everyone had had contact with Halibut, it felt really hot and operation after operation over the peaks resulted in several fine Halibut up to 125cm. I "Daniel" who drove boat 2 with Joel and Benny could hit a really hot spot where when you drifted over, Halibut came up on the plumb line every time you drifted over, incredibly fun when you can really see the Halibut go up on the sonar and actively chase our jigs up into the open water before they decide to bite in properly. Joel turned out to be really hot with his Herringshad from Savagegear in the 300g model and in a shorter time was able to smack up 7 really nice ones with one of 125cm at the top! Daniel could not stay away from the rod when there were 5 Halibut on the sonar at the same time and after a couple of throws with a sand eel, it smacks on a nice lively Halibutunder of 128cm. Followed by a double hit with Joel thrown after. Boat 9 report after an exciting moment on the radio in a nice Halibut of 165cm which they did a so-called quick release on…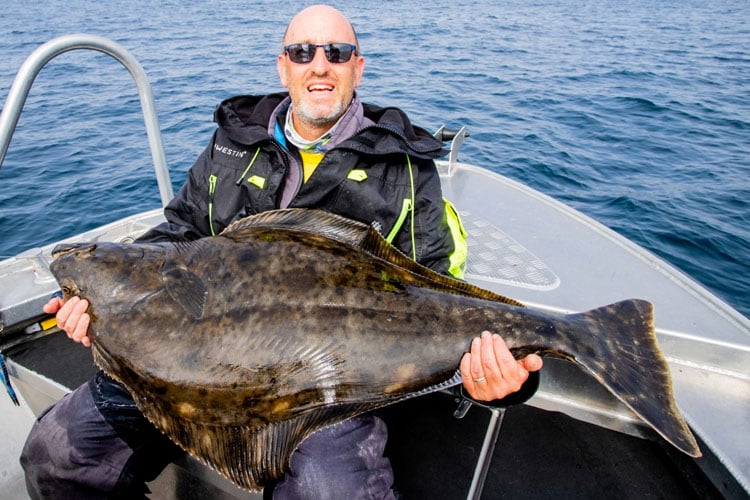 After that, the tide stood still and the field that was forged last week was to be locked! It is the case that last week we were sniffing at the NSA record for Plaice during the long trip for Halibut, several of the guests got Plaice up to a full 3.8 kilos on the Halibut jigs and we guides were quite convinced that this area could be the place where the company crosses the 4kg line for the first time. Said and done, we put on a tackle for Plaice for Benny in our boat while me and Joel harrowed on with our bigger jigs. Pretty soon I see how a bunch of fish swim up to our jigs a couple of meters above the bottom, a few taps in the rod tip and I have fish on, it's probably a smaller Cod I think and crank up the fish quickly towards the boat, but when I look down I realize that it is an absolutely huge Plaice that cuts my jig of 300g, I lift it into the boat and measure it to a crazy 62cm while benny smacks a nice fish of 61cm! none of them were over 4 kilos but definitely a great start!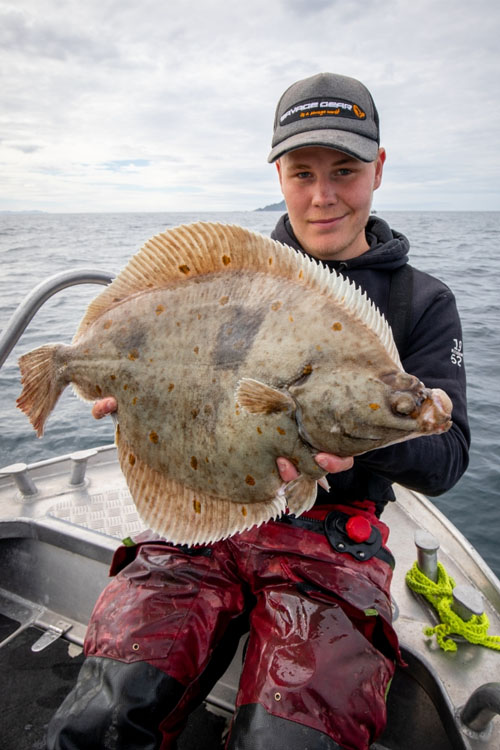 We barely make it to the bottom again before I see how a really big Plaice speeds up my jig, I laugh and say that there is something wrong with these Plaice and that it does not surprise me if it actually takes the jig, as I said the fish hits the jig in the sickest karate Plaice hit I have ever seen and we all realized that if it was a Plaice that comes up now it is big! We watch with excitement down into the water while waiting for the fish to reach a depth of 35 meters! And at least it's a Plaice that comes up from the depths and it's not small! the landing goes gallantly and after measuring it to 66cm we realized quite immediately that it would step over the 4 kilo stretch as it is almost as wide as long. After some control weighings, we were finally able to set a weight of 4230g, which breaks the previous record within the company. A little shocked, joel cut some pictures before we carefully released it again. together this day we can add 7 Plaice over 60cm with 3 over 65cm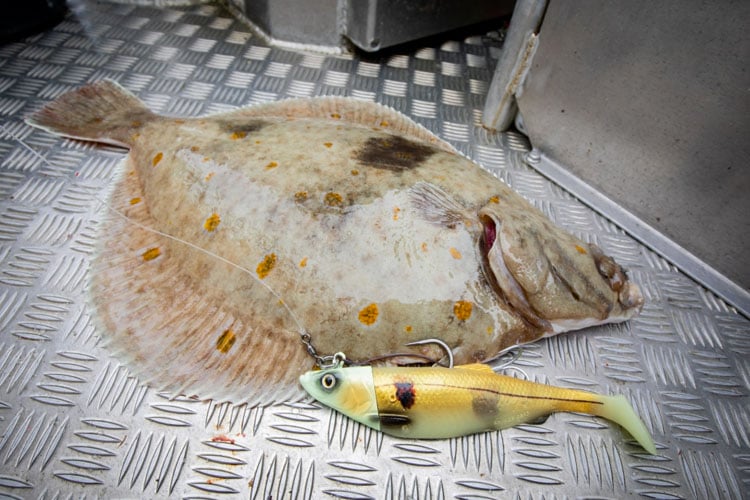 In the middle of the week we had some wind and we therefore decided to try some bay fishing, talk about good idea when it immediately slammed into one of the Frenchman's rod and after a great fight in the sun we could land a nice fish of 130cm! Fredrik in the guide boat did not want to be worse and after a fun fight on spin fishing we could land a really good Halibut of 120cm. After that, the French hooked a Halibut on something that I would consider to be classified as a rod for Perch… But after a turn down to the bottom, we were able to land another good Halibut of 107cm.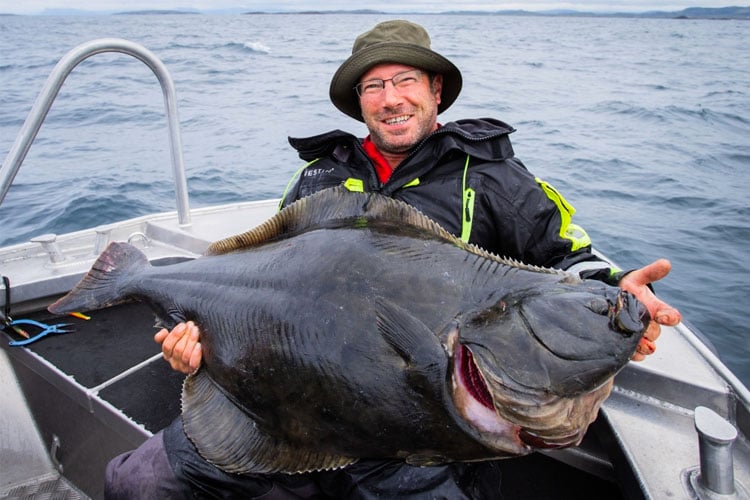 The penultimate day was big fish on the schedule and a long trip up to the northern cape was the plan. As several boat teams were tired since the day before, we went out in the guide boat a little before the others and could be met by a mirror-shiny sea with whales and porpoises almost in all directions the eye could reach. Once at Plats outside the northern cape, it did not take many drifts before Fredrik hooked a really lively fish just under a meter. A perfect food fish and the one he has been waiting for all week. The drifts do not happen so much so we mostly lie and sunbathe and listen to music in the boat, but all of a sudden as out of nowhere we can see on the sonar how a better fish steps up to our baits. The second after, it slams hard for Lamblard who keeps on living too smoothly while we drive for the fish just before it heads down to a depth of 300 meters. We get it up a turn before it goes down again and stands just above the bottom, up again, Lamblard can lift the fish the last meters to be able to land the fish. 165 happy but strong cm are then photographed with the northern cape in the background, what an incredibly cool feeling to drill big Halibut at the northern cape, the guests could agree on when it swam back again.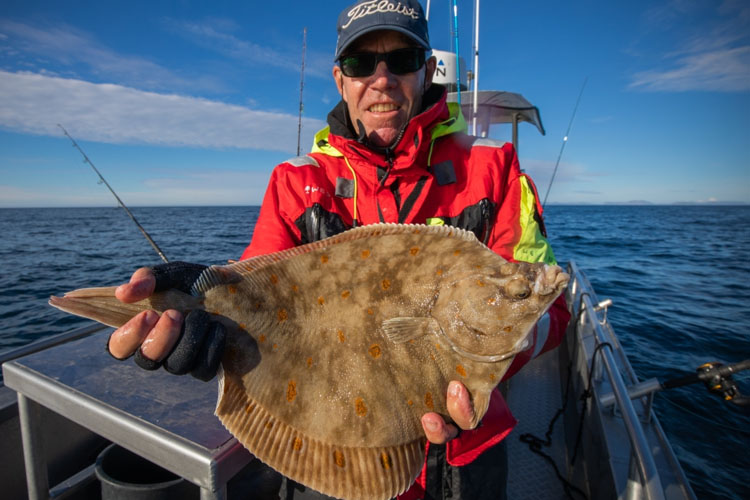 After this fish we drove on for some Cod fishing but halfway there we can see how a group of humpback whales literally fly out of the air, we pull a full carriage towards them and can be met by something that you really only see on nature movies on TV. The humpback whales had thus chased up a large shoal of Capelin (also called Smelt) towards the surface and in batches they came up and swallowed several hundred kilos at a time, barely meters from the boat edge. I quickly started a live on this on Nordic Sea Angling's facebook page, feel free to check it out while I did everything in my power to manage to get some good pictures of the whales at the boat edge.
This had to end the week, and this absolutely enormously wonderful nature experience will surely gnaw on my head forever for both me and the guests.
Now we are driving a calmer week due to the situation with SAS but I can promise that it will be as good as it gets!
Tight Lines // Daniel Freland and Andreas Hugsen
CONTACT US
If you, like many others, have ever dreamt about fishing the prolific waters of Havoysund and would like to know more information on how you can join us, you can contact our sea fishing specialist, Paul Stevens, on 01603 407596 or email at paul@sportquestholidays.com.