We've had an incredible week up here and it's been a blast with good weather, good fishing and an incredibly lovely atmosphere at the camp. We were also lucky enough to start the week in the Guideboat with an incredible catch, including a Monkfish weighing a whopping 13 kilos! It was a joy to help the guest fillet this delicate fish.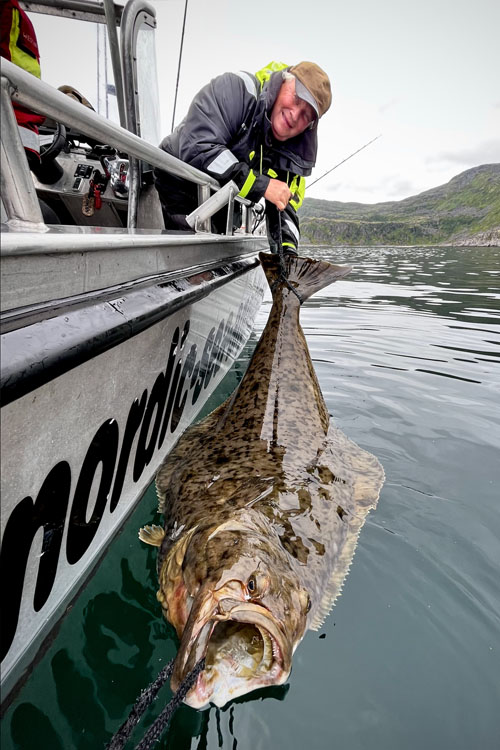 The Halibut fishing has been really damn magical to say the least, although not always in terms of numbers, but given the number of big fish at the camp, it's really fun! In addition to catching big fish, I myself have actually had the honor of hooking the two biggest fish I have ever caught on spin fishing, first a magical fish of 181 centimeters that swallowed my 150g Sand Eel, and a couple of days later another super fish of a full 170cm that also caught the same Sand Eel!
Absolutely incredible and apart from this, both on Pike gear, a 200g 8.6ft pike rod with a powerful low profile reel, it was just as much fun as it gets. The day I got the 181, Philip in my boat managed to pull a magical fish of 178cm, just after the Guide boat a super fish of 170cm and 149cm and we lost two really big fish in the same size, absolutely gutting. A couple of days later when I hooked the 170 on a spinner I didn't realize it was big at first, but anyway I ran 13 year old Max and 13 year old Elis this day, they made their first sea fishing trip of their life and got a incredible round as they were helped for a while with fighting the fish.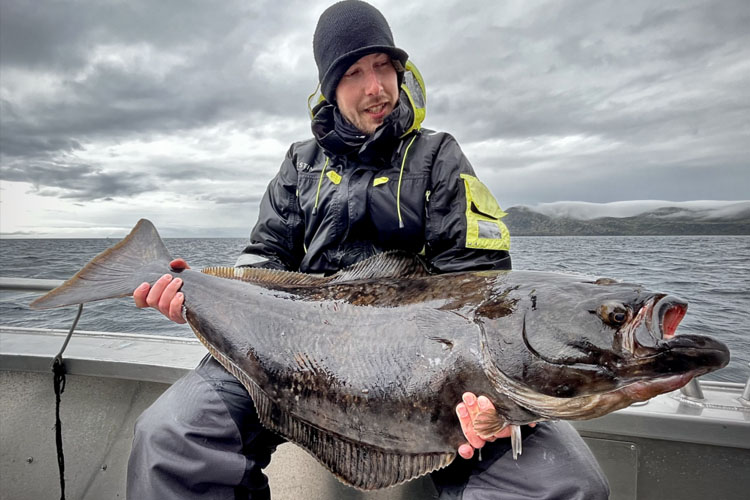 They took it in turns to pump in rounds, but after a while the boys enlisted the help of Eli's father Christian, who had to do the final job of pumping up the fish so I could land it. Everyone was touchingly in agreement that this made the whole trip, to see such a thunderous fish, but we weren't done yet. After this, Elias's grandfather's rod hits and he hooks another big fish, which turned out to measure 158 centimeters and was Dick's first Halibut in his life,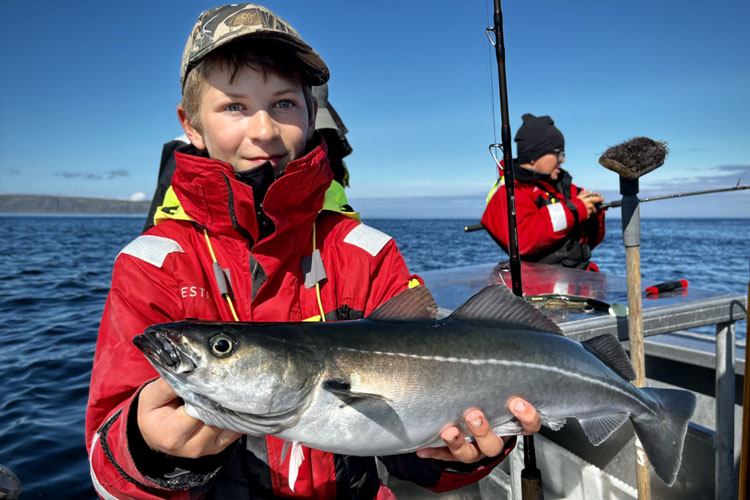 The other fishing has also been good this week, but the big Cod have been difficult to find; however, it finally managed to come up with a couple of 15 kilos, but good amounts of fish, still a lot of Wolffish and also Haddock. In the immediate area, we have had a good amount of fishing for Halibut in one area and it is noticeable that they have started to eat sandfish, as it often pops when you drift in over the shoal of sandfish. The incredibly nice weather this week has really made the stay memorable for the guests. We thank everyone for a nice week, see you soon!
Tight lines // Douglas & Andreas
CONTACT US
If you, like many others, have ever dreamt about fishing the prolific waters of Havoysund and would like to know more information on how you can join us, you can contact our sea fishing specialist, Paul Stevens, on 01603 407596 or email at paul@sportquestholidays.com.