We have just finished a very nice week up here in Havöysund where our Dutch partner filled our camp with guests from Holland and Belgium and a nice group from Poland also visited us. The week has offered varied weather where the beginning of the week was really windy. We had to contend with heavy rain and tough wind conditions on Friday and Saturday, the local area offers nice fishing here just outside the harbor but under such tough weather conditions it is really difficult to succeed with anything extra ordinary, however, some came up Halibut between the boats during these days, the top fish were around 125cm but every fish was extremely appreciated under the tough conditions.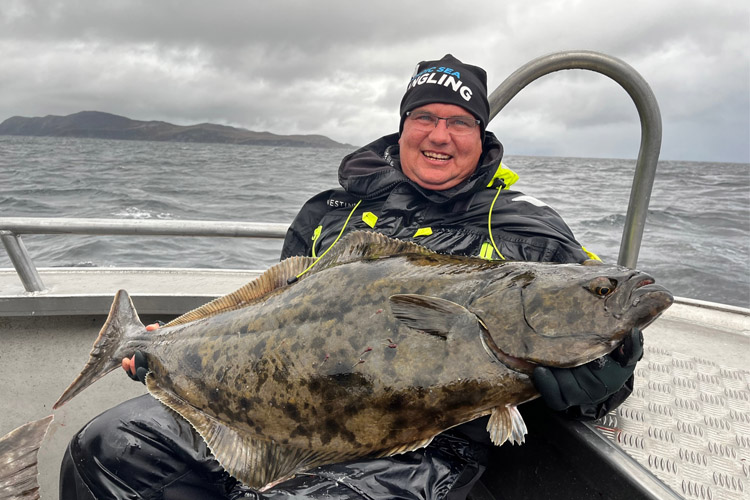 During one of my guides on Saturday, the guys in the boat wanted to try to rake up some cod as they had tired of eating Halibut, I started to search for some deep holes here on the east side and during a drift down a 50-70 meter slope between all the small Cod, one of the darts really narrowed down and we quickly realized that we had walked into a Halibut. It was a really messy fight in the 70 meter deep water, but in the end we were able to land a nice Halibut of 126cm. This was absolutely fantastic and the guys in the boat felt incredible happiness, we then continued fishing in the same hole and soon after on the same jig, it narrowed heavily again and once again the reel started screaming.
Sunday would offer significantly nicer wind conditions and we would now have the opportunity to move a little more freely in the area, heavy seas remained during the morning but we got down to nice fishing spots. On the way there we stopped for bait fishing and when one of the boats raised the line a really big Halibut followed up to the surface, then someone in the boat hurried to send down a dart in front of the fish's nose and the fish swallowed the dart without hesitation, it however, it was a short lasting fight, but the guys are guessing the fish was over 170 centimeters anyway. I, who steered 2 very nice guests in boat 5, was enjoying a nice shallow flat, we were on a PB hunt for the boys and anything over 117cm would be a PB and a successful day.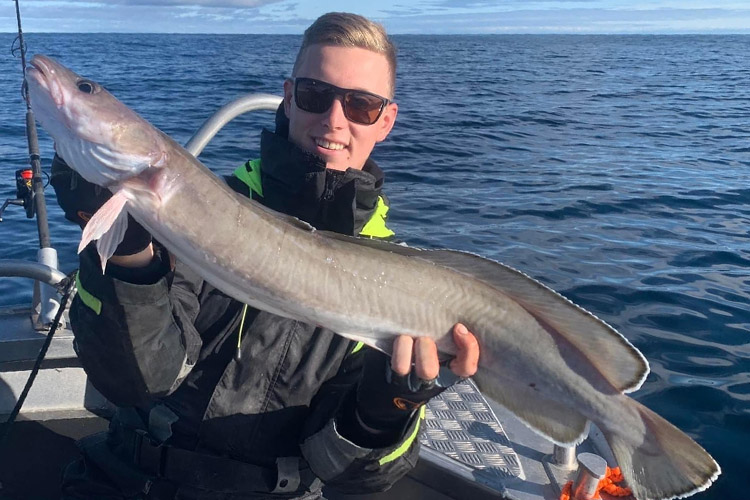 It didn't take more than a drift before I set us up on a nice tip and it stepped on a Halibut for Jan, he let the fish swim away and devour the Coalie before cranking the hook firmly in a circle and finally he stood with a heavily bent rod and a nice fish that offered to fight. The fish measured a nice 125 centimeters and Jan was really happy about the nice fish and a new PB. Andreas had pulled two boats to a real favorite edge which on the prevailing tide is usually really bare, it didn't take long before the boat next to it thumped up a real feast of Halibut of a nice 143 centimetres.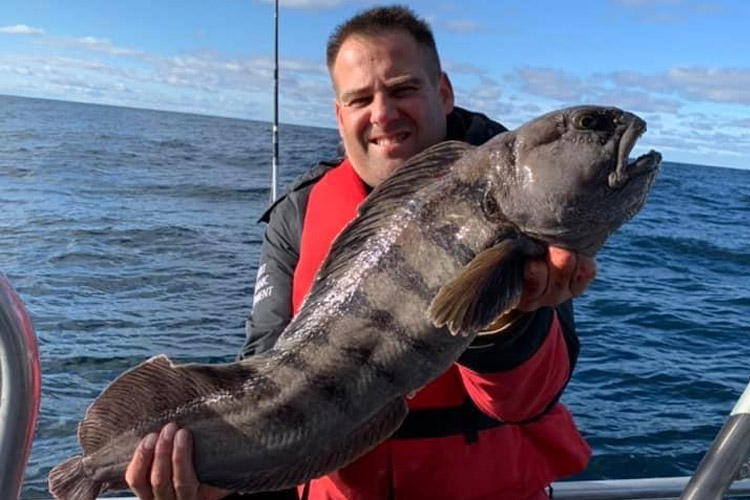 A number of boats did some good Cod fishing during the week on several occasions, the fishing was still good out there and a lot of cod around 10 kilos were caught. funnily enough, there have continued to be some other fun species out there like a bunch of smaller eels and nice catfish, also a lot of nice Haddocks step on during the Cod fishing which is very nice as it is a real favorite fish on the plate. Another bonus fish that was caught was a really nice Plaice of a full 60 centimeters that chose to bite one of the jigs. During Monday's fishing, the guys in boat 5 were on the hook and they found a really nice edge that held a lot of Halibut, drift after drift, they had several contacts and finally they smashed into a bigger fish of a full 146 centimeters! Otherwise, the shallow fishing in the coves was really hot and we mainly had one cove that offered great action every time, although no big fish in there, but everyone thought it was great fun with a little action, especially on spin fishing, which many think is great fun.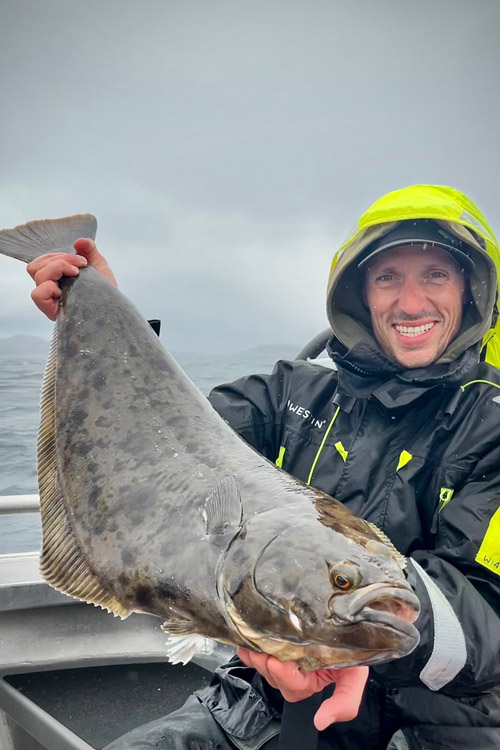 During Tuesday, Andreas took three boats with him that wanted to focus their fishing on big fishing to a really great place, the potential in that area is absolutely incredible and the excitement was brutal. Boat 3 had a chosen edge they firmly believed in and wore it down properly, they managed to pull 2 ​​Halibut up to 129 centimeters there, followed by several missed contacts. Andreas was drifting off a really exciting hole when his reel tore away and when he hooked the fish so perfectly, the line squirted out.
Now we reload for a new week which looks to offer really fresh winds initially, Tight Lines// Douglas Dahlberg & Andreas Hugsén
CONTACT US
If you, like many others, have ever dreamt about fishing the prolific waters of Havoysund and would like to know more information on how you can join us, you can contact our sea fishing specialist, Paul Stevens, on 01603 407596 or email at paul@sportquestholidays.com.