Another season was written in the books and the boats are now back on land. We have had a fantastic season with lots of unforgettable memories and fishing experiences beyond the ordinary. But of course, we have to talk about the last week up here in Havöysund, where we did our last fishing pass for the year with a smaller group of guests at the camp. We have been four boats out at sea in search of Halibut. Based on previous experience, the last week is usually a hectic week, and no matter how you turn it around, we have had a fantastic week. Still, we have had to deal with really tough weather for a while and also had a boring start to the week where we had to spend the first fishing day on land when the wind strength sometimes reached up to 35 m/s.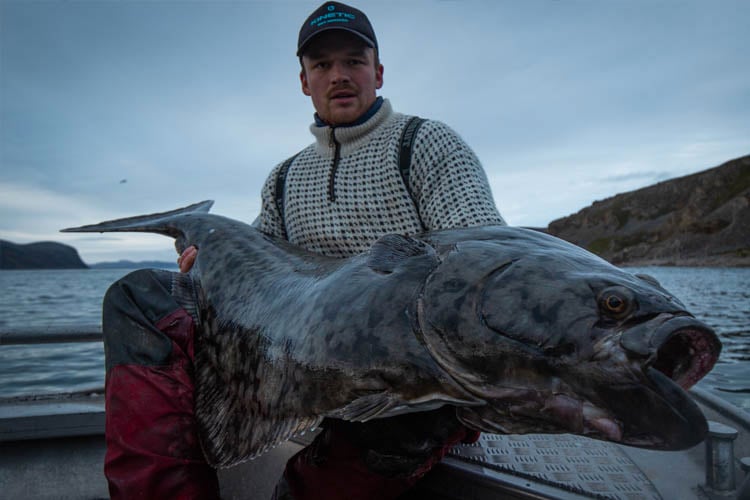 We laid all the boats and kneaded in the area for a while before Krus and Kamrat pounded up the first Halibut of 125 cm which cut in a double cut where the second fish, unfortunately, got off. Colleagues Jørgen and Alexander, who came up after the closure of Vesterålen to fish privately, were drifting in the same area as us in the guide boat, and we located a number of big fish that came up but didn't want to bite after a while the guys managed to pinch a nice fish on 138 centimetres. Then it felt like the fish started to bite a little better and soon after that Stefan in the Guideboat managed to land the first Halibut of his life at an excellent 117cm! Jørgen pulled the longest line this day when he pinned a superb fish of 155 centimetres.
The next day, the wind again pushed hard, but we were able to fish in the immediate area of ​​the camp, it is, however, as many times before, often productive and Matt and the gang in boat 9 ran a bay just outside Havöysund which delivered 2 nice fish of 90 and 105 centimetres. I had to cross the strait to a nice shallow area where Valentine got to feel the power of the first Halibut of his life in the strong wind of 121 centimetres, he was pleasantly surprised by the raw power of the Halibut as acquaintances back home in France had told me that the fish up here don't fight anything… well he quickly realized that wasn't the case. We also managed to poke up two nice fish of 85 and 105 centimetres.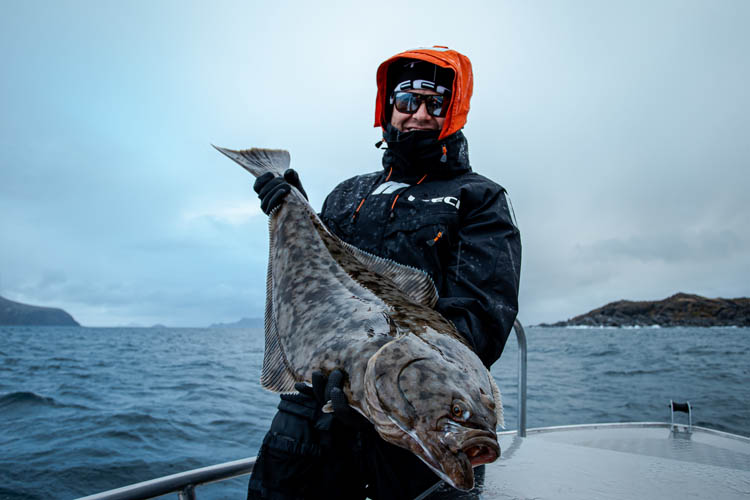 On Monday it was time again to look away in better conditions to the area from day one, we know that the potential in that area is incredible and it was only a question of when we would get to participate in the fishing of a lifetime. A bit of a rough current collision at first wouldn't stop Krus from pulling a real cannon four of a full 157cm on one of the first drifts of the day. Unfortunately, the fish was then tough, and we had to wait until the next current turn before things started to happen again; then Alex was busy with a spinning rod and riveted in a really nice Halibut of 139 centimetres which is a really fun fish on spinning equipment. Stefan also managed to spin up a nice fish that got to gild the freezer.
Tuesday promised a lot of southerly wind, but when we got out to sea it turned out that the whole day was going to be really nice with low wind and sun. I headed to a large shallow area in search of the fall Halibut that had entered the shallow sandy bottoms. After looking around a bit, we hit the spot, Jimmy was spin fishing and when he looked down into the water he saw a fat flounder come up to the boat and cut his jig, when he hooked it it took off on a crazy fight at the 10 meter deep water. After a while, when I had photographed and steered the boat, I would wind up my bait fish and when I take the rod, a really big Halibut cuts that I saw stepped up on the echo sounder. But unfortunately, bad luck was to come, and when I set the hook and felt a crazy sharp stop but right after that the line narrowed… However, Jimmy continued to fight and we were then able to land his first Halibut of 135 centimetres. Jørgen and Alex found a nice edge where they had some good action with fish up to 138 centimetres.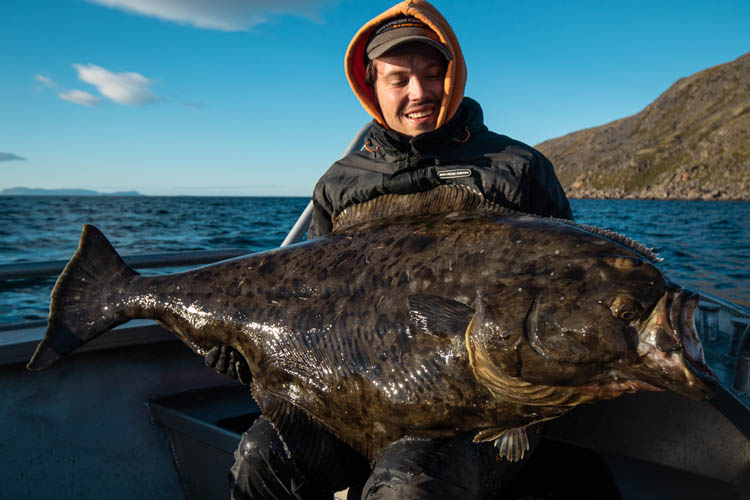 The last day was windy again and we couldn't go far, but we went to the area that the previous day had delivered and I aimed for a previous position, when we got into the old mark a nice fish came in on the sonar and right there after it sucked Valentine's bait fish and we got a really nice end to the week with a nice fish of 147 centimetres. Oliver in the guide boat was still fighting for his first proper Halibut of the trip, and as it got closer to the end of the week a good fish finally caught on and Oliver hooked it, he had a really good fight in the rough wind and finally a well-fed Halibut of an excellent 127 centimetres came up and a new PB for Oliver.
We want to thank everyone for a fantastic season
Tight Lines// Douglas Dahlberg & Andreas Hugsén
CONTACT US
If you, like many others, have ever dreamt about fishing the prolific waters of Havoysund and would like to know more information on how you can join us, you can contact our sea fishing specialist, Paul Stevens, on 01603 407596 or email at paul@sportquestholidays.com.