During the last week, we have really had to feel strong winds during a number of occasions such as the guests' first fishing day, which unfortunately had to be spent entirely on land as we were completely blown away. The nice thing is that during the week when the weather has been good, it has been absolutely super nice, so it has really been on and off, the winds have been from the south for most of the time, never from the north which was very good as the sea becomes completely flat as soon as the wind stops.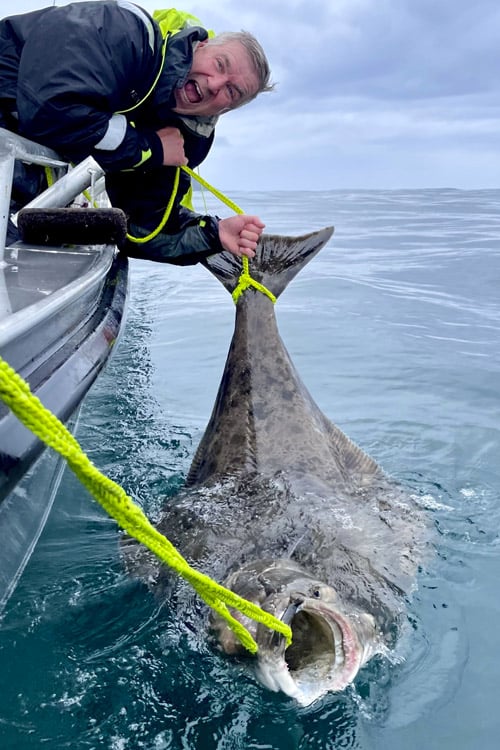 When we finally got out to sea on Saturday, we started fishing in the local area for Halibut and some who succeeded very well that day were Tony and the guys in boat 3 who found a really nice drift, the day started with them pulling a real lump at 150 centimeters on spin, they themselves were not prepared for it being so big as they did not resist and kindly followed up to the boat. After that, they managed to catch 3 really good fish of 106, 123 and 154 centimeters. Really fun after spending the first day on land but during the third day winds of over 20 m/s were expected again so we decided to come in at around 18:00 and recharge to run the last night session of the year as it has now turned and started getting dark, so this was really the last opportunity for night fishing.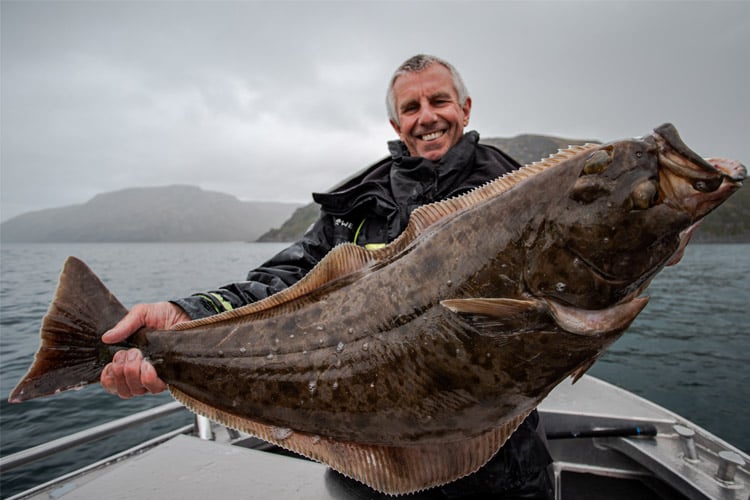 I steered the Guide Boat during the night and we headed to an area holding good numbers of Halibut, the lads wanted some action after having a bit of a rough time during the day with only one 86cm fish. Tobi's imitation jigs are what were absolutely superior when it comes to numbers, so we focused on that the most, the half-dark hours of the night were tough and we lost only 2 fish that bit carefully and several of the boats had fish up on the sonar that did not want to take. But it was also the period with the worst current so when it got a bit brighter and the current started to kick in, then things started to happen… Tony and the boys just reported their first fish of 113cm at the same moment that I hook our first fish which actually hung around, I passed the rod to Shane who had never pulled a Halibut before and for the first time he got to experience a really good fight from a 112cm fish on a lighter spinning rod. It felt like I had found a good spot so I put the same scratch again and immediately when Shane came down with his jig it swept into his own rod and this time it was also on and he had to fight up another nice Halibut that measured 106 centimeters, absolutely fantastic. After putting in a third drift and we even then got a nice one of 92cm, the guys said they just wanted to do one more drift and then go home, so I put up the last drift of the night and then Paul also managed to pull his first of 92cm as well.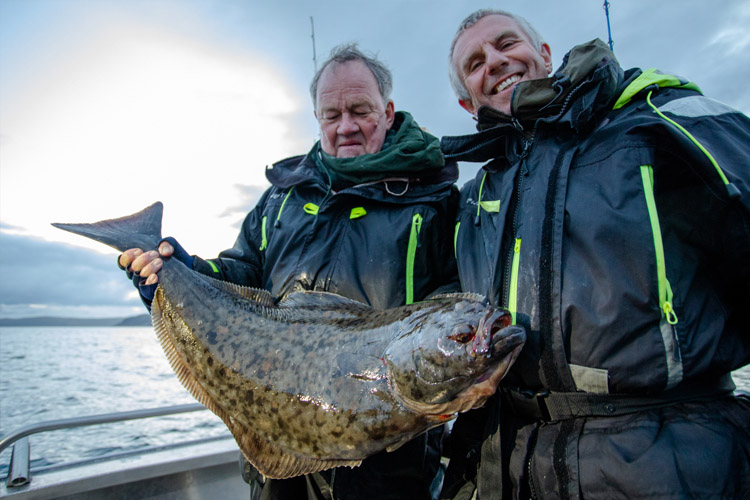 So after a successful night, we could then spend the next day on land again while the really strong winds blew over us during the day and then in the evening but especially in the early morning offered a mirror-bright sea and all the boats at the camp set out at 2 -3 at night in a crazy beautiful sunrise. The guys in boat 5 spent time in an area I had gone through with them the night before, they were persistent and finally they found the fish and managed to poke a bunch of nice Halibut up to 135 centimeters.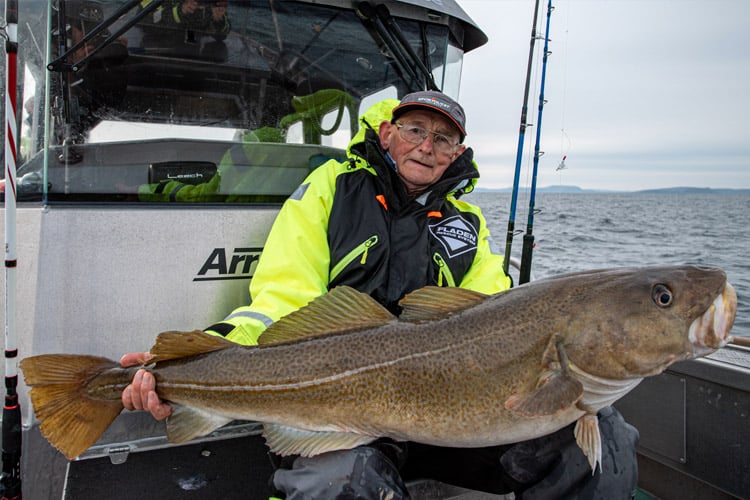 Tuesday was the day that had to be the big highlight of the week when we had a whole day with mirror-like sea, fantastic temperatures of 25 degrees and brilliant sun. A number of boats were hungry for a real Halibut race and headed off to a couple of bays that I had pointed out the night before, they hold a lot of fish and the fishing is often good far into shallow water, again some of them headed out at 03:00 and down there the fishing was really on fire. Ross and the boys in boat 10 were the first to arrive and they had an absolutely superb day with lots of Halibut and constant action, no monsters but really fun fishing and exactly what they wanted to experience. Boat 5 who also followed down to the area also had a really good day with several fish over 130cm and double digit numbers+ also in their boat.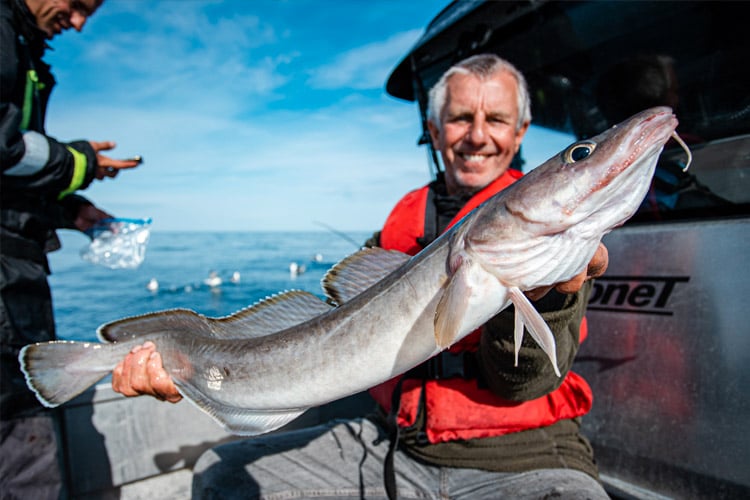 The Finns in boat 2 also fished for gizzards in the bay and after scanning the area with their livescope for a few hours, they managed to pull in a really nice Halibut of 156cm. I was out north looking for big Cod with the guide boat, but it was incredibly difficult, but after we managed to get a bunch of Cod up to 8 kilos and also a small Ling, the guys wanted to try for some more Haddock and Wolffish. So after changing the area it started to bite like crazy and we pulled a lot of smaller Haddock and Cod ranging from very small to food size, and it would be until we tried some Plaice before we got the long awaited Wolffish.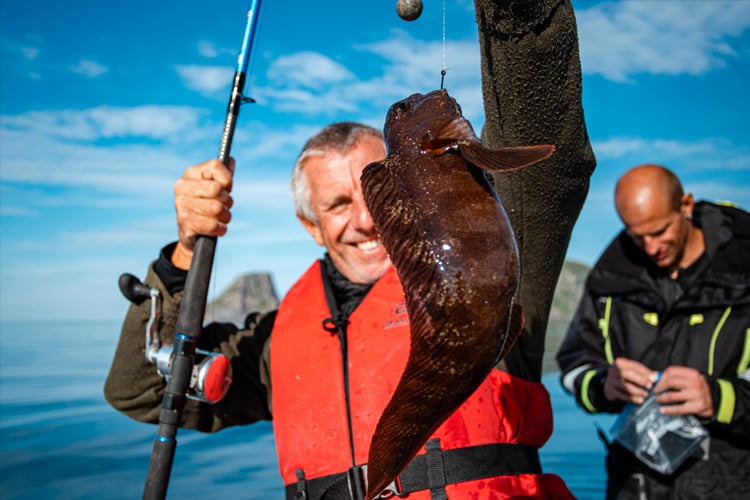 The last fishing day was again an incredibly windy story and it was only the guide boat and one other boat that made a valiant attempt, but when the southerly winds fell so hard over the mountains that it was difficult to keep our balance, we canceled and rounded off the week there. Now we recharge for a new week with new opportunities.
Tight Lines// Douglas Dahlberg & Andreas Hugsén
CONTACT US
If you, like many others, have ever dreamt about fishing the prolific waters of Havoysund and would like to know more information on how you can join us, you can contact our sea fishing specialist, Paul Stevens, on 01603 407596 or email at paul@sportquestholidays.com.