What a fantastic week we had up here in Havöysund and of course we have caught many big fish! We have really been able to fish properly this week and it has been a joy to see winter turn into full summer. There are many benefits to good weather, but just this time of year it is important when the water temperature rises, this contributes to the bait fish really coming in for real and all predators follow and take place in their areas. The fishing has gotten better and better on Halibut with each passing day as we still had a bit sluggish fishing to begin with, there is a lot of Cod and Coalfish in some places and the Cod is unfortunately difficult to find any size, at first there were only very nice food fish of 5-10 kilos but it also got better during the week.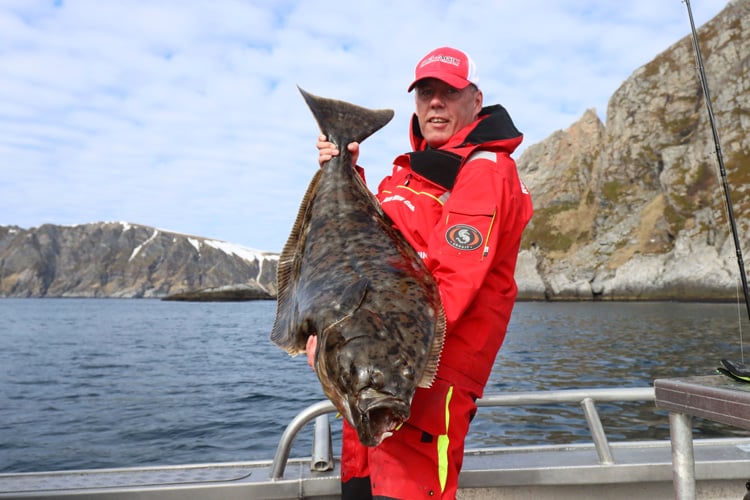 One of the first really nice fish for the week was taken by Vide in boat 10 on the second day, during the first day I drove their boat and we started the fishing that day in an area I had good confidence in, but we had to look further for four hours with only a bunch of smaller contacts and pulls, however during the day there on so the guys returned to that spot without me and it turned out to go much better then Vide after dropping a really big fish the day before, corked on a fish at their first drift and after a cruel fight was able to land his new PB at a nice 153 centimeters.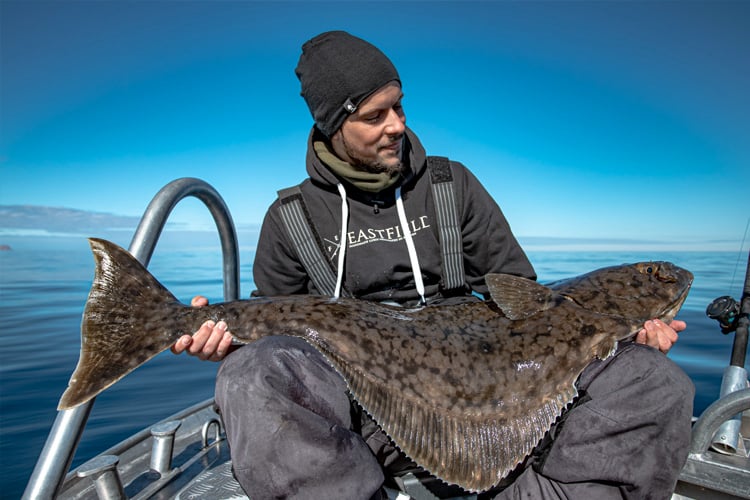 On Sunday it was time to thunder away on a long trip and the weather was unbelievable, the temperature in the air was over 10 degrees and the sea like a mirror. We pulled away and the boss Jimmy who fished with the guide boat here this week joined a little later to time the next tide. I drove boat 8 and once we were in place, it did not take more than a couple of minutes before Marcus in my boat hooked the first Halibut of the day just over a meter, it felt more than promising but after that it was quiet in that place and we headed towards the others when I just received a report that boat 5 was teasing a fat fish, which then turned out to measure a full 155 centimeters. This meant that everyone was on their toes and with our really fat bait fish all the boats had gotten their hands on, it felt like the whole day that something big was going to step on.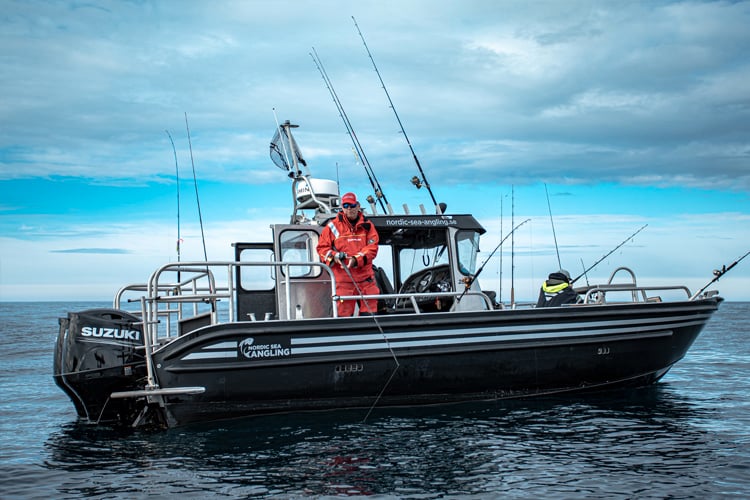 The fishing continued and in my boat we had a modest contact and a fat riser who did not want to take… but we fought because the fish was there, but damn they were tricky to get to bite. Jimmy and company joined and got a 113 centimeter on spin fishing immediately, but after that quietly even for them, Andreas got the feeling and pulled a move in anticipation of increasing current, and when they tested the new spot with a fat bait fish and once again it was a good fish that messed up properly and landed safely and was measured to a full 156 centimeters. Then we could see that the same guy for two days in a row had pulled one of 165cm, 154cm and 156 centimeters, it is really good to have the opportunity to knock up 3 dream fish himself in two days.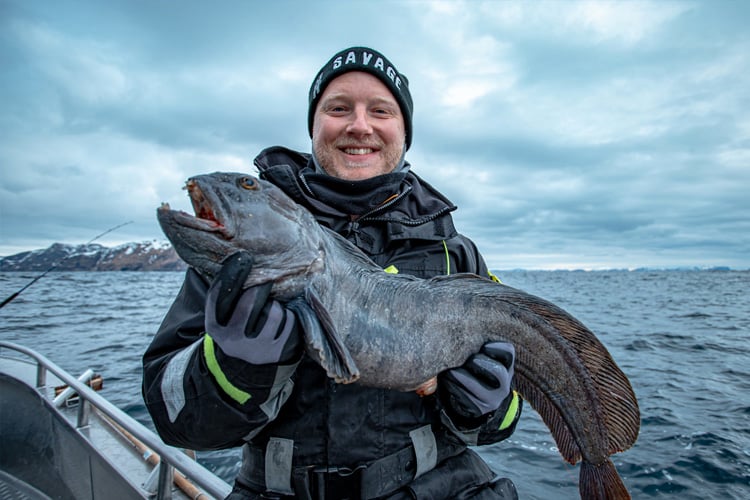 Since it would take so incredibly long before the current started to turn on again, there were two alternatives, jump around like crazy and hope to meet some hungry fish, or have a spit and wear it down while waiting for it to improve. I had a generally bad feeling when the day had been difficult but as so many times before it was just to be persistent and I had a small little spot that I like, so I returned there several times during the day, and when I would suggest today's last attempt on the spot before it was time for a longer movement…then everything went into lock. In the same second it rushed away in Micke's reel and he let the fish swim for a while, but the fish did not want to stop or swallow so it also came loose. When we cranked up the other rigs, I saw on the sonar how a real pig echo comes swimming after his fish and I shout at him to STOP asap, and in the same second the fish sucked his bait and he set the circle hook perfectly this time!
There was talk that the fish was FAT and I made it clear to him immediately that it looked like an incredible fish which meant nothing but seriousness. We had the situation under control and the conditions were incredibly kind and Manga had to fight properly, I and everyone in the boat knew that it was big but when it turned 10 meters under the boat for the first time it was clear that it was actually a 2 + sat on the hook. The fight was long and brutal, the fish was the absolute strongest I have ever seen and it turned 7 times 10 meters under the boat so we never got a really good idea of ​​exactly how big it was, but after a lot of patience and hard work I finally managed to pull through the halibut hook and secure the fish! The joy was real and the breath really went out of us as the nervousness during the long fight was palpable. We measured the incredible dream fish to 210 centimeters and after a magical photo session, the fish was allowed to swim back, and there was no question that it was alert and unharmed as it kicked away gracefully and swam down to the bottom.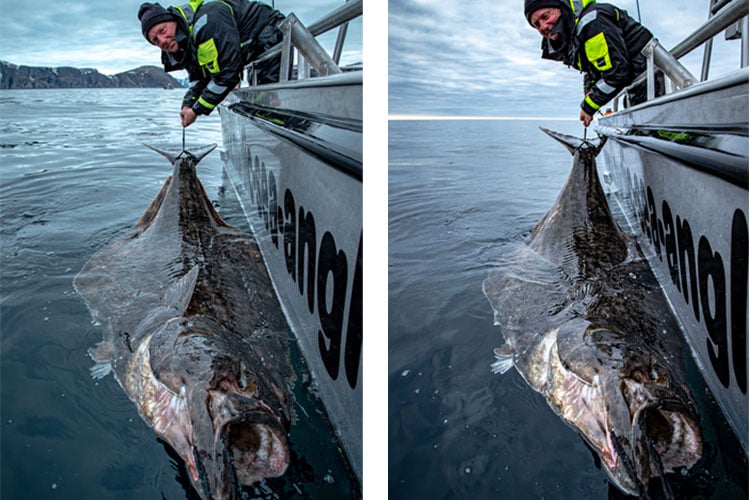 Jimmy and company fished for a while into the night when the rest of us had gone home, and then the stuff got small and Jimmy managed to smash up a 148 centimeter on spin fishing which is incredibly fun and good after a long dying period, then they did another stop on the way home and then Dan also managed to pull a cannon fish of 119 centimeters.
On Monday, there were a bunch of boats that tested a really interesting area that usually delivers now and it turned out to do so even now, boat 10 had 3 fish with a top of 148cm to Vide and I got to tell how the fish had slammed to the jig so that Vide got a warning and when he then cranked up the jig a bit, the fish came and hit properly. He thought he had hooked it but unfortunately it came loose, and when he then lowered the jig back to the bottom after a couple of well-chosen swear words, he gets an incredible third chance and then BANG, he got to taste a king counterattack and then it gave a sick fight!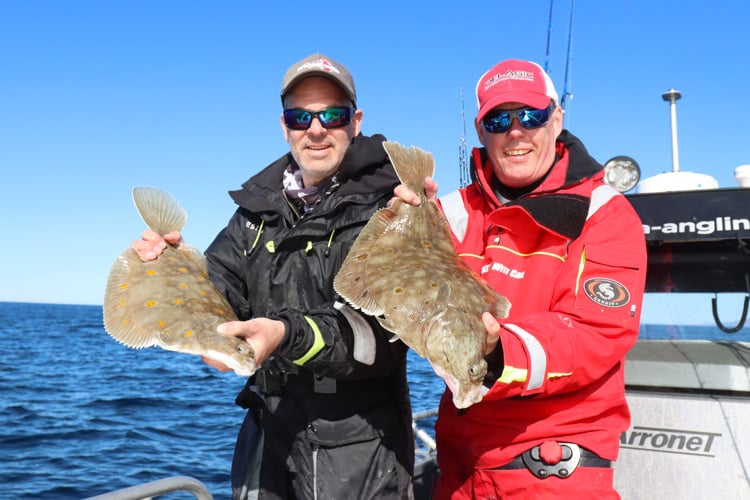 Jimmy, Dan and Fredrik were going to try their hand at Plaice fishing this day and after getting tired of lots of different depths in one of our main Plaice areas, the jump-started with only a couple of thin sandies… but Jimmy was determined to find them and leave deeper, and then, all hell broke loose. The boys told how they had multiple triple hookups on fat Plaice and many of the fish were 58-60 centimetres and the heaviest of them was a cannon fish of 2800 grams. Jimmy had also hooked a really, really big Plaice which was the biggest he had ever hooked, but unfortunately, that came loose before they called it…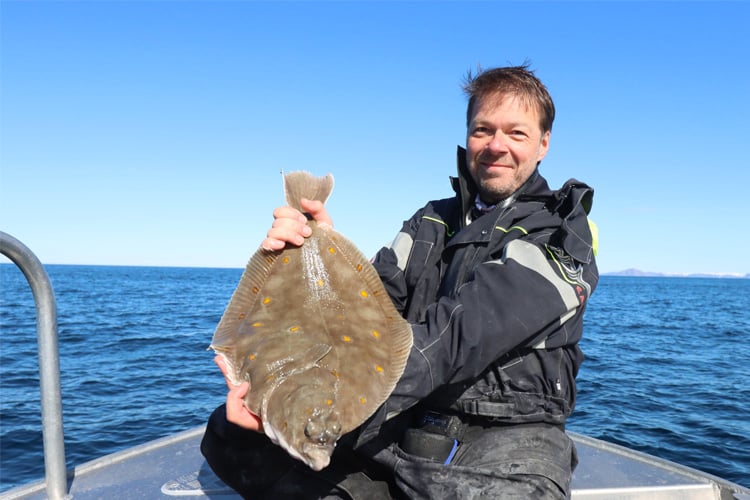 Tight Lines // Douglas & Andreas
CONTACT US
If you, like many others, have ever dreamt about fishing the prolific waters of Havoysund and would like to know more information on how you can join us, you can contact our sea fishing specialist, Paul Stevens, on 01603 407596 or email at paul@sportquestholidays.com.