The past week here in Havöysund has been something completely extra and we have mostly enjoyed fantastic weather, southerly winds all week, sometimes a lot of wind, but as soon as the southerly wind subsides, so does the sea and does not build a wave height.
This has opened up many spots we longed to be able to move to, which has proven to give results, but also the fishing in the immediate area, i.e. really close to the camp, has been good and Halibut of 130-155 centimeters have been landed on a conveyor belt just now outside the harbor more or less. The week started in the form of lying in strong winds on the east side and struggling, on the way out boat 14 turned off towards a place for bait fish earlier than where the rest of us had thought, so on the way to the area, boat 14 had already started fishing and in the first release of the week, a fat Halibut of 139 centimeters comes and clips a Coalfish on the bait hook and in some miraculous way they manage to land the fish. The same boat managed to bump up another super four this day at 143 centimeters. Peter and the guys in boat 8 ran a spot just outside the harbor here and then George managed to pull a great PB of 155 centimeters. More fish were caught and overall everyone was happy with the start of the week when many thought we would barely be able to fish, so the result was good considering the conditions.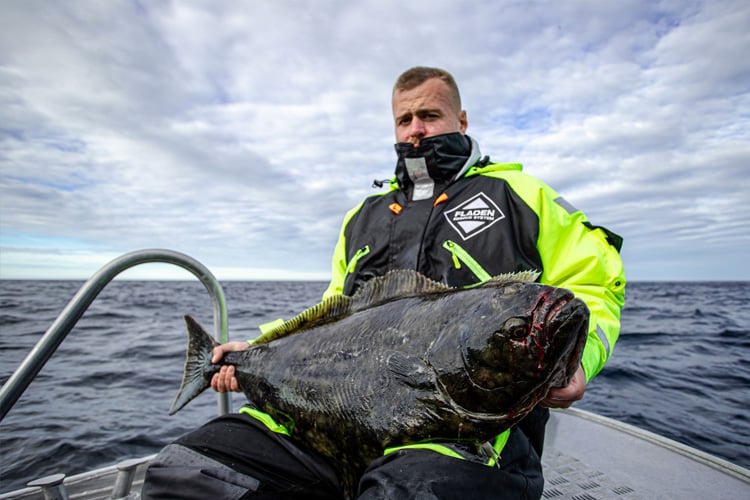 On the second day, we went on a long trip in two different directions to look for large Halibut, I myself steered the guide boat and we, accompanied by some of the boats, drove a really exciting place. It didn't take long before it started to bite and Felix, who made his life's first sea fishing trip, got a good bite on the first drift and was able to crank the hook firmly in the first Halibut of his life of 122 cm, which showed his raw strength. This was followed by a nice 124 and a 149 centimeter that came up and gobbled up my jig in one really hard bite. Robin and the boys in boat 10 found an edge that they thought looked interesting and wore it down completely, this resulted in two nice top fish of 150 and 160 centimeters.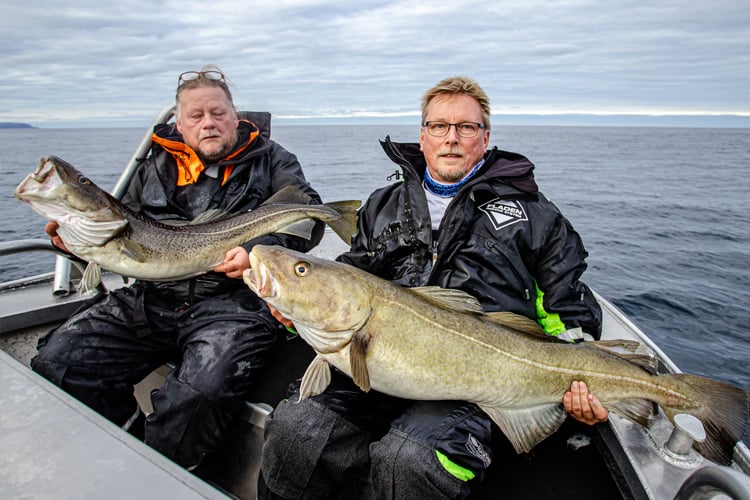 Melin and the boys in boat 4 did 100% spin fishing and after bagging a good number of smaller sized Halibut during the day, then they felt like ending the day in a bay that I had recommended, there they found some fish in 13 meters, so one of the guys started fishing with his light equipment with a stl. 5000 reel which was reasonable so the fish they caught was 60.80 centimetres, but then with a lighter rod in the fist it came to a real halt and they realized they had walked into a monster. We were told about a completely insane fight that several times seemed to be heading towards an unfortunate end as the reel was about to run out of line several times, but they managed in a very neat way to finally land the fish and measure it to incredible 182 centimeters! There we have a real magnificent fish for spin fishing, light equipment and only 13 meters deep! Over on the second long trip there is also action and boat 12 drew the long straw with a real cannon Halibut of 172 centimeters.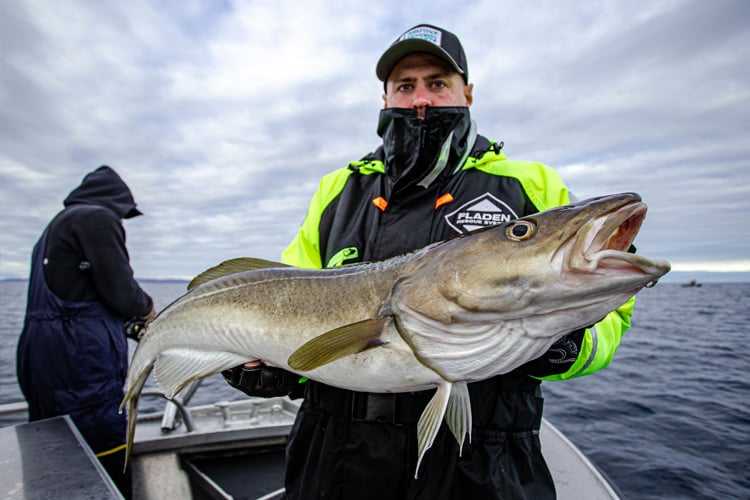 During Sunday I started the day on a mirror-like sea with some Cod fishing accompanied by a group of boats, this was very successful and we had fun fishing with pelagic hunting Cod that cut high up in the water when we slow pitched our baits up from the bottom . Ulf pulled our biggest Cod of 15.5 kilos, but we had orders for a bunch more of that caliber which unfortunately got off. When the rising current then started, we went for Halibut and we succeeded well with three nice Halibut of 100, 118 and 130 centimeters. Otherwise, this day was a bit tougher in terms of catching at the camp and it blew up properly in the afternoon. This wind persisted during Monday and we had to fight in the nearby area that day, it finally gave some results when boat 10 pulled a nice fish of 135 centimeters and many boats got a bunch of food Halibut.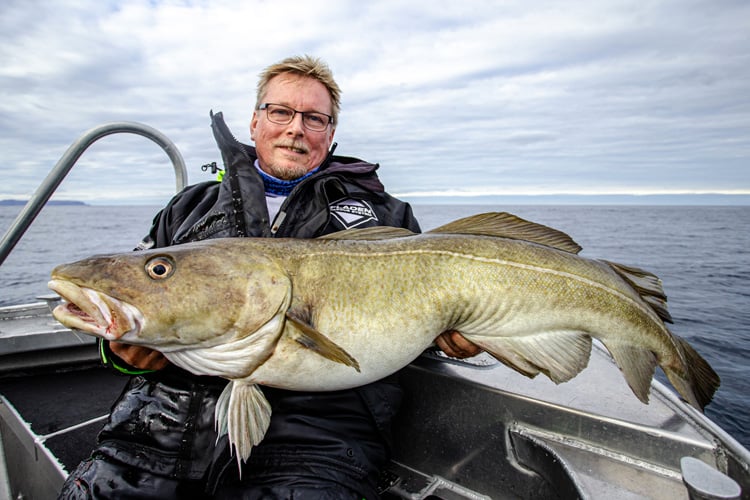 Tuesday started windy but was going to settle down, I fired up to a really hot Halibut spot where we hoped to find some nice lady dams. Already on the first operation, a nice Halibut comes in on the sonar. Ulf, who has been up a bunch of times before, has said many times that his dream is to catch a Halibut over 141 centimeters, the fish that came in on the sonar looked nice and chose to step on Ulf's boat… He cranks the cork and immediately we see that it's a good Halibut, it fought hard and after turning at the edge of the boat once I could see that the size is exactly what he was looking for! The next attempt we managed to land it and amazingly we measure it at 142 centimeters and the joy on Ulf's face was unmistakable, he was completely overjoyed! Following this we burned a couple of fish but soon the fishing died off for us and we went out for some more Cod fishing where we found a bunch up to 12 kilos. Boat 10 was also hot this day and enjoyed an area that holds really fat fish, on a completely perfect drift along the depth curves over a good shelf, it steps on a real cannon Halibut which they safely landed and measured to a magical 173 centimetres. Spinning boat number 4 found a shallow area that held really good numbers there pulling a bit over 2 figures with Halibut up to 135 centimeters!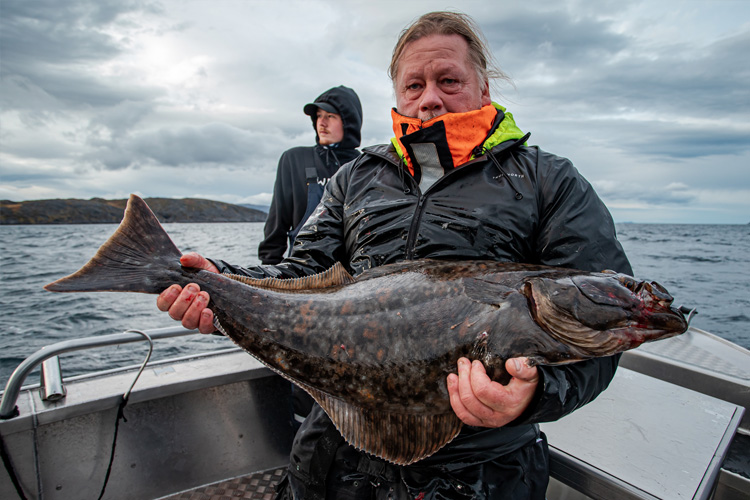 The last day had an absolutely fantastic forecast and we thundered again on the long trip and everyone was determined to end the week on a high. The guys in boat 3 couldn't hold back and it didn't take many minutes before they ran into a fat fish that offered an absolutely extreme fight and measured a whopping 174 centimeters! For us, however, it started out a bit tougher, but after a few drifts we finally got a good echo in that stepped up and sucked Niklas' tenacity into it. He hooked it up to the boat without any major problems and we were pleasantly surprised when we saw the size of the fish and it turned on the bottom again, then the real fight began and Niklas had to fight hard to lift the fig again. We managed to land the fish and find Niklas' first big Halibut which measured a nice 165 centimeters and he was more than overjoyed for this dream fish. Boat 10 was soon in the bump as well and Robin who had a really good result already in the boat, was still waiting for his first Halibut of the week, when finally a good fish cuts his bait and he quickly realizes that he has hooked a really big four who, after a well-deserved fight, was measured at a whopping 188 centimeters! Boat 3 left the area earlier to test a spot on the way home, this would prove to be a good decision as Przemek who earlier that day took the 174, hooked another big fish measuring an incredible 182cm, I call that a last day for week of rank. Elsewhere, George in boat 8 managed to break his previous PB of 155cm from earlier in the week with a magical fish of 174 centimetres!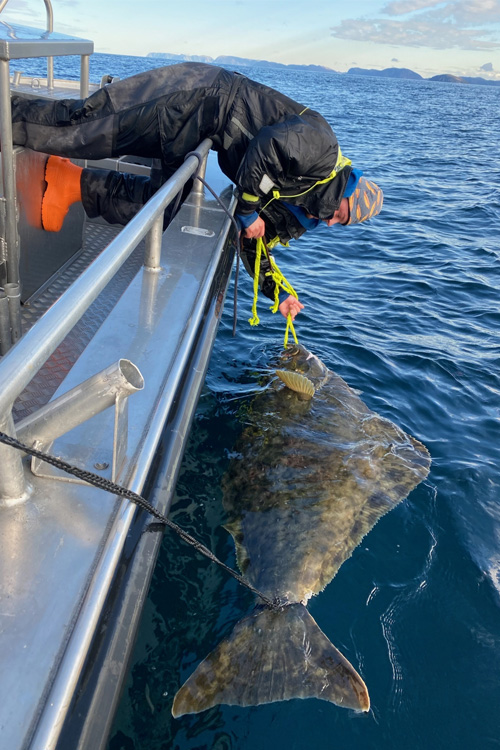 We want to thank all the guests for a magical week and congratulate all the big catches! See you again
// Douglas Dahlberg & Andreas Hugsén
CONTACT US
If you, like many others, have ever dreamt about fishing the prolific waters of Havoysund and would like to know more information on how you can join us, you can contact our sea fishing specialist, Paul Stevens, on 01603 407596 or email at paul@sportquestholidays.com.