It's so nice to finally be able to get many people over to Norway, it hasn't been as easy as normal but with lots of hard work from our admin team, we have managed to sort the flights and get people on their fishing adventures.
This group was hosted and lead by our guide, Ross Johnson, Although the weather didn't play ball all week, the last day of the trip makes up for it on another level! For now, we hand it over to Ross…
Havoysund Week 2 Day One Report:
Our second week in Havoysund has gotten off to a flyer today.
Starting at 5am to catch the best of the weather, both boats headed south to a mark known as baby bay. This was a great opportunity for all 8 of our new anglers to land their first halibut of the trip and they all duly obliged.
In fact, as it happened, the day produced far more sport than we could have hoped for. On my boat, with 3 lads on board, we landed 19 halibut, with the best 6 going 100cm+. On the guide boat, with 5 anglers on board, 21 fish were landed, the best being a cracker of 166cm, which head guide Douglas managed to winkle out on spin fishing tactics.
Today, we head out for halibut once again, but this time to a big fish venue. Numbers won't be great, but a biggy may be on the cards…. Watch this space!
Havoysund Week 2 Day 2:
Another half decent forecast saw both boats heading East to target some big halibut in one of the many channels between the islands.
These venues hold some absolute monster fish, but it is generally a persistence game for the better fish instead of the numbers fishing we had yesterday.
Things started off well with both boats getting a bite on the first drift. Unfortunately, Tom on my boat did not connect, but Nick on the guide boat with Douglas did manage to boat his, a fish of around 95cm.
A few drifts later, Brian had a second fish of 111cm for the guide boat, whilst we struggled to tempt any more fish into taking our baits.
After this early flurry of halibut, things went very quiet, with neither boat getting anything except the odd Cod, Lumb and Coalie.
As a result, our boat changed tactics and went spin fishing in one of the few bays in the area. This is a much more active way of fishing and soon resulted in a few hookups. The first of which came to my rod on just my second cast of the day. I immediately knew it was a good fish, so handing the rod to Will, I got behind the wheel to make sure the lines were in the correct place. A good 15-minute battle ensued, with Will expertly using the gear he had to slowly tire out the fish before it finally came into sight. It was a cracker and our best fish of the first few days at 143cm (85-90lb). Everyone on the boat was bouncing with excitement.
The next few drifts in the bay were also productive, with Tom managing to land 3 more halibut in quick succession to a best of 97cm. But soon it slowed once again, so a move was in order.
As the day drew to an end, we had our last few drifts following a line that Douglas had recommended. Just before the end of the first drift, we heard the shouts over the radio that a good fish had been missed in the guide boat, so as we drifted closer to the spot, the spin gear once again went out abd Will hooked up our last butt of the afternoon, a fish of 100cm.
We did then have one last stop in a bay close to camp, just so that the lads could get a haddock or two for dinner. This took longer than usual, taking around 20 minutes, but only because the huge shoals of coalfish were beating everything else to the baits.
A good day was had by all!
Over the next few days, we have some strong wind arriving, so no guarantees we can get out, but if there's any breaks at all in the weather, we'll be back at it and a report will follow.
Havoysund Week 2 Days 3 & 4
The weather has been rather unkind to us since Saturday. Two days of wind and intermittent rain showers.
On Sunday, we got out for 4 hours locally, with my boat drifting for Haddock, Cod and Coalies, whilst Douglas took the guide boat just round the corner to try for Halibut. On my boat, the lads were kept busy, with plenty of bites throughout. The guideboat managed to stick it out for a similar length of time, but the Halibut were not playing ball. When the wind had picked up again, we both decided enough was enough and limped back into the safety of the harbour.
On day four, the wind was still howling and the rain still pouring down. Boat action was called off for the day, so we decided to run the first ever 4-hour Havoysund Shore Angling Championships.
7 of the 8 lads here with me decided to compete and great fun was had by all. Although the Coalies proved hard to get through, Tom Morgan managed to winkle out a Scorpionfish and a small Halibut to take the overall win in the longest fish and species pools with 56cm and 3 species respectively. Justin Hamnett took the prize for smallest fish, with a foul hooked Lumpsucker that would have easily fit on a penny. The runner up prize fir longest fish went to Will Irving with his 34cm Coalfish.
A great way to pass some time and a lot of fun.
On another note, a big well done to Neil Hamnett, who had ventured out earlier in the morning and managed to winkle out a lovely Halibut of 99cm on the shads. Good effort mate
The next few days are looking much better wind wise, so hopefully we can get the lads back on the fish.
Havoysund Week 2 Day 5:

Certainly, another day split into two halves, in which the change of location worked wonders for us.
In the morning, we headed into a North West wind against the chop to get into Halibut alley. Fishing here was slow, but my boat managed 3 Halibut on the shad gear. Quiet on the whole though, so I took my lads north to try for Plaice and Cod.
From the first drift to the last, the lads endured some of the finest fishing I've ever witnessed. Cod every cast with the shads, with well over 100 caught in a few hours.
If you could get prawn or fish baits to the bottom, monster plaice were waiting in numbers. Will Irving managed the best of the day, a huge fish of 7lb 4oz! A dream fish for any Plaice angler. Dan Davies also had flatties to over 4lb and countless amounts of Cod.
It was safe to say when we'd had 10 hours out, the lads were happy to call it a day.
One last big one day as we head south towards Soroya. If its anything like last week, the lads are in for a treat!
Havoysund Week 2 Day 6:
*RECORD BREAKERS*
Just how am I to describe what has just happened. Unbelievable scenes here in Havoysund.
It was the final day of the trip and we had a special one planned down to the South West. Despite a 4am start, everyone was up and on the boats early in anticipation for what was about to go down.
Our first stop was an hours steam away in a few bays around the east side of Soroya. Things started slowly, but we still boated 9 halibut in the first 3 hours with the guide boat managing similar numbers.
As 9am approached, over the radio, we got the call that we were moving to last weeks hot area. It was music to my ears, so we were racing at 30 knots to the next destination.
Once there, chaos ensued. 5 fish on the first drift, followed by another 4 on the second. It was so consistently good, that I did some live filming in which we had a double and triple hook up in the space of 15 minutes.
As 16:00pm drew near and we knew time was running out, I did a quick count up of the halibut we had boated…..43. The Nordic Sea Angling record was in sight.
The next hour was just insane. None of us could keep a lure in the water without at least a bite. At one point, a four of us were into halibut and one of our sleeper bait rods started screaming off too. 5 halibut at once! Unbelievable.
As Douglas approached us to call quits for the day, we had boated 52 and three fish were being played to the boat. I shouted over to ask what the record was. 56 was the answer coming back. With those 3 fish landed safely we had hit 55.
Douglas said we could have one last cast and then we had to go. That is all we needed though as both myself and Will Irving hooked up in no time taking our total to 57 for the day.
We were record breakers!
Even better though, the lads on the guideboat had also had an amazing day landing nearly 50 on their boat too.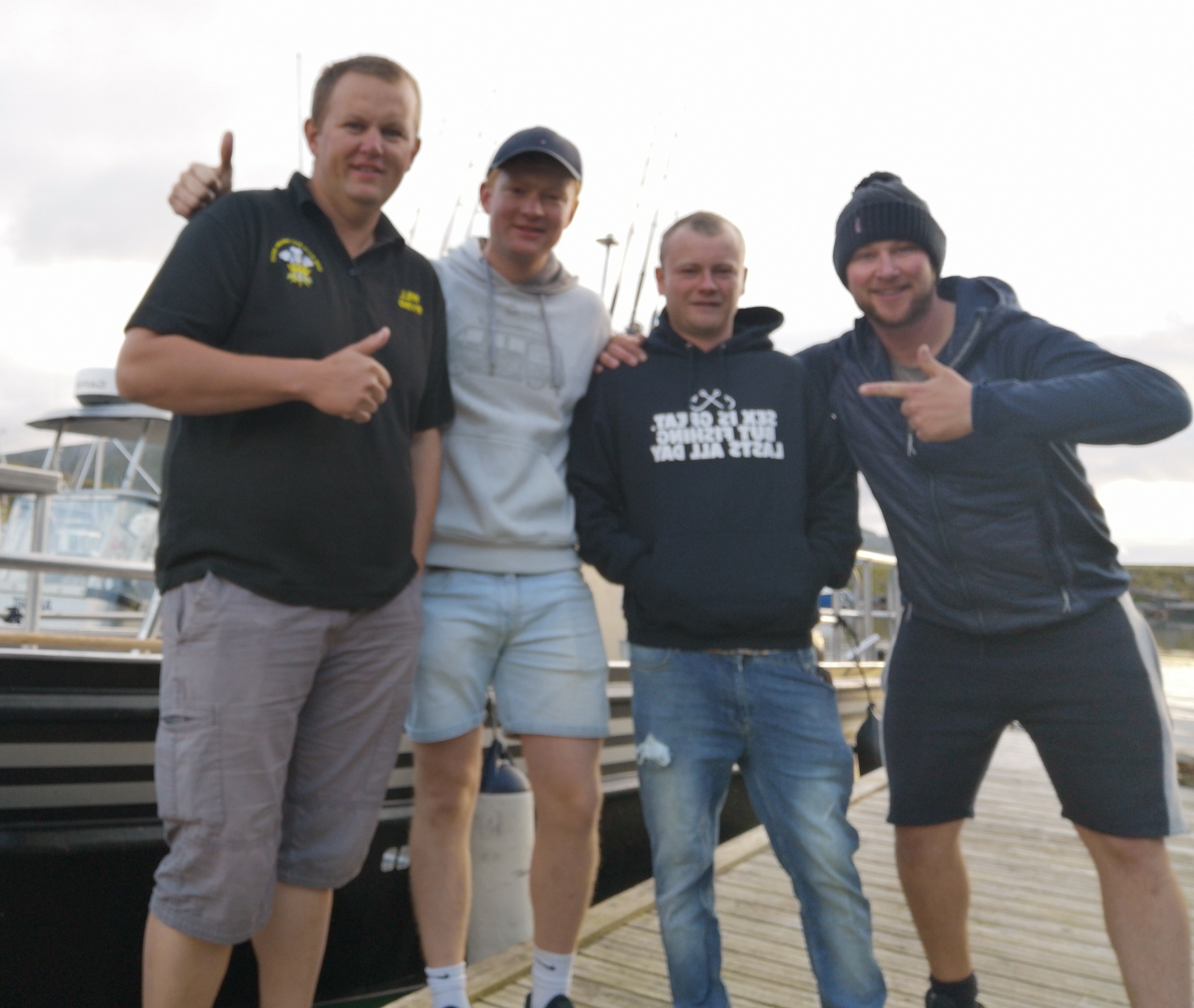 Havoysund…. Halibut capital of the world.
Must take some time to recover now. Until next time.
All the best,
Ross
Contact us
All we can say is wow. What a week its been for the guys over at Havoysund, they have had it all, from unreal Cod and Plaice fishing to managing 57 Halibut in one day! We are all in the office wishing we were there!
Looking to experience this destination for yourself? Give us a call anytime on 01603 407596 and we can discuss any open weeks at the time of you contacting. You can also have a look at all of our Sea Fishing Holidays here to get a head start.
Tight Lines,
Paul