The 2022 season at Kalum River Lodge is now complete and it was a season to remember. It was a joy to have our guests from around the globe able to come back to join us once again. We had a fantastic season with strong runs of all five species of Salmon. The Steelhead returns were also nothing to scoff at. With plenty of fish to go around, our season was filled with big smiles and big fish stories.
We started our 2022 season in April with spring steelheading, spending time on the Skeena, Kitimat, and the Nass tributaries. Spring always excites those who pride themselves on being prepared for whatever mother nature throws at them. Anglers often feel a heightened sense of accomplishment when fishing for a trophy in a variety of weather conditions. The reward of connecting with one of these fish far exceeds having to endure a few frigid mornings.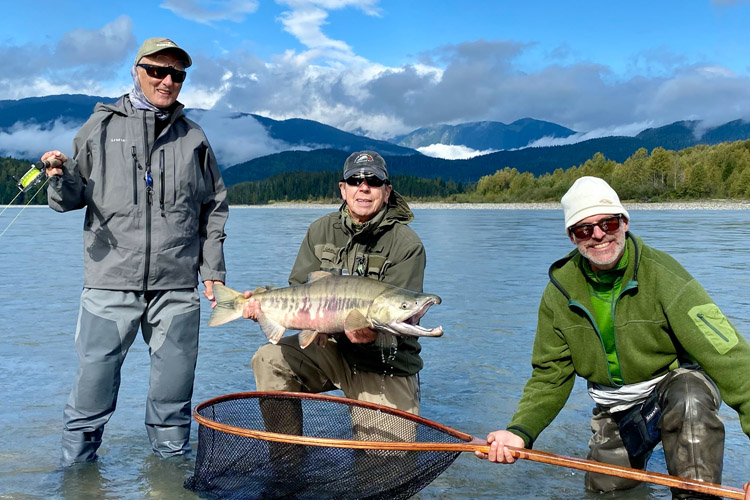 Once June rolled around, we pulled out the big rods and laid chase to the king of all Salmon, the Chinook. We fish near-tidal water targeting fresh pushes of Chinook, many fish being only hours from the salt. These fish average anywhere from 15 to 35 lbs with a legitimate chance at a 40 to 50 lb fish or bigger. The biggest one ever caught at Kalum River Lodge was 86 lbs. If you haven't had the chance to experience these explosive mid-swing grabs, then boy do we have a trip for you.
Before the Chinook where gone, the bulldog of the river showed up – the Chum Salmon. Arriving in great numbers on the Kitimat, these hard-fighting Salmon make for excellent sport fishing on the fly. Known for their aggressive takes and behaviour they have become a favourite amongst our guests. Chum Salmon fishing is excellent from mid-July to mid-August. During this time the Pink Salmon fishing is also a fan-favorite. Anglers stay busy with plenty of action, hooking multiple pink Salmon in a day while waiting for the big one.
The Skeena really fires up at the end of July, offering all five Salmon species as well as steelhead. The Sockeye run was awesome this past season and reached record numbers. Our guests said, "it felt like you couldn't miss". The Skeena also had good numbers of Chinook and Coho, and there were more Chums around than in previous years. We started to see the steelhead fishing really pick up in the first and second week of August.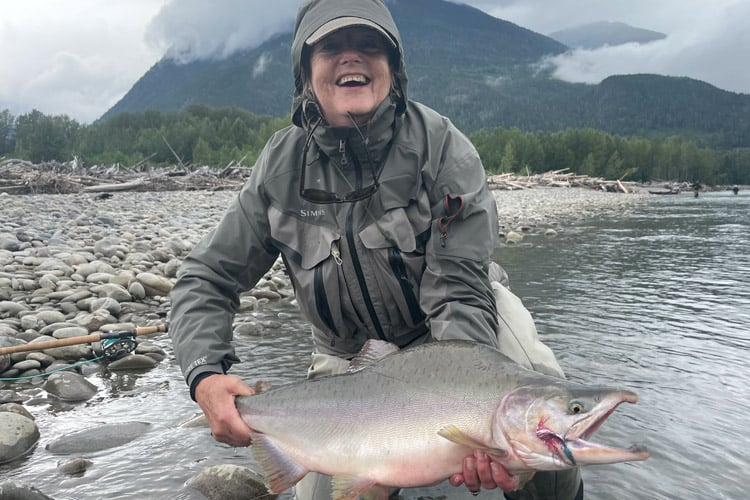 Summer seemed to slip into fall in an instant. We found there where good numbers of Coho on the Kitimat, Skeena tributaries, and the Nass. Fall steelheading didn't disappoint. The Kalum lived up to it's name and produced some giants. With glacial green colour and perfect swinging water, there's no wonder some of the worlds biggest Steelhead call the Kalum River home.
The friends, family and staff at Kalum River Lodge would like to thank all the guests of 2022 for an awesome season. Without you, none of this would have been possible. We'd like to take this time to invite all to join us again so we can spend more time on the river with you in 2023. It's going to be great.

Happy Holidays,
Lars Ronning
CONTACT US
If you would like to know more about the fantastic fishing opportunities on offer on Kalum River Lodge, you can contact our freshwater fly fishing expert Peter Collingsworth on 01603 407596 or via email at peter@sportquestholidays.com. He would love to speak with you.