Early Season
Contrary to the previous two seasons, this year summer arrived early on Greenlands west coast. When our team first arrived to Kangia in mid july the river was already stacked with fish that had made their way up the river all the way to the waterfall. Since the waterfall located about 7,5 km up from the river mouth is too big for any fish to pass this pool quickly fills up with char and remains absolutely packed throughout the entire season. Our first group of anglers were pleasantly surprised by the warm weather and the amount of fish already occupying the pools. One notable difference from previous seasons was that most fish seemed to set their sights for the upper pools right away and didn't stop midway as they've done before. Perhaps this had something to do with the warm weather and lower than normal water levels, something that plagued most european rivers this summer. Here however the lower water level didn't affect the fishing in any negative way as can be the case for many rivers. Fish are still able to make it up the river and will gladly do so on any level of water. In fact, Kangia is probably one of the most reliable and consistent rivers we've visited. When summarizing week 1 the group had managed to land just under 1100 sea-run arctic char, all fresh chromers with the bigger sized fish landed during the week averaging around 3,5 kg (7-8 lbs).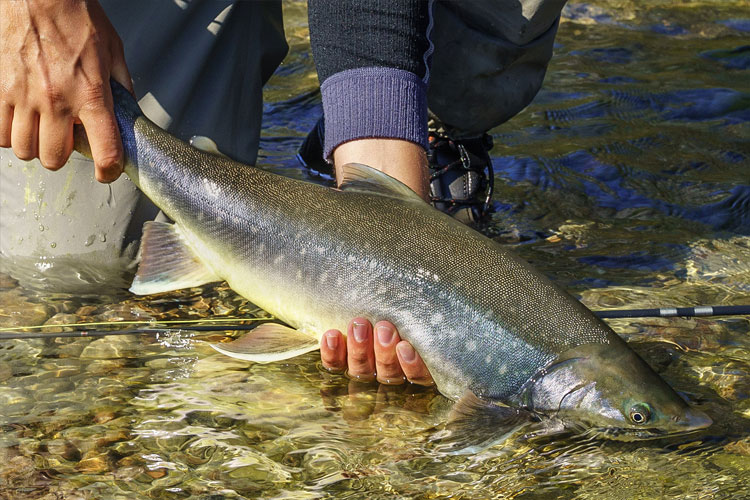 Late season
The latter part of July and early August kept going in the same pattern with fresh runs of fish pushing up the river each day. A majority of the fish landed was still fresh and silver colored. These fresh sea-run Arctic char are all hard fighters and will give anglers a real run for their money. Show up with a worn tippet or a flawed knot and they will expose you. Towards mid August we could see a decrease in the number of fresh chromers being landed and a huge increase of picture perfect brightly red and orange colored fish. Fresh chromers were still coming up however and most pools throughout the river were now getting seriously stacked. The average amount of fish landed per angler usually varies quite a lot during the weeks depending on how hard each angler fish, whether one tries to target larger trophy fish rather than focusing on landing many, whether one prefers to catch fish only using surface flies, how good one covers water, and so on. Also, visiting a place like Kangia valley is so much more than just catching fish and many guests enjoy taking time to relax along the river, watching wildlife while taking in the scenery. Since fishing is so consistent here it is easy to allow yourself to relax and take in the serenity of the place without worrying about wasting precious fishing time.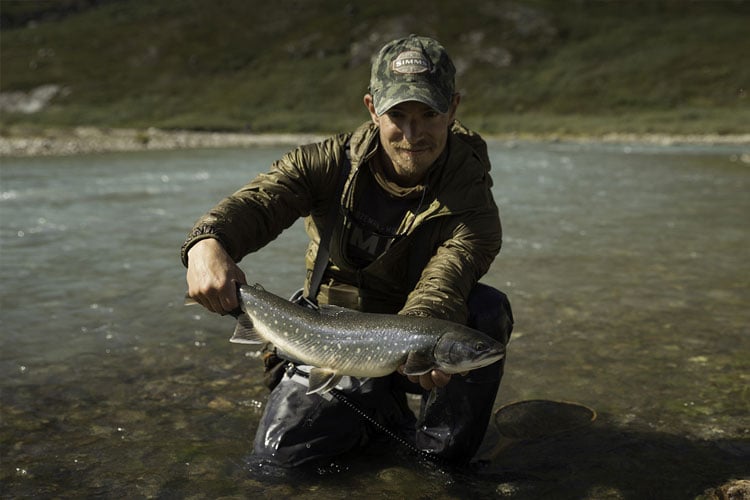 Biggest fish landed
Although the average amount of fish landed per week was pretty stable throughout the season we started landing a higher percentage of big guys towards the latter part of August. We see these huge fish all season long but they are normally hard to catch as they tend to sit deeper in the pools surrounded by smaller more aggressive char. The biggest fish landed this season came in late August and belongs to our friend Joshua Hutchins who travelled with a group of dedicated anglers all the way from Australia. After figuring out a way to trick a monster in one of the upper pools to take his fly, it took off and almost cleaned the entire pool clear of fish (perhaps a sensation only anglers that have been to Kangia can relate to) before finally being landed. This trophy char weighed in at 6 kg on the dot (13.2 lbs).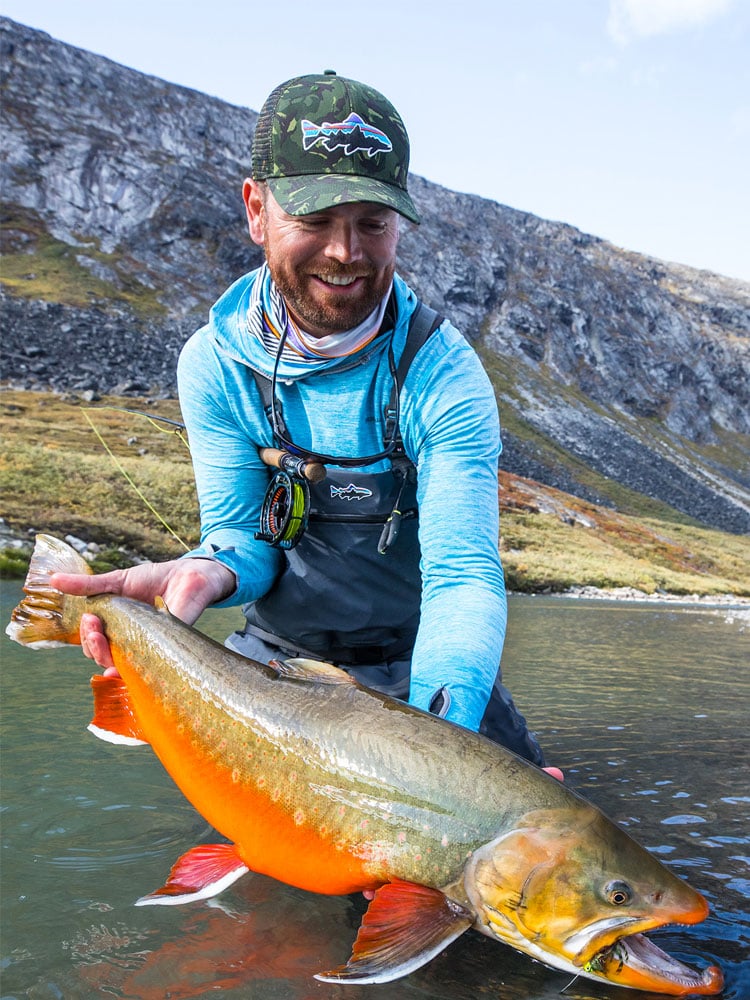 Favorite flies
In terms of flies the sea-run Arctic char of Kangia are usually not that picky. It is pretty safe to say that you will probably catch plenty of fish on almost any classic char or trout pattern if you just fish it enough. There was however a couple stand out patterns and colors that seemed to deliver fish more consistently than the rest. Our olive/green conehead streamer named Green Lantern is one of those stand out flies that always works. We use this same fly frequently in Las Buitreras for big sea-run browns as well. Another top performer was the classic white and grey char bugger with rubber legs. For those preferring surface action the pink/white rowboat worked very well. All our flies are custom patterns designed by our guide team in Kangia and sold on location for those wanting to top up their boxes. They are produced by Salar flies for Solid Adventures specifically, using stronger hooks to handle the power of these fish.
Conclusion
To sum up the season, fishing was for the most part nothing short of phenomenal. For each season we spend here, learning about these spectacular fish and their behaviour, the more interesting it gets. To each and everyone that visited us this summer we want to say a big thank you! Some of you we will see again in Patagonia this winter, and hopefully we will cross paths with the rest of you as well at some stage. Maybe back in Greenland, or maybe at some of our other destinations or scouting trips.
Many thanks / Qujanaq
Peter