A bunch of familiar faces are on their way here and we were super stoked to see all of them again. We were so happy to see Bill, Janet and their son Jake again, all of who had come here many times and who we had grown so very fond of. Along with them their good friend Rodney for his second consecutive time with us and who is always in for a great time and lots of laughs. David and his father Kjell, along with their friends Jim and Roger, who had come to visit us multiple years now and who were such a bliss to spend time with. And finally, Ferro and Sergio, who we had the pleasure to host two years ago and who's Italian charm and temperament we were all looking forward to. Such a lovely group would guarantee for a week full of laughs, good stories, old memories and new ones to be made – fishing conditions aside.
After the river had risen a few inches during the last couple of days of the previous week, we were hoping for some more stable water conditions and faster flow in the pools. But already during Saturday night's warm-up session, we had to realize, that our watermarks were out in the dry yet again and the water had dropped right back to its critically low level we had seen it at the beginning of last week. And unfortunately, the forecast would not predict any major rain for the week to come.
But just as all of our guests were motivated to put in the hard work to tackle these ongoing low-water conditions, we were just as eager to do our best to make this week's experience the best possible one for every one of them. Despite the tricky conditions, however, we headed into the week on a very good first day that was quite productive already, with fish landed on most rods. The Rio Menendez showed once again, that it is much more than just an add-on to the main river, but a very prolific piece of water if the conditions align. Already during the past weeks, it has shown us, that especially with the extreme low water in the Rio Grande, most places in the Rio Menendez will still have a speedy flow and the running fish will go up in these narrow, but deep pools and channels. This week, we integrated the Menendez even more into our daily rotation and it paid off from day no1. The great 16 pounder for David and the amazing spanking fresh 18 pounder for Bill were just two examples of its potential.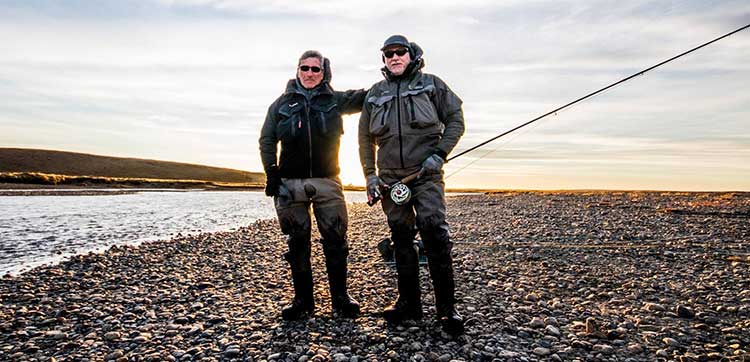 But this week was a constant rollercoaster ride of up and downs. The predominant and unusual south wind brought cold air from the Antarctica and temperatures dropped down especially during the night. While on many mornings the fishing was very slow after these cold nights, it picked up significantly during the later afternoon and evening hours. That was the case almost every day. Most of the "high-teen" fish (15+ lbs) were landed later during the day. Any change in conditions (temperature, air pressure, water level, etc.) seem to affect the fish a lot more in this very low water and the "smaller" fish of 3-10 pound were "waking up" a bit sooner after a change in weather or water conditions.
Monday sunny morning, for instance, produced only a handful of bites with just one fish brought to the net. The sky was cloudless and there was not a single breeze on the flat calm water. During the lunch break, no wind and blue skies were replaced by a thick cloud cover, a steadily blowing wind, and even some light drizzle later on. This change of conditions completely turned the game around and we had one of this season's most prolific sessions during that evening. Ferro's 21 lbs immaculate male fish during that afternoon definitely stood out of the crowd and was of course celebrated accordingly in the lodge – it ended up being the biggest fish of the week!
Bill and Janet had their go on the next day when they hit it right on the spot in their evening session. Bill started off with a 16 pounder, just to get warmed up for his cracking 20 lbs fish later on. But we were just as excited about Janet's 17 lbs fish out of the same pool, just minutes apart. David's 17 pounder from that session did not go unnoticed either and was celebrated with drinks at the bar during the night!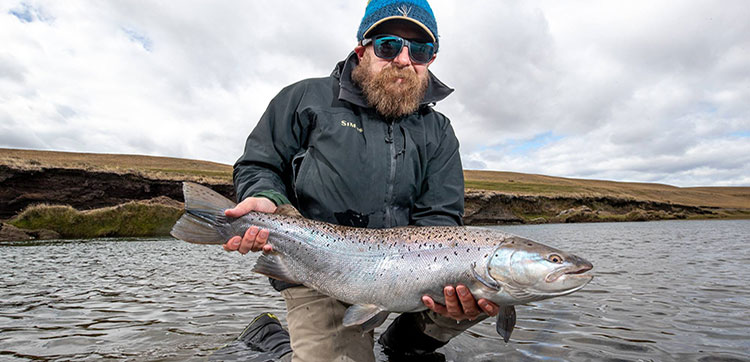 The fish that made Bill's week, however, must have been the fresh 18 lbs Menendez fish. After over 16 years of coming here, he had never fished the Menendez – but I do believe he will more often now, after this unforgettable fight in the tight pools of this small tributary after landing a more few smaller fish. Jake left his mark on the Menendez as well. After Rodney and he landed a 14,5 and a 6 lbs fish back to back in an unnamed pool, it will be referred to as "Pauli's Pool" from now on.
On that day (Thursday), it had started to drizzle during the morning session. The drizzle turned to rain that would never stop during the night. Also on the next morning, the rain prevailed and kept on wetting the soil for the entire day. It was an unforeseen, but yet so promising change of weather and we were all crossing our fingers for more rain for the next week, that would make the river rise. The weather felt very fishy, and although there was no immediate change in the water level, the fish would sense the change ahead of time. Jake's 17 lbs and Ferro's 15 lbs on the last day were just two examples of the many great specimen landed on the last day.
But let's put the fishing aside. I see it more as the excuse to come down here to escape from a hectic everyday life and enjoy the company of like-minded people, experience the haunting charm of Tierra del Fuego and lean back with a big glass of Malbec. Every night, you could probably hear the chatter and laughter echo away from the lodge and anyone around the estancia would probably hear that someone had a good time It is so nice to see a mixed group "click" this well from the very beginning. Everyone had stories to tell or an open ear for someone else's to be told. We are sad to already wave goodbye to this outstanding bunch of people – this week went past so quickly and we are already looking forward to a great reunion next year.
Thanks for such a fun week!
~ Paulo Hoffmann, Kau Tapen Fishing Guide.