They were welcomed by a river in good condition with fresh fish moving through the system. The water level stayed at around zero all week, which is the so-called base level here and means most pools are fishable throughout our 7 zones and 40 km (25 miles) of water.
Several of our guests this week had been here many times before and they wasted no time to get started. Summarizing the first day of fishing we had 20 sea-run brown trout landed, the two biggest fish both weighing in at 17 lbs. The first day saw exclusively chunky, fresh, silverfish being landed.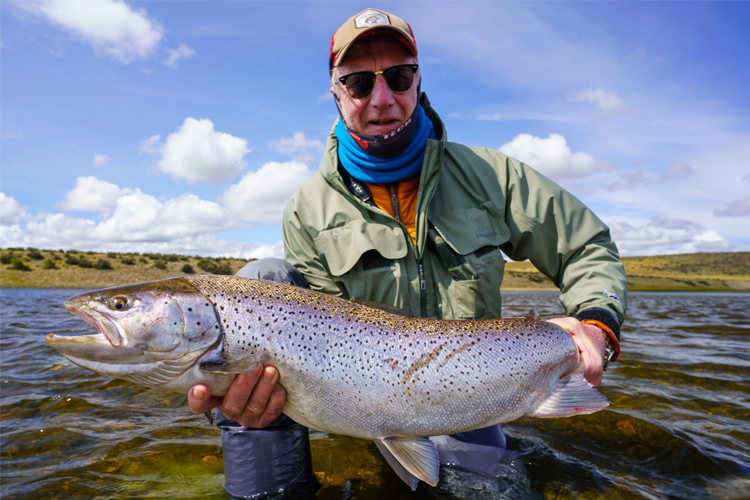 The biggest sea-run brown trout of the week belonged to Swedish angler Jerry, visiting us here for the first time, who landed a stunning 21 lbs fish in Seniors pool. The other 20 lbs fish of the week was landed by Tomas Z and was one of very few coloured fish landed during the week.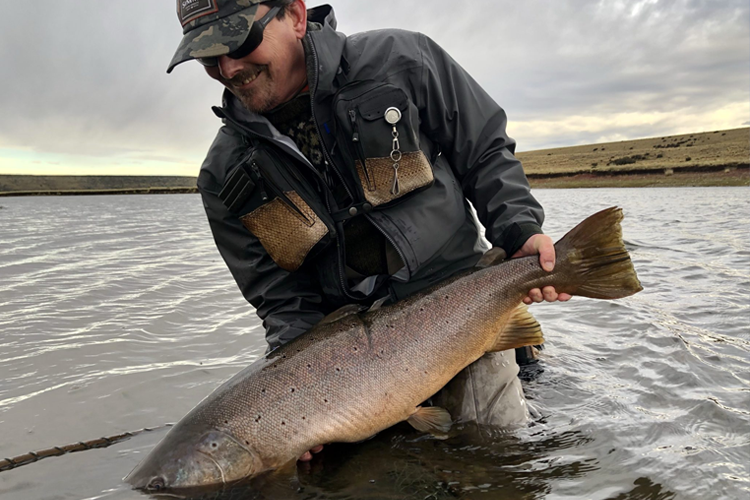 Finnish actor Jasper Paakkonen was here for the 4th time and was on point as usual with his single hand rod. His biggest fish this time around, took a sunray on his last cast of the week in limits. After no less than 9 jumps, a couple of brutal downstream runs, and several visits under the weed bed along the channel, a massive 18 lbs, perfect chromer was finally landed.
The most successful flies during the week were smaller rubber leg nymphs in size 6-10. Sunrays and leeches were working well during the last hour of light, tantalizing both sea-runs and browns to violent strikes.
A big thanks to all guests this week who all contributed to the positive vibes in the lodge and along the river.
Stats –
Total number of Sea-run brown trout landed: 75
Biggest sea-run brown trout landed: 21 lbs by Jerry from Sweden
Approximate number of resident brown trout landed: 250
Top rod of the week: Tomas Laine with 17 sea-run brown trout landed.
Number of fish over 20 lbs: 2 (Jerry and Tomas Z)
Number of fish over 15 lbs: 13
Average size: 10.1 lbs
Tight lines,
Peter