This year however they were accompanied by a few first-timers: Sten brought his two sons Nicholas and Chris, and Kjersti was accompanied by her two daughters, Emilie and Linnea. It is great to see more and more families at the lodge as well as younger generations getting into fly fishing.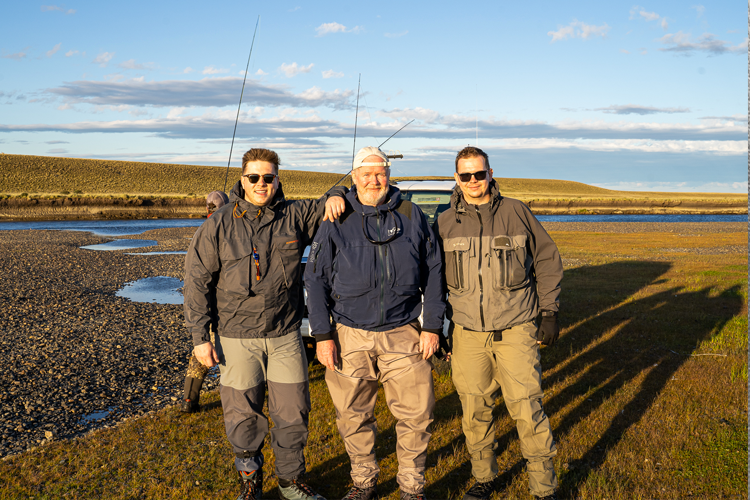 When it came to fishing this group made their intentions clear from the get-go. David, using all his previous experience and knowledge, placed a small red nymph in the exact right spot in Molino pool and landed a massive fish during the first-morning session of the week.
The first-timers, however, were not to be outdone that easy and Chris landed a beautiful Chromer on his first session of the week. A decent fish for being his first sea-run Brown Trout ever.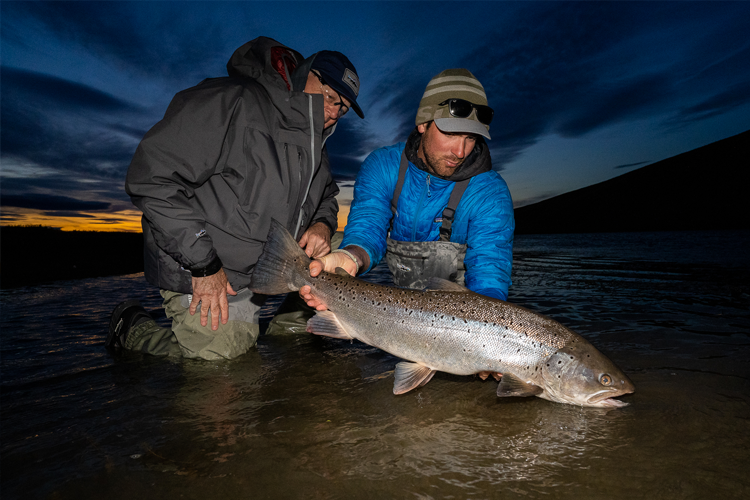 Nick had a very special moment on day two when he tricked a mad 21 lbs fish to grab his fly on the upper part of Goat using a small chartreuse EMB fly. It is always super exciting fighting a big fish in such a narrow fast flowing channel. This time however, Nick and everyone around him could have probably done with a little less excitement than how it turned out.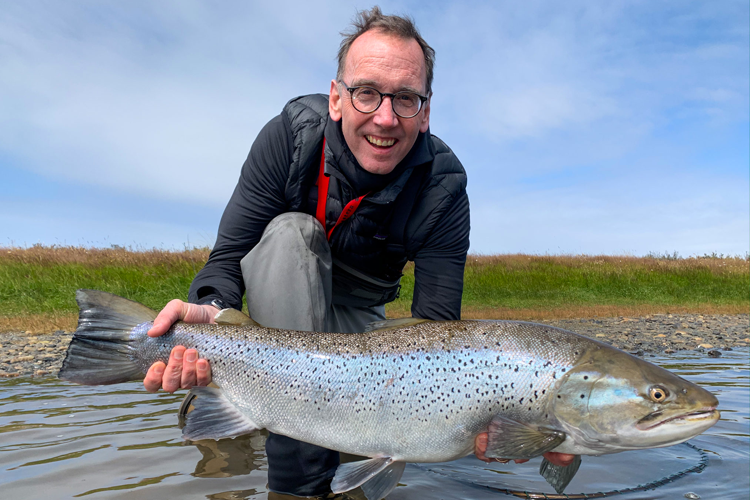 Somewhere along the fight Nick's running line got stuck in the reel, Not a good thing to have happened when you are fighting the fish of your dreams. Carlos, our head guide reacted quickly and took the line in his hands, trying to keep just enough tension on the line while Nick and another guide, Franco, frantically tried to take Nick's reel apart and get the backing in place. In the background Nick's fishing partner Keith was observing it all, jaw wide open, trying to make sense of three guys running together up and down the river, carrying different parts of equipment in their hands.
Somehow during all this madness the reel got assembled back together, the leader didn't brake, the hook didn't come out, and Nick was able to land the fish. To say there were cheers and jubilations on the bank is a gross understatement. These are the types of memories you will carry with you for a lifetime.
The fishing remained fairly consistent over the course of the week with the sea-run Brown Trout average weight ending up at 9.4 lbs. By the end of the week we had a quick rise in the river followed by an immediate drop of the water level. This changed the fishing a little and we saw shorter and more intense biting periods the last couple of sessions.
Small rubber leg nymph patterns were the most commonly fished flies during the week and it seemed to be working very well. During the more windy sessions bigger girdle bugs, leeches, and yellow yummies seemed to be more efficient as the wind tends to color the water a little in certain sections.
As is often the case the weather varied quite a bit during the week. We always recommend bringing several layers of back up clothing for your fishing session as you never know what to expect. And since you always have a car with you there is  never any concern about having to carry anything heavy around. Just leave it all in the car until you need it.
We'd like to thank all of our guests this week for some really good times. It is always a pleasure to have you guys visit and we gotta say that the "Estancia Las Buitreras" lyrics this year were top notch! To the new generation, we have to say we were very impressed with your fishing and how you improved during the week. It was a true pleasure to get to know you all. We hope you had a good time and that we get to see you again next year.
Tight Lines,
Peter
Stats
Biggest sea-run brown trout landed: 21 lbs by Nick
Top rod of the week: Nick and Keith with 9 sea-run Brown Trout landed
Number of fish over 20 lbs: 2 (Nick and David)
Number of fish over 15 lbs: 11
Average size: 9.40 lbs