As we come to the end of another camps season in Norway, we must all admit just how amazing this season has performed in terms of producing some colossal Halibut for customers. This final week ended up producing consistent big Halibut which was great for the last handful of customers.
Havoysund – 13/10/2021
We have reached the end of the season here in Havöysund and we can now start packing up the camp for next season. Our last week has offered some absolutely fantastic autumn weather and also really tough northern winds that we had to fight a bit in. The fishing has been really good for many at the camp and there have been many big Halibut despite the fact that we sometimes had to spend time very local due to the weather.
Initially, during the week, the first day of fishing was tough and we fished near the camp. Tom in the guide boat who made the first trip of his life to us at Nordic Sea Angling was really excited on pulling the first Halibut of his life and already on the first drift it sucked in Tom's jig, but unfortunately, the fish came loose… Tom who is new to the fishing did not think much about it, reloaded and felt more prepared for the next bite. We then fished an edge where it turned out to hold some fish and after Micke in the guide boat pulled a nice fish of 75 centimetres, it hit Tom's jig again, this time on spin fishing gear. The fish started to rush but unfortunately, this one also came loose, a real shame. Tom would not even have time to mourn the lost fish because shortly after, Tom gets a really sick bite and this time he sets the hook hard and the fish shot off with speed under the boat. After a few corrections, we were in control again, or at least a little closer at least. the fish fought really brutally on the 15 meter deep water and offered Tom a go workout. After a while, the fish came up and I could secure the first Halibut of his life at a nice 135 centimetres!
During the second day, it was Andreas' turn in the guide boat. Andreas who also made the first trip of his life to us was still waiting for his first Halibut and on the first drift of the day something started to pull away with his baitfish, and after giving it some time he tightened the brake and hooked the fish. These such moments I live for and seeing the total happiness and joy in Andrea's face when the rod doubled down towards the water for the first time was absolutely amazing. The fish offered a good fight and Andreas enjoyed every second. After landing, we were able to measure the first Halibut of his life to 95 centimetres. He decided the fish should go home in the box and a Halibut of this size is an absolutely fantastic fish to take advantage of and eat, so the joy and experience of this fish was taken all the way home to the dining table with family and friends. Other boats at the camp were out this day in another area where the big Halibut were feeding and our dear friend and colleague Jørgen who is our main guide on Vesterålen was here fishing with his friends Nils and Erik. It did not take long before it hit properly on Jørgen's rod and he hooked a fish that undeniably felt quite heavy, but it did not move any further and Jørgen lifted the fish to the boat edge without any major problems, completely unaware that it was an absolutely fantastically fine fish that measured at a full 173 centimetres! Anders, Fredrik and Micke in boat 12 were nearby and after Micke had landed the first Halibut of his life at 169 centimetres. They continued to land fish and Micke tied up another 150cm and Fredrik a fish of 153 centimetres. Andreas who steered boat 4 this day also pulled a really nice fish of 147 centimetres!
The next day, the time was spent closer to the camp again due to. wind and Jørgen who was really on fire went out when the current would start to match the wind and dusted up 4 Halibut on the first drift, and a first drift for the day can look like this – 80cm, 120cm, 120cm and 156 centimetres… yes they did not fish as many hours this day, out and picked them up and back.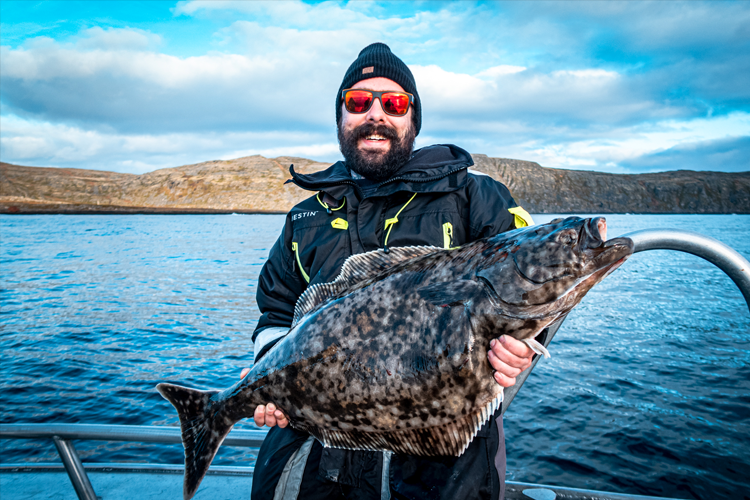 On Sunday we were treated to fine weather and there was a big fish hunt for me that would steer the boys in boat 12, however, the monster did not show up that day but Fredrik stood for the biggest of the day with a nice fish of 138 centimetres. Szalai and the gang in boat 10 were on the chopping block and Biffen ended this day with a cracking fish of a wonderful 170 centimetres. The guide boat and a couple of other boats incl. Jørgen and the guys in boat 11 drove an area a little further away and after a slow start Jørgen found a spit where it held BIG fish, Nils had to fish with a 3 kilo Lumb that they got, and yes it was a success. After Jørgen hooked the bait, Nild would help him so he cranked up the Lumb 20 meters above the bottom first, and when he came over to Jørgen to help him with the landing, Jørgen sees that Nils rod starts to bend and Nils runs back to his rod and hooks a fish, a Halibut that has sucked in his 3 kilo Lumb, and yes this fish was BIG!
He started to fight the fish but absolutely nothing happened when he tried to lift it, the fish did not make much of a fuss and swam slowly down to the bottom. Nils stood and held on for his whole life for a couple of minutes and when the fish lifted its head, the whole rod became straight, then you know that it is a serious fish. After a few minutes, the material failed and the line narrowed down at the knot… the pain was in the air and Jørgen says with certainty that it is the biggest fish anyone has had in his boat sometime during his years as a guide here up… They tried again and after that Erik pulled a fine fish of 160cm and Nils had to comfort himself with a fine of 150 centimetres. The guide boat had a really nice day too, no monsters but everyone in the boat landed Halibut and had an absolutely fantastic day.
The next day also offered really great weather and I went down with Jørgen to the productive area again. I found a good spot in the beginning and we caught 5 fish with a peak of 154 centimetres, but then things started happening with Jørgen's again. They dropped another really big fish down and after they had another couple of fish I drove down there. Jørgen and the boys fished like gods and Erik pulled a really nice fish of 165 centimetres and then also another of 168 centimetres which was even on spin fishing gear! Extremely cool. This day when we came in Szalai told us about a sick experience from the day when Tamas and Tomas hooked each others mega fish and when Tamas' fish came up and turned in a rush cutting against Tomas' line… they saw it and when they then could measure Tomas new PB of 170cm so they found that Tama's fish was easily the same size…
On the last day it was tough weather again, Jørgen felt ready as they went out just outside the camp and rounded off the week with another super fish of 157 centimetres, completely sick.
Now it will be fished for another week here and then we wait again for next year!
Tight Lines // Douglas Dahlberg & Andreas Hugsén
Contact us
If you would like to learn more about this fantastic sea fishing tour, you can visit the full detailed tour page here on our website which also includes past reports and all our availability for both 2022 and 2023. If you would like to speak to one of our sea fishing team members, you can contact them via 01603 407596 or by emailing them at info@sportquestholidays.com and they will get back to you as soon as possible.
Tight Lines,
Paul