As you will have realised, Norway is now up and running and we are receiving some awesome reports from all the very lucky anglers fishing out there. We have now got around 50 customers dotted all over Norway so we should be getting some great reports.
This particular report is from Vesteralen which is at the very top of the Lofoten Islands. We have got groups arriving today as we write this so our next report should feature more Brits.
Huge Cod & Mixed Species Fishing Vesterålen Fishing Report 29th July
The first week in Vesterålen is now over, and it has ended in the best way! The weather has been absolutely unique most days, and temperatures have reached 25 degrees and full sun. Not something to complain about! The fishing has also delivered well, and this week Siw and Erik who own the camp have been in place with their two sons. There were some really nice fishing trips on the first days with heavy rod bends and big fish!
The same day that Johan guided the Larsson family, I took Erik and co to another area to test some fishing for large cod and Halibut. The fjord is full of mackerel now, so we aimed to fish some mackerel as bait for this trip. Only a few minutes away from the camp, the first shoal appears on the surface, and we started casting after them. Siw dropped down his jig to see if there was anything under the boat. We immediately saw that there were some nice echoes around the mackerel shoal, and it was not long before Siw stood with a heavy bend. It was a big Coalfish that hunted around the mackerel, so there was some big Coalfish caught before we drove on. Siw even managed a small Halibut of around 60 cm but it didn't matter the size as it was Siw's first-ever Halibut.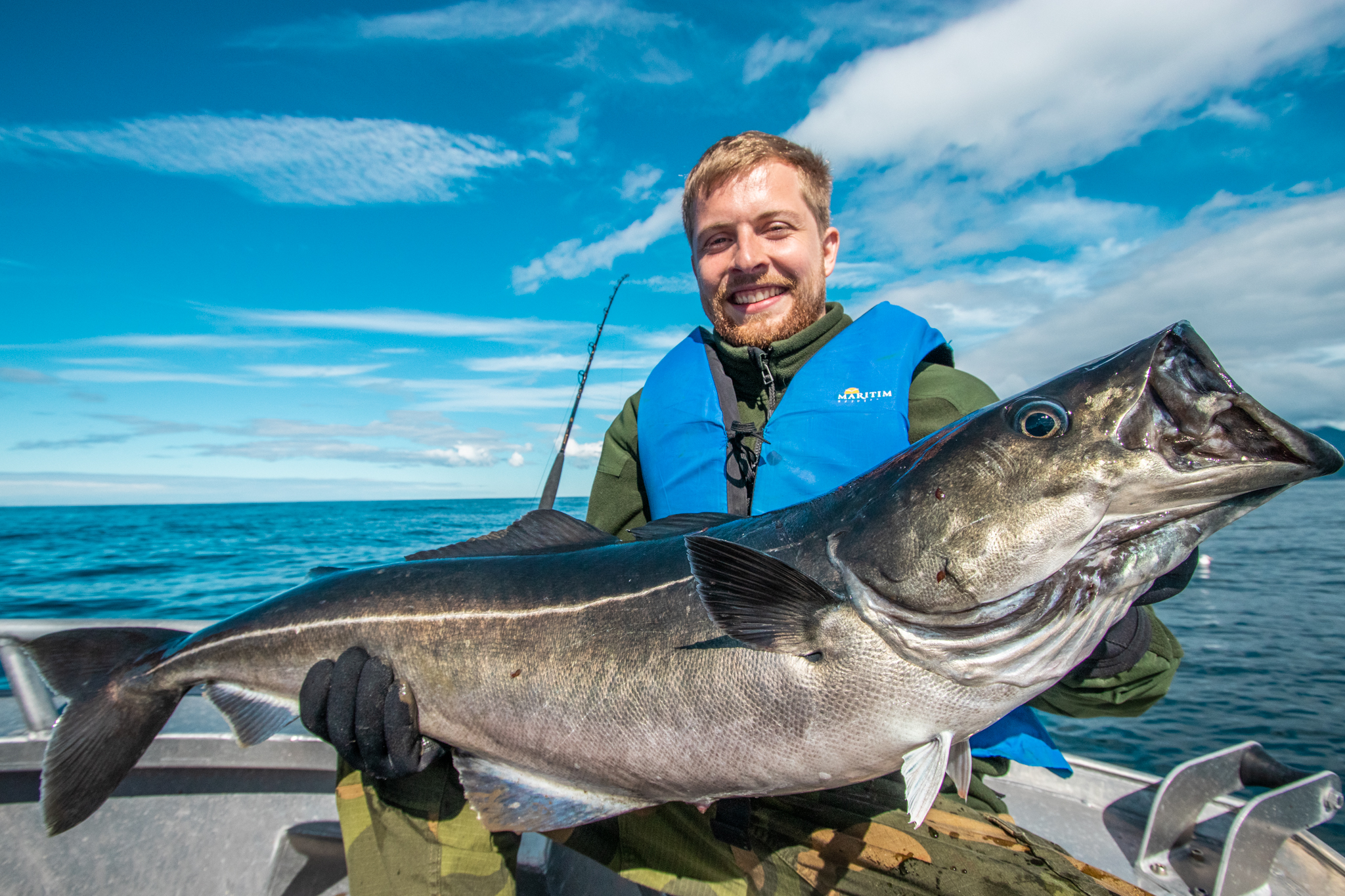 Once out in place, we aim to catch a large halibut, but the mark was home to several other top predators. The great Coalfish hunted pelagically at a depth of only 30-35 meters, and the cod kept hidden at the bottom. It did not take long before things started to happen. Heavy bends and tremors could probably be heard at loud shouts of joy at a long distance! Cod after cod that bite the jigs. And if you put a little speed on the jig, it didn't take long before Coalfish in the 10-kilo class hit. Even though we wanted to catch Halibut, you really could not say no to this action. There was constant action with some nice top cod up to 13-14 kilos and a lot of Coalfish around 10-12 kilos. A completely magical day with calm seas, full sun and well over 20 degrees!
The next day, the weather was again supposed to be absolutely glorious. Today's goal for Erik and co were now Halibut. Time was short because it was the football Premier League at 5 that day, so it should only be a short pass this day. We went out at 10 o'clock and tried to get some Coalfish as bait.
We sent down our bait, and it was not long before the first bite came. The fish was a little tricky, but when Thomas reeled up a few meters, it came off. Unfortunately, it came loose… The Halibut stayed under the boat, and only a few seconds later it went for Erik's jig. Again, we do not succeed in hooking it, unfortunately. We continued to drift, and another bite happens. Thomas repeats the step-by-step method. And then it slams! Finally, we heard the good sound of the reel and the line screaming. It was a good first rush, but then the fish got tired. Thomas gently pumps it up, and I can secure Thomas' first Halibut of 91 cm!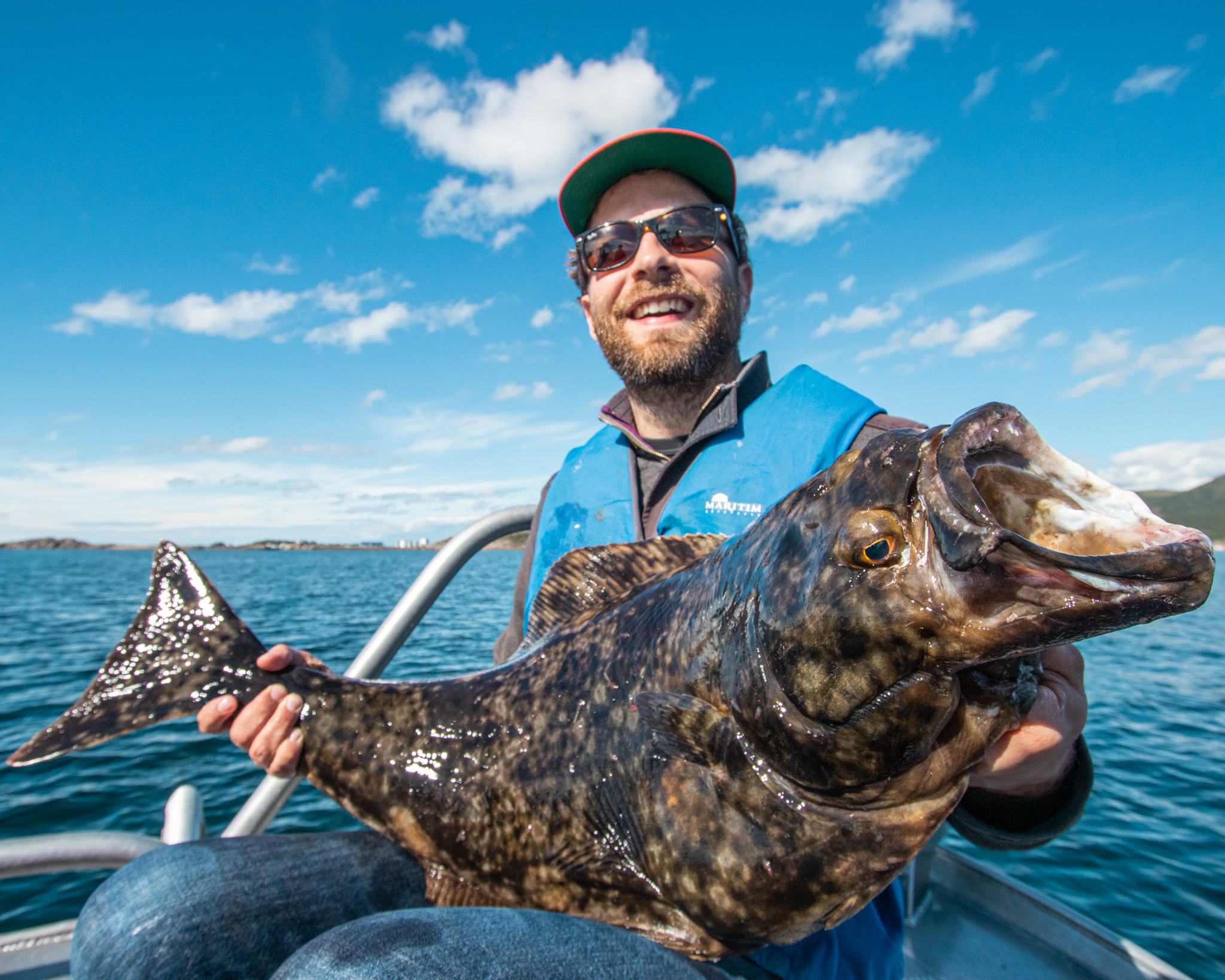 Drifts were getting better and there was little more power in the tide. While the gang was fishing, I stood with the spinning rod and cast out. 3 throws later whack. I was not sure if it was a Halibut because it came in very easy. But when I get it 15-20 meters up, the fish turns and runs. I give away the rod, and Halibut No. 2 was hooked. This fish was a bit more aggressive and offered a really cool fight! After a couple of nice rushes, it comes up to the boat, and the fish is landed. 93 cm, and other nice food fish! We stopped fishing after this, but here you would think that you could have had really good fishing for medium-size Halibut if you had continued! Well satisfied, we drove back to the beautiful Jørnfjorden to catch the football match!
On the last day, Johan went out again with the Larsson family to the same place where they had lost a really big Halibut. The bulk fishing on large cod continued to deliver, and there were some really nice top fish! With absolutely fantastic weather and high temperatures, the week ended on top with really good fishing for cod and Coalfish for the Larsson family! Now we are recharging for a new group arriving at the camp today, and the forecasts still look absolutely magical. Stay tuned to our Facebook and website for upcoming reports and news!
Tight Lines // Jørgen Zwilgmeyer, Johan Mikkelsen og Daniel Freland
Thanks guys for this awesome report and a huge well done to the anglers involved. We are loving these reports as it is keeping the guys informed who are due to arrive any minute.
We do have a few weeks still available for 2021 hosted or self-drive so if you fancy joining us in Norway to Vesterålen then get in touch on 01603 407596
Tight lines,
Paul