The promised rain never really came which meant that the river only rose for a couple of days and after that was steadily dropping. This week we welcomed back the Jones family for the second time this season accompanied by Dan, Peder and John.
On the monday Danny went to Ratama and started the week out strong. Halfway through the pool he hooked into a girthy strong male salmon measuring 94cm weighing 9,5kg. The fish was a very welcoming sight for Danny who had gotten a "bit" too used to watching his brother Kenny catching the big fish. So braking rights were on his side already from the beginning og the week.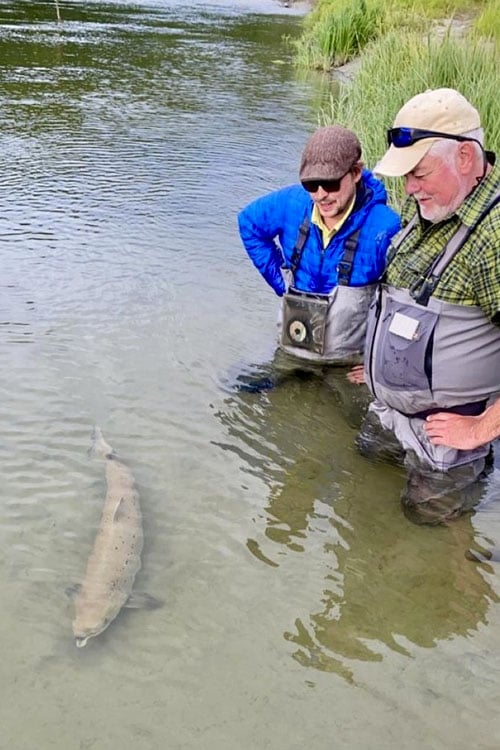 Nigel was fishing in upper zone 2 and manage to find a taking fish that he fought for almost to the net but had to see the fly lose its grip on the fish to his big disappointment. Luckily it didn't take long for Nigel to get his vengeance when he the morning after found a similar size fish that stayed on all the way to the net. The fish was a 92cm male at 7,9kg. Danny continued being in the right place at the right time resulting in a 9,3kg 95cm female. 76 year old John came with expectations of a 20 pound salmon and after catching a grilse he finally got what he came for. Not a real Lakselv monster but a well proportioned female of 9kg divided on 93cm. What a pleasure to see that salmon fever can still infect you after years and years of fishing.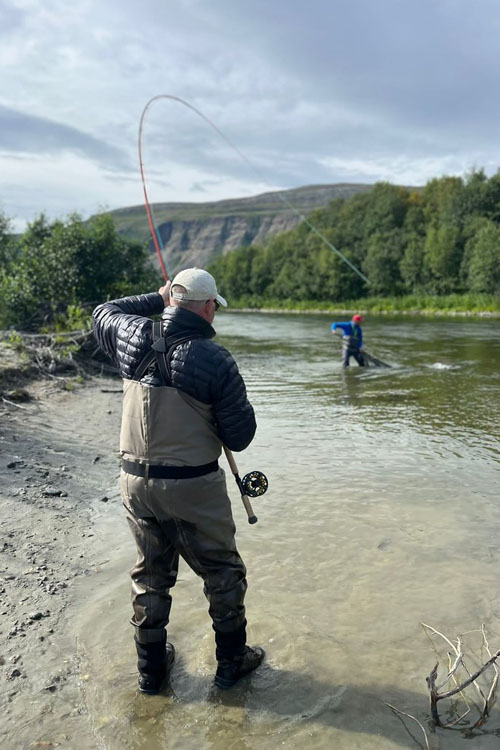 Ryan the older brother to Kenny and Danny had also been longing for a good size Lakselv salmon and that came in the form of a 83cm silver newly risen buck.
The biggest fish of the week came to another first time Olderø visitor Henrik that suddenly felt some serious weight at the end of his line. The fish started out by staying in its hole for some time but then its realised that it was hooked and took some explosive runs downstream that made Henriks Hardy reel scream through the valley. Further down river Henrik and the guide got in to slower water and managed to land the big male weighing in at 12,5kg.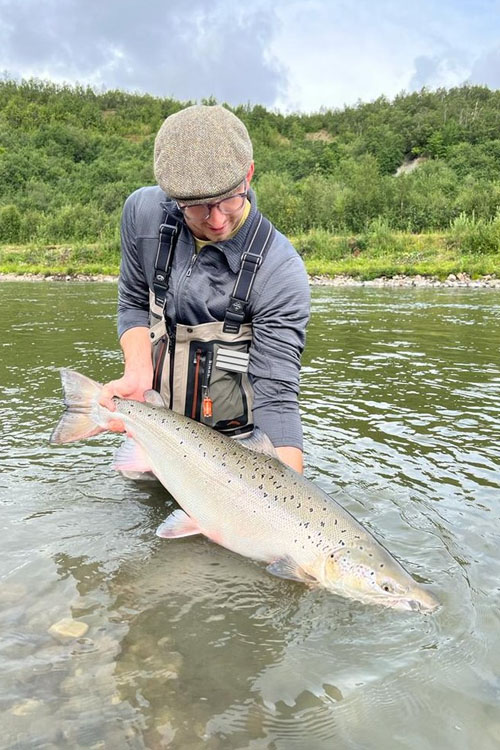 That the kind of first time Lakselv experiences that we and our guest are looking for. Throughout the week all of our anglers had chances but unfortunately small mistakes and powerful fish didn't result in the trophy pictures we all want in our memories. The end of the week was very challenging. We saw quite some fish in our beats and even with great conditions weather and water vise the fish were not willing to take our flies. We don't feel the changes have to be big before the fish again will be eager to take and hopefully it will happen to the start of next week.
CONTACT US
If you would like to find out more information about Olderø Lodge and how you can join in on the action and fish it for yourself, make sure to take a closer look at our tour page. If you have any questions regarding this tour, you can contact our freshwater fly fishing team on 01603 407596 or by emailing them at info@sportquestholidays.com and one of the team will help you with your query.