It has been a long wait and finally we were ready to open up Olderø Fly fishing Lodge after a long and dark winter here in the most northern part of Norway. This year's first clients in week 25 were longtime clients and friends of the lodge from UK, Scotland and Iceland.
The river showed itself from the best side running nice and rather low for the time of the year, almost like a high summer level, we all know the fishing is tricky in the start and the takes are something you must work and wait for, this year was not different, and the anglers had to work hard to get some action. This week we saw a lot of fish moving but all in a rush getting upstream, leaving only a few behind for our anglers to work with, in terms of gear we were using bigger rods and heavier lines all mounted with relatively bigger flies, most of the time some Sunray shadow inspired flies.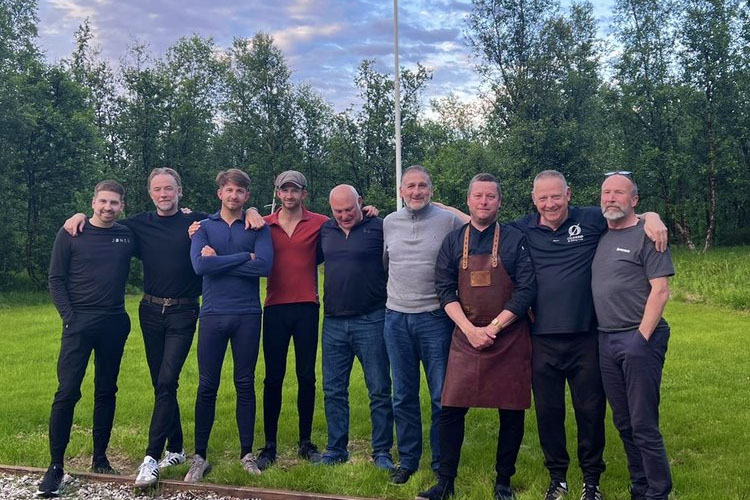 The action we normally see in the beginning of the season is very intense for a short period for again to go back into the waiting modus for the next run of Salmon to pass the beat, but when the fishing is "ON" it is really intense and nerve-racking and can get the most experienced Salmon angler to lose his mind – We had some periods were the fish was taking strong and heavy in the current and the biggest fish of first week was a stunning 15,1 kg fish caught on our beat "Holmen" by our longtime friend Nils Folmer Jorgensen, Iceland. Nils really had some action on his rod this week and besides the big fish he also landed a 13.25 kg fresh fish and on top of that lost a very big one after a long run downstream.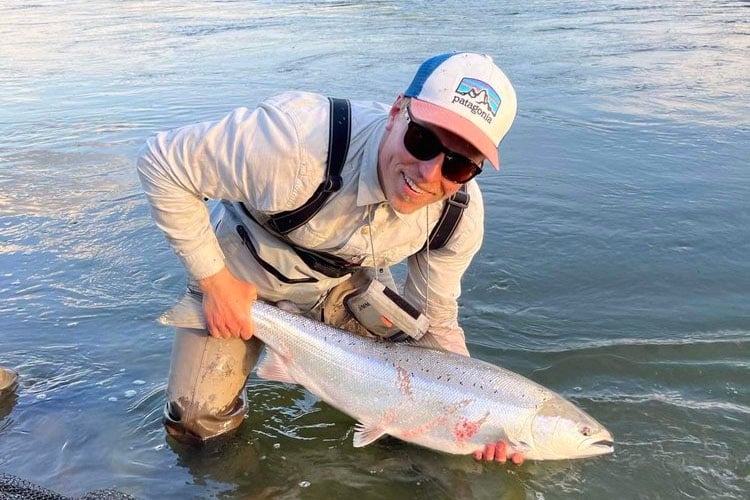 The following week (week 26) we had visitors from UK, Scotland, Denmark, Germany and all the way from Singapore, this group also saw fish moving through our beats and also had a hard time finding the fish like the previous week, we had some really really warm days in this week with temperatures all the way up to 32 degrees Celsius on top of that the river started to dig some clay in some pools in the "Gjøkenes" area which made the river a bit milky color wise and the temperature raised rapidly due to the warm weather, but still fishable and all guest did what they could to present some fish for the guides.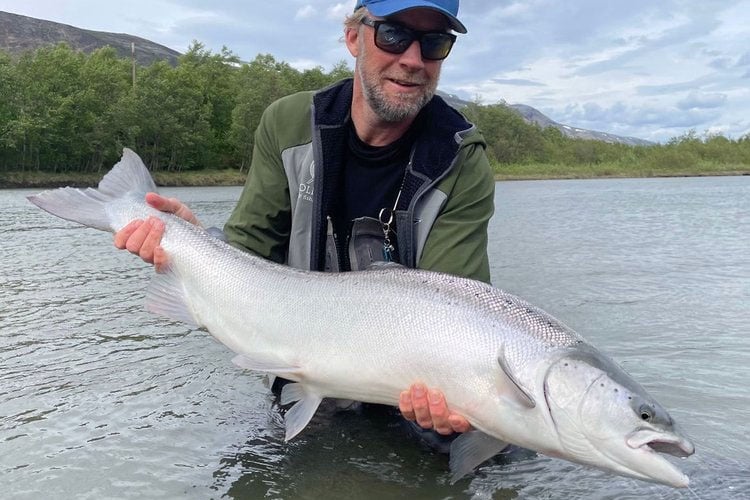 One of the guests Carsten Fjord from Denmark was earlier in the week lucky that his fly was crossing the path of a nice fresh fish from the Atlantic Ocean who couldn't resist his fly swinging the "Cabin pool" on our Holmen beat.
Like the previous week we were using big rods and float/intermediate lines mounted with some sinking leaders and again the fly Sunray Shadow did the trick in terms of flies. Later in the week Caleb one of the guests from UK also found a fresh 10 kg fish from the "Stripping pool" on our Ratama beat witch gave him a very good fight.
Despite a huge effort from all guests we didn't succeed to land more than these two bigger fish and a grilse for the week.
We really had an enjoyable week in the company of very nice people who enjoyed their stay on Olderø Fly fishing Lodge, we are all hoping to see you back on Olderø again next season.
Stay tuned the next weeks for more updates.
CONTACT US
If you would like to find out more information about Olderø Lodge and how you can join in on the action and fish it for yourself, make sure to take a closer look at our tour page. If you have any questions regarding this tour, you can contact our freshwater fly fishing team on 01603 407596 or by emailing them at info@sportquestholidays.com and one of the team will help you with your query.