Greetings and welcome to the opening trip of the Providence March/April 2022 fly fishing season. This week saw us welcome a full group of guests from the US and South Africa for an extended 10 night/9-day expedition. Some of the anglers on board our trusty mothership had visited Providence on several occasions prior and immediately got to work setting the vibe with wild tales of past experiences on the atoll. The feelings and emotions on the boat were mutual amongst our guide team as we settled in for the evening, everyone itching to get out there and explore the saltwater playground that lay before us.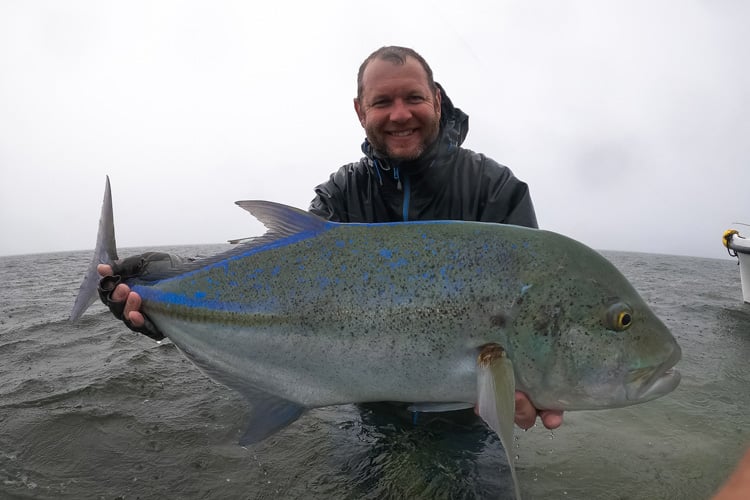 The first day of the trip saw our party experience tricky conditions with intense winds and gloomy skies. Despite this we managed to land a total of 8 GTs with a special mention for Michelle who managed to realize her saltwater fly fishing dream by landing her first ever GT on the fly, well done Michelle!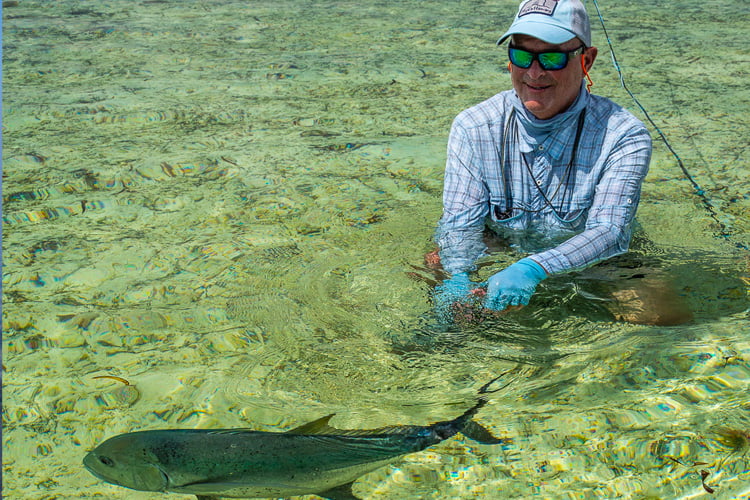 The second day saw an improvement from the weather gods and the exciting fly fishing action burned red hot with total of 20 GTs landed for the day. John enjoyed the standout catch of the day after spotting a jet-black GT that was in close pursuit of a stingray. He presented a perfect cast and following a few quick strips he was connected to a trophy GT that pulled the measuring tape all the way to 103cm. Congrats John! The tailing fish species were also encountered in good numbers with a total of 2 Triggerfish landed with Michelle ticking off her first Yellow Margin Triggerfish on the fly, well done Michelle. Both Michelle and John went on to land the first few Bonefish of the season with John's fish rounding off a flats slam…well done! Other firsts on the second day included Mark and Craig's first ever GT on the fly.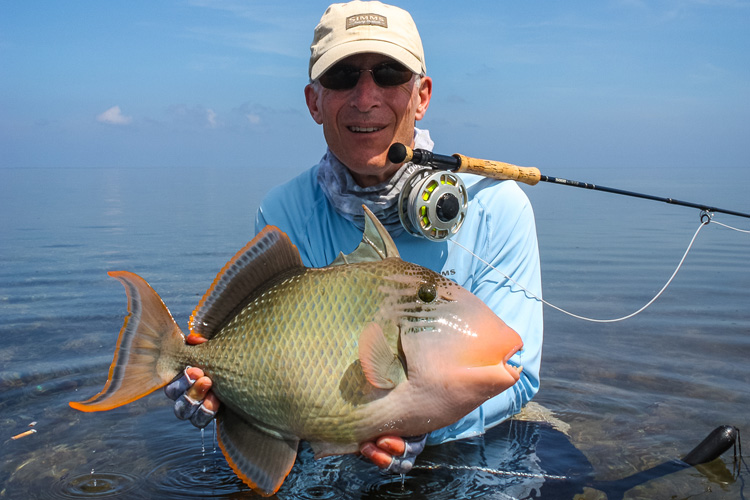 On the third day our group continued to enjoy great fishing on the flats with another 20 GTs landed for the day. The catch of the day went to Chris who managed to hook and land his personal best GT from a school of bow waking of fish. His trophy fish measured an impressive 103cm. Pat had one of those special Providence days and landed a total of 6 GTs himself. Great fishing and well done Pat. The iconic green tails of the Bumphead Parrotfish were encountered in good numbers and our group managed to land a total of 4 Bumpies for the day – Carl, Ron, Jon and Chris all landing their first ever Bumpies… Excellent job gentlemen!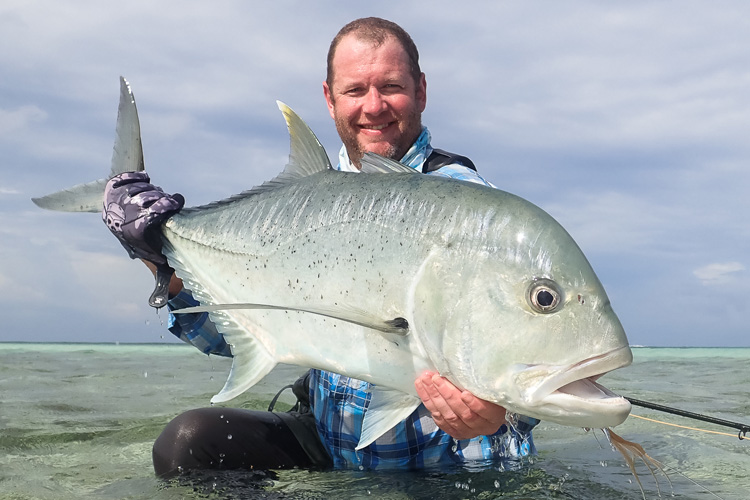 Day four and more fantastic GT action to report with a total of 16 GTs landed. Carl enjoyed a stella day on the flats landing a total of 4 GTs and topped it off with his first Yellow Margin Triggerfish. Congrats Carl! A total of 3 Bumpies were brought to hand for the day with Craig and Scott each landing their firsts on the fly. Only one Bonefish was landed for the day, but it was a special one because it completed a flats slam for Scott!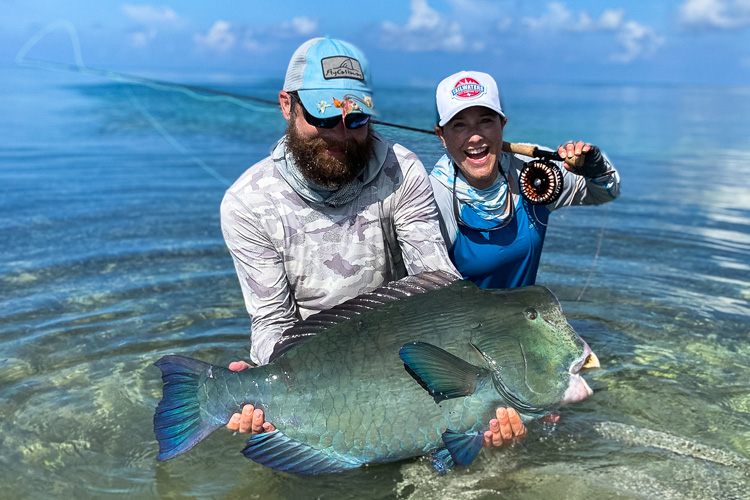 The fifth day saw a total of 11 GTs landed. Pat landed the top catch, an incredibly powerful fish of 106cm… Excellent job Pat! The resident Triggerfish population came to the party in a big way providing loads of shots and a total of 8 Triggers were landed for the day – Anglers Mark, Jon, Ron, and Tom all landed their first ever Triggers on the fly. Fantastic job guys.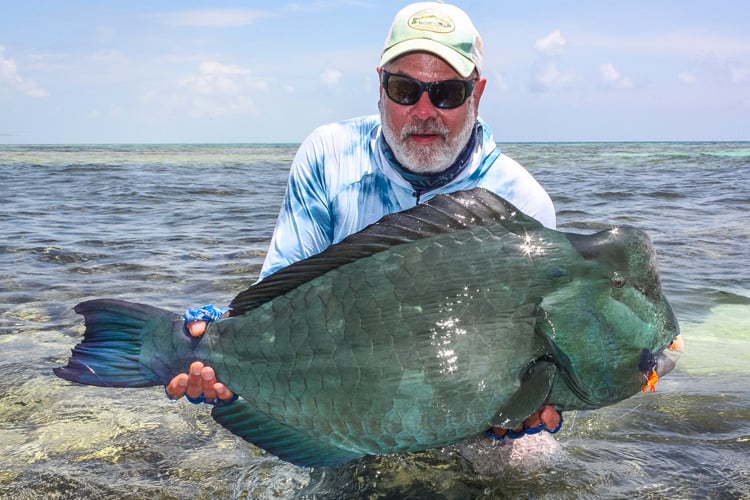 The sixth day provided our guests with loads of shots to the full flats fishing variety available on the flats. Our group managed to land a total of 10 GTs, 3 Triggers, and a single Bumpie for the day. As is typical of most weeks, on day 6 our guests were well and truly in the flow of things and the opportunities converted were accompanied by that special feeling of self-accomplishment.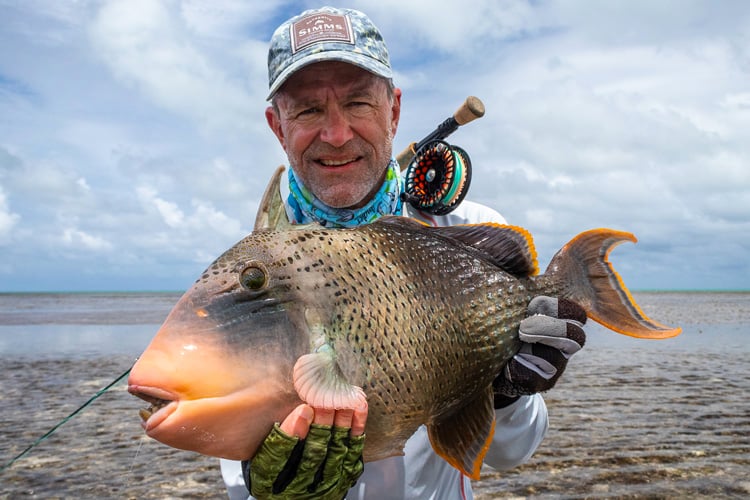 The seventh day saw a total of 12 GTs landed with Pat again in the thick of the action on the big fish front. He landed another GT of a meter, this one measuring 100cm on the dot. His trophy came with the last cast of the day after seeing the fish leading a school while they pushed up a lagoon edge… well done Pat. Michelle tasted sweet success while fishig for the bizarre Bumphead Parrotfish and finally managed to land her first on the fly after several close calls during the 6 days prior. Ron, Mark, and Jon had the right kind of Bumpie mojo on their boat, each of them bringing one to hand, great job guys.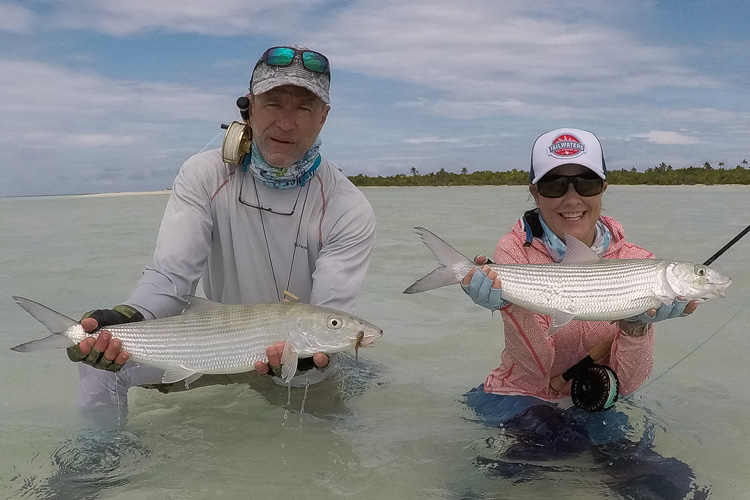 The eighth day delivered more fantastic action for GTs with a total of 18 landed. After spotting a school of fish hovering over some mudding stingrays Chris and Carl quickly managed to secure a double up. Well done gentleman, a special moment shared between friends and one we're sure they will remember fondly for years to come.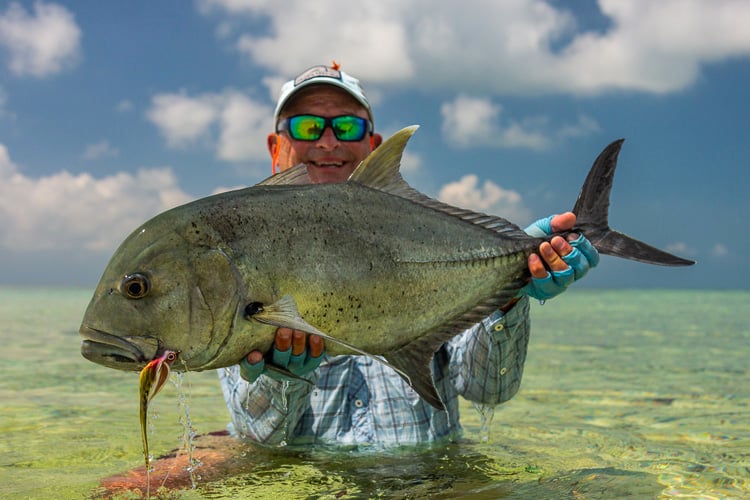 The ninth and final day of fishing delivered incredibly tricky fishing conditions with continuous heavy rain and dark skies. Our guests however soldiered on and went onto land an impressive number of 13 GTs for the day. The catch of the day, however, went to Carl who after seeing a pod of tailing Bonefish managed to convince the largest fish of the school. Following several lightning-fast runs Carl went on to land a beautiful 10-pound fish, well done Carl! Pat also ended his trip in style with an incredibly large Bluefin Trevally that measured 83cm, great catch Pat!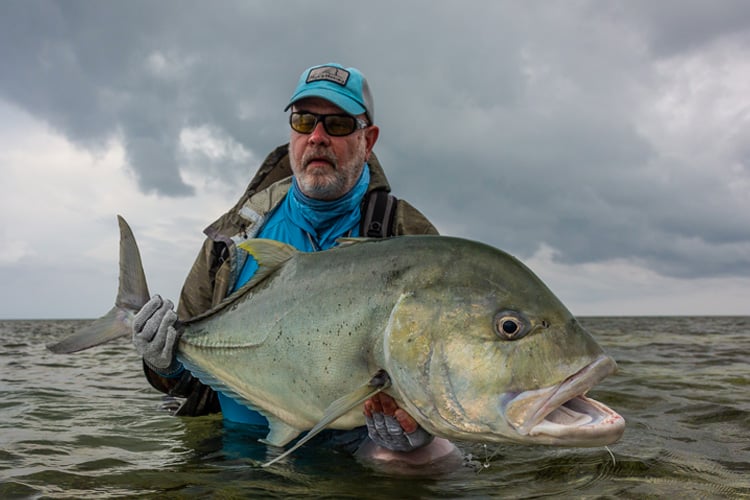 This ends the opening week of fishing in the wild and exciting waters of Providence Atoll. Despite the variable weather conditions, a very productive week of fly fishing was enjoyed by everyone on the trip. We loved sharing this experience with everyone and can't wait to welcome this group back soon.
TOTAL CATCH STATS THIS WEEK:
Giant Trevally – 128 (4 of 100cm plus)
Triggerfish – 20
Bumphead Parrotfish – 12
Bonefish – 4 (1 of 10lbs.)
Total tally of other species caught – 623
Until next week,
The Providence Guide Team
CONTACT US
If you would like to know more about the fantastic fishing opportunities on offer on Providence Atoll, you can contact our saltwater fly fishing expert Peter Collingsworth on 01603 407596 or via email at peter@sportquestholidays.com. He would love to speak with you.