The fourth week of the Providence March – April 2022 fly fishing season saw us welcome another mixed group of anglers from all over the world including South Africa, England, and the USA. The mix of personalities aboard the Maya's Dugong made for a festive first evening as we chatted with eager anticipation about the exciting fishing we were all in for over the course of the 6 days to come…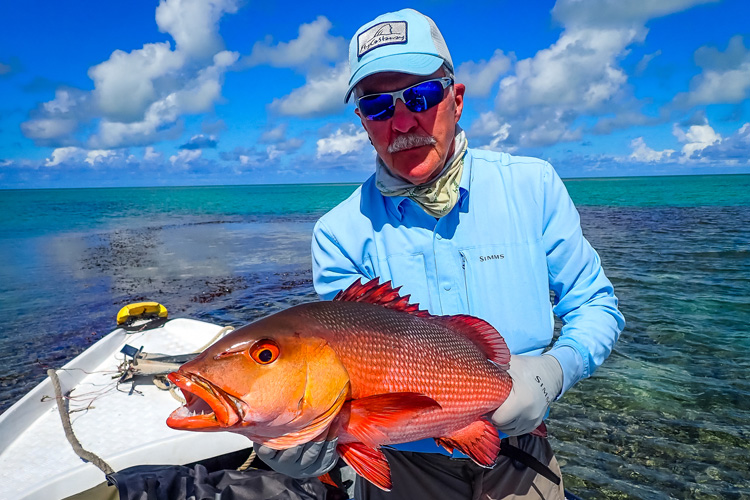 The first fishing day delivered a total of 13 GTs with both John and Derrick landing their first ever GTs on the fly, well done gents! The atoll's resident Milkfish population were encountered in good numbers in the late afternoon, providing Matt with the perfect opportunity to try his hand for these turbocharged speedsters of the deep blue. In just a few casts Matt found himself in the thick of the action when hooked up and eventually landed his first ever Milkfish! A great way to start the week, well done Matt!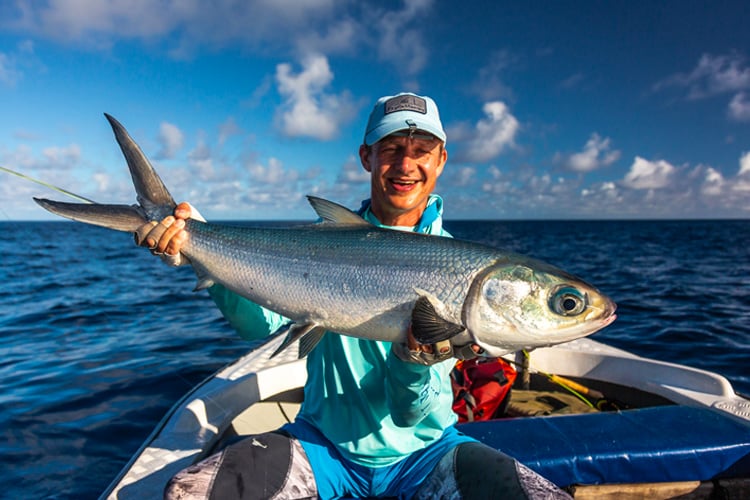 The second day saw similar returns on the GT front with a total of 13 landed for the day. The standout catch, however, came after Watts saw the fabled sickled tail of a Permit working its way down a sandy beach. He then presented his fly ahead of his golden quarry and waited for the fish to get within a few inches of it before enticing the eat with a quick strip causing a reaction bite. After a short fight the fish came to hand and the first Indo Pacific Permit of the season was landed…. well done Watts, a truly special moment!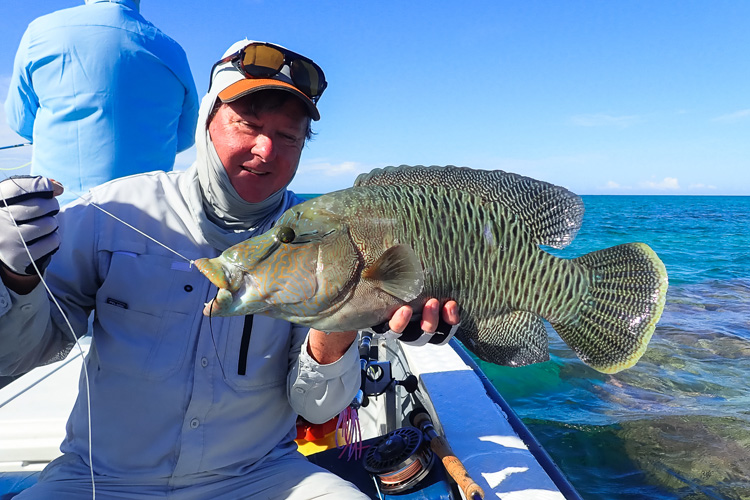 The third day brought with it an incredible day of GT fishing with a total of 20 fish landed, 5 of which breaking the fabled metre mark!!!! Matt enjoyed a cracker of a day and landed a fish of 104cm, followed by a beautiful 105cm giant. Gerhard also enjoyed a couple epic catches being a 101cm and amazing 112cm GT. The fishing gods however had something up their sleeve for him! While he waited patiently in a spot during the incoming tide he saw a large blue shape slide across a white hole in the turtle grass flat. After he presented his fly on the line of the fish, the fish charged, and Gerhard was connected to a fish of a lifetime. Following an intense fight through a coral garden he managed to land a truly special fish that pulled the measuring tape to a jaw dropping 130cm. To hook and land a fish of these proportions on foot is moment of flats fishing magic we are sure Gerhard will remember forever, well done G! Gerhard also managed to land the first Triggerfish for the week while Russ, Peter and Kevin enjoyed a great session fishing for Bonefish in the late afternoon.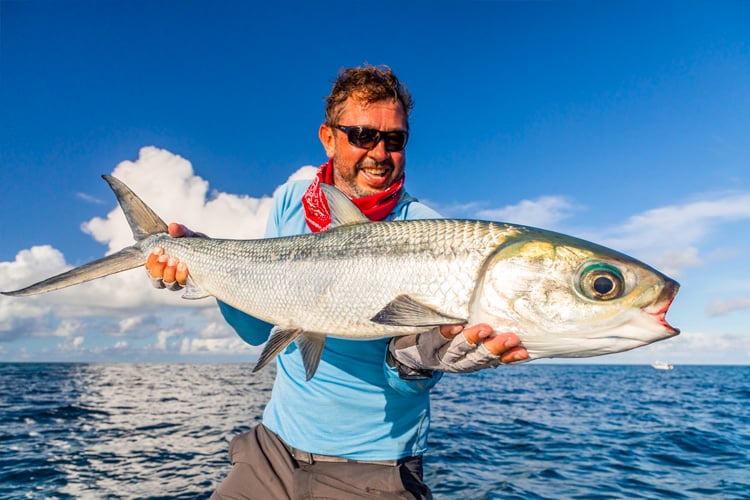 The fourth day saw a total of 15 GTs landed. After seeing a massive nurse shark come into the surf zone, Peter worked hard to get into position and presented his fly in front of the school that were following the shark. As his fly hit the water the school raced towards his baitfish presentation and after a huge commotion of energic splashes he was tight with an incredibly powerful GT that measured an impressive 106cm, great job Peter! Matt enjoyed yet more GT success and landed another 2 GTs that broke that magical metre mark. The milkfish were present again and Gerhard, Matt, and Russ all enjoyed success while fishing for this exciting species, well done gents!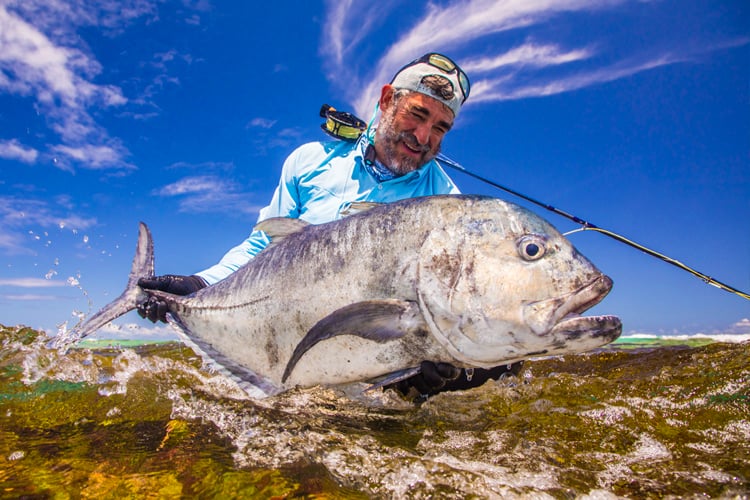 The fifth day produced more variety of catches on the flats with a total of 8 GTs landed. Gerhard managed to add to his Triggerfish tally while Matt continued his good form on the flats by landing the first Bumphead Parrotfish of the week, fantastic work Matt! Jari who had been eager to land a Milkfish on the fly finally managed to get it done early on the fifth morning… great job and well deserved Jari!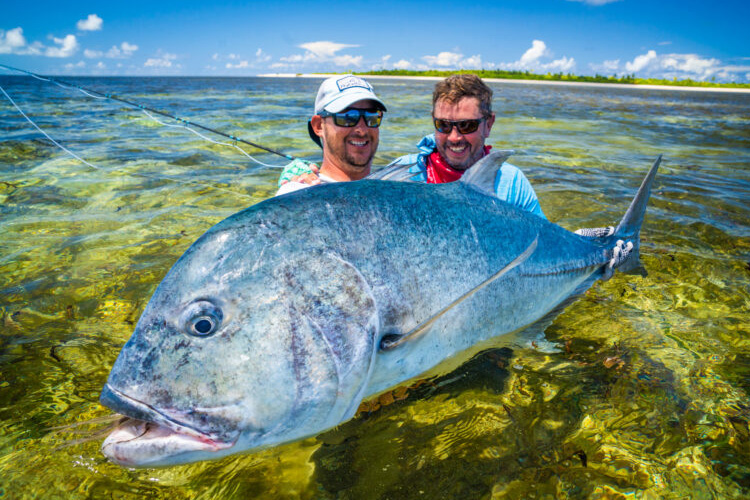 The sixth and final day saw a total of 12 GT landed. Jari managed to break the fabled metre mark and land a beautiful 103cm GT, well done Jari. The day however, belonged to Dale who after multiple trips to Providence lined up the perfect shot on a really big fish holding in the current. After presenting his fly he watched as the fish charged in and inhaled it. After a strong fight he landed the magnificent 126cm GT…. well done Dale, a fish of a lifetime. Gerhard managed to land another Triggerfish and today G's Triggerfish success was shared by Russ who managed to land his first ever on the fly, well done Russ!
And so brings a close to the fourth week of the season. With perfect weather conditions and excellent comradery to match our group enjoyed a very special week exploring the azure waters of Providence.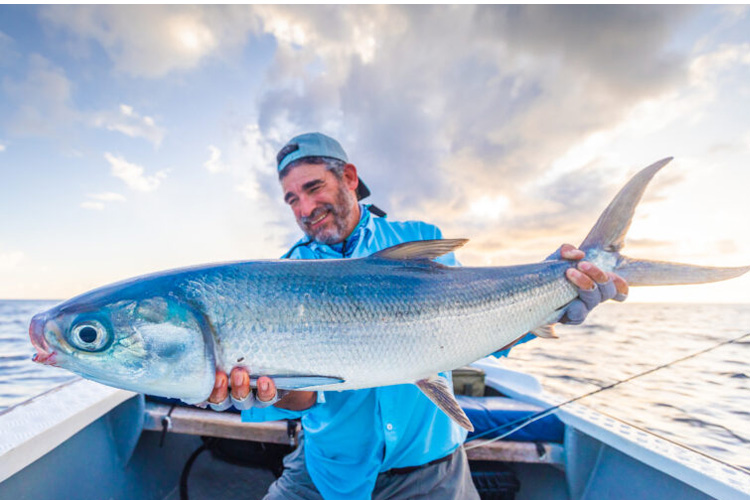 TOTAL CATCH STATS THIS WEEK:
Giant Trevally – 81 (10 GTs over 100cm..2 over 120cm)
Triggerfish – 4
Bumphead Parrotfish – 1
Permit – 1
Bonefish – 7
Milkfish – 8
Total tally of other species caught – 358
Until next week,
The Providence Guide Team
CONTACT US
If you would like to know more about the fantastic fishing opportunities on offer on Providence Atoll, you can contact our saltwater fly fishing expert Peter Collingsworth on 01603 407596 or via email at peter@sportquestholidays.com. He would love to speak with you.