Trip 2 of the Providence March – May 2022 fly fishing season saw us welcome a full group from the UK, with most of the group regulars to the Prov experience. After a quick orientation of our mothership, we set to work readying everyone's gear for another week of worldclass flats fishing action.
The first day of the week dealt us calm seas, despite challenging light conditions with periods of overcast skies. Our group hit the ground running and went on to land a total of 11 GTs for the day. Andrew, a newcomer to the Providence experience wasted little time and landed his first ever GT on the fly, great job Andrew! Another first-time experience was enjoyed during the course of the first day. This time for Piers, who after spotting the distinctive green tails of a school of feeding Bumphead Parrotfish sent out a perfect presentation and immediately went tight. Everything went Piers's way and following an intense fight he had his first ever Bumpie firmly in his grasp. Great job Piers!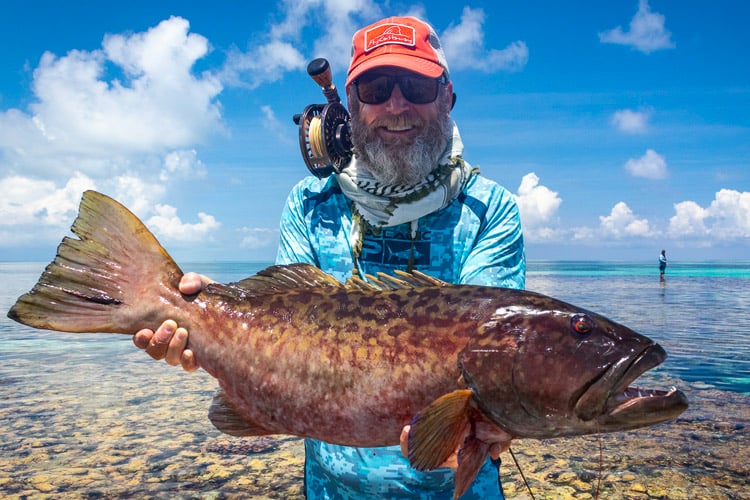 The second day saw a total of 12 GTs landed. Brummie found himself in the right place at the right time and managed to land 3 himself, excellent job Brummie! Other catches to write home about included a Triggerfish a piece for Fred and Andrew,  and a beautiful Napoleon Wrasse for Peter, Well done guys!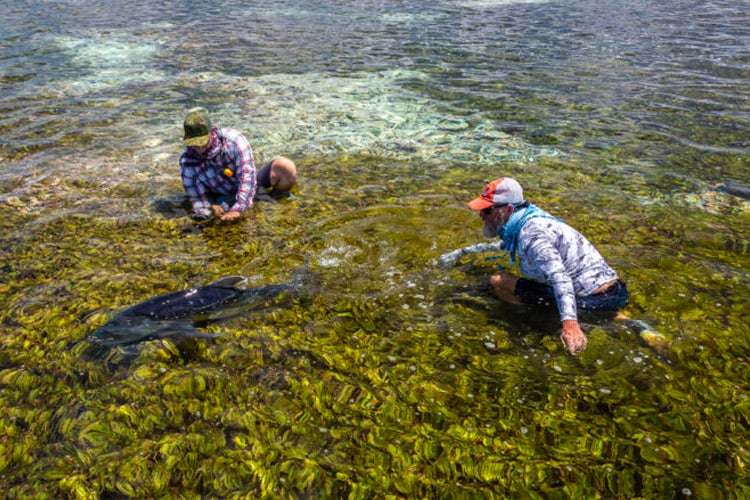 The third day of fishing delivered impressive action on the GT front with a total of 16 landed. A special mention goes out to to Peter, who after presenting his fly to a large blue fish holding stationary on a coral head, came tight and following an epic battle, eventually landed a trophy GT of 104cm. Great job and well-deserved Pete! The tailing species were encountered sporadically, however our group still managed to land 2 Bumphead Parrotfish for the day, Fred with his first ever on the fly and Piers repeated his first day heroics with his second Bumpie for the week. Great job guys!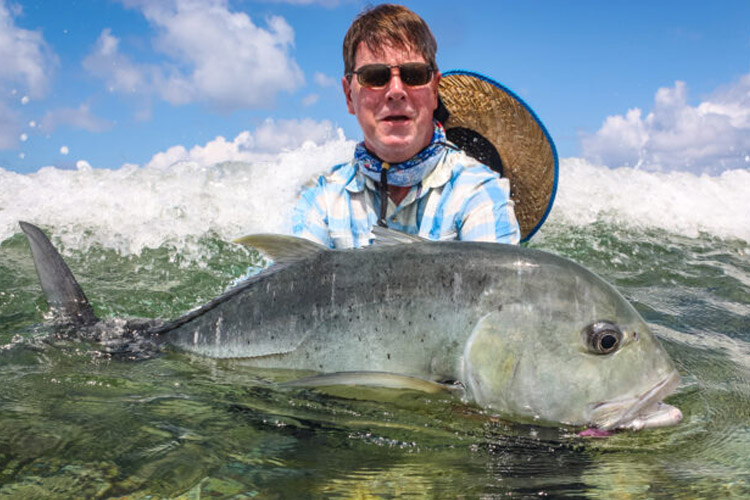 The fourth day dawned with flat calm seas and windless conditions. Our group managed to land 9 GTs for the day with a special mention going out to Andrew, who once again found himself in the thick of the action while waiting in ambush near a surf side cut. His patience paid off when several blue shapes came drifting past his position. All it took was a quick cast ahead of the school and a few strips before the lead fish engulfed his fly and tore off into the horizon. Following an epic battle and loads of reeling in, he eventually landed a real trophy GT of 103cm. Impressive catch Andrew!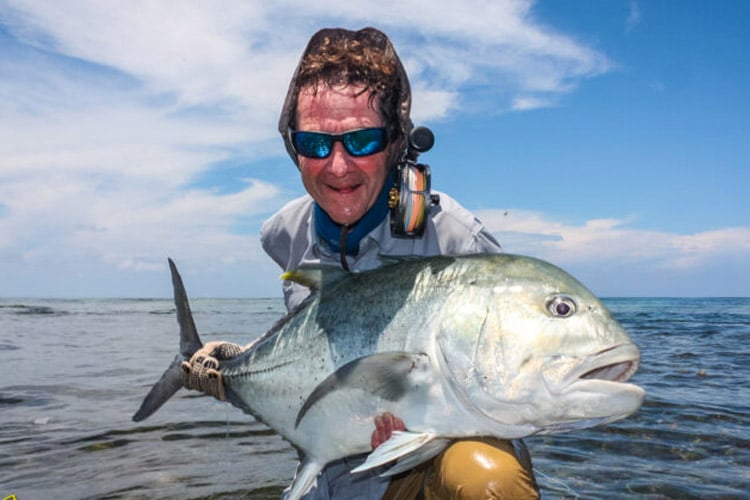 We experienced similar conditions and catches on the fifth day of the week with a total of 9 GTs landed. Piers and Peter Opperman shared the spoils by landing 2 GTs each….well done gents!
The sixth and final day of the fishing week saw a total of 15 GTs landed. The standout catch of the day and week went to Steve who happened upon a school of GTs leading a large shark. The two lead fish were both absolute giants and once the fly hit the water both fish wasted no time at all and rushed towards, with the slightly lazier fish smashing his baitfish pattern. A mammoth battle ensued and eventually his trophy was landed. A whopping 119cm and superb fish Steve. Well done!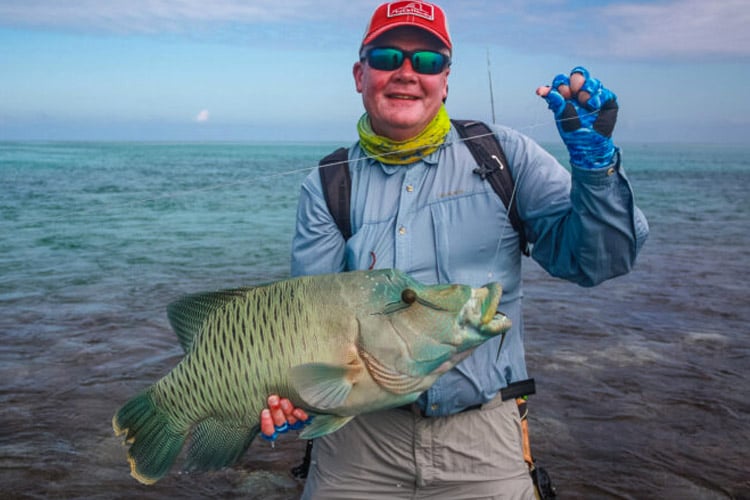 With that, we finished off another fantastic week of fishing the untamed waters of Providence Atoll. The weather was sublime, the company and resulting humour even better.
TOTAL CATCH STATS THIS WEEK:
Giant Trevally – 72 (3 of 100cm plus and biggest 119cm)
Triggerfish – 2
Bumphead Parrotfish – 3
Napoleon Wrasse – 2
Total tally of other species caught – 426
Until next week,
The Providence Guide Team
CONTACT US
If you would like to know more about the fantastic fishing opportunities on offer on Providence Atoll, you can contact our saltwater fly fishing expert Peter Collingsworth on 01603 407596 or via email at peter@sportquestholidays.com. He would love to speak with you.