In what felt like a blink of an eye, the final week of our March – May 2023 season was upon us. Change over day always seems to bring with it bluebird skies and moderate wind, however, the weather forecast for the week was ominous with fierce winds predicted from the south-east. Nevertheless, we were still excited to explore the atoll with our group which included first-time saltwater fly fishermen and a few return guests. After a quick orientation around the mothership and tackle setup, the group made good use of the change-over day to get to know each other on the mid-deck over a few cold beverages.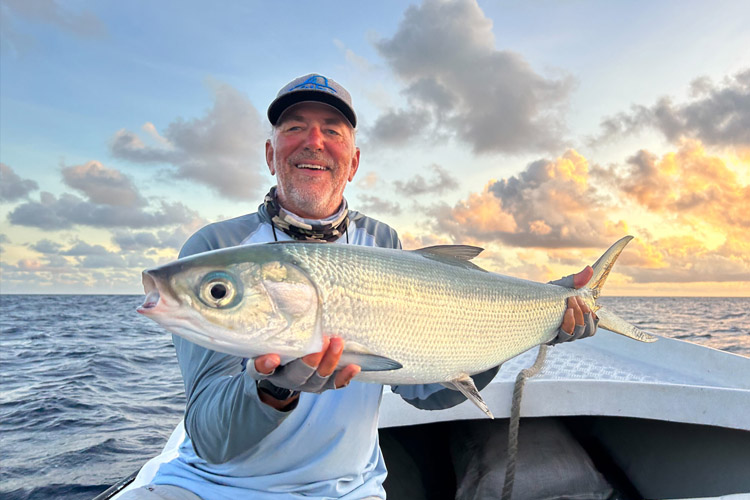 Day 1 had our guide team spread out to different corners of the atoll in pursuit of the tailing species, and of course, the atoll's population of Giant Trevally. Jamie got off the mark early with his first-ever GT on the fly. Well done, Jamie! Mario also got stuck into the action immediately landing his first and best GT for the week on the first morning, a lovely fish measuring 96cm! Meanwhile, in another corner of the atoll, Chris and Steve did very well by landing 4 Triggerfish before lunch. The afternoon however turned out to be tricky, with low clouds causing very difficult sight fishing conditions. Despite this, our team persisted and added another 2 more GTs to the tally.
Everyone was up to speed with the daily program by day 2 and we set off for the flats with high expectations. Catches of note included an energic GT caught by Tom, who managed to convert his fish from a school that had corralled a school of baitfish into a channel. Derek, a wanderer, had made his way into some fishy-looking water when he spotted 3 GTs swimming down a lagoon edge. He presented his fly and watched as the 3 fish made a violent approach towards his baitfish imitation, what followed was a successful hook-up and a short but intense tussle between some coral heads. He eventually landed his first Providence GT. Well done Derek! Jim tasted sweet success on the Bumpie front when he landed the group's first of the week. Great going Jim!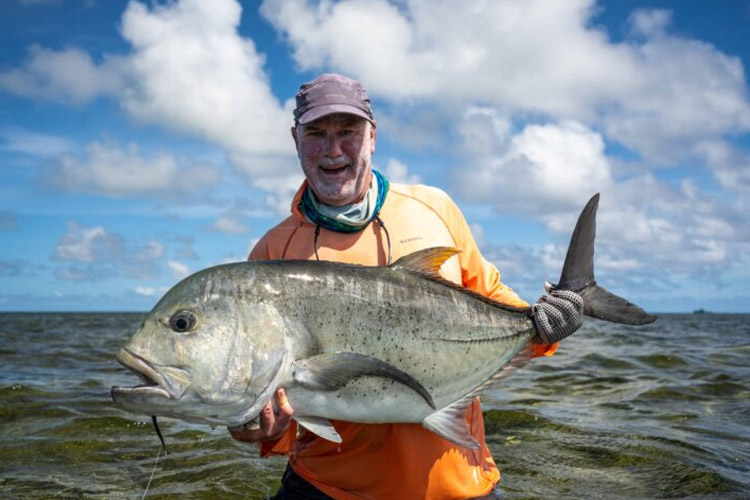 The 3rd day brought with it powerful winds blowing out of the southeast. The severe wind made for challenging fly fishing conditions, however, the atoll still delivered a diverse set of fly fishing scenarios for our guests, with a total catch tally of 6 GTs, 15 Bonefish, and 3 Triggerfish. A special mention goes to Mike who managed to land his first ever GT, which was a special moment for all involved as Mike had traveled the world on several occasions without any success. Congratulations, Mike, we can only imagine how good that must have felt!
We endured wild weather and exceptionally rough seas during the 4th day of the fishing week. The conditions saw us have a delayed start with our team heading for their chosen areas for the day when the weather lightened up a tad. The short delay had little bearing on our catch tally with our group tallying 42 Bones, 3 of which were over 10lb! John, Chris, and Derrek are the lucky anglers to land those hefty Bonefish….way to go guys! Meanwhile, Jim found himself connected to a personal best GT that was picked from a small shoal of GTs that were encountered while they dropped off the flats during the falling tide. His beauty measured an impressive 98cm. Great job Jim! Last, but not least, was Jamie's Bumphead Parrotfish…CONGRATS!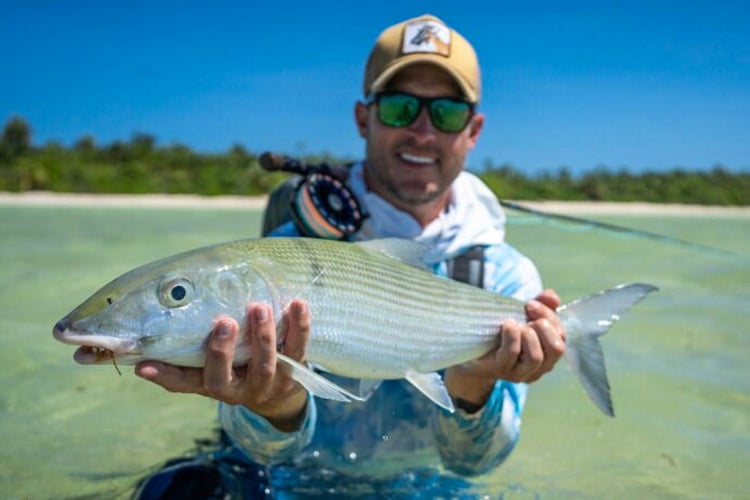 Day five saw an improvement in the fishing conditions, with better weather and more good fish encountered across the board. Our total catch tally for the day was 10 GTs, 1 Bumpie, 11 Bones, 2 Triggers, and a single Milkfish. Chris found a rich vein of form and landed 3 GTs, while Steve and Kurt kept the Bonefish numbers ticking over by landing many more good-sized Bones. At the end of the day, Tom stepped into the house of pain when he hooked a monster Milkfish in the early evening, which we're sure he still regrets. After a brutal one-hour battle, he finally brought the fish into the net. Well done, Tom!
The 6th and final day of the season saw us enjoy fantastic conditions, with a light south-easterly breeze and good light. Ken, had been unlucky on the GT front, not from any fault of his own, but rather some bad luck. He however managed to rectify this when he made a cast at a school of GTs working across a small finger flat and much to his and the guide's joy, a bigger fish parted the youngsters and viciously accepted his fly. After a good fight, he landed his best for the week, a specimen measuring 94cm! Well done Ken! Tom, however, landed the top catch for the week, a strong GT that measured 102cm! Well done Tom! As the final whistle blew on the final evening, Jamie landed his first Milkfish, while at the same time Mario hooked but sadly lost a Sailfish.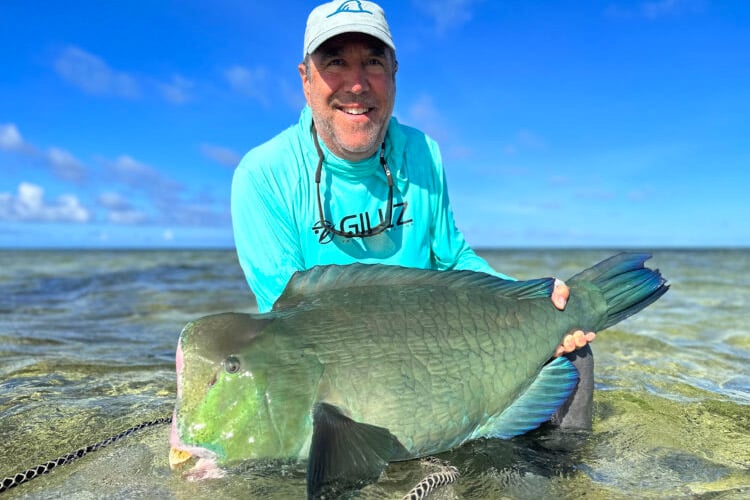 Thanks for a great week guys, we really appreciate your support and hope to see you back out there in the coming seasons!
The week's tally was as follows:
• GT – 32 ( 1 – 102cm )
• Triggerfish – 10
• Milkfish – 3
• Bumphead Parrotfish – 3
• Bonefish – 70 ( 3 of 10lb)
• Other species – 156
A special thank you to all our guests that were a part of this fantastic season, we made memories, shared laughs, and learned yet more about this outlandish fishery. We can't wait for what October – December has in store for us!
CONTACT US
If you would like to know more about the fantastic fishing opportunities on offer on Providence Atoll, you can contact our saltwater fly fishing expert Peter Collingsworth on 01603 407596 or via email at peter@sportquestholidays.com. He would love to speak with you.
The Providence Guide Team