As the season ends in Providence Atoll our guides at the Lodge are now writing up their catch reports, the fifth of which is now in.
Welcome to the fifth week of the Providence 2021/2022 season. This week we welcomed a group of familiar faces aboard the M.V Maya's Dugong for the first time since the beginning of the CV-19 pandemic. Following a quick orientation of the mothership, we set to work readying our guest's gear for all the exciting fly fishing scenarios likely to be encountered out on Providence.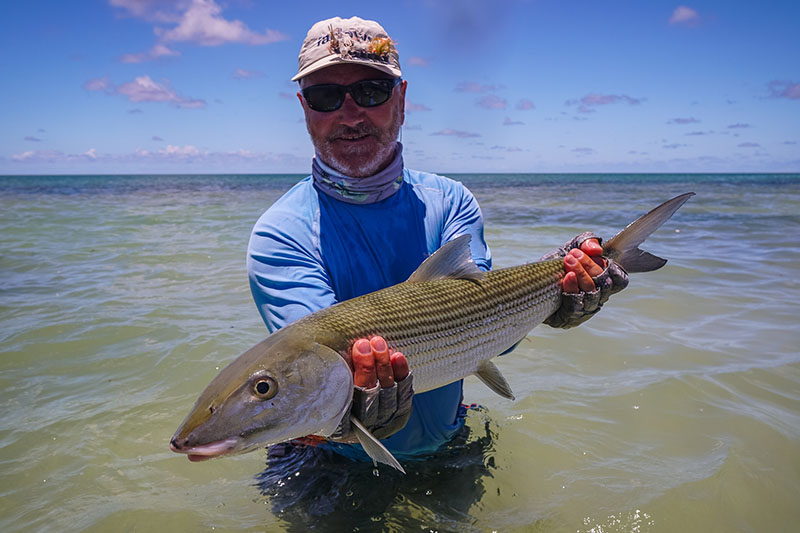 Our guests this week were mostly interested in the tailing species that call Providence home, specifically the Bumphead Parrotfish and Triggerfish. Conditions were favourable for this and several opportunities were enjoyed during the first day of fishing delivering a total of 3 successful Bumphead Parrotfish catches. Grigory caught the standout catch for the day, landing an incredibly powerful 109cm Bumpie. Well done Grigory! Oleksandra experienced the thrill of walk and stalk fly fishing and managed to land her first ever Yellowmargin Triggerfish on the fly while exploring a lagoon edge. The GTs however proved difficult to come by on day 1 of the week with a total of 2 landed for the day, one of which was a trophy caught under unique circumstances. While fishing to a school of Bumphead Parrotfish Vadim presented a cast with his crab fly towards the school, going tight, shortly followed by the traditionally long first run into the backing. After a long battle, the fish was eventually landed and to his surprise, he had hooked and landed a 100cm Giant Trevally on his 9wt. Well done on this special catch Vadim!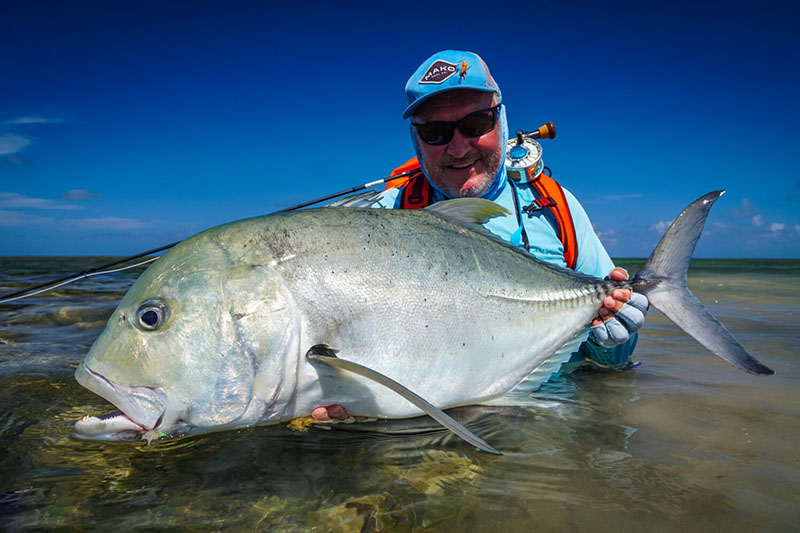 Day 2 dawned with clear skies and a slight south easterly breeze. The tailing species were again on the menu. Grigory managed to land his first Triggerfish of the trip, while Andrei and Gennadiy enjoyed a productive Bonefishing session. A total of 6 Bumphead Parrotfish were landed for the day with John enjoying a truly memorable day on the flats landing 4 Bumpies, one of which a monster measuring a whopping 115cm. Well done John! Justin, an experienced visitor of the outer islands of Seychelles also got into the action and managed to hook and land his first Bumpie, and then followed that with another fish.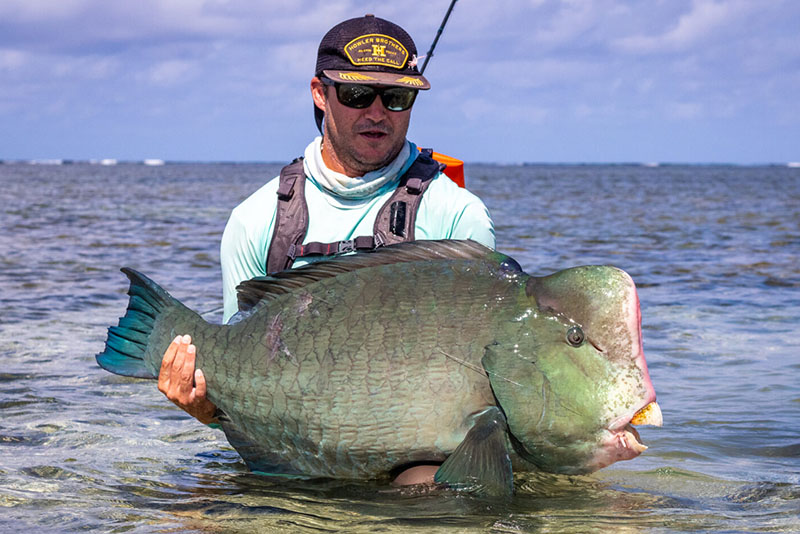 Day 3 dawned with clear skies on the horizon. A total of 2 bumpies were landed for the day with Vadim and Grigory enjoying the spoils by landing one each. The GTs finally began to make a reappearance on the atoll providing several opportunities on the flats for our guests. Gennadiy made the most of his chances after encountering a school of GTs tailing near 3 Nurse sharks. He presented his fly into the school and following just a few strips his fly was engulfed, shortly followed by yards and yards of backing as the fish steamed off. After an intense tussle, the fish was eventually landed pulling the measuring tape to 113cm. A fish of a lifetime… well done Gennadiy! Andrei also managed to land his first GT for the trip along with Vladimir also landing his first GT for the trip after spotting it pushing a bow wave in very shallow water. Vadim had another great day landing 2 Triggerfish.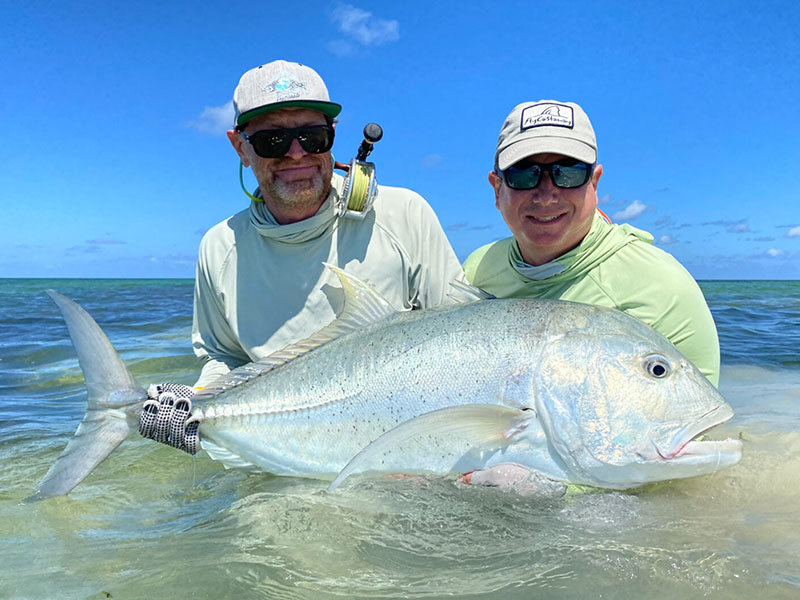 Day 4 dawned with clear skies and a stiffer south easterly breeze. A great day was had on the tailing species, with no less than 8 triggerfish landed. A special mention goes out to Vladimir who managed to land 3 for the day….well done Vladimir. Vadim managed to land a GT early on in the morning and then followed that up with 2 Triggerfish and then a Bonefish to complete an Indian Ocean grand slam. Great job Vadim! Gennadiy had a great day too, landing both a Bumpie and a GT before the day came to an end.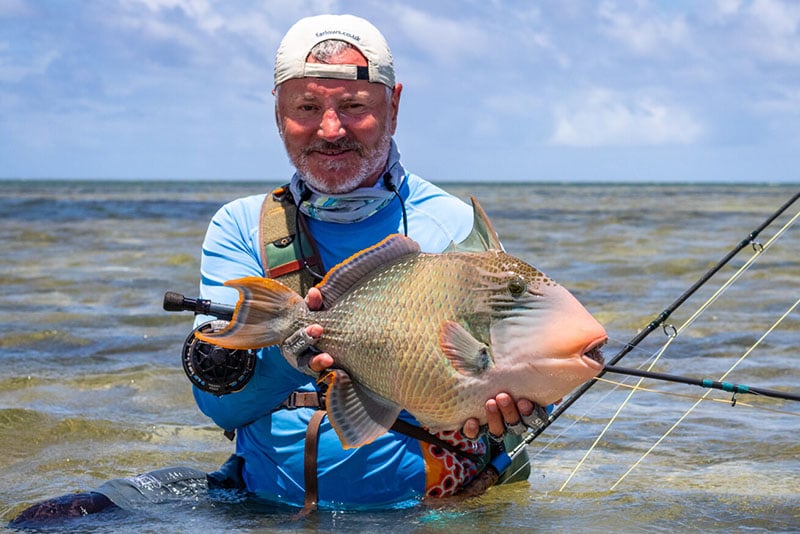 Day 5 dawned with clear skies and a stiff south-easterly breeze. Another great day was had while fishing for the tailing species, with John managing to open his Triggerfish account, following it up with another in quick succession. Justin also enjoyed a great day landing 2 Bumpies, while Vladimir again managed to land himself 3 Triggerfish. He followed that up with his first Bumpie of the trip… well done Vladimir.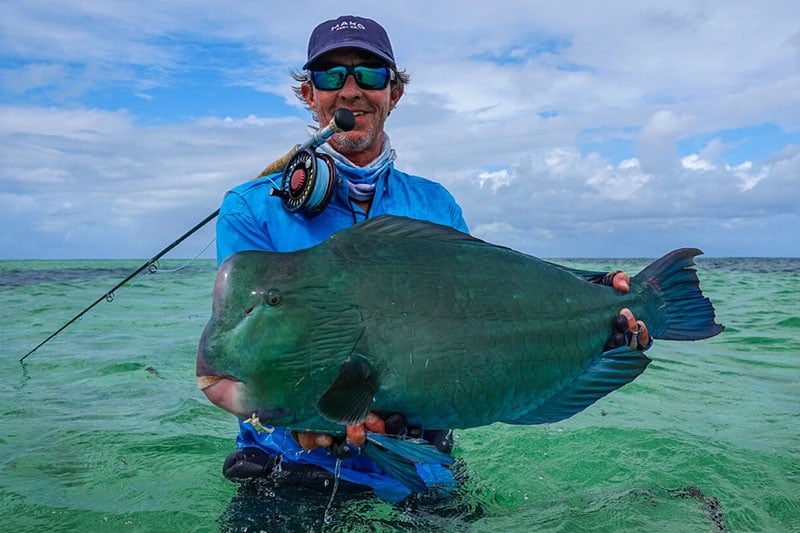 Day 6 dawned with a change in weather, the eastern horizon littered with dark storm clouds and rolling banks of rain. A total of 2 GTs were landed for the day with a matching number of Bumpies being landed. John managed to better his first massive Bumpie. After landing his crab in a school of tailing fish, he hooked and tussled with a monster that measured 116cm…awesome fish well John! And finally, late on the final day with the sun nearing the horizon, Nikolai managed to hook and land the first and only sailfish of the week….well done Nikolai.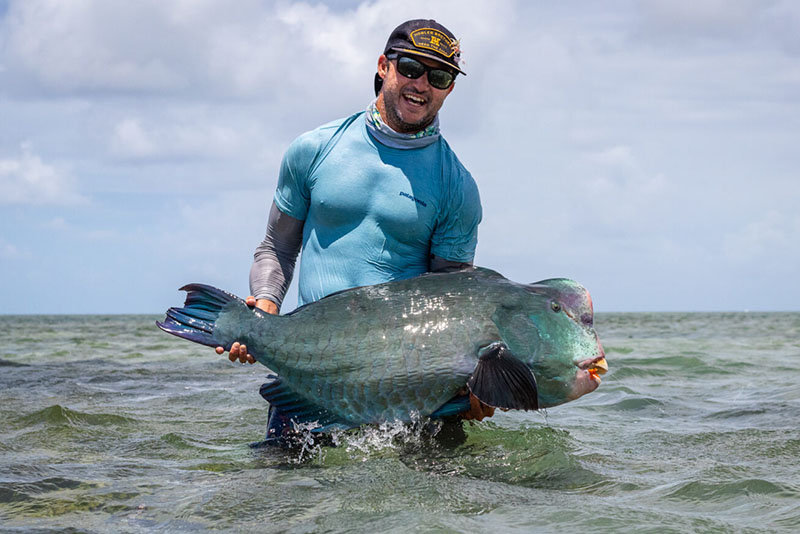 That brings us to the end of a very enjoyable week of fly fishing for Providence's full assortment of tailing species. Our catch tally for the week was as follows:
GTs – 9 (2 over a meter)
Bumphead Parrotfish – 17 (Biggest 116cm)
Triggerfish – 19
Bonefish – 12
Sailfish – 1
Total tally of other species landed – 387
Until next week,
The Providence Guide Team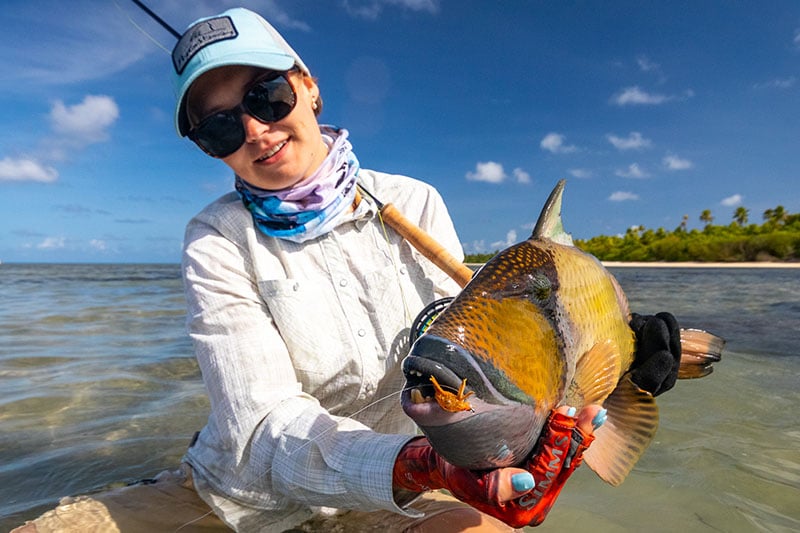 CONTACT US
If you would like to know more information about the amazing saltwater fishing on offer you can read our full tour page for Providence Atoll. Alternatively, you can contact our saltwater fly fishing expert Peter Collingsworth on 01603 407 596 or email at peter@sportquestholidays.com.