Time flies when you're having fun, and this was particularly true this Indian Ocean season at Providence Atoll. In what felt like no time at all we were already greeting our 7th group of the October – December 2021 fly fishing season.
Fresh energy flushed through our team knowing that our time on the atoll was quickly coming to an end, and with so many scores still to be settled we felt more determined than ever to make the most of our final 2 weeks exploring this outlandish fishery.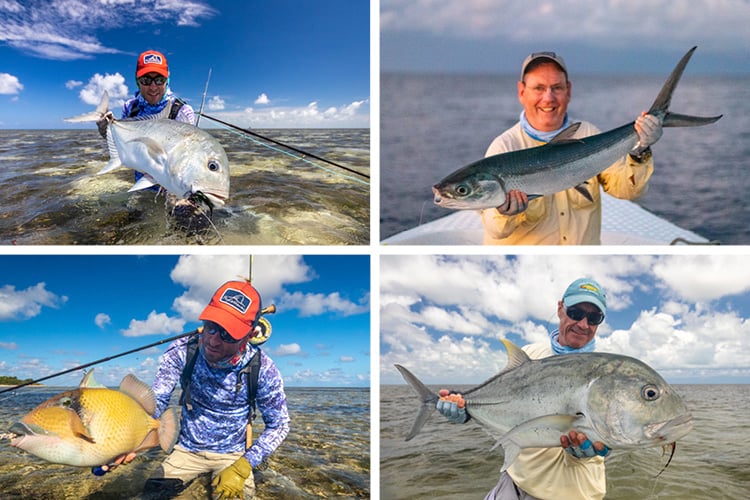 We enjoyed suitable fly fishing conditions on day 1 with a moderate south-easterly breeze and bluebird skies overhead. The GTs were seen in good numbers on the flats with each of our guests enjoying several shots each and by the end of the day, we had landed a total of 12 beautiful fish. A special mention for Zac who wasted little time opening his Giant Trevally account during his first day exploring the flats of the Indian Ocean… Great job, Zac!
Other catches of note from the flats included a Napoleon Wrasse for Tony and a trophy Yellow Margin Triggerfish for Peter. Late in the afternoon fishing conditions for the atoll's resident Milkfish couldn't have been better with huge shoals of Milkfish encountered while feeding along the visible compression lines in the deep blue. JC, an experienced Seychelles campaigner managed to hook and land his first-ever Milkfish on the fly. A dream come true and a truly special moment for him as an angler, congrats JC!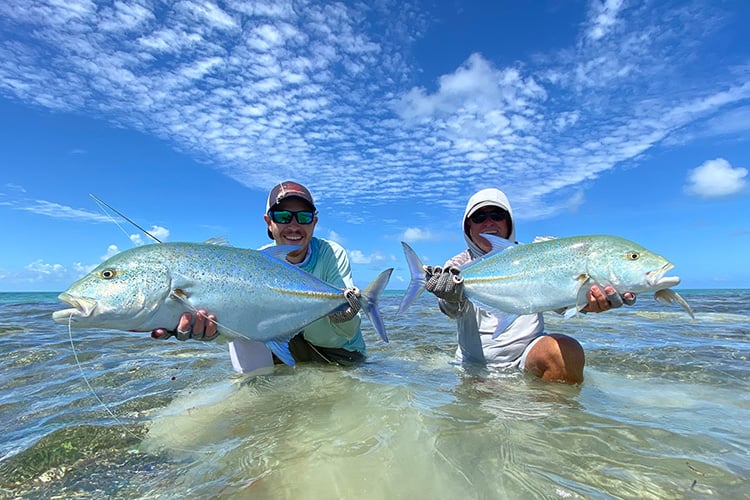 Day 2 and the weather had deteriorated with consistent cloud cover and a stiff breeze out of the southeast. Despite the tricker weather conditions and diminished visibility our group fished well and went on to land 10 GTs, with the catch of the day going to Tony who managed to hook and land a fin perfect 101cm specimen. Tony, not done there, made the most of his opportunities in front of the powerful Milkfish and hooked, fought, and eventually landed an absolute monster of Milk in the fading light of early evening. Great fishing and well done Tony.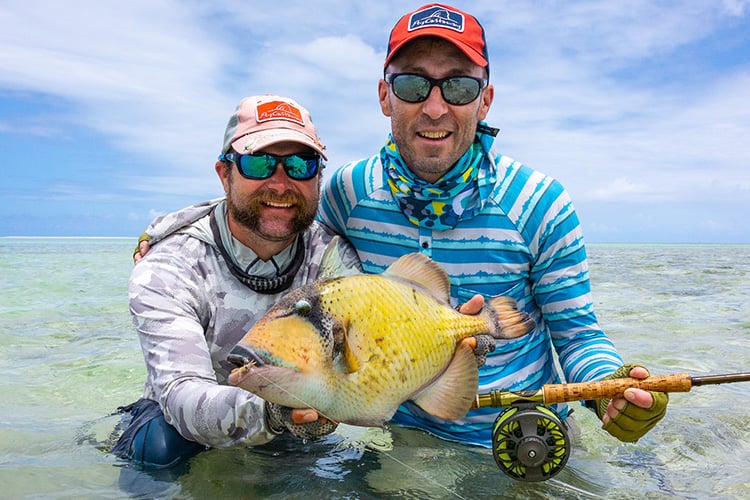 Day 3 saw a continuation of the tricky weather with massive rolling squalls and strong winds from the east. As a result, we experienced a slower day on the flats on the GT front with a total of 5 brought to hand. Providence, famous for its diversity of fly fishing opportunities provided our guests with productive sessions fishing for the other various iconic species available, delivering 3 Triggerfish, 5 bonefish, and 3 Sailfish for the day. A moment of Providence magic was enjoyed by Sydney and Mike who each managed to land their first-ever Sailfish on the fly… Great job, gentlemen!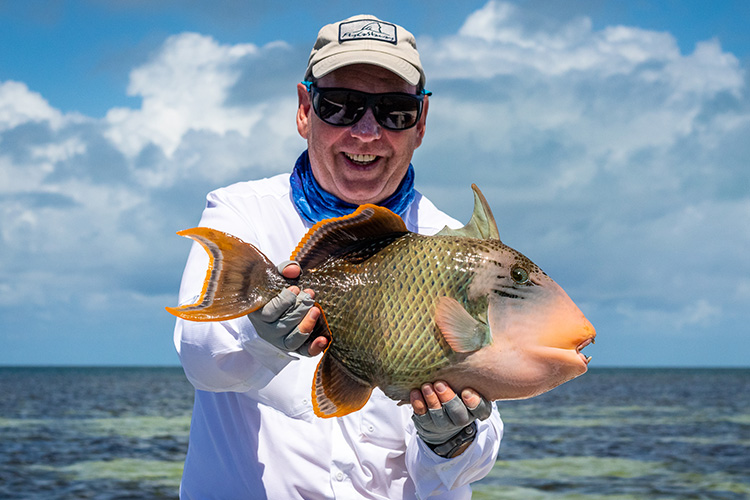 Day 4 dawned with more of the same dark and gloomy weather. A tough day was thus in terms of GT hunting, with our group landing a total of 2 for the day. Nevertheless, the atoll's diversity again provided several exciting firsts which began with Zac's first-ever encounter with the acrobatic speedsters of the deep blue, eventually bringing an incredibly powerful Sailfish to hand… Great going, Zac! Frans managed to hook and land his first-ever Napoleon Wrasse while Sydney followed suit landing his 3rd for the week. JC had another great day landing his first-ever Triggerfish, and then followed that up with another Triggerfish and large Bonefish. Matt and Charlie got stuck into the Bonefish and enjoyed a great skinny water Bonefishing session for singles and doubles landing 5 fish between the pair.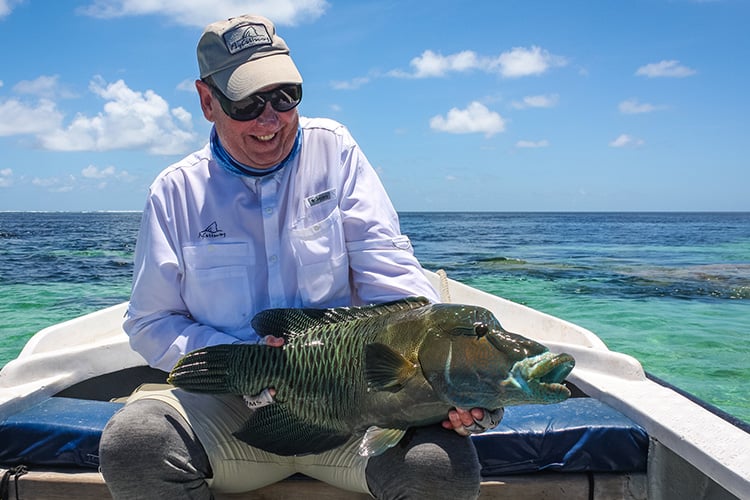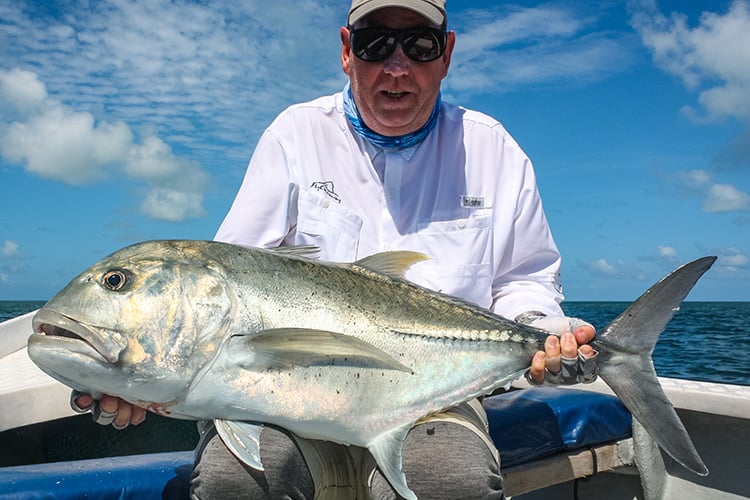 Day 5 saw us enjoy a break in the weather with clear skies and much-improved visibility on the flats. Our group enjoyed fantastic returns for most of the iconic fly fishing targets available on the atoll with a total of 9 GTs, 7 Triggerfish, and 6 Bonefish landed for the day. Catches of note included a 94cm GT that was caught after it raced off a stingray to eat the fly just inches from JC's rod tip and a flats slam a piece for Zac and Peter who each managed to land GTs, Triggerfish, and Bonefish. Zac then went onto double slam catching 2 of each species… A very special day for Zac, well done and well deserved!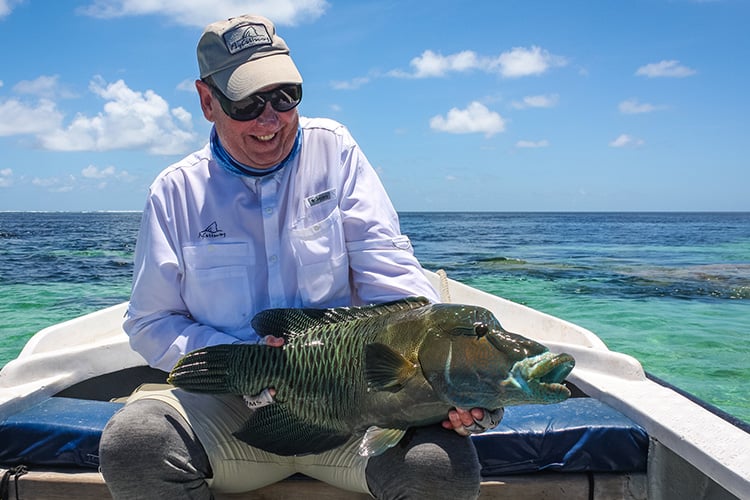 The last day of the fishing week dawned with clear skies on the eastern horizon. We enjoyed good fishing conditions for most of the day with our group landing a total of 9 GTs, 3 Triggerfish, and 2 Bonefish for the day. Charlie enjoyed success for the tailing species quickly chalking off 2 Bonefish and a beautiful Triggerfish. Frans settled his score with the atoll's resident Sailfish. After losing a fly line to one earlier in the week, he managed to stay tight to one in the late afternoon surviving the fish's first couple of acrobatic runs and eventually landing his first-ever Sailfish on the fly, well done Frans!
This brings us to the end of a very enjoyable week of fly fishing with several exciting first-time experiences enjoyed by our group of anglers. The diversity on show allowed our guests to enjoy various fly fishing scenarios and moments of magic unique to Providence's wild and abundant waters.
Our catch tally for week 7 of the season was:
GTs – 47 (2 over a meter)
Triggerfish – 18
Bonefish – 18
Sailfish – 5
Napoleon Wrasse – 5
Total tally of other species caught – 298
Until next week,
The Providence Guide Team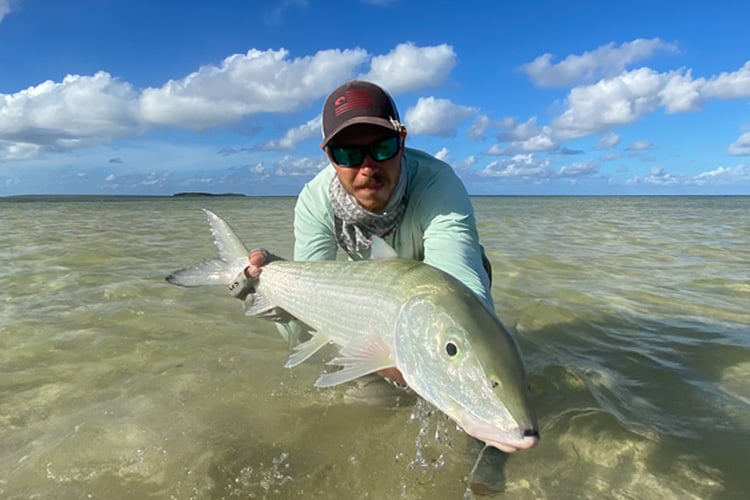 CONTACT US
If you would like to know more information about the amazing saltwater fishing on offer you can read our full tour page for Providence Atoll. Alternatively, you can contact our saltwater fly fishing expert Peter Collingsworth on 01603 407 596 or email at peter@sportquestholidays.com.