Welcome to our third week of the season on Providence Atoll.
Day 1 – We started this week with a transitional tide, between neaps and springs with an early morning low and a good mid-morning push. Randy opened his account with an absolute beast of a fish measuring 122cm. This fish was found sitting in a white hole on the edge of a flat, once the fish spotted his well presented baitfish imitation it exploded on the fly and tore off with tremendous speed and determination, pealing off loads of backing. Eventually after a long fight the fish lost its steam and was brought to hand, a special catch and incredible way to start the week! Randy continued to enjoy day 1 and added another 3 GTs to his tally before the days end. John managed to land his first ever GT on fly and later added another making day one memorable for him, well done John! Dave and Paul made the most of their first day on the flats by landing a couple GTs each. A great first day which really got us all excited to see what the rest of the week had in store.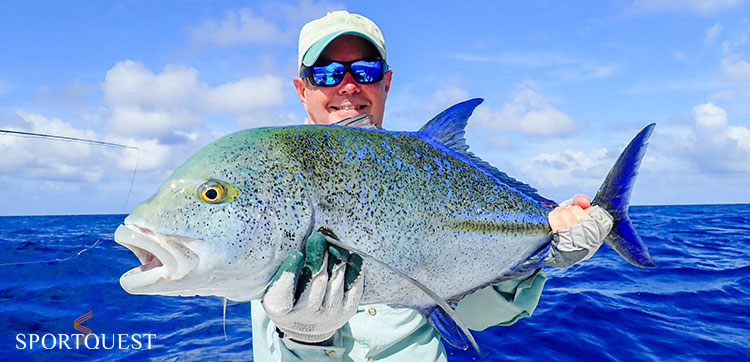 Day 2 – We encountered good numbers of GTs on the flats today. James made his opportunities count and managed to hook and land his first ever GT on fly, well done James! Gregory enjoyed a cracking day and landed 4, whilst John managed to add to yesterday's exploits and land another lively GT. Other than the consistently good numbers of GTs we've seen on the flats for the first 2 days we also have come across loads of Bumphead Parrotfish, however fishing to them has been tough due to the strong current pushing over the flats which is not ideal when targeting this species.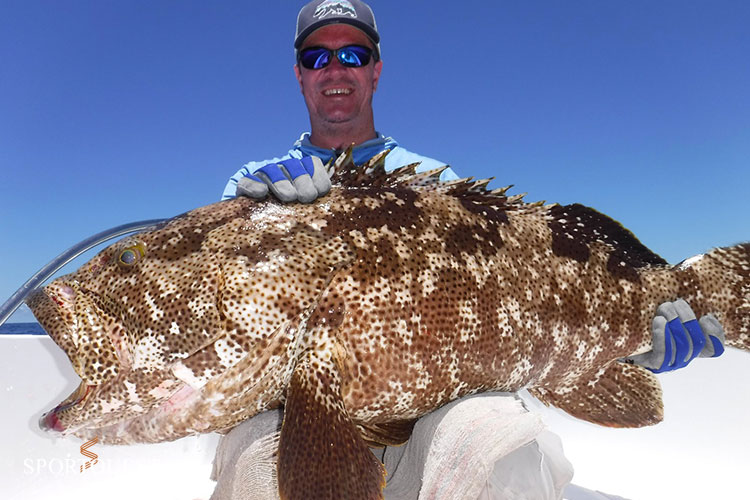 Day 3 – We experienced some warm water along the western side of the atoll which led to some considerably tough fishing conditions for our iconic species, nevertheless we still managed some good fish. The great species fishing made up for the tough conditions with great numbers of big groupers and snappers landed. We also managed to raise a couple Sailfish but unfortunately, we weren't able to land any. The diversity of this atoll again highlights how incredible this fishery is, even relatively tough days on the flats can be turned into good a days by fishing for the lesser-known species that call Providence Atoll home.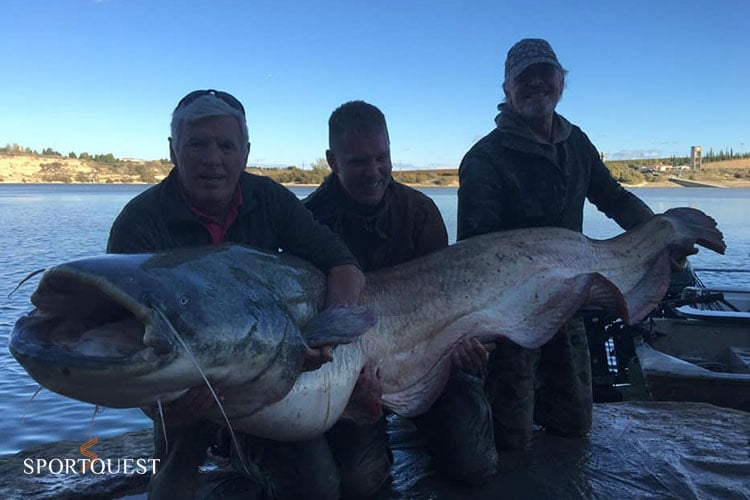 Day 4 – We experienced great fishing on the eastern side of the atoll with Shamal, Randy and John managing to land 13 GTs between them. Steve also got into the action, by fooling a GT that was riding on the back of a lemon shark. It was however one particular session of fishing that stole the spotlight on day 4. While crossing back towards the mothership through the labyrinth of finger flats and lagoons a couple of GTs were spotted, Greg took the shot and hooked a monster GT! After a long tussle and couple nervy moments we managed to land a fin perfect GT measuring 121cm, certainly an unforgettable fish to end day 4!
Day 5 – Grey skies made for tough conditions from a sight fishing perspective, despite this we still managed to land a number of great fish. Paul landed a solid GT of 91cm whilst Greg broke the metre mark 2 days in a row with a GT of 101cm. Chris also managed to land his first GT over a metre measuring 102cm. The Triggerfishing experienced today was world class with Dave and Greg landing their first ever Triggers, both Moustache Triggerfish, well done guys. All in all, a great day considering the tough conditions we experienced.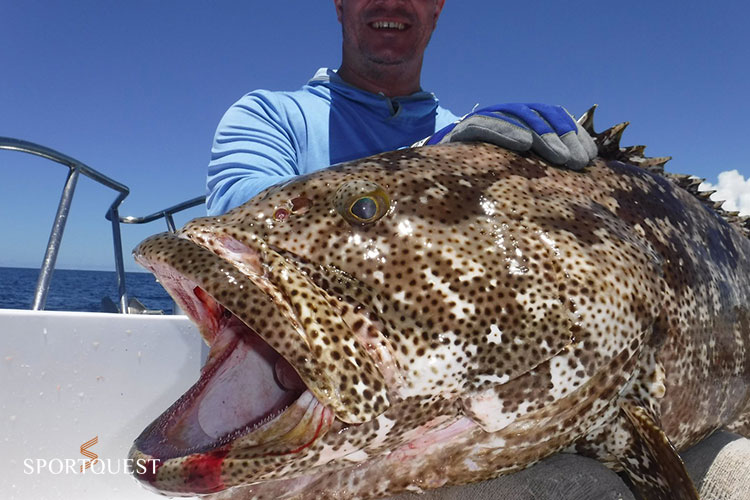 Day 6 – We woke up to clear skies with everyone excited to make the most of the final day of the week. The GTs were seen in good numbers with a fair number of decent fish coming to hand. Brian managed to land 3, whilst another 16 were landed between John, Randy, Shamal, Chris, James and Paul – a great day out for everyone! The Triggerfish were seen in good numbers with a few hooked, however Chris was the only angler to convert his chances and landed an awesome Moustache Triggerfish, well done Chris. We were treated to some exceptional action on the species front today with over 50 Bluefin Trevally landed!
All in all, another great week for everyone on the flats considering the warm water we experienced. Our guests still managed to enjoy some spectacular fishing with a variety of species landed. Week 3 provided us with great humour and awesome fishing, we look forward to seeing you all out here again in the not so distant future.
Our fish tally for the week was as follows:
GTs – 74
Triggerfish – 3
Species – 264