Rodrigues Island Hosted Trip – Day One
Learning The Ropes…
For our first day on the boat, it was decided with our skipper, Cyril Faure, that we would head east to try a mix of different methods to get the guys into the swing of things.
First up was trolling along the drop-offs en route to the reefs, which was expected to be slow, but we were pleasantly surprised by hits from at least 5 Wahoo along the way, with two of those resulting in boated fish of around 30-40lb for John and Philip. A good fish was lost in this period, likely a larger Wahoo.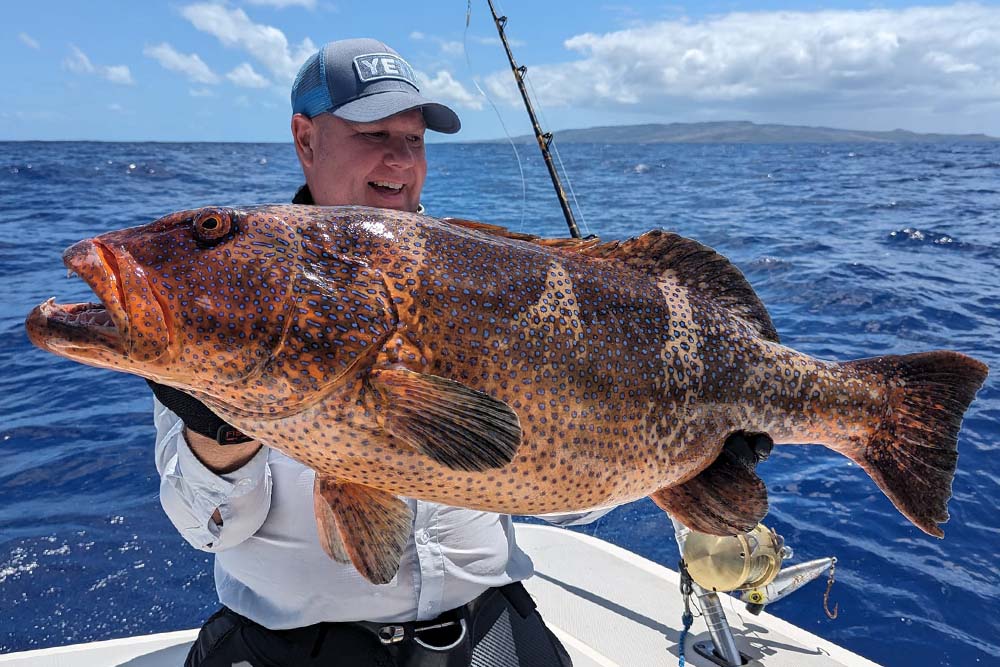 Once we'd reached the reefs, it was time for some speed jigging. Now, if you haven't done this before, I must stress how physically demanding it is, and with most of the crew being new to this method, it took a fair bit of practice to get everyone into the groove. The jigging proved difficult, but through perseverance, the lads found a few nice fish, including Coral Trout, to around 35lbs and a few grouper species.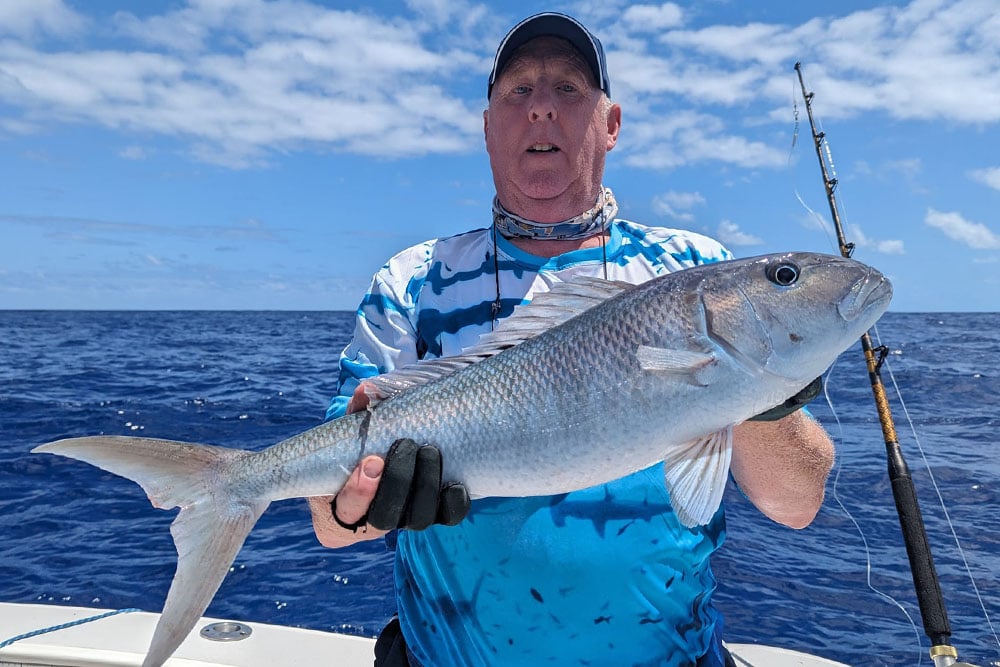 With some of the lads starting to tire after a few hours, the next method was a bit of bait fishing, and this was far more productive, especially for Russell, who had five decent Coral Trout, a Green Jobfish, a Lyretail Grouper and two Oceanic White tips (his favourite catch of the day being a shark enthusiast). Mark also had a lovely two-spot red snapper fishing this method.
Soon after, everyone was feeling the burn, so it was time to troll back to port, which again produced more Wahoo takes, with three landed, the best being an absolute beauty for John at an estimated 35kg! The day was a solid start to the trip.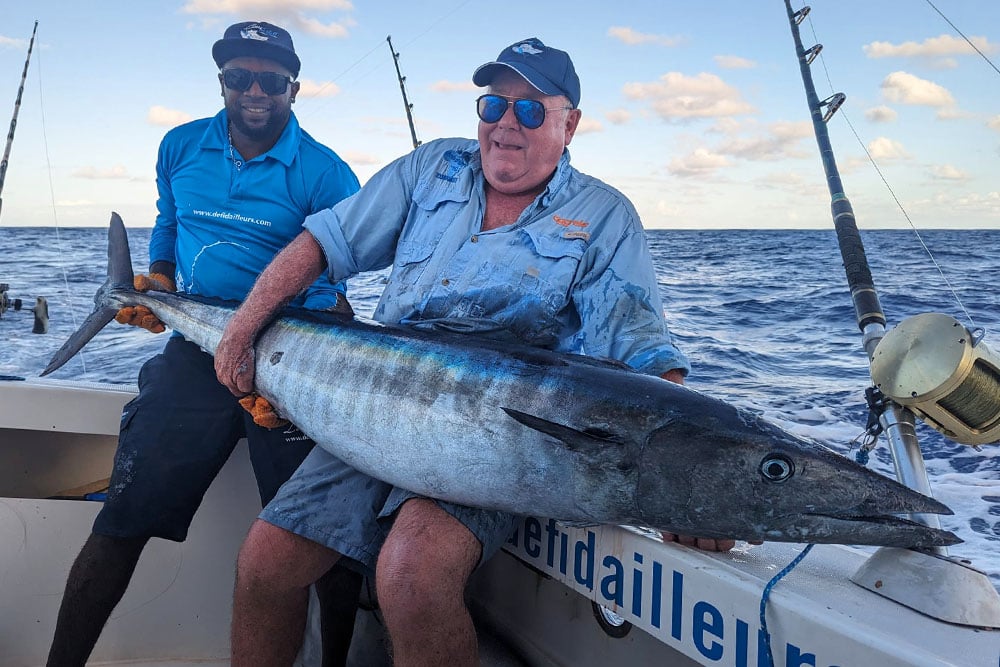 Rodrigues Island Hosted Trip – Day Two
Putting In The Graft…
It was similar to the previous day, with trolling producing a nice Wahoo and the first Yellowfin Tuna of the trip.
On the jigging front, it was another tough day, but once again, effort equalled reward, with a good variety of fish boated, including some colossal Coral Trout, the best going to Mark at around 20kg, a few Bluefin Trevally, a Yellowspot Trevally for John, more Lyretail Groupers and a handful of Blacktip Grouper for Russell.
For day three, we steam out to Hawkins bank for a 3-day liveaboard adventure, so fingers crossed we can get stuck into some of the vast Dogtooth Tuna that patrol out there and various other tick-list species for the guys.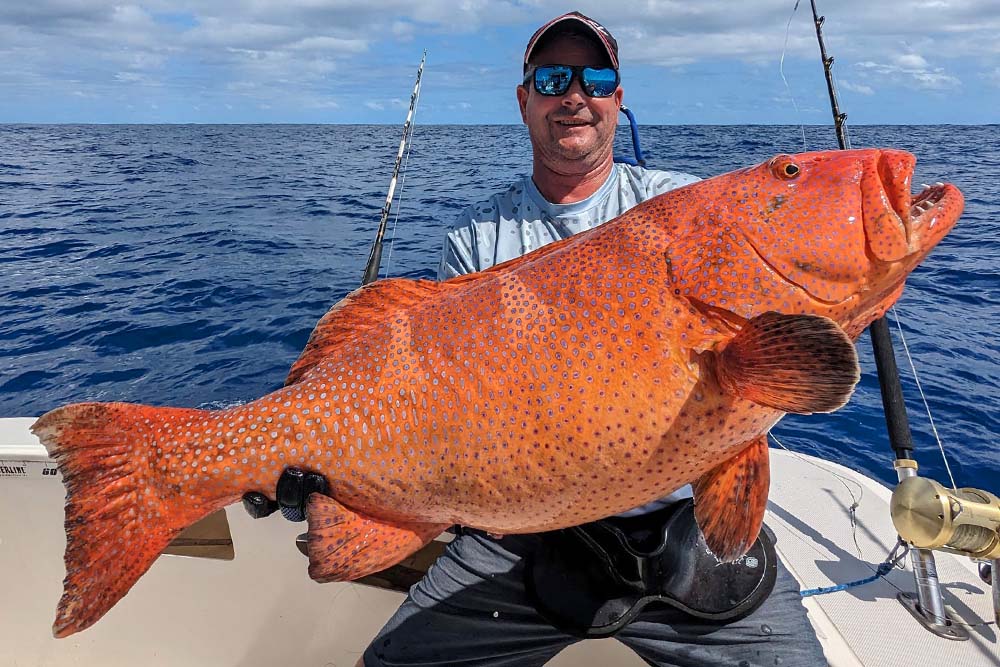 Rodrigues Island Hosted Trip – Day Three & Four
The Hawkins Bank Day 1…

The highlight of any trip over to Rodrigues is the Hawkins Bank trip. It is a three-day adventure with the potential for some huge Dogtooth Tuna and various other species. For us, the adventure started at 3:00 pm on Monday. First was the 11-hour steam out to the bank and then a 4-5 hour sleep period, which gave the lads time to recover their aching joints and muscles, ready for what was to come.
On day one of fishing, we did a mix of trolling and jigging. The trolling action was thick and fast for periods of the day, with dozens of Yellowfin Tuna and good numbers of Wahoo taking the lures. The best fish on this method was a Yellowfin of around 60lb. Before the last light, the trolling produced a single Dogtooth for Russell and a single Dorado for Phil.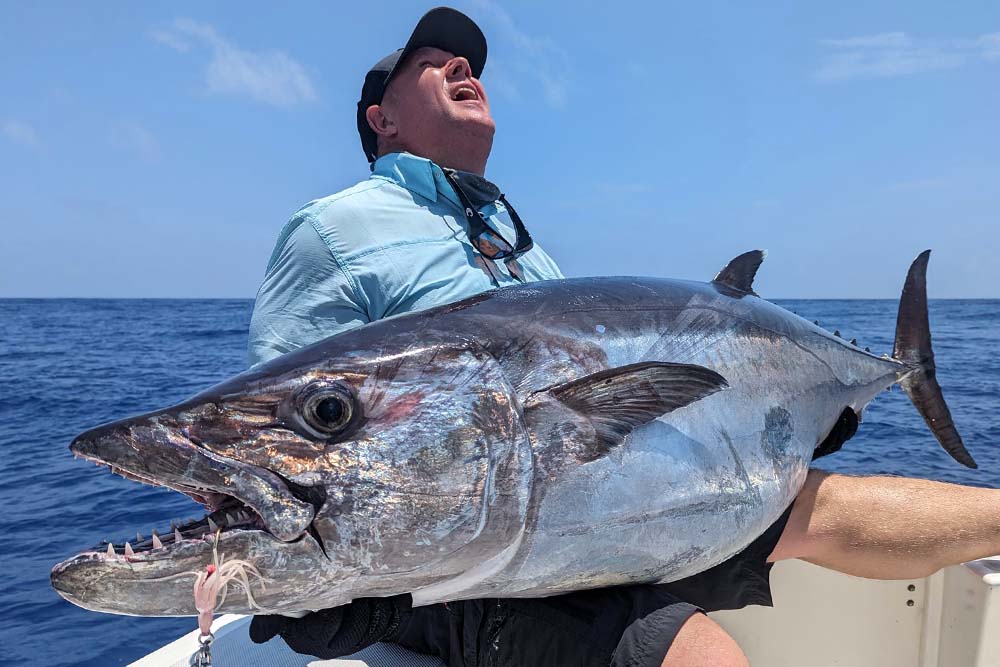 The jigging action was also good and produced plenty of bites and variety, including Amberjacks, Blue Trevally, Blackjacks, Lyretail Groupers, 2 Spot Red Snappers, Coral Trout, a Barracuda, White Tip Reef Sharks, a few smaller grouper species and a handful of Dogtooth Tuna, the best being a cracking fish of 60″x42″ (54kg!) for Philip.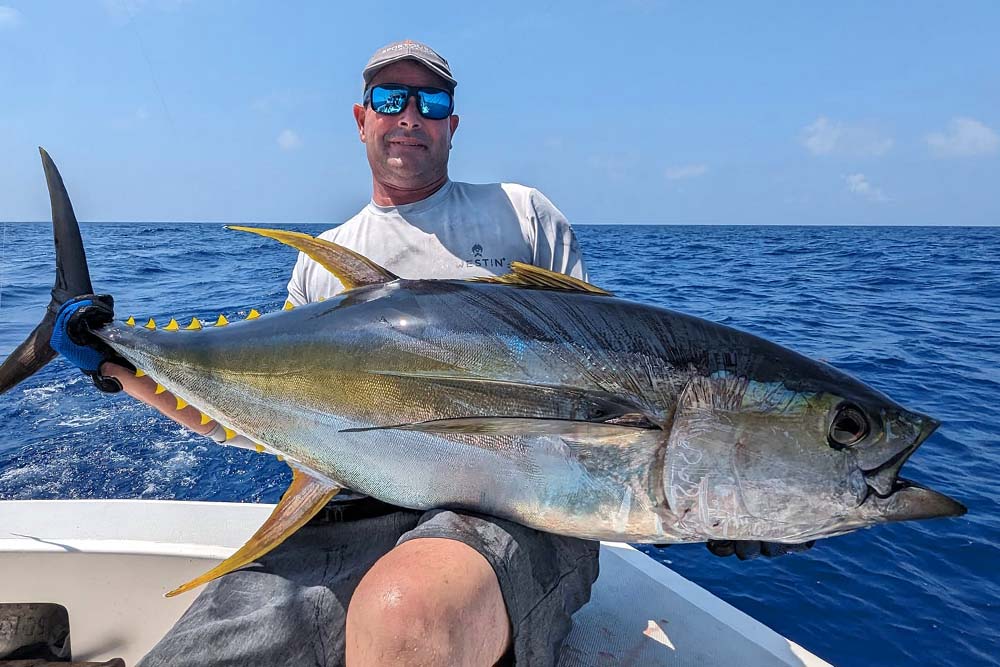 Rodrigues Island Hosted Trip – Day Five
Day 2 On Hawkins…

Day 5 was officially our last day with Cyril on the L'oiseau des Iles. To be perfectly honest, I think we could have blanked and gone home happy, but of course, that was never going to happen.
The abundant Yellowfin and Wahoo populations on the bank kept the guys busy when the trolling rods were out, with regular double, triple and even quadruple hookups. It really is an untouched paradise out there. The best fish on the troll fell to Philip, a Yellowfin of 60-70lbs.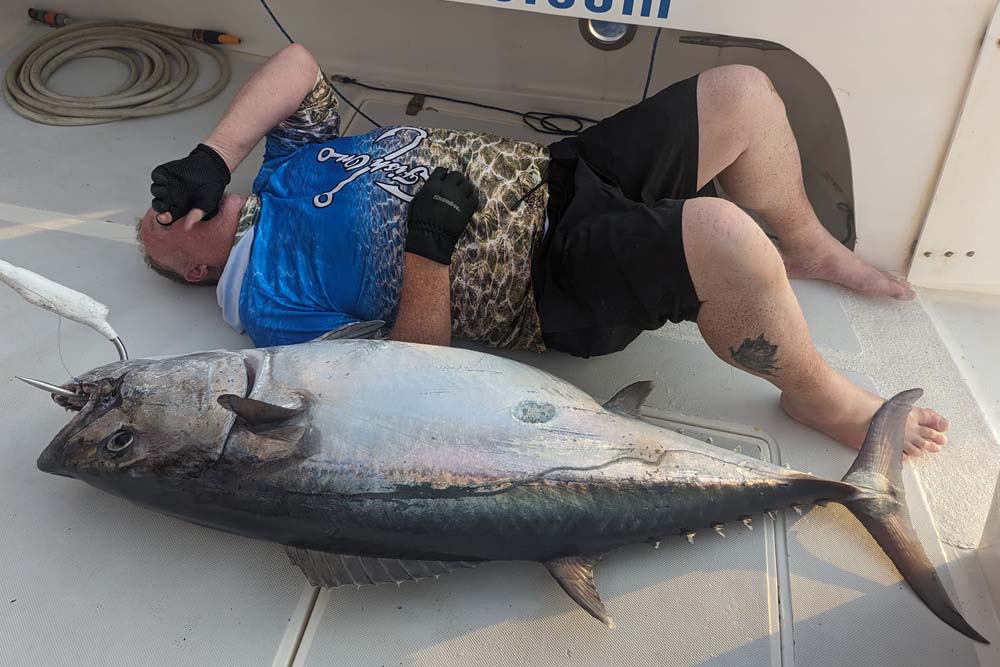 On the jigs, we once again saw a good variety of species, including Coronation Trout, Blackjacks, Amberjacks, 2-Spot Red Snapper, Spot Cheeked Emporers, Blue Trevally and, of course, Dogtooth Tuna, although mainly small before the twilight period.
As the evening drew closer, we changed tactics as the drift and fishing slowed considerably. Dropping some bait down to the bottom, we picked up more Emporer fish for live bait, and I plucked out a Titan Triggerfish, which I was delighted with.
As the tide picked up again, down went the baits, and it wasn't long before the first one got smashed on Russell's rod. A good fight ensued before he finally got his fish of a lifetime on board – a fine doggie of 58″ x 39″ (47kg!). More baits went down, but the sharks were on them too quickly, and our bait stock soon ran dry. It was time to go back on the jigs.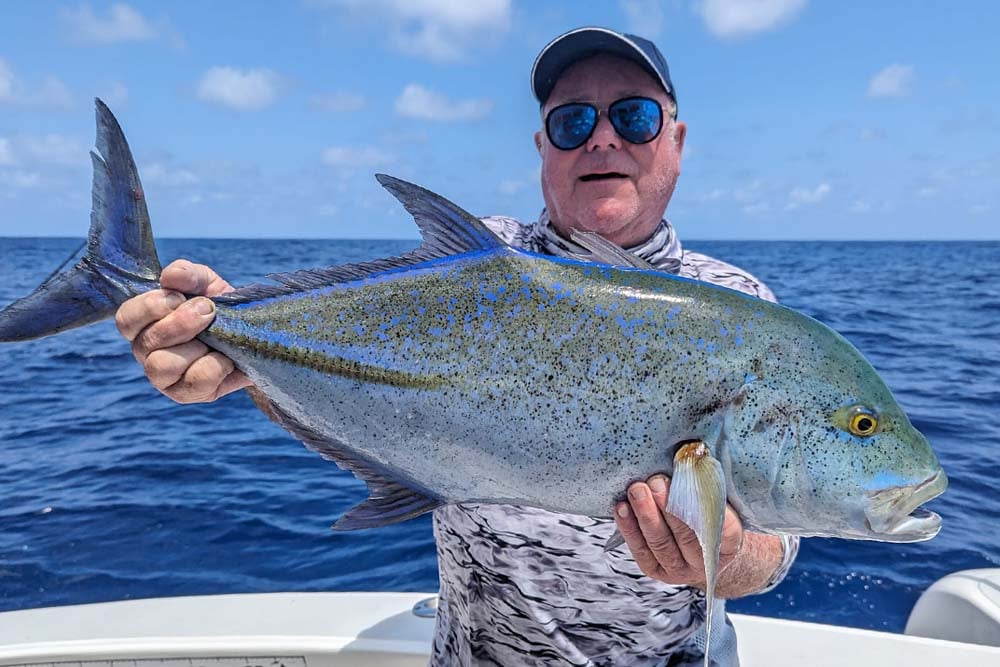 With the light fading rapidly, Cyril said we had 30 minutes left of fishing. Everyone was tired by this point, but with the end in sight, it was back to going hell for leather with the speed jigs for one final push. As I chatted to Mark about going hard until the end, his jig suddenly stopped mid-water. As it started to compress the rod and the drag on his reel started to sing, it was apparent this was another serious fish. Mark held on for dear life and gave his all to regain a few metres of line. I'm sure his battle felt like it lasted a lifetime, but 18 minutes after hooking up, on to the boat came a giant of a doggie. At 67″ x 47.5″ and 78kg, it was the icing on the cake for our trip and fittingly the last fish of the Hawkins adventure. What a way to end!
From there, it was a shower, food and the long journey home, with everyone looking forward to a rest day. But it wasn't the last day in Rodrigues, and I had something lined up for the lads before they flew home on Saturday.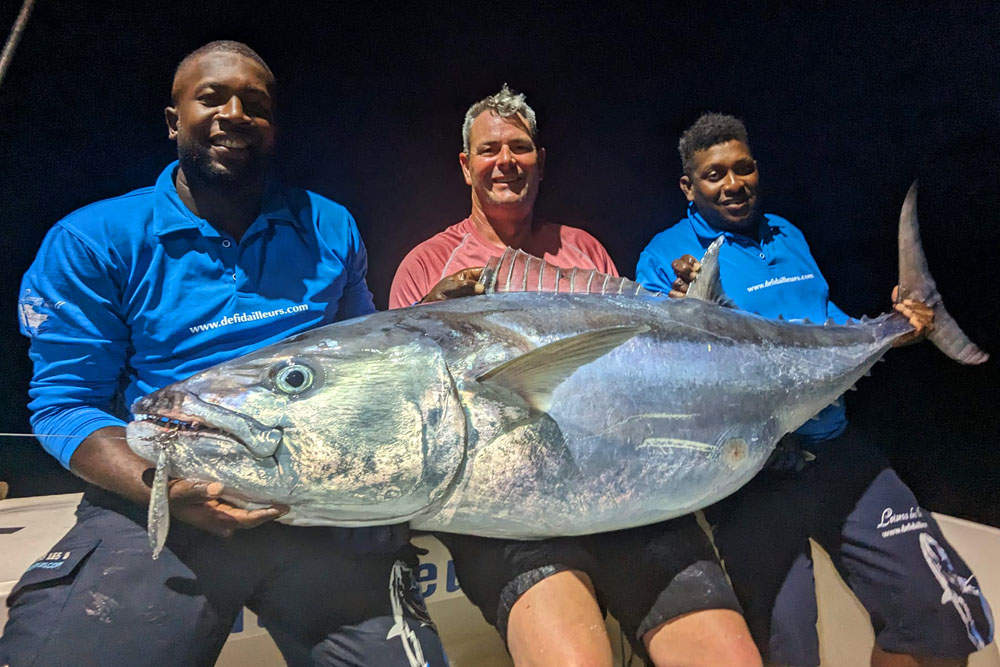 Rodrigues Island Hosted Trip – Day Six
Rest Day…
Day six was a well deserved rest day, which I think everyone was quite pleased about.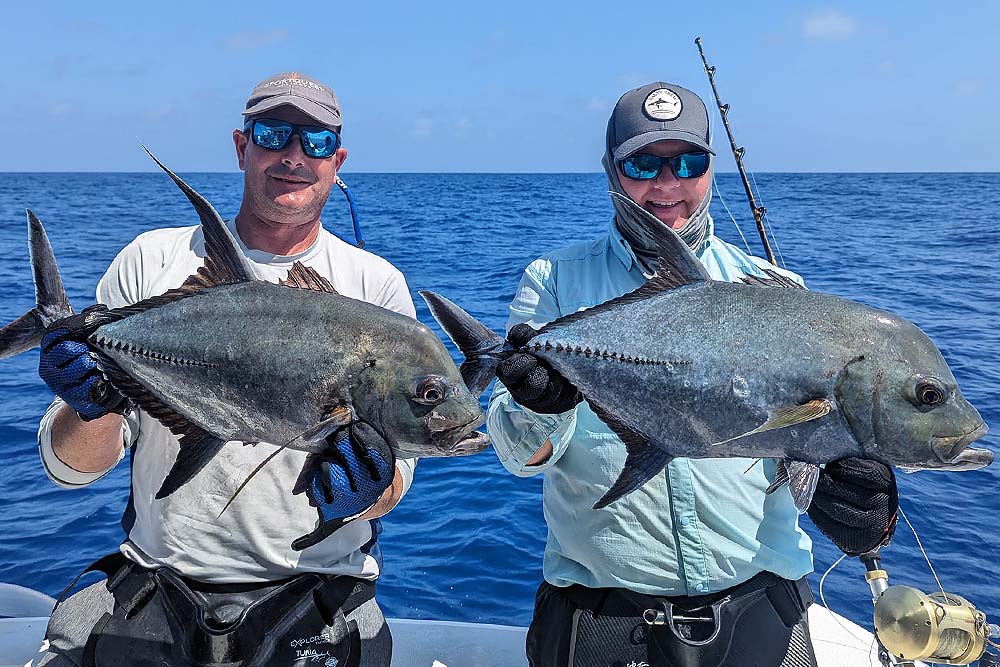 Rodrigues Island Hosted Trip – Day Seven
One Last Stand…
With day 6 being a much-needed rest day, it left just one day for the lads before they flew home. Having chatted before the trip, it was decided that we'd organise a few local boats to have a bash at some GTs on the reefs inshore.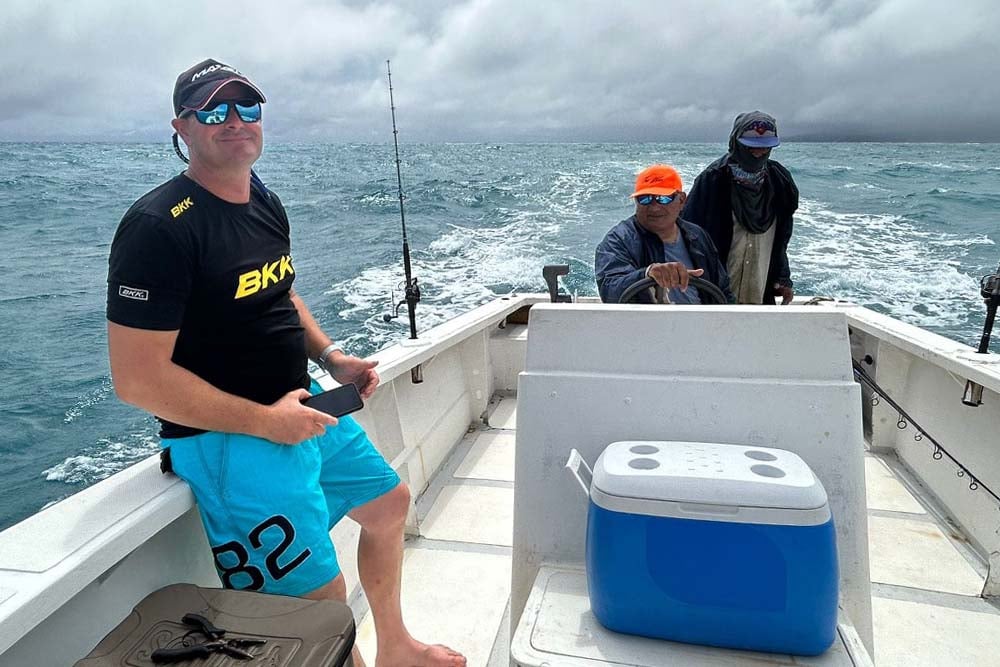 Conditions on the day were challenging, with heavy rain for the duration of the morning clouding up the water. In the afternoon, the weather cleared, and the lads raised a few nice fish to the poppers. The best fell to Philip, a nice GT of around the 20kg mark, but he lost a better one from what I heard. Mark managed a nice Blue Trevally, as did Russell. John was Billy Blanco for the day but told me the beers went down a treat.
That was fishing finished for the guys, but it wasn't over just yet for me, as I went out with the LRF gear the following morning. The colours on some of the little beauties I pulled out were stunning.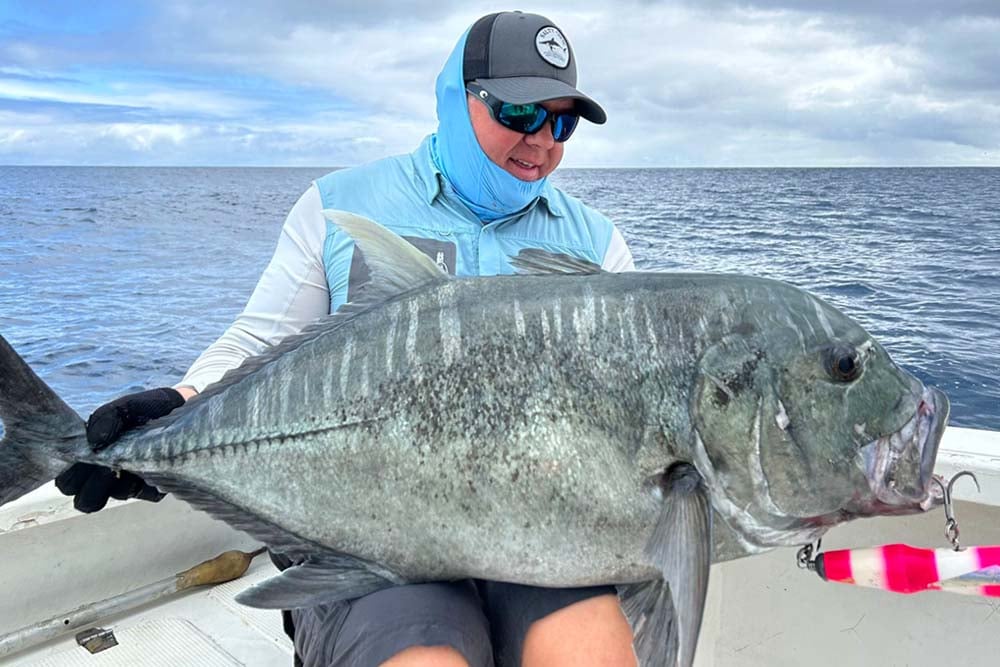 CONTACT US
If you would like to learn more about our hosted trips to Rodrigues Island, you can visit our tour page here. Alternatively, you can speak to our bluewater fishing expert, Paul Stevens on 01603 407596 or via email info@sportquestholdays.com.