Our third week of the season and the second week of our group stay with on St Brandon's Atoll was full of highlights and special fishing.
We experienced springs into neaps which allowed us a little more time on the flats due to the smaller tidal ranges. The favourable water conditions allowed for periods of incredible Bonefishing with hungry tailing fish being the norm. The average size fish landed was in the range of 6lbs with the odd 8 lb, exceptional by any standards.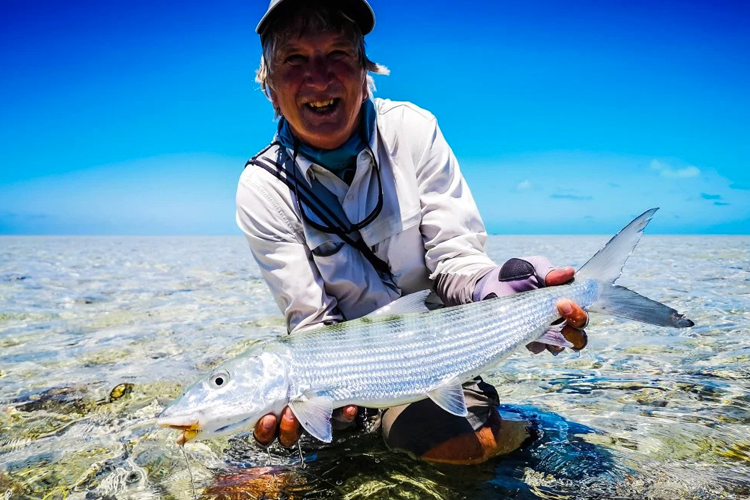 The Permit were around in good numbers this week with a variety of different opportunities presenting themselves. From tailing fish on the flats and around islands, to schooling fish cruising the edge of sand bars and lagoon systems. Even though we managed to hook a few of these difficult fish we were unfortunately unable to get any to hand.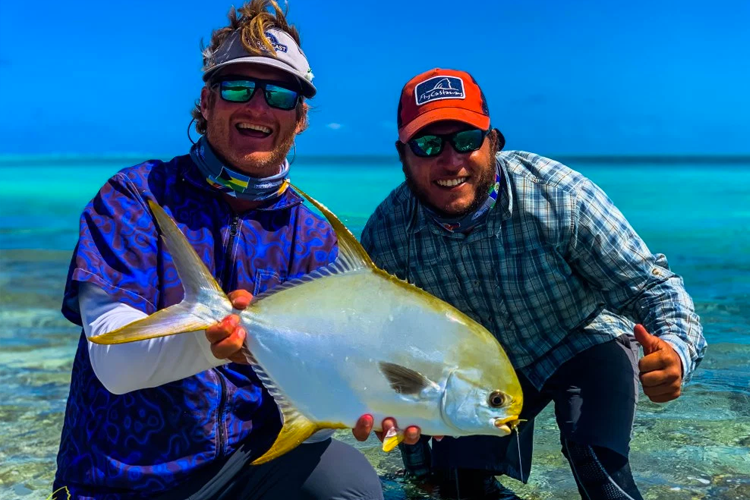 The neap tides allowed us to spend more time on the reef hunting the different Trevally species that frequent these waters. Our focus was on finding these predators either riding on the backs of sharks and stingrays or free swimming in schools. We managed to feed some giants this week, unfortunately, most of these fish got the better of us. Tom however had better ideas and made the most of his opportunities by landing a trophy GT measuring 103cm. George followed Tom's example and went on to land a trophy himself, measuring 102cm. Both were amazing fish that these anglers will remember for a long time to come. Seeing these fish speed up to eat a fly with their eyes and head exposed out of the water while engulfing a baitfish pattern is one of the most exciting moments in saltwater fly fishing!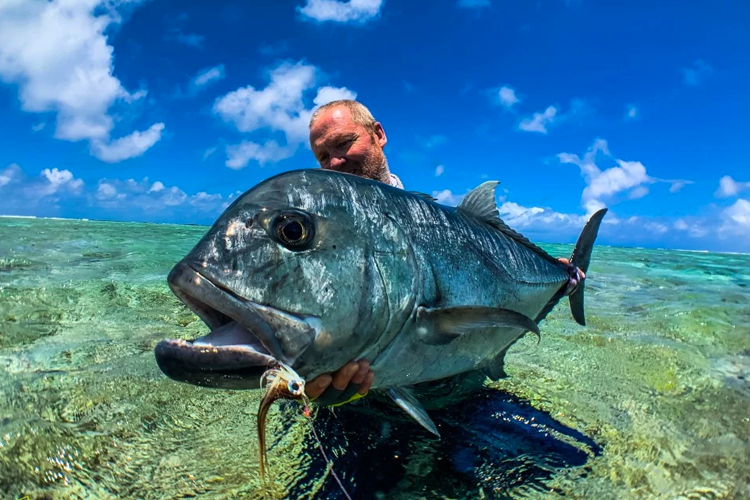 The great Bluefin Trevally fishing continued this week with a couple special fish coming to hand. John landed a monster specimen that stretched the measuring tape to 72cm! We were also lucky enough to see the odd Golden Trevally tailing on some of the flats this week, George and Tom both added this special fish to their list of species caught for the week. Well done guys!
That concludes a memorable two weeks with a great bunch of guys. We experienced the highs and lows of targeting some of the most sought-after Indian Ocean flats species and made memories that we'll all keep for a long time. We look forward to what the atoll has in store for us in the coming weeks.
Till next time,
Peter