As Norway prepares to slowly open up its borders to neighbouring countries such as Denmark and Sweden our guides are blowing out the gob webs and taking some time to perfect their skills. Douglas, head guide at Havoysund, has been out yet again after the Halibut and has had some great success. I will hand you over to his latest report:
Summer and Halibut in Havöysund
Then I have again been out on a good Halibut fishing for myself, summer has started sneaking up and we have had really good weather last week with no wind and lots of bright sunshine, (the snow will soon be gone). Just like before, I still have no guests at the campsite but fingers crossed for us to get some guests up soon as it looks like it will in about a month.
So on Tuesday, it was time to fish again, with just myself in the boat I tend to find the most fun is to jig. This keeps me active as many people who know me, know that I like to have a laugh and joke when Halibut fishing and jigging keeps me from being bored.
After fishing for a couple of hours without any bites, I finally found a place with fish. When I did the first cast in that place, a Halibut showed right away on the sonar and I got it to bite, turned out to be a great fish of around 125 centimetres. I quickly released the fish and continued on the same drift, immediately when my jig hits the bottom, there was two Halibut show on the sounder, the bigger one goes directly upon my jig and bites, unfortunately, I missed it but luckily the other fish charged straight at my jig and we were in again right away! The fish gave a really good fight and was around 15kilo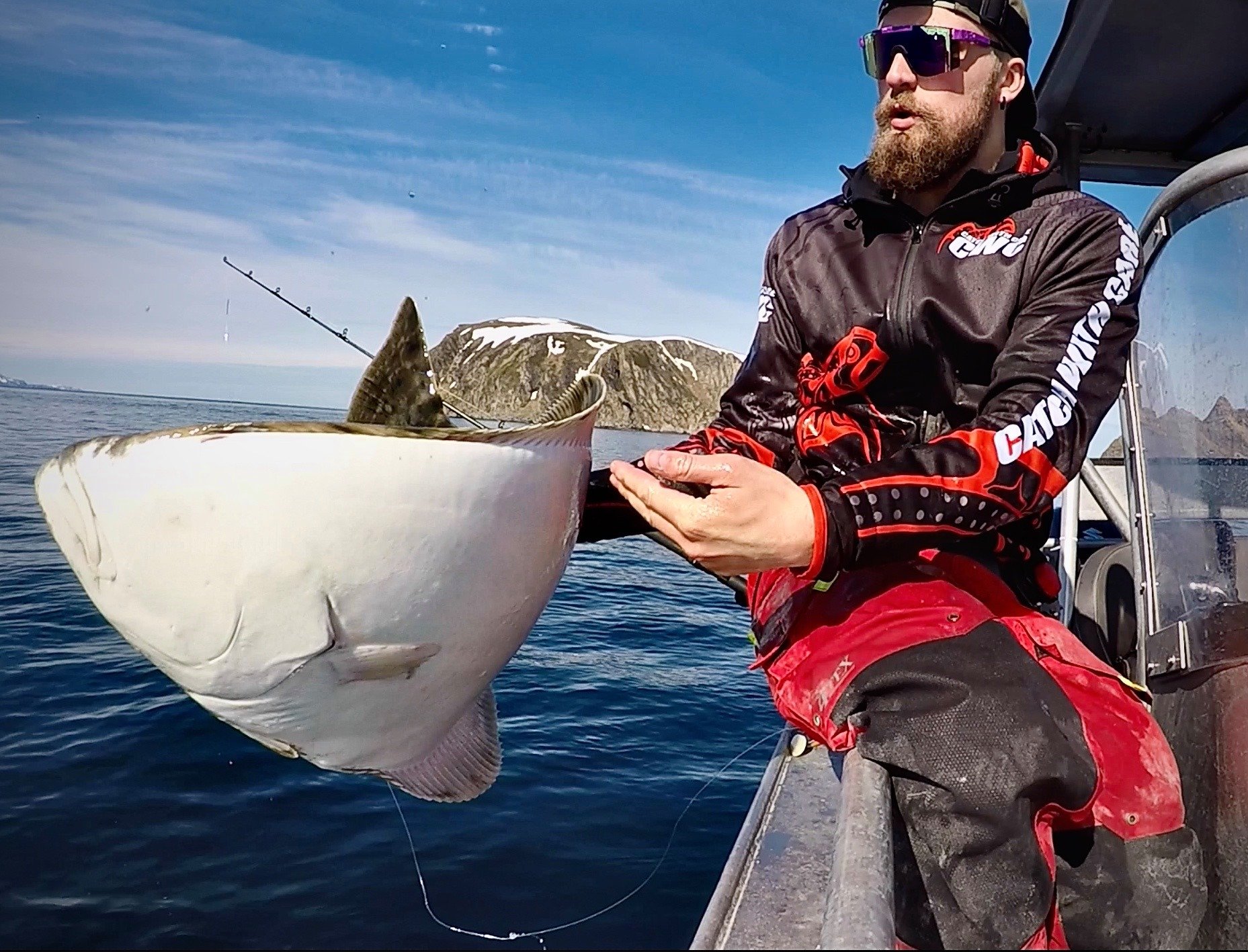 I decided to change spot over a nice little top and after spotting some smaller Halibut on the sonar, a better fish comes up, it lays right under the jig, and with some nice action on the rod, it bites. Once again a cruel fight and there were thoughts about it being a heavier fish. I was correct and managed to land this and measured it to 148 centimetres.
After this, the bite died off and I made a move, spent a number of hours looking around but mostly enjoying the weather without any bites. Later when the tide started again I was back in the same place as before and it wasn't long before I had some more action. A fish went up to the jig and grabbed it once, twice, three, four and FIVE times before I managed to hook it! haha totally sick and I was puzzled that the fish didn't give up and about how I managed to miss it so many times. Even this one was a super nice fish of around 20 kg.
Yes now I really long for all you lovely guests up here and I do everything I can to keep track of the situation so I know where the fish is when you finally get up!
Hope everyone has a good time and keeps healthy and strong so we can soon bend heavy together again!

Tight Lines// Douglas Dahlberg
Thanks Douglas we are all super excited about seeing you too. We are sure it wont be long and with the new announcements the other day we are hoping it will be sooner rather than later. Take care of yourself and keep sending us reports.
Havoysund 2021 & 2022 Season
We are opening up all bookings for the 2021 and 2022 season so if you want to join us in Havoysund either as a group or a single angler we have some great weeks available. Everyone needs something a little special to look forward to in these difficult times, so what better thing to do than book yourself a fishing holiday. If you would like to speak to a member of the Sportquest team then give us a call on 01603 407596 or you can fill out an enquiry form and we will call you straight back. Click HERE to fill out the form

Tight Lines, The Sportquest Team