What an amazing week this has been out in Vesteralen – The guests this week really got a fantastic mixed bag of species including some huge Ling!
Super end to the week!
It has been a somewhat tougher week here in Vesterålen. The weather has been worse, and several days, it has rained and blown quite hard. But we have also had moments of fantastic weather and warmth. Like for example on Monday, when we could finally plan a long trip out on the V-mountain! The weather forecast showed 2-3mph winds and sun all day, and we went out early this day…
But we have to take it from the start. On Wednesday last week, our new guests arrived at our camp at Vesterålen, and they were all eager to get out. Unfortunately, the forecasts did not look very good in the coming days, but there was a small gap already early in the morning on Thursday morning. Therefore, we planned together with the other boats, to go out at 6am in the morning. It is quite hard to get up at 5 o'clock after traveling all the way from Sweden the day before, but this was the opportunity we had to get out on the west side. Håkon and I each drove our own boat this fine autumn morning, and took the guests out on a bit of mixed fishing. The day started well with a fun Coalfish race, where we got lots of nice Coalfish typically between 6-10 kilos. Mats in the Guide boat went with a very respectable top fish of 13 kilos! In between all the Coalfish, there was also Cod. We were looking for the slightly larger specimens, but there was none.
On the other hand, we fished on a base that delivered a lot of nice food Cod between 5-7 kilos! After the gang in the Guide boat had had a good time with rod bends and fish, we were to put a couple of Halibut drifts before we had to head home. Here we lay in a sand channel about 55 meters deep, and it did not take long before Lennart lost contact with the jig. It's Halibut time, and a few minutes later, Lennart was able to land an awesome food fish of 95 cm! Håkon and the gang in boat 5 also took some drifts further away, and there Leonard could pull his very first Halibut of 106 cm! Not far away was boat 6 as well. They were just about to pick their baitfish when Magnus dropped a jig for fun. It was not just a small catch here, because it really hit the jig right away. After only 5 minutes of fishing in boat 6, they were able to land a beautiful Halibut of 140 cm! We continued our fishing, but now it started to blow hard from the north, and it started to get terribly difficult. Well satisfied, we packed our things, and headed home after 6-7 effective hours at sea!

In the coming days it would really be muddy weather. There would be lots of rain, and the wind would go up to 10-12 seconds meters, with 16-17 in the casts. Fortunately, our camp is just as protected inside a fjord, and enables fishing around the camp almost regardless of weather and wind. We are also lucky considering that the fjord holds up well with fine Pollack up to 5-6 kilos. We rigged up lighter rods for this fishing on Friday, and took two boats with us on a short trip for Pollack. Unfortunately, it was pouring rain, so I did not take out the camera that day, but we pulled lots of nice Pollack up to 4-5 kilos just a few minutes away from the camp! It's a lot of fun on lighter equipment…
On Saturday, the wind should calm down a bit. Now most people were good at fishing after a tough day with bad weather. The weather was still not nice, but we fought our way out anyway. We went south to some peaks with boat 5, and tried our hand at Cod. The Cod was present, and we got several nice food fish in the 5-6 kilo class. But the biggest ones shone with their absence .. Even though there were some nice Cod of around 10 kilos as well, it was quite tough fishing. But, fishing is fishing, so we did not give up. We looked further, and found some slighlty bigger Coalfish we could enjoy! A short distance away, the boys in boat 6 had put all their cards on Halibut. Almost immediately, they had caught a pretty food fish of about a meter. But Mathias immediately got a far better cut. Now they had a big fish on, which just rusted away. Unfortunately, the fish loosened after 15 minutes of fighting…On Sunday should finally be turning! Now the sun came up, and the wind was about to blow. Finally we could get out on the west side. We took boat 5 a little further northwest of the camp to drive some Cod, Halibut and deep sea fishing. The fishing started on a steeper edge, and here it was full of bait fish. Under the Coalfish it is used to stand Cod, and it was no exception this time either. There was a lot of Cod here, and we could land several fine Cod of 7-8 kilos. Some larger Coalfish also hit our jigs during this fishing.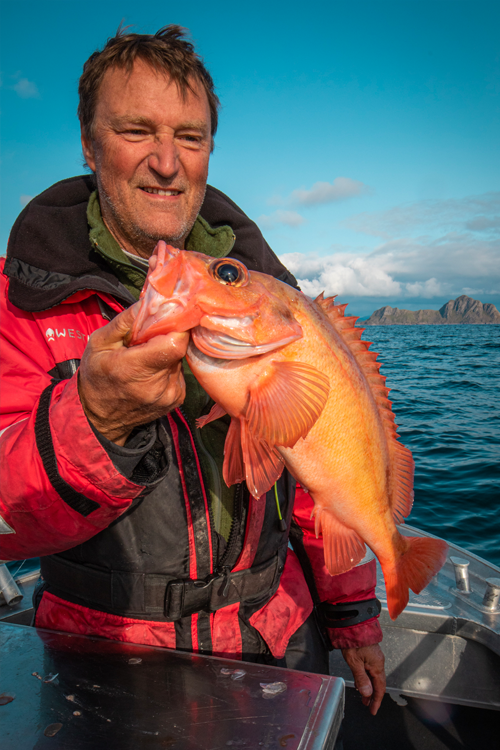 We moved a bit north to put some drift after the Halibut. But after several good drives, nothing had happened. It felt tough, and the guys wanted a little pole bend again. It was also lunchtime, so we lay on a 5 meter top, ate lunch, and threw with lighter equipment. Not entirely wrong, there were lots of big Ling on this single top. Here it was really a Ling race, and we got more fish in the 5-6 kilo class. It was an intense hour with several cool fighters! But now the gang wants to try their hand at deep fishing for Redfish. So we drove to the deep pit that stretches along the entire west side out here. I wanted to test a new place a little further north, but there was really nothing but chubby chopping as soon as you came down… Therefore, we moved quite quickly further south on one of our firmer places, and there were Redfish! We got several nice foods up to 3 kilos, and Lennart also went with a Smelt of 750 gr! During the Uerfisket, Johan also got a pretty good length of 7-8 kilos… It was a beautiful end to the day, and we could go home at 5 o'clock in the evening. Our German guests also had a nice fishing this day, with several nice Cod. But when I met Silvio on the pier, he was still wholly shaking in his voice. He had hooked a giant Halibut out there, and fought it for half an hour. After half an hour, the fish had gone over a shallow top, and the line snapped… I got to see a film of the match, and there were no headshakes to play with… The big ones are still out there.
The gang in boat 5 had also landed several nice Cod after a couple of hours of fishing. But we now wanted to test ourselves on the Ling a little further out. We prepared our tackles, and cut up fillets of Coalfish, which we were to use for this fishing. It has proven bloody effective the last few trips with a whole fillet on the large Lings. Not entirely wrong, it did not take me long before the first fish sat at a depth of about 80 meters. Mats stood with full tension, and only seconds later both Johan and Lennart stand the rods down in the water crust. Erik, who was behind the boat, had also had some good cuts, but no solid fish yet. But there was something small that nipped at Erik all the time, but he was very unsure whether he should check the bait, or keep it down there for a while. He chose to keep the line in the water for a few more minutes, when the respective others in the boat had landed a couple of nice lengths up to 16 kilos! But then it would be heavier for Erik. It was not a big blow, but it just got heavy. Erik smacks hard, and now it's really howling in the reel! It only goes out of line, and we understand relatively quickly that it was not a long one. After rusting well away, it unfortunately loosens… But it feels like there is still something on. Erik cranks up, and up comes a 2 kilo chunk with large scratch marks all over him. We really understood what had happened now, because the big Catfish hook that had been baited with Coalfish was sitting in the belly of a fish. Unfortunately, we never managed to hook this big Halibut.. But it's good to know that they swim out there!
Erik, on the other hand, was a good revenge week after this episode, so we changed drifts again. Now he wanted a big Ling, and he should get it .. Immediately, when Erik comes down with his big fillet, it slams into a real fish. The other boats barely fished this operation, because by then we had already gotten several nice lengths. And it is very important to stop fishing for these when you have had enough. Langen is very stationary, and can not stand to be put back in the same way as other fish species .. Anyway, Erik stands with full bend on the rod and pumps up carefully. In the depths we see something bigger. The linen becomes slack, and the contours approach the surface. Like a rocket, a giant ling comes to the surface, and Erik luckily got a good revenge after losing a big fish. On board we weigh the length to 21.5 kilos! Now it was time to go long fishing for this time… But we had only fished a couple of hours in total, so we could not go home yet! We lay down on one of the many peaks out there and started drifting. On this 2.5 hour long operation, there were seriously fish from the bottom and up to 15 meters under the boat. Constant. There were some extreme amounts of fish, most of which are of course Coalfish, but below lurked some brutal Cod. We threw out angling with whole saithe and hoped for a bigger Halibut. But the Cod probably came in advance all day, and we got quantities of fish between 14 and 18 kilos! There was no small cod here… It was actually completely wild. I myself have never experienced such quantities of fish out there. After catching several nice fish, which we quickly released back, it was time to head home. Both boat teams were simply happy after 5 hours of fishing out there .. Would have liked some more pictures of the big Cod we got, but we prioritized some quick re-releases over pictures, as we already had enough fish in the boat ..
All in all, it was a fantastic end, even though the fishing week is not over yet. Håkon is out fighting with the Guide boat in the rain that has come. It has also blown up quite a bit, and the conditions are quite demanding at the moment. But we are fighting on… Next week looks absolutely fantastic. The wind will calm down, and the sun will probably peek out from time to time as well. It will probably be set for another long trip again during the weekend if the forecasts hold, so stay tuned for upcoming reports!
Tight Lines // Jørgen Zwilgmeyer & Håkon Nilsen
Contact us
We do still have the odd week available for the 2021 season at Vesterålen. If you would like to join us at the famous Northern Norway destination call us on 01603 407596 or email us info@sportquestholidays.com.
Tight lines,
Paul