The Skrei Cod season has kicked off in Havoysund North Norway and the fishing is on fire. Many big Cod are being caught by the customers out there, read the report below to see for yourselves how good it is.
Finally, the season is on! The camp this week has guests who are looking for the really big cod. The weather forecasts promised decent weather on Thursday and Friday. The first week here in Havøysund there are many Englishmen at the camp, but also a good bunch of Swedes from Stockholm! Some of the Swedes arrived at the camp early on Wednesday, and were already at sea at 10am. It was fine weather after all and the Cod were out there willingly, so they couldn't let it go!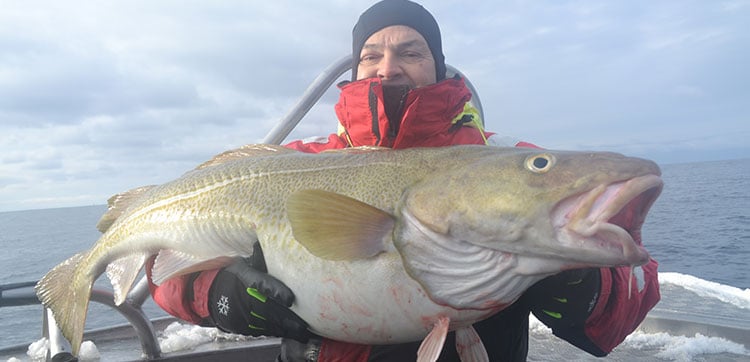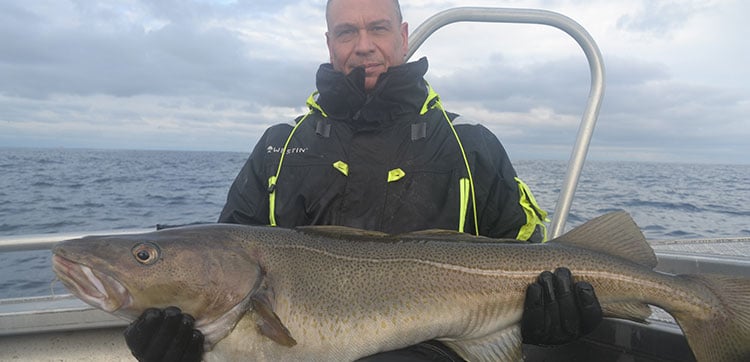 The Swedes in boat 6 hit directly on the cod, and got quantities of cod the first day. They even succeed in pulling up some nice cod up to 20 kilos! But after the Swedes' "great start", the long-traveling Englishmen should finally get out on the skrei fields on Thursday morning. Douglas and I had previously been out and tested with very good results, so we went back to see if the fish was in place. And it was! When we arrived, we were on the fish. It was willing too, and the English got their first bows on the rods! I drove a bunch from south England in boat 4, and Douglas drove the guide boat with some Englishmen who had been here before. The mix of fish was completely crazy, and most of the fish were about 5-8 kilos. But there were larger fish nearby, in the Guideboat they succeeded in pulling several Cod of about 15 kilos. The Englishmen I guided in boat 4 got to experience Northern Norway for the first time in their lives, and had to test themselves physically on skrei. They were quite eccentric and pumped cod for 6 hours. We also got some fish in the 10-15 kilos class and we also managed to lose a really nice cod by the boat, one of about 20 kilos. Steve in boat 3 carried on with his Big Bob all day and it was going to pay off towards the end of the day. After a nice rush and heavy fight finally "coughing" Pete (from Sportsquest holidays) could land a pretty pretty Skrei Cod, for Steve, at a total of 26 kilos! A great start to the week.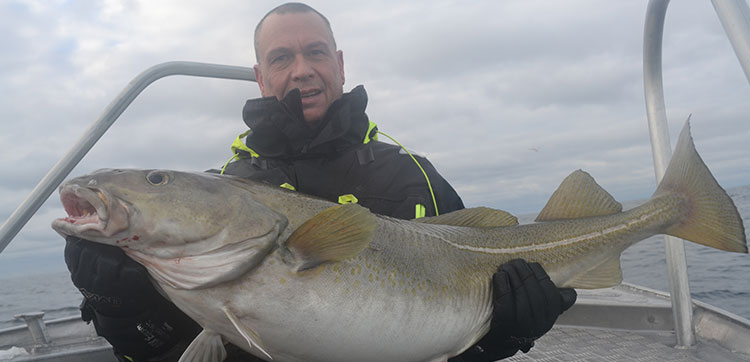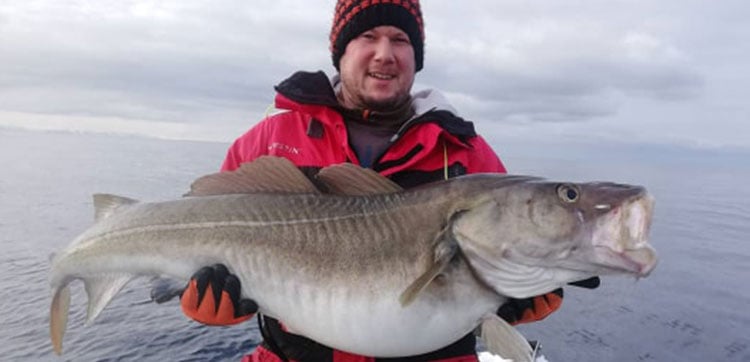 Today we have had good weather with 2 metres and lightly cloudy. I drove the guide boat and went with me boat 3 and 4. We were going to go out and fish for skrei but today the goal was to find more and bigger fish. 8 in the morning we left and we were going to test another area today It paid off! When we arrived at the fishing spot, the gulls dived wildly, and there was capelin everywhere! We could even see the shoals under the boat, it felt like a good day ws on the cards and we hit the fish right away. There were sick amounts of fine food fish of 4-8 kilos, but the big ones did not occur at the start. We looked around for the big ones, and I found a slightly smaller shoal at about 160 metres depth. An attempt was made to see if any better fish could stand a little deeper, we got in touch right away, and Mark was going to pull the longest straw. From a depth of 160 metres, hooked it, and up there comes a really nice cod!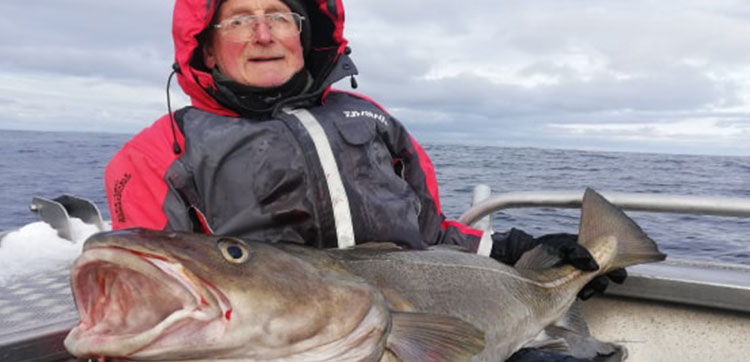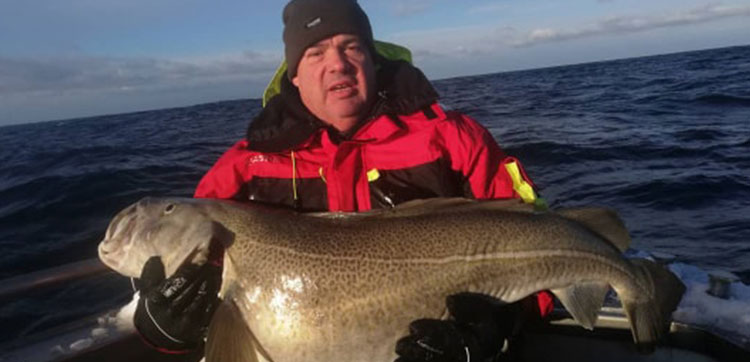 We were told that the other boats had landed several fishes up to 18 kilos, and it didn't take long for us to fill the entire echo sounder, and now they chased our jigs like crazy! We could observe great stretches that came and attacked on the way down. In peace and quiet Lorance pumped up the fish and we got a first glimpse of it. Secured and landed, we weighed the cod to 26 kilos! A real Skrei … Finally, we had found the fish we were looking for, and 10-15 kilos of fish came one after the other. Between every 10-15 kilo Cod there were also even larger fish. Gary in the guide boat finally had 3 Cod over 20 kilos, in addition to that we got several 20 kilo fish distributed in the boat. Boat 3 and 4 also had great fishing with fine fish up to 18 kilos and quantities of fish. We also saw the eagles circling around the boat in wonderful surroundings. All in all, it was an action packed day with a swine-fishing, and incredible setting in a sea view!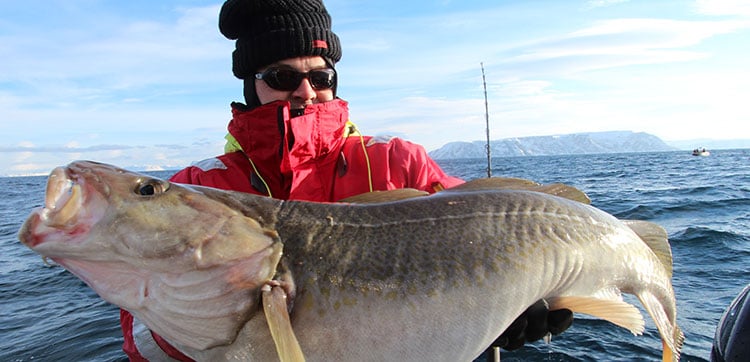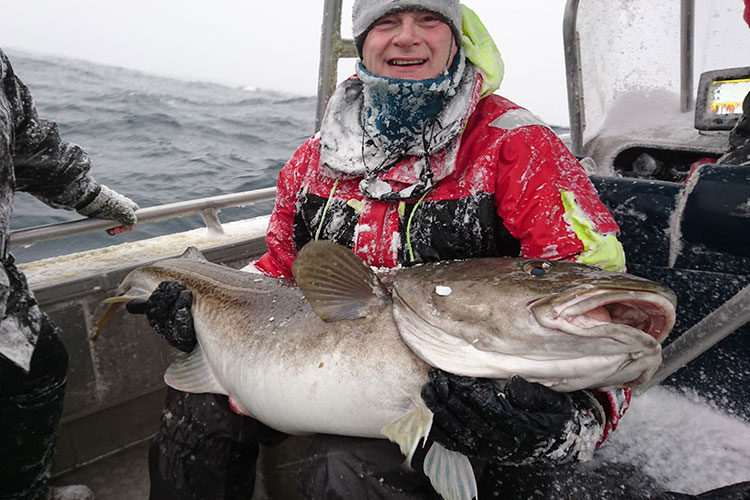 It is absolutely beautiful that the season is finally underway, and we have had a gun start for the whole of the last few days. Tomorrow looks something less light, but at sea we come! 10 m/s west and around 0 degrees in the morning, so it does not look completely impossible. We keep updated on both our website and on Facebook during the week.
Tight lines
// Jørgen Zwilgmeyer, Douglas Dahlberg
What a brilliant report, cheers guys.
If this amazing Cod fishing is something that you would like to get involved in then come and take a look at what Sportquest Holidays can offer you.
Tight Lines
Matt