Unfortunately, we have finished fishing this week and had a great week here. Of course, the weather could have been better, but what does it do when the fishing delivers right around the corner here?
During Saturday's fishing day, however, we had great weather, and we set sail towards Langturen in the sunshine and little wind. The day's goal was to get in touch with the big Cod out there and spend some time on Ling fishing. We stopped at the first peak and quickly came into contact with a better fish, but even though Cod was the target of the day, it was probably a flatter figure that hit Henrik's jig. Unfortunately, the fish came loose after only a few seconds – but it was a real fish!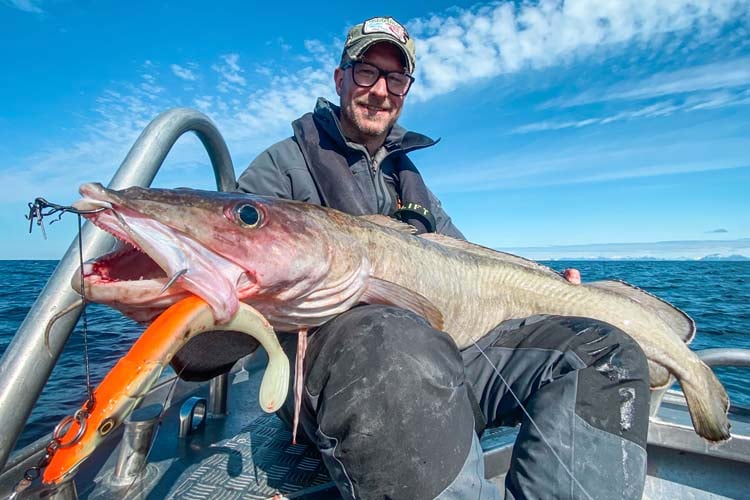 We searched for toppers, edges and hollows, and although we found quantities of fish, it was hard work. We hope that the Cod fishing out there will start again soon because we know how crazy it used to be! After hours of trying for Cod, as always, you have a plan B, and it didn't take long before we had a triple hook on the Ling, and we were able to land three nice fish up to the 20-kilogram mark.
In the coming days, the wind picked up again from the southwest, which made fishing difficult and limited us to stay in the immediate area. Despite this, we have had good fishing for most species. At one point, we saw hundreds of birds plunging into a sandy cove and headed there. It didn't take long before we had a very cool hookup at a depth of 10m, and a nice Halibut, the target.
Daniel in the Guideboat also caught a very good Plaice on a jig on the same day and then had a go with some lighter tackle, but unfortunately, there were not many of these fine flatfish in the area.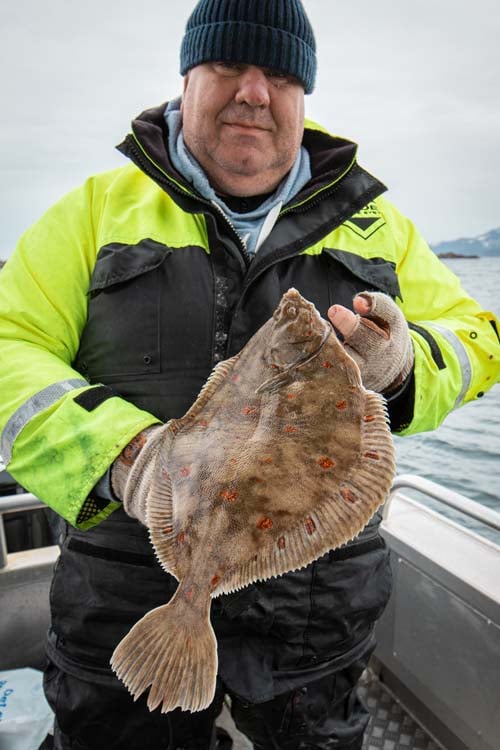 There has also been a lot of nice food cod in the fjord, something we are grateful for. Boat 6 had a very successful day yesterday with good Halibut fishing too! Filip got a fish around 100cm early on, followed by a lovely 150cm fish right in the shallows! A short time later, Göran got a nice fish over the meter too!
Today it was only a shorter trip to the outer edge of the fjord for the various boat teams, mostly to get some air. But Alexander quickly found a shallow sand trough with a lot of Halibut! The size of the fish was not the biggest, but it was a fun experience to see 4-5 fish circling our jigs. One of the fish was tricked into biting and was landed and measured at 70cm. The other fish were around the same calibre as well. So at least, it bodes well for the future! Göran, in boat six, had a great day; he caught another nice flounder of 105cm. Soon after, he also hooked a much better fish, which unfortunately came loose after a few minutes of struggle.
Now the boats are washed, and our guests are packing up and ready to head home. Again, thank you for an enjoyable week with everyone who has been here. The batteries are now recharged for another week of spring fishing here in Vesterålen, and we are very excited to get out again!
Tight Lines // Jørgen & Alexander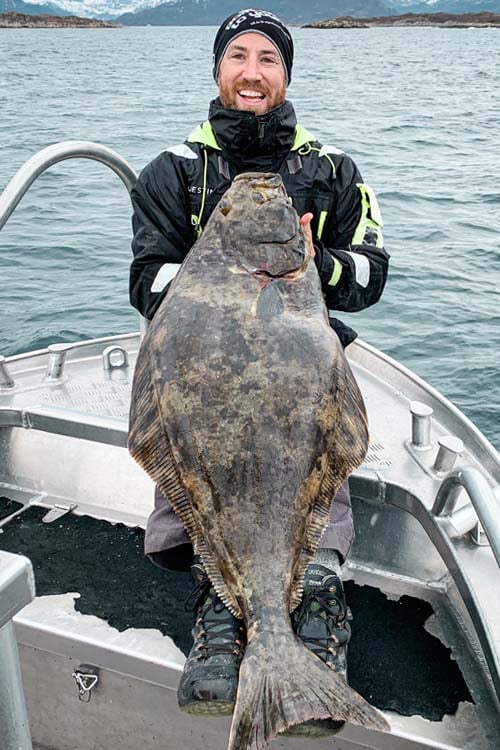 Contact us
If you, like many others, have ever dreamt about fishing the prolific waters of Vesterålen and would like to know more information on how you can join us, you can contact our sea fishing specialist, Paul Stevens, on 01603 407596 or email at paul@sportquestholidays.com.