So it's a week in Vesterålen this time, and we ended the whole fishing week in the best way! The weather really wasn't on our side the first few days, and it turned out that you had to fish in the local environment.
Although both weather and wind have gone against us, our guests have never given up. We are lucky on Vesterålen, because here we can usually always get out on some form of fishing. We all took advantage of that, and fortunately we got out the first few days, the weather was at its worst. But after a few hard days of fjord fishing, the weather would finally subside, and the sea lay like a mirror…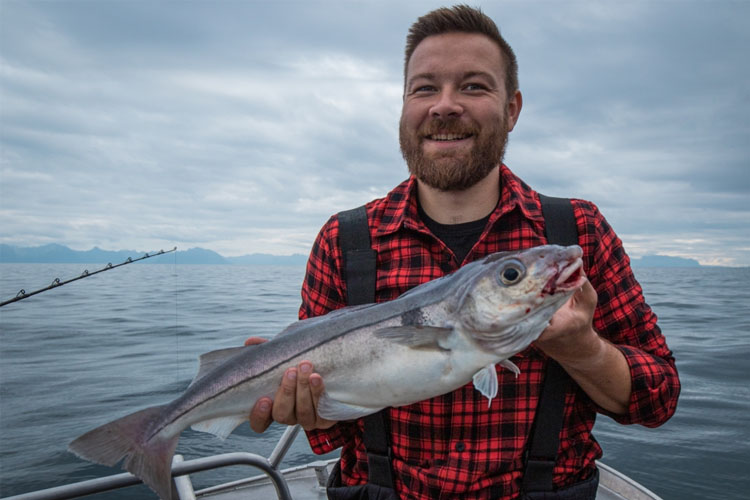 Already upon arrival last Wednesday, we had to realize that Thursday was blown away. Yr reported 28 ms in the cast, and in Eidsfjorden outside our sheltered fjord, Jørnfjorden, waves of 6.5 meters would roll in. Unfortunately, we had a country day, where we just had to keep our spirits up and wait for better weather. Although Friday didn't look very pleasant, at least we could get out of port! All boat teams scratched their heads, and were ready to go out when the wind had finally "steadied" to about 11 ms. We drove the Guideboat around Lunsj to see what the fjord had to offer. We rigged the rods for Pollock, in the hope that we could spot some strong fighters on the base peaks at the outer edge of the fjord. The rainy weather made the water brown, and probably the poor visibility was a little deeper.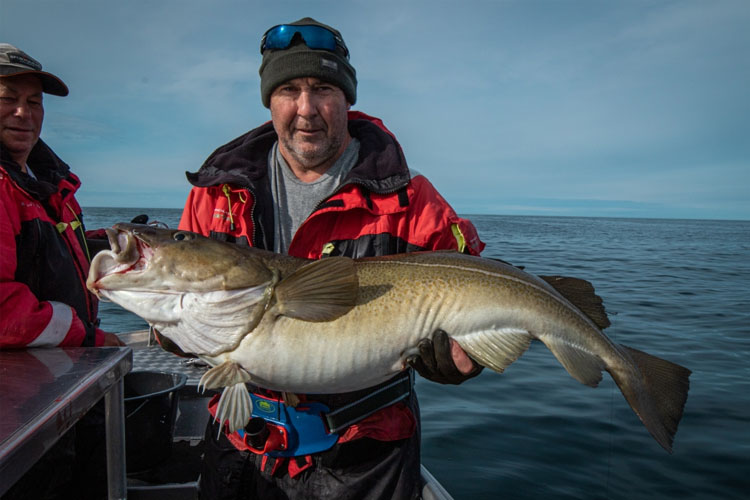 Because Blekan was not on the cutting edge. The wind also did not make it easy to cast and keep control of the small shad we threw out. We gave up on this fishing, and drove on. A while later we pulled several of the other boats with us into a sheltered bay to give the flounder a try. This was no easy task either, as there were strong gusts of wind down the mountain. The Halibut fishing simply had to wait until another day. Fortunately, we had taken care of some bait fish, so we instead took a couple of drops in the depth to try to catch some food fish for dinner. In the deep Eidsfjord, it is extremely rich in species, and it usually doesn't take long before it cuts down to 200 meters. Victor in the Guideboat secured today's dinner with a couple of nice food Cod of 4-5 kilos in excellent condition! We accepted this today, and headed home after a few tough hours at sea.
On Saturday it was the same thing. The waves had calmed down quite a bit, but the wind was still blowing. With yesterday fresh in their minds, everyone in the Guideboat felt that there was no point in wearing ourselves out completely, because the coming days looked incredibly good! On the other hand, we were going out! We kept the Pollock tackle on the rocks, and lay on the deep edges in Eidsfjorden after Pollock. Anyway, we picked plenty of bait fish, and put our first drift. We missed a bite on the edge we wanted to fish on, and drifted quickly up shallower won. Here there were thousands of medium Pollock of 2-5 kilos who gladly took our tackle on a turn. We moved on. A little further on, something would finally happen, and after a short while everyone was bent over. Sara was the first to hook something that could tell you. And not completely wrong, we could see some red that came up after a few minutes of cranking. We got several nice meals after a few hours. There are many other exciting things swimming down there too, so the excitement was always at its peak. Several times where we were absolutely sure it was Redfish, nice Whiting around the kilo came up. These are also excellent food fish. Victor hooked something bigger at one point, and we knew that Whiting/Hake had been taken in this area before. But a little "disappointed", some nice deep-water Cod came up instead. Something that kept the excitement going and kept the motivation up. The weather was going to get worse during the day, so we finished earlier after a very pleasant, but windy day at the sea!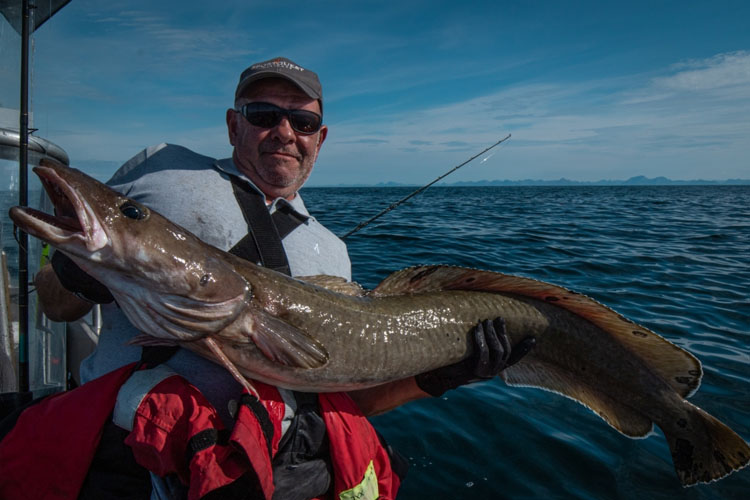 On Sunday, it would eventually subside. The promise was 1-2 meters per second at lunchtime, and it would even be sunny! We drove as a united troop westward to see if it was possible to go out. It did, but the reverberations of the storm that had been could be felt. But we got out. Out on the square, we could quickly feel the old lake. But we didn't give up, and looked around for fish. We found the fish, but that didn't mean they were on the hook. The Cod was difficult to deal with, and we had to "take it easy" with some fine Cod in the 7-8 kilo class that caught on during quick upswings. A fishing that in the beginning was incredibly cool, but that was not what we were looking for. The Scots in boat 2 called out on the radio that they had hooked a Halibut, and that the line was falling from the reel. I sat excitedly waiting for what would happen, but got a short time after they had landed a super fine Pollock in the 13-kilogram class. It's easy to be fooled by these power plugs… The sea affected us all, and we decided to take a small lunch break on the inside of the island where the sea was much flatter. We collected some bait fish, and went to sleep. The lunch break was intended for Halibut fishing, but after only a few minutes the echo sounder filled up, and we hit some crazy Haddock fishing! There were many nice Haddock on this short fishing session, but Jesper pulled the longest line with a nice top fish of around 2-3 kilos. After this, we wanted to try once more to find the Cod. In the area where Alexander had had good Cod fishing last week, the sonar was full. But here the Cod was a pain to deal with, and we soon realized that this shoal of fish was dominated by fine Haddock instead of Cod. I thought that the Cod might be standing further out, and we carefully drove out to see. On a precipitous edge we found masses of small Whiting, and below stood the Cod. There were soon some nice Cod, and Jesper, who was on his first fishing trip in Norway, caught a nice Cod immediately below the 10-kilogram mark. Now we had fought for many hours, and realized that tomorrow was going to be of the better kind. So we left the west side, and headed back home after a slightly demanding, but very nice day!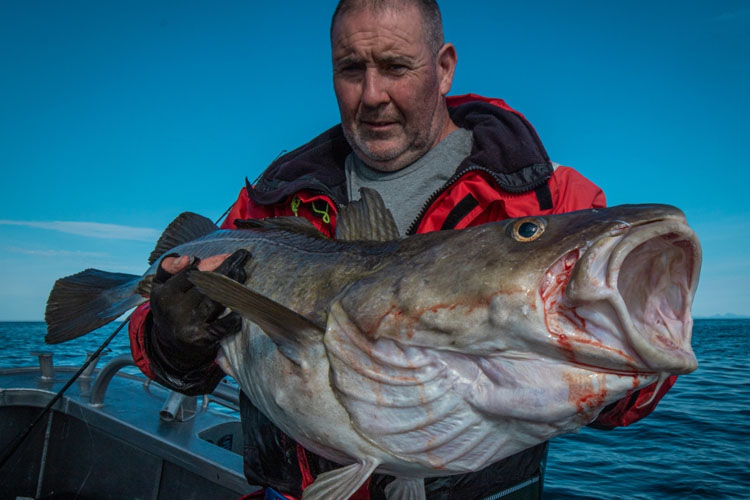 Finally. Finally! Should the weather be in our favor. The waves would subside, and the wind would not rise to more than 3 meters per second all day. It was time for a long trip. There is a special feeling with this long trip. To go out the beautiful Jørnfjord early in the morning, see a mirror-bright sea in front of you, and finally exit the passage on the west side. Completely unaware of what is going to happen out there, but you are fully aware that the fish out there can become so enormous. At 7 o'clock in the morning, all the boats headed out as a united troop towards the long haul. With Dire Straits on full blast, I drove Gareth and co from England, and Alexander drove the Guideboat. The long journey out to the long trip felt shorter this time. The conditions were absolutely excellent, and the excitement was palpable. As I said, there is something special about this long trip, and this time was no exception.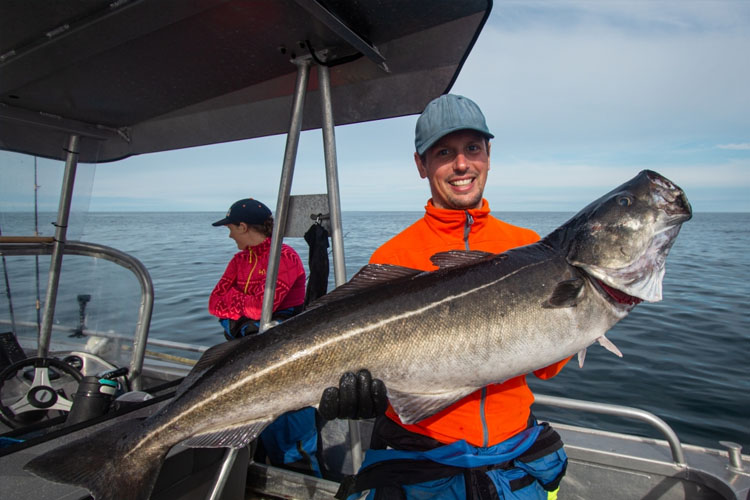 In place it was as always, full of Cod. Even the baitfish out here are much bigger, and you don't have to be afraid of using big bait either. We immediately got down to longline fishing. It took about 2 minutes before all the boat teams stood with their rods in the water, and the fishing was underway. Swedes in boat 5 were able to quickly report a huge Cod of 17 kilos!! The Scots went on with a nice Ling of 25 kilos immediately, and we also had several nice Ling in the boat after a short while, with a very rough Ling of around 25-26 kilos for the Englishman Wayne! This spot also produced some larger Cod, and the big angler Wayne struck with quite a nice top fish at just under 20 kilos! Alexander and Guidebåten didn't have any slower fishing either. We drifted by the side of each other and saw each other catch fish. Suddenly Alexander hooks something. The line rushes out, and after a few minutes Alexander can land the first Halibut of the day on around the meter! And something very special happened under their boat, because just seconds later, Thomas hooks his very first Halibut! The shouts of joy could be heard all the way to the mainland when Alexander was able to secure enough meter fish for Thomas! Victor had hooked something that was large. That can't be true, I told Alex. And it wasn't entirely true either, but to land 2 meter Halibut and a 20 kilo cod (Victor) in just 5 minutes is not everyday! Although we could fish here all day and land trophy fish, there is something about preserving the place, and only taking what you need. Both the Halibut and the Cod are very sensitive to pressure differences, so after an intensive period of fishing,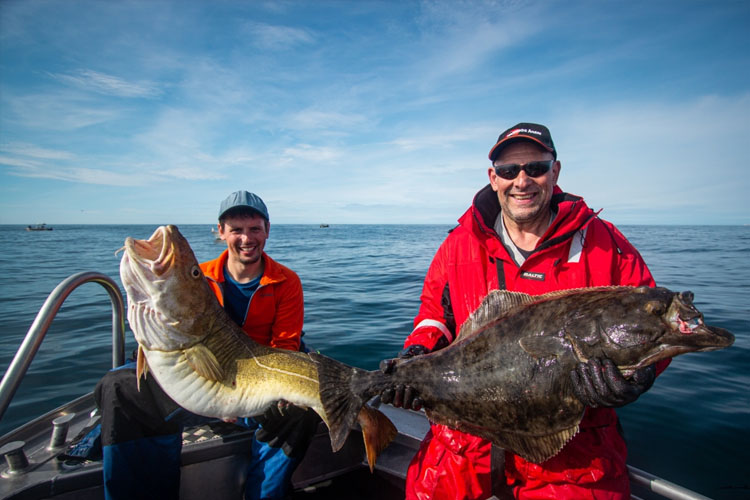 I took the Brits further north with me to test the fishing on the big flats. The Swedes were a little further south and the fishing continued there. We found some nice shelves with a finer sandy bottom, but it seemed like there were far too many Pollock and Cod in this area, and after several nice Cod in the 10-kilogram class, it almost felt a little hopeless. Fortunately, it is possible to release the Cod if you bubble them as soon as you see the fish under the boat. When we almost decided that enough was enough, the Swedes called out on the radio that they had lost a giant Halibut right under the boat. We picked up our stuff, and headed down towards the Swedes in a last ditch effort to capture a queen. I drove over to the Swedes, and they were able to report that this fish was a guaranteed 2+ fish… The hook had just come loose. Well well, we fished in the same area, and it didn't take long before Mick's reel was in full swing. Unfortunately, the fish got loose after just seconds, but the first Halibut contact of the day for us was a fact. A few minutes later, Gareth hooks one good fish! The rod is down in the water, and a strong headshake and a wild rush followed. But again this fish got loose… This one was probably big, and talk about bad luck. It was very frustrating to lose two fine Halibut in just minutes, but we didn't give up!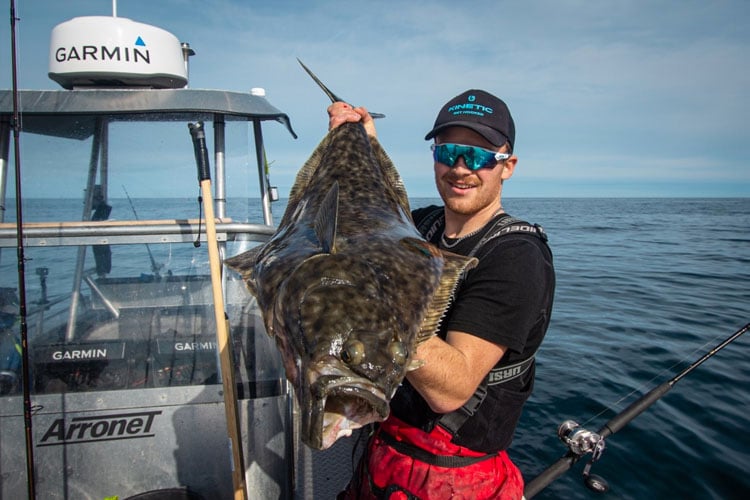 Fortunately, the big Cods were in the attack, and you got some consolation fish of around 15-17 kilos every now and then. We continued fishing, but we were out of bait fish. Gareth took the spinning rod, and threw down a smaller jig to get himself a slightly larger bait fish. Well down in the shoal, a bait fish went. Gareth cranks it up slowly, but then it stops. The roll screams. What happens now? I asked. The rod became lighter, and Gareth continued to crank. Nothing happened. When Gareth picked up the speed, it stopped again, and the line ran out again. I really didn't understand anything, and picked up a jig, hoping that maybe it was a Halibut that followed the bait he was wearing. It became heavy, lighter. Heavy, lighter. It lasted so long. The line now began to go crooked, and now I began to understand it. Mick was sitting on the other side of the boat, and suddenly his line flew right under the boat. I shut off the engine, because I was sure that the line went into the propeller. No! Well, it went straight down for Mick too! Gareth continued the fight, and the line went straight out now! 10 meters from the boat, a 3 meter long Herring Shark/Håbrann escapes from the ban! You can imagine what words came out… After that jump, Mick continued to fight, but we thought this might be a bigger Halibut, because it went down. Only seconds later, his shad snaps right off as well. And with the tackle in the boat, we can see how a single Herring Shark has scraped up the entire claw and bit off the hook. The pulse was high now, and we were completely shocked.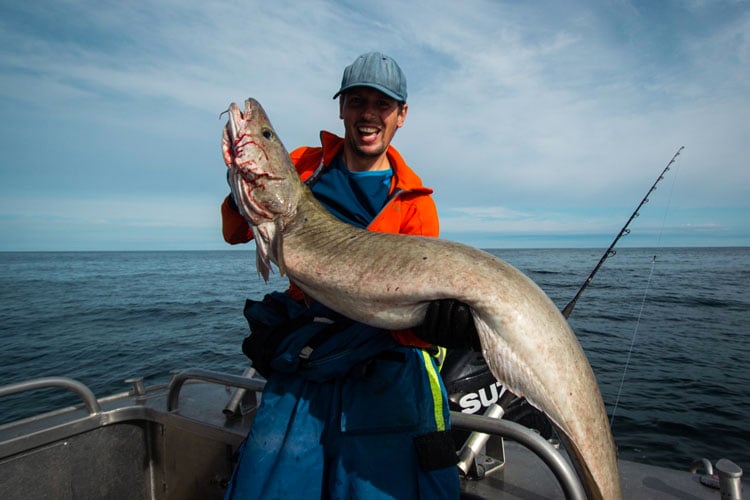 I have never experienced this before, and it seemed like it was a feeding frenzy from another world out there. The shoal, which usually stood thick from the bottom and 30 meters up, split up, and a large echo came out of the shoal. We re-rigged, and moved a bit. The fishing was naturally much slower now, although we caught some more large Cod. Only an hour after the shark episode, the Scots shouted on the radio that they had hooked a monster! It was only 10 minutes until we were due to leave, so we thought we could bide our time by hopefully helping to land a bigger Halibut. Wayne cranks his baitfish at full speed up, and only 1 meter below the boat ONLY a large Herring Shark comes and clips his bait under the boat. I just hear the scream from Wayne, and a roller screaming. The whole sequence lasts for a minute before the shark sets full speed towards the boat and snaps the line. We could only see the shark one per meter under boats as it swam in the way… Totally sick. We drove over to the Scots to see how their fish were doing, and I immediately understood what was happening there. Lina went straight out, and it was not typical Halibut behaviour. The fight lasted for about half an hour before you could barely see that it was something with big fins that had taken Pilken to Phill. But only 5 meters below the boat, the fish comes loose, and we are all completely shocked. I was told by another boat team that they had scored several victories that were cut right in two too. So there is clearly a large pool of sharks out there.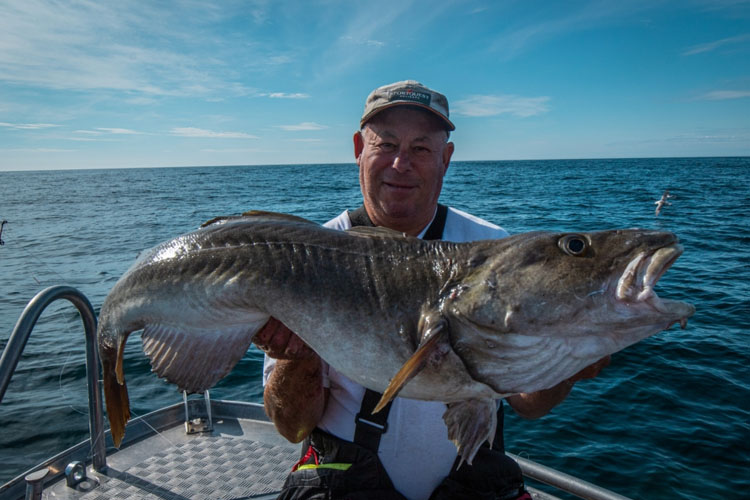 The herring shark is safe in Norway, and direct fishing after these monsters is not permitted without a permit. We fished for Halibut and Cod, when these sharks took our bait fish for a ride. Unfortunately, you can't completely control what bites, but I'm absolutely sure that these sharks survive just fine. We finished fishing out there after those episodes, and headed home after a completely crazy good day on the lake, and some fishing stories that we don't want to forget…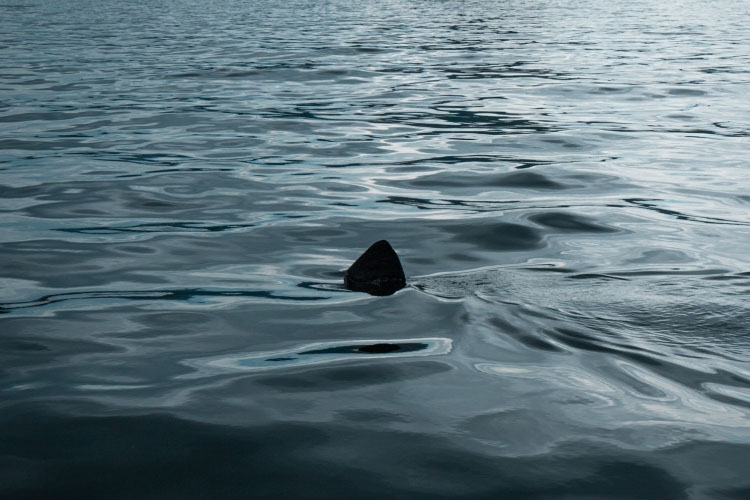 On the last day on Tuesday, it was again the promised blustery weather. Although it was raining, there was no wind. The guide boat wanted to fish a little more for Cod, and later went for Halibut. On the way out of the Eidsfjord, we came across a single species of shark in the Guideboat! The rather peaceful Brugden swam peacefully in the surface so we could see the whole fin coming out of the water. We tried to get closer to this creature at about 4-5 meters, but then it dived into the depths. Anyway, a powerful experience in the morning! We continued out towards the Ccod grounds, and it didn't take long before the sonar filled up. Here, the big Pollock were on the hunt, and you could clearly see that the Cod was under. But it didn't cut it. The jigs were not attractive, so we drove up to a nearby peak and picked up some baitfish. Back in place again, it didn't take long before we caught some coarse Cod of around 10-12 kilos. At one point we got a double bite on a large Cod around 12-13 kilos. Then it became chaotic… Well, we said we were satisfied with this fishing and drove closer to the islands in the hope of Halibut on the hook. And it probably didn't take more than 1 minute before Victor had fixed fish. There was a rush, but we quickly realized that there were no bigger fish. Up comes a nice little Halibut of 76 cm that got its freedom back. Apart from a few bites, and a few small flounder in the British boats, not much else happened this day, and we ended this week of fishing early in the day and went back to camp.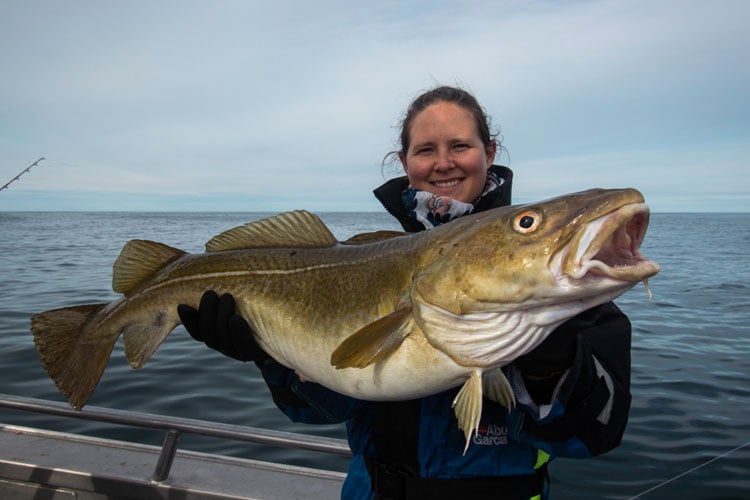 Although the weather has been demanding at times, we had some fantastic days at sea in the end. The weather was finally on our side, and gave rise to some completely crazy fishing stories and cool experiences. Well, it's clear until the new gang arrives today, and the weather forecast looks promising for the next few days, so stay tuned for future reports! And we want to thank you for a great week, with lots of laughter and pleasant moments here in Vesterålen!
Tight Lines // Jørgen Zwilgmeyer and Alexander Brøther
CONTACT US
If you, like many others, have ever dreamt about fishing the prolific waters of Vesterålen and would like to know more information on how you can join us, you can contact our sea fishing specialist, Paul Stevens, on 01603 407596 or email at paul@sportquestholidays.com.