Now we can finally say that summer has started to creep north as well. Even though it was only for a short while last week, it was probably necessary after a rather shaky spring season. The fact that we were already able to go on 2 long-distance trips in the first few days felt absolutely magical!
During Friday and Saturday, there was almost no wind, and the sun shone steadily over both days. With 6 boats on the way out, it couldn't be anything other than success. Already on the first spot, a nice fish came up. Although the sonar showed fish from the surface to the bottom, we managed to get down to the big Cod among all the bait. Cod of 10-20 kilos were landed in several boats, and roars of joy could be heard across the reef in all the boats. After a few bites of Cod and Pollock, it was the Lings turn. Once again they were at home, and it didn't take long before all the boat teams were standing with bent poles. In contrast, the Ling fishing was somewhat slower than earlier this year, but we also noticed that these fish were thinner than usual. It has probably been a hard spawning period, and Ling tend to pick up during the summer when they have fattened up a bit.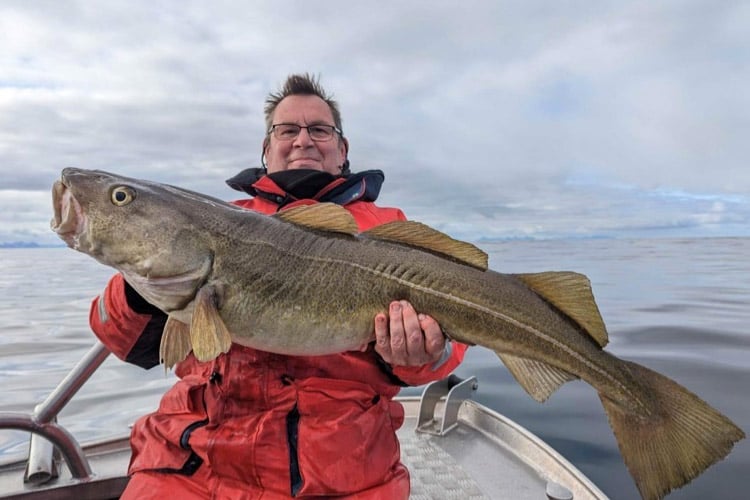 Day 2 on the long trip, then it was again terrible conditions. This day we set out to find some new places out there, and it paid off! We eased our way around some peaks where we had not fished before, and here it was really full of fish! Maybe not the size you had expected out there, but it was still grateful with Cod up to 12 kilos, and Ling around 15 kilos! Alexander drove the British in boat 1, and aimed to come into contact with Halibut out on the long trip. We have gradually found out where you should bet for the potentially monster-sized fish out there. This place has delivered big fish before (240 cm and 192 cm), but unfortunately the biggest ones did not show up. But still they had a great day where they still came into contact with some nice flatfish.
When Sunday came, the weather turned out to be somewhat tougher, and most of the boat teams chose to take a rest day after 2 long days out on the fantastic long trip. Unfortunately, the next few days looked less promising, and really limited us in terms of where we could go. But we still went on, and explored the local area. Several boat teams experienced very good fishing just a stone's throw away from the camp! The Irish even manage to land 2 nice Halibut only 5 minutes from the camp of 92 and 98 cm! While other boat teams fished in the deeper parts outside the camp, and finally found quantities of medium-sized Pollock and food Cod up to 6-7 kilos! A fun fishing when you are really limited by the weather…
Now it finally seems that summer is really on its way into the north too. With the high pressure on its way, the wind should really die down after the weekend, and has promised us 20 degrees and glorious sunshine. This will be warmly welcomed. We have already fished our first day with our new guests at the camp, and there were really nice catches already yesterday, so just keep an eye out for the next report…
Tight Lines // Jørgen, Alexander and Ross
CONTACT US
If you, like many others, have ever dreamt about fishing the prolific waters of Vesterålen and would like to know more information on how you can join us, you can contact our sea fishing specialist, Paul Stevens, on 01603 407596 or email at paul@sportquestholidays.com.