The season is finally underway here in Vesterålen too! The boats are on the water, and the first guests have had a day at sea. Although the weather hasn't been quite at its best, we struggled on a longer trip yesterday, and got to fish one of the streamed straits in the area. It didn't take long before we came into contact with fish. We had a little feeding spell over the first hours, and lost many nice fish during the fight, but around lunchtime, Christian in boat 6 hooks a really big fish!
Alexander drives over and assists during the landing of a real rug of 177 cm! At a depth of only 7 metres, it was a wonderful fight with a lot of boat driving. In the respective boats, they landed some nice Halibut around 85-110 cm, and Jan with a nice fish of 130 cm too! It was a great start to the season, and there are really a lot of active fish here in the spring.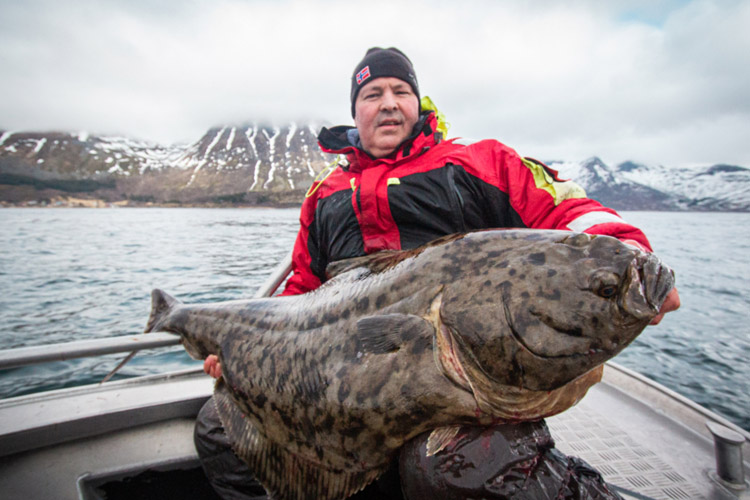 Today the wind has made it tough for us. We got across the fjord and got to test some sand channels, and in the first drift we landed a smaller Halibut of 82 cm. But shortly after, the wind really died down, and we decided that it was enough for today. It was way too windy and rained terribly.
Tomorrow it will probably be awful for us, but from Sunday onwards it will look absolutely fantastic! And we hope that we can get away on a long trip. We're crossing our fingers.
Tight Lines // Jørgen Zwilgmeyer & Alexander Brøther
CONTACT US
If you, like many others, have ever dreamt about fishing the prolific waters of Vesterålen and would like to know more information on how you can join us, you can contact our sea fishing specialist, Paul Stevens, on 01603 407596 or email at paul@sportquestholidays.com.