The week started with fantastic conditions, a great amount of fishing and a new NSA record on Kummel! After Saturday's tough weather, the forecasts were promising big waves but wind strength that was declining during the day. Alexander and his guests chose to leave the camp only at 12:00 so that the conditions calmed down a bit. However, our British guests with tour guide Ross were a little more eager to get out, which would prove to be the right decision.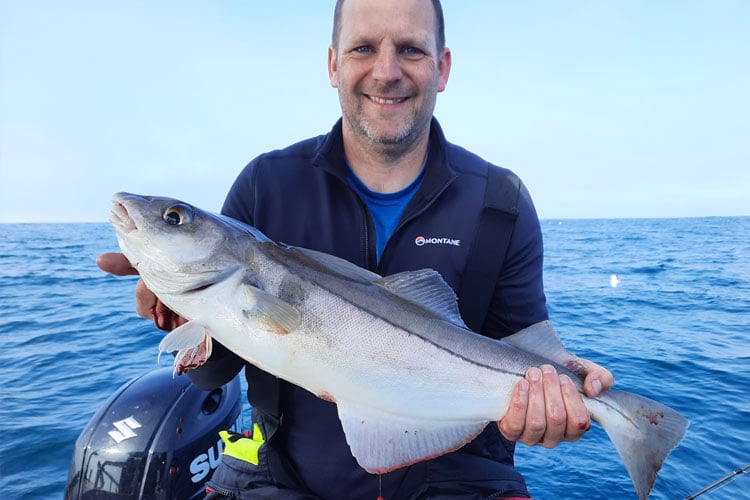 Once out on the open sea, the wave height is significantly less than what the forecast promised. They therefore chose to continue out to sea and set their sights on Strandgrund. A large area that usually holds large amounts of Coalfish, Pollock and Cod. Once there, they find the right fish immediately and not long after, they stand with a double and triple hookup of Coalfish. Ross calls Alexander and tells him about the cruel fishing and that the lake had already settled.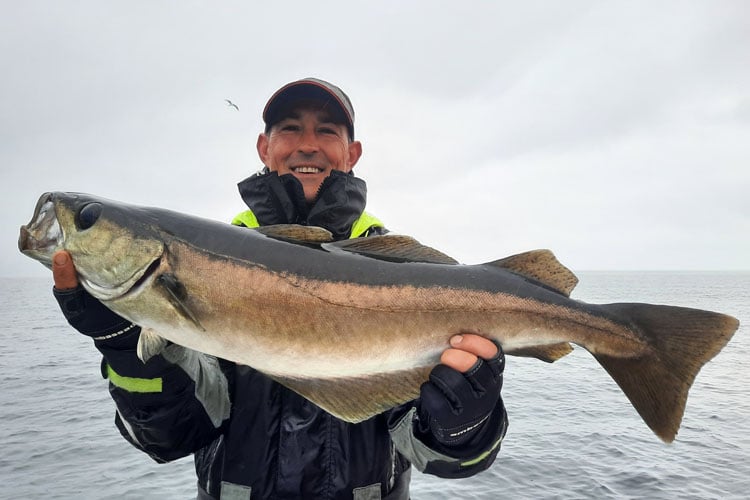 Alexander thanks and starts packing the boat to get ready to launch. His guests shone with the news and not long after, they threw themselves into the sea with their sights set on Strandgrund. Once there, Ross says that they probably caught about 50 big Coalfish and also some Cod in the 5-6 kilo class, Pollock and haddock. They also managed to hook a smaller Redfish, which is a smaller species of the Redfish we normally find in deeper waters. Alexander and his guests joined this inferno of Coalfish. The fish stood along the edge at about 65 meters deep and nibbled as soon as you came down with the jigs. When the guests' arms hung far down to their knees, they re-rigged and tried to fish with bait fish for the Cod. A method that can be really effective during the summer and that proves to work even today.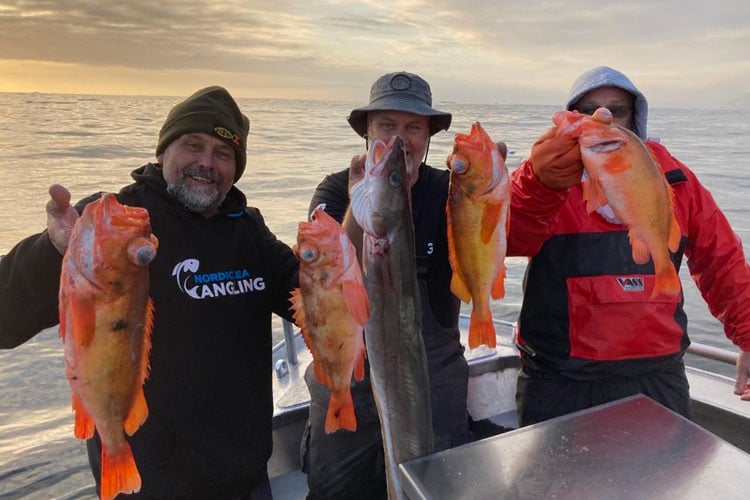 Many fine mountain cod around 6-7 kg were landed but the really big one stayed away this day. The other British boat instead tried to wear some Halibut which unfortunately did not yield anything, they changed their mind and steered towards the west side where they landed some 10 kg of Cod and then dropped their deep sea tackle at a depth of 200 meters and after a short while they filled a box with fine Redfish with a top of 1.5 kg and a long one of about 5 kg. A wonderful day where the weather surprised for the better!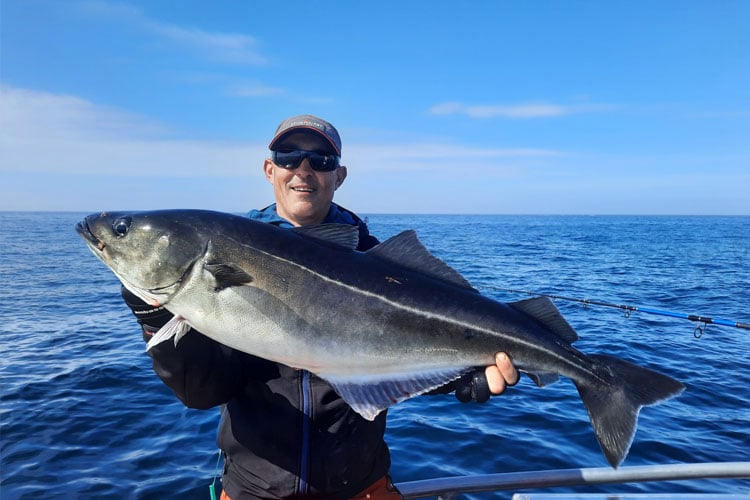 On Monday, it blew up again, which meant that they were limited to the immediate area. The British with Ross as captain went across the Eidsfjord and found Cod up to 8 kg and a nice Coalfish. He also tells an incredible story from the day when they had a Halibut that followed all the way up to the boat and then attacked the hull of the boat. A rather hard bang that made the guests think about what really happened there. Halibut then plunged back into the depths again after marking its territory… To say the least, a strange event that makes us all think about what the Halibut actually intended. Alexander and our new trainee Oscar went out with the Dutch this day and also chose to search for Cod out in the Eidsfjord. In the end, they found some grounds where they got a bunch of Cod around 5-6 kg.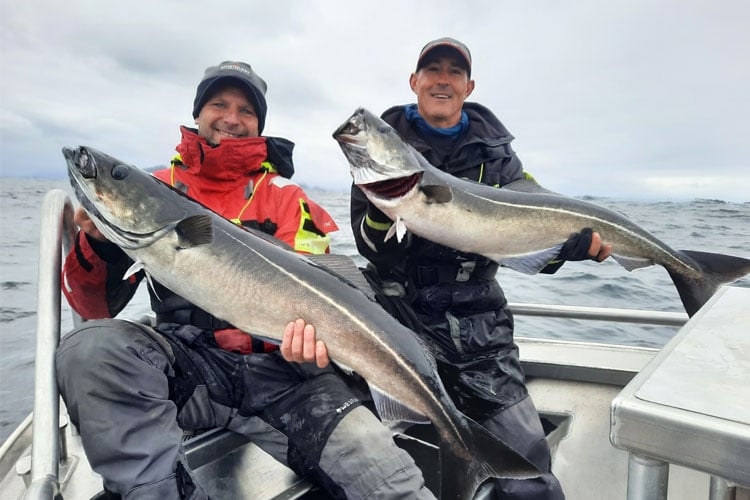 Unfortunately, this week ended with another tough weather that put sticks in the wheels for several boats. A couple of carpet Cod still landed not far from the camp and Håkon who was out that day guided up a bunch of Coalies and a small halibut that had to swim on again after some quick pictures.
The guests seem to be really happy despite a slightly more difficult end to the week. Normally it is enough to have a good day at sea, the trip is done, everything else feels like a big bonus! Now the guides are loading for a new week, where unfortunately the tough weather persists at first but where the forecasts promise much nicer weather later. We hope the forecasts will be better so you can count on more reports from our destination Vesterålen.

A warm welcome to Vesterålen and its fantastic species fishing and fantastic location!
CONTACT US
If you, like many others, have ever dreamt about fishing the prolific waters of Vesterålen and would like to know more information on how you can join us, you can contact our sea fishing specialist, Paul Stevens, on 01603 407596 or email at paul@sportquestholidays.com.