You can say, to put it mildly, that the week that has been has offered everything between good and bad weather. At the weekend we had extremely strong winds from the south-west, which at times made us completely blown away. But on Sunday afternoon the wind finally started to die down, and the coming days started to look very promising!
On Sunday afternoon, Alex took the boats with him to some of the new and more sheltered areas we have fished. And the fishing still seemed to hold up down there. Good quantities of Cod on the ground, and some Halibut around 90 cm came up too! Jamie in boat 6 hooked a very good fish which he estimated at 150-160 cm when the fish took the bait fish right up on the surface and rushed out towards deeper water! Unfortunately, the hook attachment came loose after almost 10 minutes of fighting…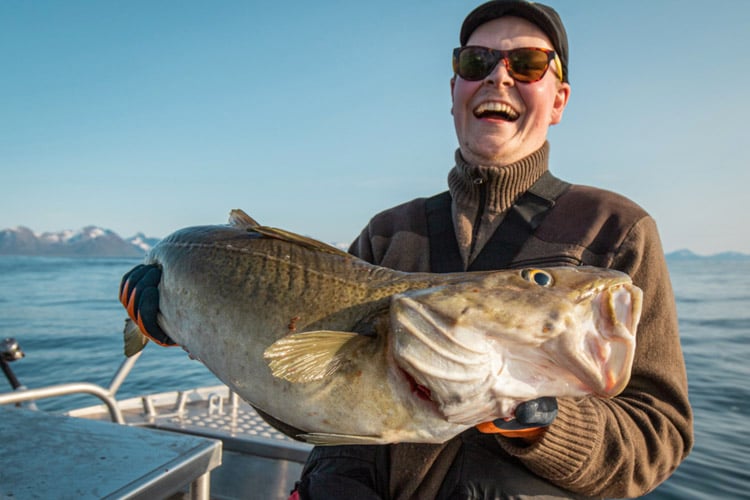 On Monday, the sun would finally peek out, and the wind would die down. Although the swells from the weekend's storms were still big, it was just fine to get out, and we set off on a long trip to one of the tidal currents in the area! The start was quite tough, but after a few hours of fishing there was a real choppy period. Neil in boat 6 hooked the first fish of the day among the boats of 116 cm! And shortly afterwards we went on an almost double hook in the Guide boat where both Roger and Jonathan pulled their first two Halibut of 88 and 96 cm! But it was going to get sicker… Because we changed our operation in the same area, and slid up to a depth of 5-6 metres. I go over to Jonathan, who is standing in the bow, and we both look down to see if we can see anything. Then we saw a giant shadow rise from the bottom and calmly swim away from the boat. An exact estimate is difficult to calculate, but I am absolutely convinced that it was in the 2 meter class! And at the same time as this fish lifts up and swims away, I hear on the other side of the boat that Roger has caught a fish! This could not possibly have been the same fish we saw, and I probably didn't realize how big this fish was either until the fish set off at full speed straight out a good 50-60 metres.
We tried several times to look for the lady who was even bigger, but we couldn't find her… The fishing continued well for the British and Alexander in boat 6, and they caught several fish in the 80-110 cm class! We were in contact with several large fish this day, but they are difficult to catch. And we saw several large markings on the sonar… And not least a giant on an underwater camera that just passed by.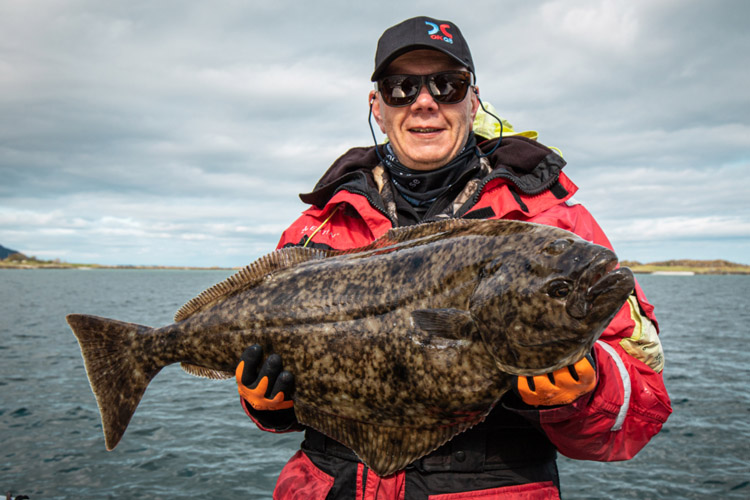 On the way home we stopped at several shallow peaks to give the Cod a try! And good luck! We came across some crazy shoals of Pollock, which also held larger Cod below. We caught several nice fish up to 12 kilos in shallower water, and several nice large Coalies up to the 11-kilo class. An incredibly good day at sea, with nice Halibut, big Halibut, big Cod and Coalies! The Swedes in boat 1 chose to spend the day Cod fishing, and came across some really wild Cod fishing in shallower water! With Cod up to 18 kilos, they had a really great day!
On Tuesday the weather was also very nice, and the fishing held up well for everyone! There will be an exciting report about this fishing day during the week, so stay tuned! Now, unfortunately, the weather looks very tough in the coming days, and at the time of writing it is blowing again, very strongly from the South-West with wind gusts of up to 28 meters per second. It looks like we won't be out tomorrow, but we're crossing our fingers that the weather will turn in our favor. Because the fishing out there now is completely on fire!
Tight Lines // Jørgen Zwilgmeyer & Alexander Brøther
CONTACT US
If you, like many others, have ever dreamt about fishing the prolific waters of Vesterålen and would like to know more information on how you can join us, you can contact our sea fishing specialist, Paul Stevens, on 01603 407596 or email at paul@sportquestholidays.com.