To put it lightly, you can say that summer has fully arrived in Vesterålen. In the past week, we have been really lucky with the weather, and have not been restricted for a single day! The wind has been almost zero, and the sun has been shining, giving a much-welcomed summer temperature. The fact that we have also been visited by killer whales in the last 2 days has really put the finishing touch on the cake.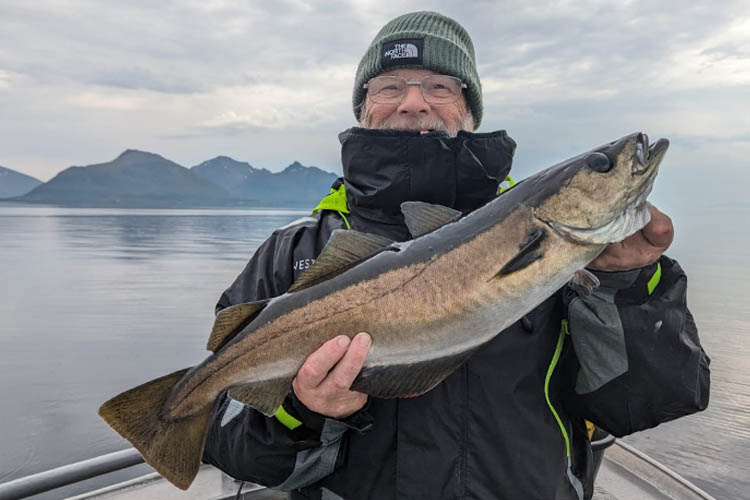 In recent days, the focus for our guests has been to have had an action-packed fishing. The Cod have really taken the bottom tops and edges all around. During the past few days, quantities of fine Cod over 10 kilos have arrived! And since the Cods may not have hit the bottom, they gave the jigs a little extra speed, and hooked a big win of 12+. At the weekend, the sea was really crystal clear, and all boats set out for the long trip. And although the fishing out here was somewhat tougher than we had thought it would be, there were still some incredibly nice top fish among the boats! The Swedes in boat 5 went with a really nice Cod of 25 kilos! Paul in the Guide boat pulled a really nice Ling of 20 kilos and the Swedes in boat 3 won a great Halibut of 111 cm! So nice fish came up among the boats.
In the coming days, there was also absolutely magical weather. But it felt far to go out on the long trip again, so we instead focused on the outer side of the islands out here. It would turn out to be a good idea! On a shallower section we found good fish, and there was non-stop action on both Cod and Pollock for a couple of hours. I lost count of how many Cod around 8-10 kilos we got, but there were many. It was all topped off when Simon in the Guideboat went with a really nice Cod on a light spin, which took the weight all the way down to 17 kilos!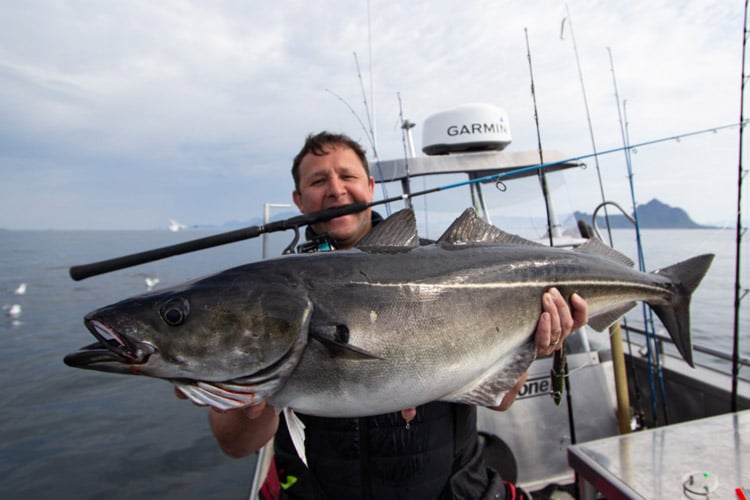 In addition to this, we have also embarked on a slightly longer trip to areas we have rarely fished. We tried our hand at the Halibut, but it was unfortunately unsuccessful, and only a few simple contacts. But we saw some deep edges on the way back where we have had very good fishing in the past, and spent the very last few hours in this place. It turned out to be gold, because we really hit a good shoal of Cod at a depth of 60-90 metres. Between two boats several nice top fish around 10-12 kilos were caught. But Paul in Guide boat pulled the longest line of the day with a Cod that sniffed up to the 20-kilogram mark!
On the very last day, Alex and Ross took the two British boats with them to try their hand at species fishing, with good luck! The focus was on flatfish and Halibut. Not long after the first drift, Simon hooks an 85 cm Halibut on a spinner, and Mel pulls the day's first Plaice in the same spot! Ross also had good Plaice fishing a bit further north, with nice top fish of around 45-50cm. The Swedes continued their good fishing on the base peaks a little further south, and for the second day in a row were visited by about 10 killer whales! There is a wonderful clip of these animals on our Facebook page!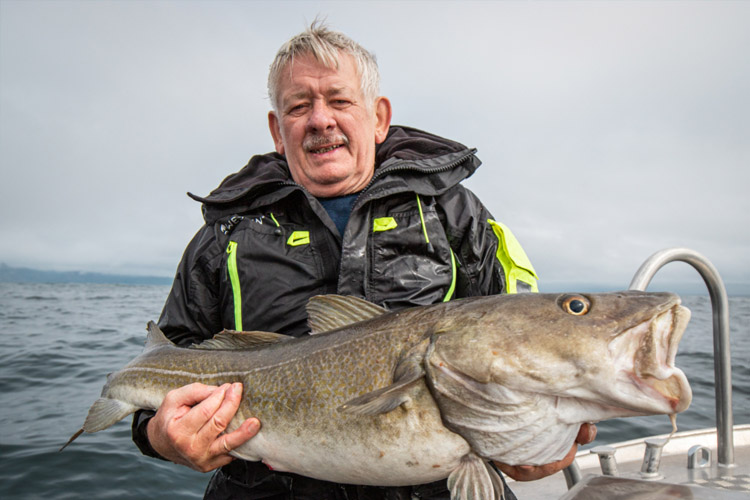 Now it's a new week here in Vesterålen, and the weather forecast looks impeccable! We hope and believe that the good fishing will continue, and that we will have more encounters with the killer whales. This morning we also saw loads of humpback salmon jumping into the fjord, so one wonders if there are more boats going out at dusk and trying their hand at the invasive species which is predicted to arrive in large numbers this year…
Tight Lines // Jørgen, Alexander and Ross
CONTACT US
If you, like many others, have ever dreamt about fishing the prolific waters of Vesterålen and would like to know more information on how you can join us, you can contact our sea fishing specialist, Paul Stevens, on 01603 407596 or email at paul@sportquestholidays.com.