There is no doubt that the weather has been tough lately. At the latest yesterday morning, it snowed, and a few cm had settled on the ground. Which is very unusual as the calendar showed June 1. And last week's weather was anything but nice, but some windows appeared with occasionally good conditions, and we took advantage of that!
The first few days we were at times completely blown in, but during Friday the wind calmed down a few notches, and it was finally possible to get out of the harbor here. Although it was windy, and the sea rolled into the fjord, we fought on and made it to the other side, in the wind's wake. We thought.
The wind shifted, but fortunately there was nothing particularly bad about the sea. On the other hand, it became difficult to keep the boat and fish effectively, but we still succeeded! Jesse in the Guideboat went almost immediately with a nice Cod of 17 kilos! Shortly after, John clipped a nice fish right around the 10 kilo mark. At this place (relatively close to our new camp for next year) there were good fish. Lots of medium Cod of 5-7 kilos, and quite a lot of Cod up to 5-6 kilos besides the two big top fish.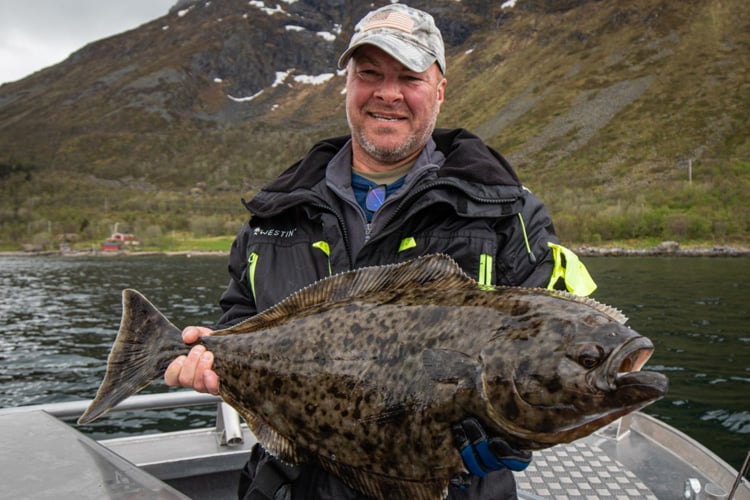 In the coming days there were weather windows that we had to take advantage of. The time was spent on Halibut fishing one day, and although several Halibut were seen in the shallows, they certainly did not seem willing to bite. On one of our newer sites there are still fish, but it is questionable whether the Halibut can also become weather-sick, because there were no more than a few "spottings", hence a really big fish which turned out to be, as Alex estimated, around 150-160 inside shallow water.
We also got a small window where we could go outside with all the boats. Although it was tough, it was fishable. In the previous weeks we had good fishing for Pollock and Cod here, and this time was no exception either! The Pollock were thick in the open water, and the Cod pressed at the bottom. The fishing took place in relatively deep water (80-130 metres). There were many nice food Cod for our American guests, who regularly pumped up fish between 5-10 kilos! It was almost embarrassing at times with all the fish that took on the way down or up, but when some of these started to weigh 10 kilos, you can't complain!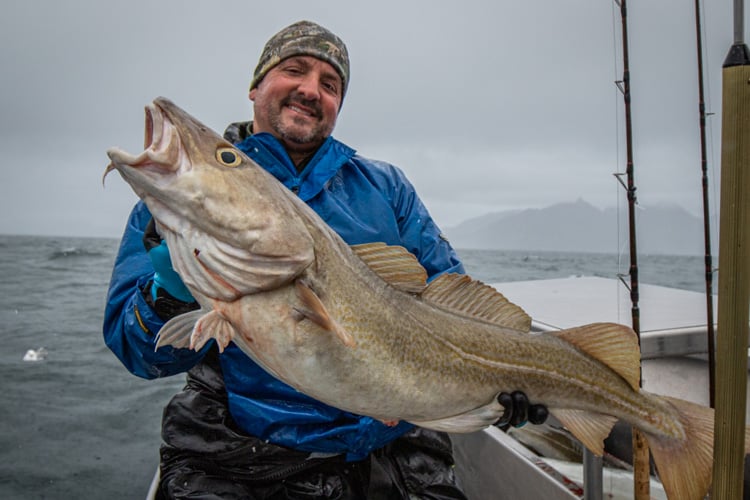 On Monday evening the storm should finally subside, and Alexander set off on a longer trip to an area that has delivered well with Halibut recently! He also had boats 1 and 2 in tow. Once in place, it doesn't take long for John to secure his first Halibut, which unfortunately fell short of the mark. But the code was cracked, and it felt hot down there. Meanwhile, boat 2 has caught a very nice fish of 120 cm! A small change of place later, it didn't take long before both Jesse jr and Jack could each land their first fish, where both were around 90-95 cm! Now all that was needed was for Jesse to also get his first fish. A while later, Alex spots a bigger fish coming up, and Jesse starts jigging intensively. It really triggered the fish, and it really cuts! Jesse is hanging in for life too hard, and has a real fight ahead of him. After holding the fight for quite a while, dad Alexander landed a solid 140cm fish for Jesse! Not a bad first fish. They had seen several nice fish come up to inspect the jigs, so they added a little more time. Not entirely unexpectedly, one of the really big fish comes up and takes Jesse's jig again, and sets off 100 meters upstream! Before Jesse even has time to start pumping in the fish, it comes loose… But this was a real sucker!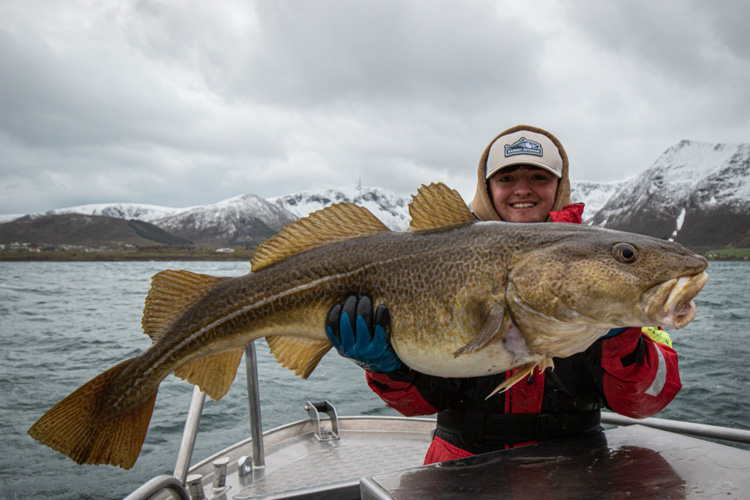 After fishing until after midnight, they decided to throw in the towel and head home. It was a long and beautiful day, and we ended the fishing week with the pass. On Tuesday, the bad weather returned, and our guests felt that it was enough to fish after a long night shift. Something that was really worth it! Finally, the weather seems to be stabilizing a bit. This week we have already made it to longer trips, and there have been nice catches already on the first day. So stay tuned!
Tight Lines // Jørgen & Alexander
CONTACT US
If you, like many others, have ever dreamt about fishing the prolific waters of Vesterålen and would like to know more information on how you can join us, you can contact our sea fishing specialist, Paul Stevens, on 01603 407596 or email at paul@sportquestholidays.com.