The last few days we have been blessed with a lot of good weather, and have really had the opportunity to get outside. When the gang in the Guide boat had a really good day this weekend with a big top fish of 163 cm, there was no doubt where the focus should be in the last few days. The fact that such a nice fish turned up set several of the boats in motion as well, and the focus was set on the large flatfish.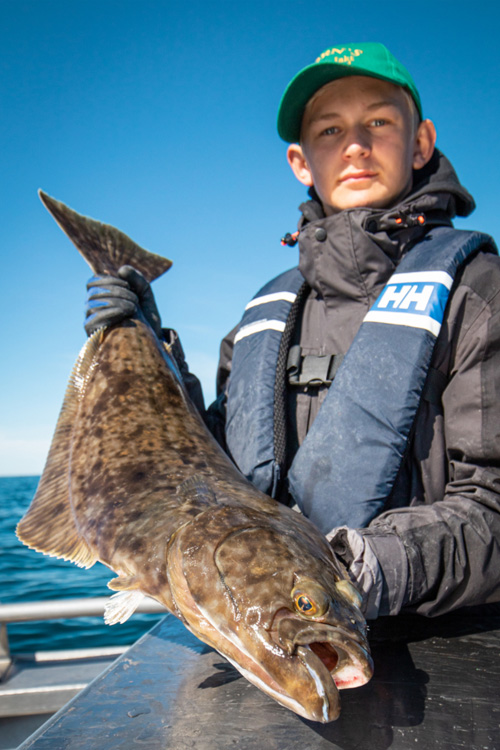 During the Monday, as I said, the focus was on the Halibut. We tested fishing in the same area where some fish had come up recently, without further results. After a few hours of fishing there, we set the course even further out onto a larger sand flat, and after drifting the hook Oskar caught a nice fish of 111 cm! It gave an indication that there were fish here, so we put in a new drift right away. At the end of this drift, Leo hooks a big fish on spin fishing! Anyone who has hooked a Halibut knows how much these fish pull, and watching Leo fight this fish was an incredibly fun experience! After some good rushes, we were able to land only one nice Halibut of 120 cm!
The tide then relaxed, and the flat was filled with both Coalies and Cod. It was therefore time to move to another place. This spit has delivered well recently, and with a really big fish of 181 cm. We therefore put the drift over this marker, and it cuts in Leo's baitfish as soon as we are over this spot. A really heavy bite, where Leo does everything right, but unfortunately the fish gets loose before it even has time to rush away. This was a really big fish… It lit up new hope in the Guideboat, and just drifting after Eric hooks a nice fish on the spinning rod!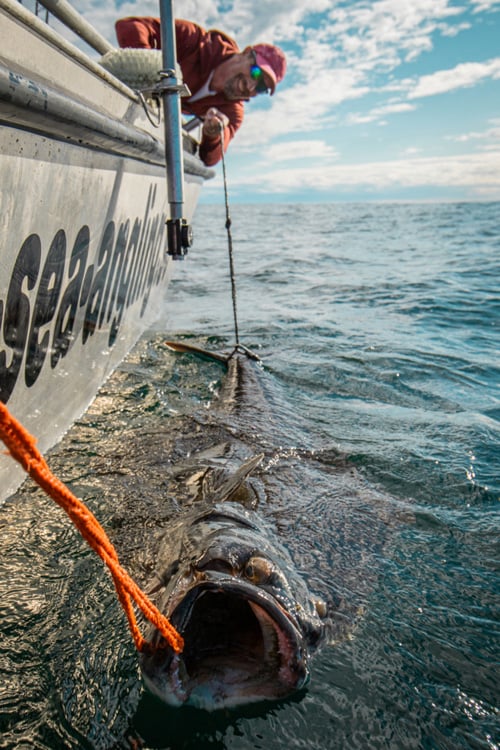 We continued driving, but it happened quite a bit, and we thought about giving up for the day. As we drift over a smaller peak, we see some big lift from the bottom. The echo disappears, and so does the tension. Oskar was on his way up with his bait, and we didn't see anything else on the sonar. Completely unaware that a big fish is following the baitfish up, it cuts to just 10 meters below the boat! The fish race away to the bottom, and shouts of joy are heard all over Vesterålen! It will be a tough fight, but Oskar fights on. After some long rushes and headshakes, we were able to end the day's fishing on a high with a really nice fish of 157 cm!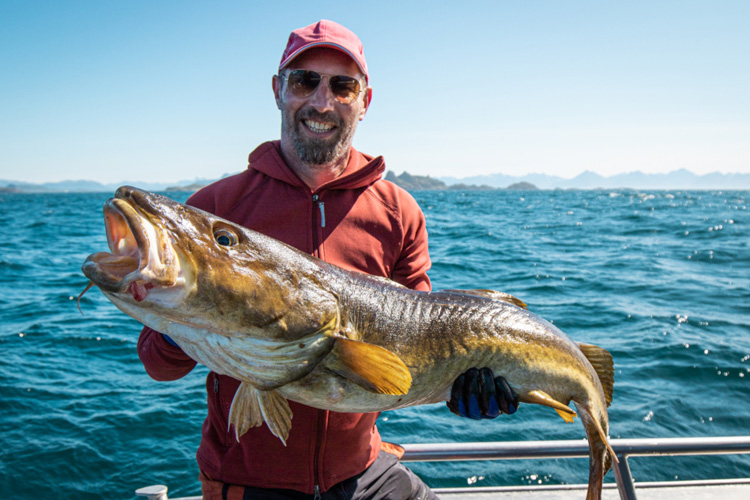 A few nautical miles away from us are the British in boat 6, and they have been fishing in a slightly more sheltered area. And since they were also on the way to giving up fishing, it really sucks for Rob! The fish set off, and Rob's long dream of catching a Halibut was now one step closer. After a brutal fight against this big fish, Rob was able to land his very first Halibut of 165 cm!
On the way home from fishing, we were surrounded by a large herd of pilot whales! These strange whales were really everywhere on their way home from fishing, and they jumped and swam around our boat for several minutes. It was truly an intense experience! It is said that the fjord is full of Herring during the day, so there are both whales and killer whales during the day…
Tight Lines // Jørgen & Alexander
CONTACT US
If you, like many others, have ever dreamt about fishing the prolific waters of Vesterålen and would like to know more information on how you can join us, you can contact our sea fishing specialist, Paul Stevens, on 01603 407596 or email at paul@sportquestholidays.com.