So there was only one Group here in Vesterålen. To put it mildly, the weather has played its part, and we have been lucky enough to be able to go out on the open sea every single day. Although we only got one long trip done this week, we really got to fish the last deep edges westward. The fishing has been tough at times, but we have fought on and still got some really nice catches this week, and it felt like the fishing loosened up over the course of the week.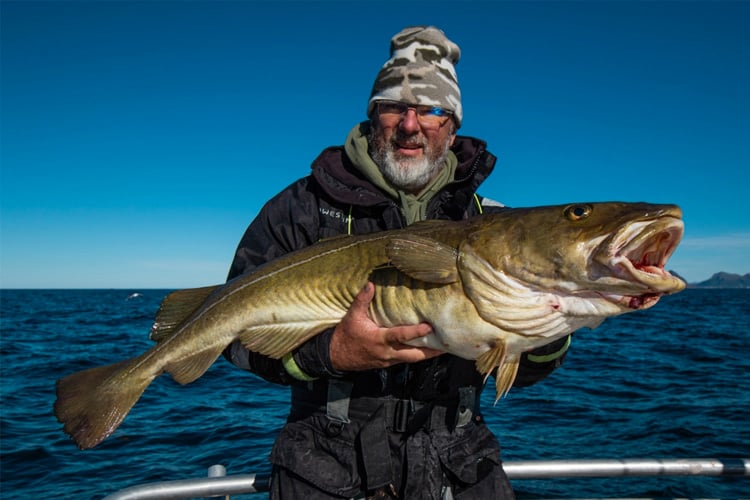 This week we have had a visit from Ross who has had a "hosted trip" from England, where he brought several groups of Englishmen who were on their very first trip to Norway to go fishing. The majority had never fished in northern Norway before, and there were several who had crossed the Atlantic all the way from America to come here and fish. So the first days we started the fishing with a little low threshold fishing after Coalies and Cod. As I said, the weather was impeccable, and we could go almost anywhere we wanted. And with that in mind, we drove several rounds westward on some of the many hundreds of shallow peaks that hold well with Cod. In the Guide boat, I had the Brits Stephen, Steve and Andy with me on a fun round of shallow water fishing for Cod, followed by big game hunting. The Cod was completely in the shock and clipped the jigs so often in only 20 meters! There were no giants, but 5-6 kilo Cod on UL equipment in the shallows won you crazy fun anyway! After all the boats had had a great time fishing on various ground tops, most of them went out on the deep edges to look for big fish. We found the Coalies, but the big ones were difficult to aim at. We had to go through many 4-5 kilo fish before we managed to hook some bigger fish. Today's top win stretched right over the 10 kilo mark, but it bent on an extremely polite fight on 20-30 lb tackle. Letinga continued, but they were painful to deal with. Therefore, we decided to search around other shallow peaks for the Cod again. And it would turn out to be a wise choice! The shallow top of 18 meters held ridiculous amounts of small Coalfish, and under the Coalfish there was the usual mountain Cod! Even though the biggest ones didn't show up, everyone was ecstatic after having some cool battles in the shallows won.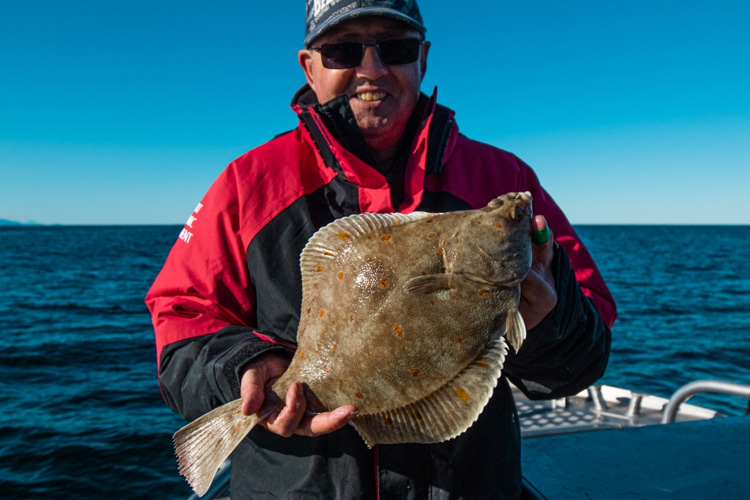 In the coming days, the focus was on the same fishing. On Friday, the Swedes went south in boat 1 to try shallow water fishing for Cod on some of the shallows down there, and with very good results! The Cod was well caught, and they landed some nice top fish around 12-13 kilos too! We in the Guideboat headed out westward, and would try our hand at flatfish in some of the sandy coves and channels out there. Ross took the remaining English boats south with him to fish for Cod and Pollock, with successful results. The English had a good amount of Cod fishing down there, and landed several over 10 kilos that day. As they became satisfied with the Cod, they headed out into a deep channel of around 70-80 meters where the Cod was found in abundance. With light equipment, cheers could be heard from far away. With some fun top fish of 10-12 kilos, they had a really fun round with the large Herring. Even so, I lay a little further north, and tested some areas after Halibut. It didn't take long before Steve had the classic Halibut hook with lots of shaking. And Steve was able to land the first flatfish of the day, in the form of a nice sand Flounder of around 800 grams!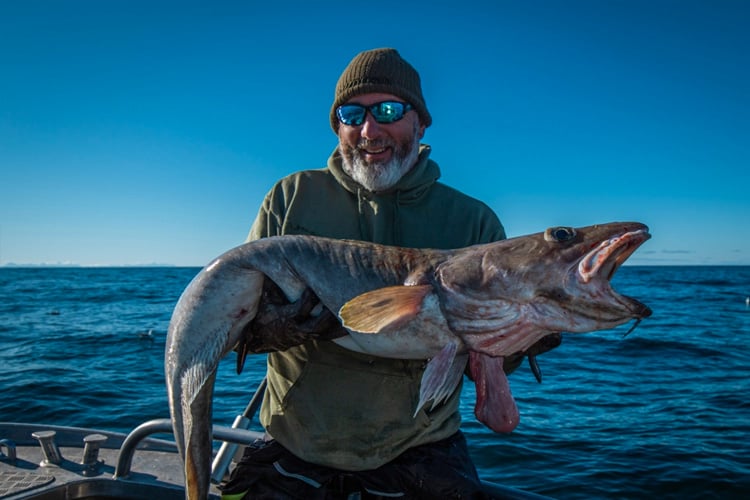 There were more of these on the Britene in the boat, but both Andy and Steve went away with a very nice Plaice of 1-1.5 kilos! A successful bet after species that are rarely focused on so much out here. After landing a few of these, we headed out on the last base peaks before the deep. We looked for a long time before we found anything that made sense, but on a shallow peak that was 40 meters at its shallowest, and ran straight down to 200 meters, the small Herring stood. We had to try this, and it didn't take long before Steve landed the first big Cod of the day of around 13-14 kilos. We had several contacts, and landed several fish of this size. But it was a bit frustrating that Stephen cranked up his Coalie, and half way up it stopped completely after the last drift. He baited with a fairly large baitfish, but other than a strong head fish and a few meters of oozing, there was nothing more. On the echo sounder I could see a strong mark coming up from the bottom and followed the rig to Stephen. Unfortunately it came loose, but it was clearly a contact with the "Queen"…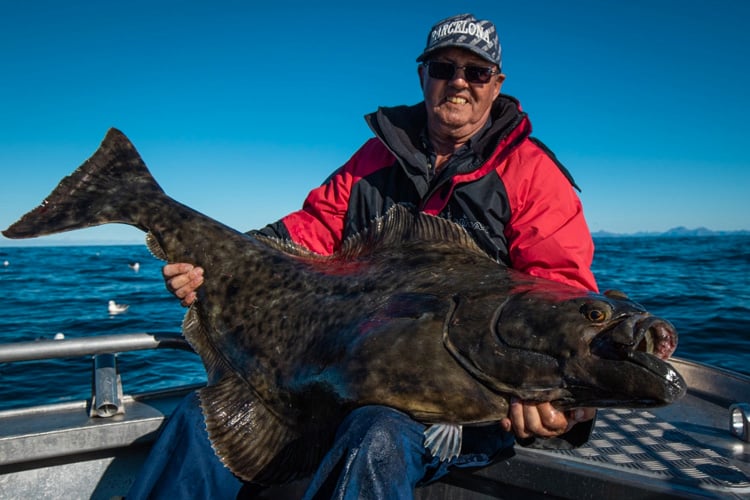 Finally, it was time for a long trip! The weather promised sun, calm wind, and minimal waves! At 8 o'clock in the morning we headed out, and you were actually right this time. The sea had subsided almost completely. The only thing left were some old swells from the northeast. But it was no problem as we could surf nicely all the way out to this fantastic fishing spot. As usual, we started fishing on the first ground peak and picked a little "small Coalie" for bait. Alex, who drove the British in boat 2, was able to land the first large Cod of the day after only a few minutes. Weighed in at 15 kilos, and after some quick pictures, the first big fish of the day was released nicely back again. All the boats had several contacts, but it was really only because of the bait fish that we stopped here. And after gathering enough bait, all the boats head out to Langekanten. We saw on the GPS that the current had changed, and that we were drifting a bit awkwardly to hit the fish. So we picked up the anchor, and repositioned ourselves. Then it didn't take much longer than a minute before all 4 in the boat were standing with solid rod bends! I even hooked a fairly large Ling at 27-28 kilos that broke the surface after a hard fight. Steve, Stephen and Andy weighed in with each a longe of around 15-22 kilos. It was a bang start, and we realized that at this pace we wanted to catch too many fish. We therefore decided after only a few minutes of Ling fishing, to move away from there. In other boats, several fine top fish up to 26 kilos were also landed! But the silk snakes dont tolerate c&r well, so it was only 1-2 landings on these strong fish before we moved towards some Cod places.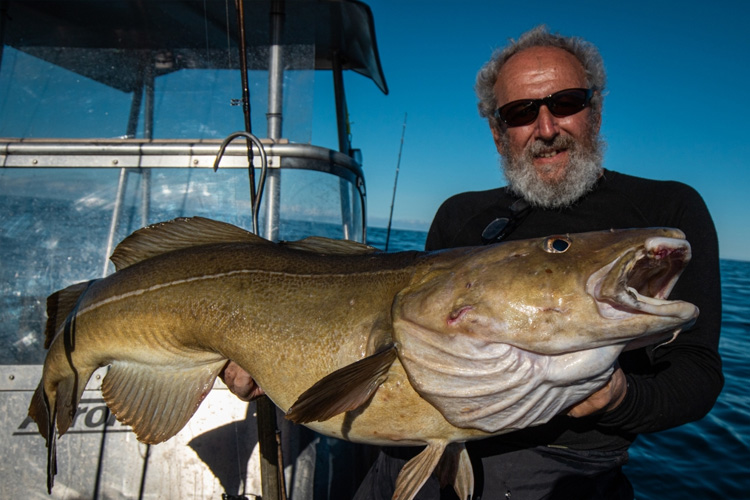 Usually, the Cod are often gathered in groups, it seems during the Coalfish, and Alex found a nice accumulation of Cod after some searching. And then all the boats got several fine Cod between 10 and 20 kilos. Karene in boat 5 pulled in with the biggest Cod of the day of around 25-26 kilos in this place only a few moments later. But the fishing died off after a small intense period. The boats spread out a bit to search, and some good Cod were caught a bit sporadically everywhere. Ross called out on the radio that they had found a giant shoal of Coalfish a little further away. So I asked the guys in the Guide boat to crank up, so we could move there. When we stopped the boat 100 meters from Ross, we could see the shoal that stretched from 90 meters and almost all the way to the surface. Here we would go fishing, we agreed. And it can't actually have been more than 2 minutes since Andy got to the bottom, before something decided to swallow the 1.5 kilo baitfish he had rigged up. Stanga stood like an L, and I could hear the reel just screaming. Now a Halibut had finally taken our bait.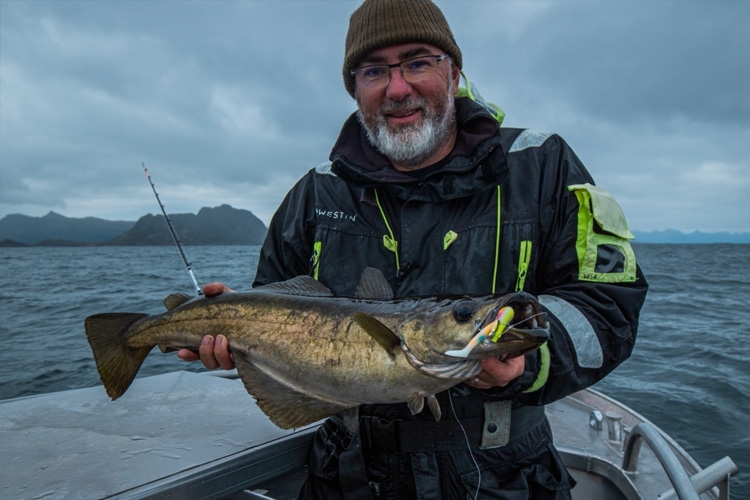 After a solid outing at the start, Andy was able to start the victorious fight up from 90 meters. I was almost completely sure that this was Halibut, but became uncertain when it only went silent halfway up. The thought crossed over to the fact that this might actually be a Cod, but when I saw it snap on the rod, and it started howling all the way down to the bottom again, I had no doubt. After 2 fierce outbursts, Andy began to win the fight. And under the boat I could see a shadow coming up. I grab the leader, and secure a crazy nice Halibut of 129 cm! An evil madam in excellent condition who was released nicely after some quick pictures. Andy was totally into the body, and the smiles in the boat were unmistakable… All boats got fired up by some Halibut action, and everyone went all in on the Halibut. Unfortunately, the power died completely, and there wasn't much more action. We decided to pack our things and head home after an absolutely fantastic day. And when we called up boat 5 which was a short distance away, they were able to report that they had lost a giant after 20 minutes of fighting too… So they are out there!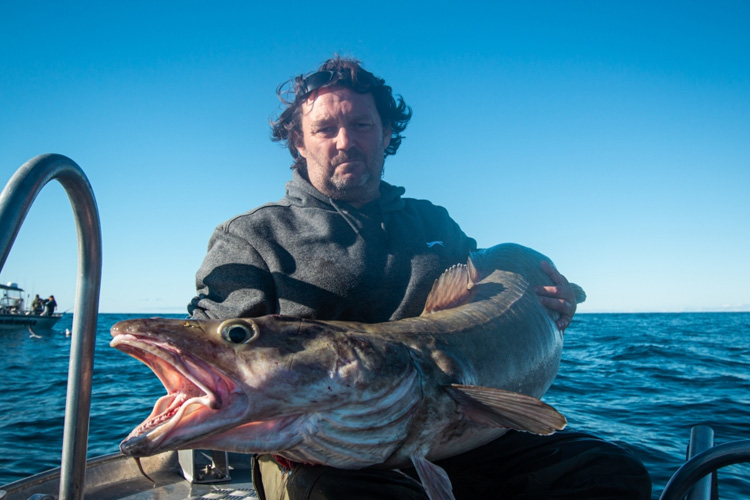 On Monday, the weather could have allowed us to go on a long trip again, but the people were tired and most of them didn't quite see the need to go that far that day after a rather long day ahead. Therefore we decided to head north to test some new spots for Halibut. The fishing started out on a tongue of sand of around 70 meters which had an incredibly nice current setting. Unfortunately without results for some of the boats, apart from a very nice Cod in the 10-kilogram class. We therefore decided to spread out a little and test a little differently. Ross found a fine sandy plateau at a depth of around 50 meters up to a base peak and chose to drift there. It didn't take long before I heard on the radio that Greg from America had landed a nice flounder of 115 cm, on a new spot! And it didn't take long before the same man hooked a single good fish, which unfortunately came loose in the outage… We will definitely spend more time on this area. Even so, I looked around on the map, and found a nice sandy cove that ended up against a larger sand channel. In the bay itself there was a lot of kelp and other bottom, so I decided to focus on the chute below at 35 meters. Here the bottom was incredibly nice, and there were a few small peaks a little sporadically around. And in the first drift, Stephen was able to hook his very first Halibut of 95 cm! Everyone started fishing on the flounder, and we tested a lot of different places. Unfortunately, the wind unexpectedly started to pick up. That's why we moved further south, and finished the whole day with some Pollock fishing on the shallow tops with light spinning gear! After some nice fish in the 3-4 kilo class, we decided that enough was enough, and we went home after a successful "expedition".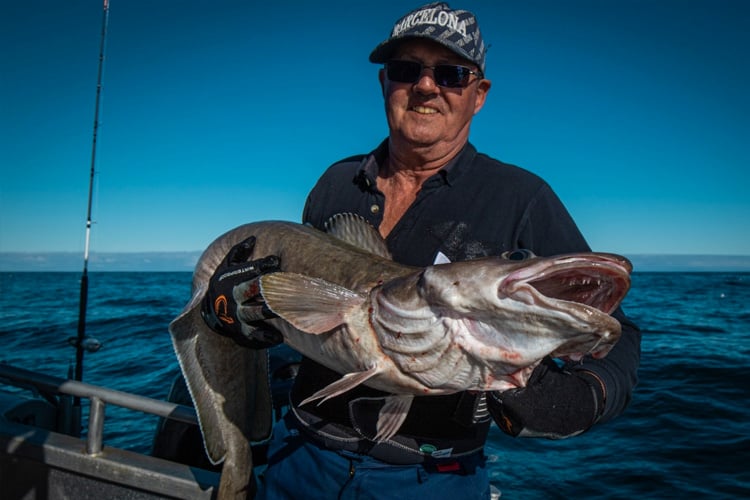 On the last day, the weather would be noe worse with just as much wind. So most people felt more inclined to catch fish this day instead of enjoying the flounder in less than optimal conditions. Noe they did right in… Ross and co had a great cod fishing in the shallows won, with nice top fish around 10 kilos. Alex was a little further north on deeper ground where today's target was Haddock and Coalfish. The big fish were really on the bite, and the Brits in the Guide boat pulled in some nice wins between 5 and 10 kilos on light gear. Haddock was also in the thicket this day, and several nice food fish around 1-2 kilos were caught. We had already planned to end the week with a barbecue evening with everyone at the camp, so most people gave up after a shorter day on the lake with nice catches. Once ashore, everyone checked out their boats, and we fired up the grills. The whole gang gathered outside and brought a little food each, and we covered up to a very pleasant end with lots of good food and drink! An absolutely perfect end to an incredibly pleasant week.. Well, the weather promises to be good, and we are preparing the very last thing for the group that will arrive at the camp tonight! We are betting on a long trip or two, and hope the stable weather and the fishing hold up!
Tight lines // Jørgen Zwilgmeyer and Alexander Brøther
CONTACT US
If you, like many others, have ever dreamt about fishing the prolific waters of Vesterålen and would like to know more information on how you can join us, you can contact our sea fishing specialist, Paul Stevens, on 01603 407596 or email at paul@sportquestholidays.com.