We have received the weekly report in from Vesteralen in northern Norway and the fishing has been very good with many big fish coming to the customers fishing there.
This week started windy but despite this the guests have had a good fishing for Cod and big Coalfish. Even during the few hours that the wind had settled, they could go out and drop a couple on deep water and get a bunch of nice Redfish. On Monday the wind died down and the forecast looked really good all week so it was time for a long trip, because we were driving far out we would like the wind and the waves to calm down the day before we leave so Tuesday looked optimal for a longer trip.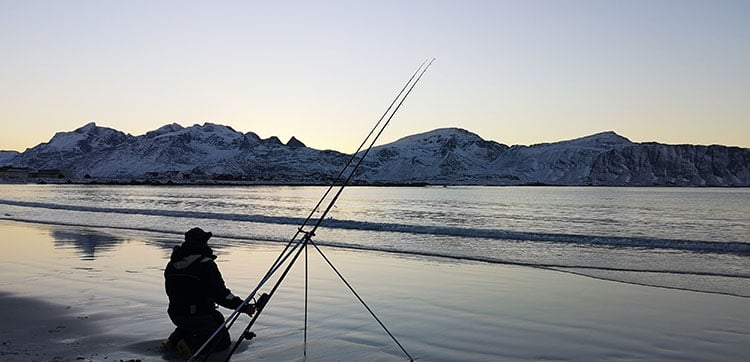 Once in place they saw thick with bait fish on the sonar and nice echoes stroking the bottom. Bite after bite and everyone in the boat stood with rods bent and teased cod and up comes cod in nice sizes. A couple of hours later they felt satisfied after they had filled 5 trays of cod and released as many! Now it was time to sleep for the long trip the day after!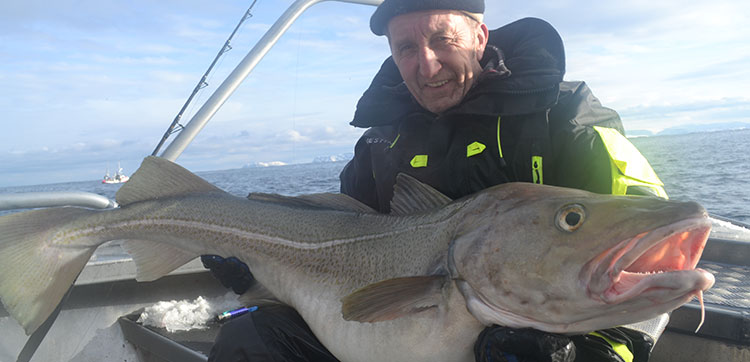 On Tuesday, 4 boats gathered at 7.30 at the jetty to aim for the V-mountain and the Långakanten. Marcus drove boat 1 with the British while the other boats were hanging close by, the sea lay like a mirror. We stayed for a couple of drops on peaks to get bait fish and even made a couple of Cod releases. It wasn't long before Marcus hooked a fine 13kg Cod on his dead Coalfish along the bottom. But after that fish it didn't happen much, we had several contacts but they were difficult to hit so after a couple of drifts we decided to continue out to V-berg and Långakanten. Even here we saw a lot of bait fish and big echoes at the bottom but both the Ling and the Cod were difficult to hit Marcus knew then that he just had to wait for them and lay down and run again and again on the edge, After an hour it took a hit on David's rod and all of us agreed that it was a big fish. After a heavy and intense fight a big shape comes up and settles on the water surface. It turned out was a really big Cod of 24kg! There were a couple of quick pictures before it again had to swim down to the depth.
In the same vein, boat 5 and 6 began to report fine Cod of 17 and 18 kg even a nice Halibut of 110cm (38lb est) had taken on Lars crazy daisy. Boat 2 had found the Ling and nice Ling around 10kg had to see the inside of their boat. After that biting period it got a little worse again but a couple of nice Cod over 10kg were in the boat from time to time. But at the end of the day a couple of really nice Cod landed in Marcus boat and both Andy and Dennis stood with curved rods. Up there comes a Cod of 17kg just after one of 13kg!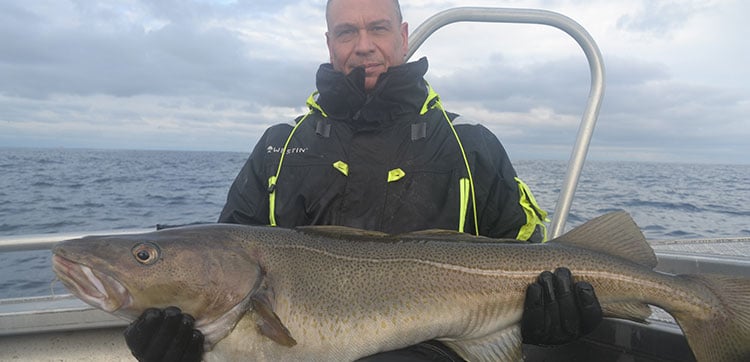 After a couple of quick pictures they returned to the sea and we felt very happy with the whole day. Everyone in the boat had received their personal best on Cod and David had hit his twice this day! We decided to turn the ship home while boat 5 and 6 were left. When all the boats were inside the harbour boats 5 and 6 told us that they had some great fishing just when we had gone and they had nice Cod on each drop and were able to fill their boxes quickly.
Today is the last day for the guests and they all go Halibut fishing in a sound fjord that we have had good fishing in the last few times!
Tight lines,
Marcus
Vesteralen just keeps producing the goods! Many thanks for the great report Marcus.
If Vesteralen is somewhere that you would like to visit and get stuck into the amazing fish that live there contact our sea fishing team in the office by calling 01603 407596
Tight lines
Matt