Overview
Category: Freshwater Fishing, Freshwater Fly Fishing


Peacock Bass fishing is the most incredible game fishing sport in the Amazon basin, it is also the fish that has received the most attention. Their remarkable, explosive topwater strike, combined with an astonishing ability to break heavy lines/leaders and straighten even stout saltwater hooks, makes them one of the most sought after species in the world.
Amazon Peacock Bass fishing at its best, we offer you the premier adventure program for fishing, comfort, safety and services. The key to exceptional Peacock Bass fishing is our floating cabins, which allow you and your guides to navigate through low water, unlike the traditional live-aboard and commercial fishing boats because these must stop where the low water prevents passage.
It's no surprise that beyond these barriers is where the best fishing starts! The key to this extraordinary fishing is our outfitter's very fast, very roomy, very state of the art Cessna Caravan floatplane which allows them to whisk you directly from Manaus, Brazil airport to pristine locations far (often hundreds of miles) from the melee of competing lodges and houseboats.
Here you have access to unfished waters above natural barriers such as waterfalls and shallow river mouths. The fishing boats are special shallow-draft tunnel types that can freely traverse almost any level of water, including virtually landlocked lagoons. Angler's fish two per boat, with talented Brazilian guides, experienced in baitcasting, spinning and fly fishing.
They speak enough "fishing English" to communicate effectively and of course, are intimately familiar with the fishing areas and how to find a concentration of Peacock Bass.
If you have any questions on any of the Peacock Bass Fishing trips we offer then contact us in the office, our team will be happy to help you with any queries you have. Additionally, you can request a free brochure.
Accommodation
Walk-in at any time from the nearby secluded prehistoric-looking lagoons into the luxurious comfort of your 12' X 15' elegant and roomy cabin, it has a private full bathroom. The Cabins are fully carpeted, tastefully decorated and every detail has been carefully considered.
In our 12' x 23' dinning/sitting lounge you will dine on linen table cloths, enjoying our chef's four course meals. An excellent variety of both – continental and exciting regional dishes, make up the week's menu. Fresh breads and pastries are baked daily and chilled wines, ice-cold beer, soft drinks, and Brazilian-style margaritas flow freely throughout your fishing trip.
Each of our six Floating Cabin operations is managed by our Brazilian "co-owner, who is not only a knowledgeable fisherman, but is also experienced in handling logistics inherent to the Amazon fishing operations. Since our groups are small, the manager, together with a bilingual host and a staff of 14, offer unique, personalized hands-on attention. Breakfast room service, laundry service and guest satellite phone are a few of the available amenities.
What you won't find are many pesky bugs. The pristine rivers we fish have naturally-high tannin levels (from extensive leaf decay), which discourage the development of biting insects. Of the few bugs which might exist, our daily mobility eliminates any possibilities of concentrations.
Come challenge the mighty peacock bass and leave the main waterway crowds behind!
Board: Full board
Rooms: Twin
Telephone: Satellite (Chargeable)
Power: 110 volt
Air Conditioning: In cabins
Meals: Dining cabin
Alcohol: All included
Cash Accepted: Brazilian real
Caesar Business Manaus is a luxurious 4-star hotel in Manaus.
Facilities
Dining facilities at Caesar Business Manaus include a cafeteria. There is also room service available. The hotel boasts a 24-hour front desk service. Public areas at Caesar Business Manaus are comfortably air-conditioned. Hotel guests will appreciate the welcoming services of our multilingual staff. Leisure amenities: There is an outdoor swimming pool at the hotel. Guests can also enjoy the following spa/wellness facilities: sauna. After a long day of business meetings or sightseeing, hotel guests can book a relaxing massage. Other services: concierge services, elevator/lift, laundry facilities and roll-in shower. Business/Internet: Caesar Business Manaus features a well-equipped business center complete with audio-visual equipment. Event catering can also be arranged. The following Internet options are available at the hotel: high-speed wireless access is complimentary.
Board: B&B
Rooms: Twin Rooms
Telephone: In Room
Internet: Free Wifi
Power: 220 Volt
Air Conditioning: In room
Alcohol: Hotel bar
Cards Accepted: All Major Cards
Cash Accepted: Dollars
Species Information
Peacock Bass
Season: All Year
Peak: September to April
Weight: 1LB to 27LB
Average Weight: 7LB

Suggested Itinerary
The below itinerary is only a suggested one as there are flights departing the UK everyday to Sao Paulo. Should you wish to extend or shorten your stay with more or less time in Sao Paulo or Manaus, the itinerary below can be tailored to suit.
DAY 1: (Thursday)
Depart UK (alternative routes available)
DAY 2: (Friday)
Arrive Sao Paulo
Depart Sao Paulo
Arrive Manaus
Meet and greet before being transferred the 15 minutes to your hotel.
Rest of day free to relax.
Overnight accommodation: Caesar Business Manaus (Twin Rooms) B/B
DAY 3: (Saturday) Fishing Day.
In the morning you will be picked up and transferred to your fly out lodge.
On arrival and time allowing, fish for a few hours in the late afternoon.
Overnight accommodation: Luxury Floating Lodge (Twin Rooms) F/B
DAYS 4 & 5: (Sunday & Monday) Fishing Days.
Each day breakfast is served at 7:00 AM and your guide will be ready to leave by 7:30 AM.
As you will be as close as 5-15 minutes away to the fishing, we suggest you return to camp for lunch and a "siesta" before returning back to the water late in the afternoon until dusk.
Overnight accommodation: Luxury Floating Lodge (Twin Rooms) F/B
DAYS 6 & 7: (Tuesday & Wednesday) Fishing Days.
When out fishing, remember, that Peacock Bass usually roam about in small schools searching for baitfish, often bursting into a feeding frenzy.
When this situation is encountered, get your fly or lure in front of the feeding fish as soon as possible.
The sooner you cast to them after they've been spotted, the better your chance of a hookup.
Overnight accommodation: Luxury Floating Lodge (Twin Rooms) F/B
DAYS 8 & 9: (Thursday & Friday) Fishing Days.
A fishing tip: Peacock Bass are greedy and highly competitive schooling fish.
Always cast a lure or fly right next to any hooked fish.
Another Peacock Bass will almost always be close by as they will be attracted by the commotion.
Overnight accommodation: Luxury Floating Lodge (Twin Rooms) F/B
DAY 10: (Saturday) Fishing Day.
If time allows and you still have the energy, grab a few fishing hours in the morning, before departing back to Manaus.
Depart Manaus
Arrive Sao Paulo
Depart Sao Paulo
DAY 11: (Sunday)
Arrive UK
Dates & Prices
Remember that Sportquest Holidays' services are completely FREE! When you book a trip with Sportquest Holidays, you never pay more than when you book directly with the lodge and flights independently. Plus what's more if you book with Sportquest Holidays your holiday is protect by our ATOL and the Travel Package Regulations Act. To see more details CLICK HERE.
Dates & prices are best viewed in landscape.
You can scroll the table left and right to view prices and availability.
Start Date
End Date
Days
Nights
Fishing
Angler
Non-Angler
Availability
01/08/2019
31/08/2019
11
10
6.5

£

6,764
On Request

Book Now

01/09/2019
30/09/2019
11
10
6.5

£

6,764
On Request

Book Now

01/10/2019
31/10/2019
11
10
6.5

£

6,764
On Request

Book Now

01/11/2019
30/11/2019
11
10
6.5

£

6,764
On Request

Book Now

01/12/2019
31/12/2019
11
10
6.5

£

6,764
On Request

Book Now

01/01/2020
31/01/2020
11
10
6.5

£

7,104
On Request

Book Now

01/02/2020
29/02/2020
11
10
6.5

£

7,104
On Request

Book Now

01/08/2020
31/08/2020
11
10
6.5

£

7,104
On Request

Book Now

01/09/2020
30/09/2020
11
10
6.5

£

7,104
On Request

Book Now

01/10/2020
31/10/2020
11
10
6.5

£

7,104
On Request

Book Now

01/11/2020
30/11/2020
11
10
6.5

£

7,104
On Request

Book Now

01/12/2020
31/12/2020
11
10
6.5

£

7,104
On Request

Book Now
Price Match Promise
We are so confident that our packaged prices are the best available and offer great value for money.
If, however, you find an identical holiday available with any other fully bonded Tour Operator at a lower price, we will match that price.
Price Notes
Prices are based on two adults sharing transfers, fishing and accommodation (unless otherwise stated) and are correct at the time of going to press. Subject to time of year or date and currency fluctuations, these prices may fluctuate slightly due to flight price increases or fuel surcharge.
ATOL
Holidays or flights booked with Sportquest Holidays Limited are protected by the Civil Aviation Authority by our ATOL bond (Number 6371). ATOL protects you from losing your money or being stranded abroad. It does this by carrying out financial checks on the firms it licenses and requiring a guarantee, called a bond.
Price Supplements
N/A
Still need some inspiration
Why not enjoy browsing our destinations in the comfort of your own home.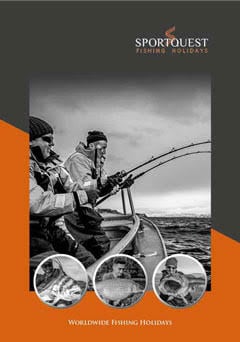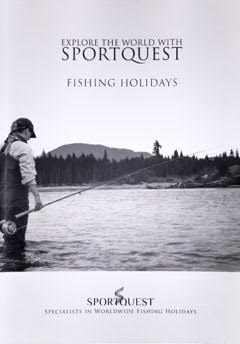 Request a free brochure
What's Included & Excluded
Included
All international flights
All internal flights
Airport Transfers
All accommodation as per itinerary
6.5 days fishing
All meals at Lodge
Soft drinks
Alcohol
Laundry
Spin tackle
Excluded
Personal holiday insurance
Fly fishing tackle
Tips for guides and all camp staff
Food and beverages in Manaus
Options
Flight upgrades
Additional nights Sao Paulo
Additional nights in Manaus staying at Caesar Business Manaus Hotel
Tour Notes
Visa
No visa for UK citizens required.
Medical Requirements
Hepatitis A, Typhoid Hepatitis B and Tetanus-diphtheria
Please Note
All details of visa and medical requirements are correct at time of press however please check these requirements for changes.
Departure tax
There is no departure tax from Brazil
Flight Route & Flight Time
UK – Sao Paulo (12hrs), Sao Paulo – Manaus (4hrs)
Baggage Allowance
Your actual allowance is based on both which airline you are flying with and also what class of seat you are travelling in. Normally in economy it is 1 checked bag, Premium Economy / Business 2 checked bags, First 3 checked bags. In addition to your checked bags you are also allowed 1 cabin bag and either 1-laptop bag or ladies handbag. The actual size and weight limit for bags is dependent on the airline. We therefore recommend that once your flights are booked you check on the airlines website for the up to date allowances.
There is a strictly-enforced 45-pound weight restriction for the 8 passenger Turbo-prop Caravan float-plane flights divided as follows:
One 12 lbs. piece as "Carry-on"
One 33 lbs. piece as "Check-in" packed in soft duffle bags with no rigid bottom (except for cases)
(If only one soft duffle bag is used, it must enter a doorway not bigger than: length: 23in; Width: 22in; Height: 11in.)
Transfer Time
Manaus – Hotel Tropical 15 mins
Manaus – Remote fly out lodges, by sea plane and boat, takes around 2 or 3 hours depending on the time of year as the fly out lodges are always moving.
Tour Reviews
Sportquest Holidays is proud to be different, and one way we stand out from the crowd is our tried and trusted information we provide our customers. This information is not just provided on our own personal experiences but also REAL CUSTOMER reviews.
We are the only fishing & shooting tour operator to operate our own review system whereby customers can review both the packaged holiday and also how we performed on each destination.
How This Destination Performed
How We Performed On This Destination
How Our Customer Feedback Works
See how our customer feedback works and our latest customer reveiws.
Read More
Write a Review
Have you ever visited this destination? Why not write a review and let everyone know how you rated their services?
Write a Review
James says:
Overall Rating:
Overall, a great trip. I think our guide (the senior one)made a huge difference.
We caught an average of 140 fish between us per dyad always a couple over ten pounds. we took our own tackle and I would stress this more in your information.We flew to Sao Paulo; Manuas but you can also go via Miami.
Add six inch Stick Baits to the recommendations as these caught the most fish. I especially liked the texts before departure and arrival time
Peter (Sportquest Holidays) says:

James

Thanks for such a great customer review and for taking the time to talk to me on the telephone. it was a pleasure in dealing with both you and your son.

I am already looking forward in receive copies of all the pictures.

Again thanks for your custom and I look forward in dealing with you again soon.
Mike says:
Overall Rating:
The outing was just great.
I could send several pages on what we liked. Our entire group had a great time. The fish were really hitting the lures. Nothing compares to a strike/hit like a peacock bass. We caught and released over 400. I do not remember using jigs in the past I wish I had taken a few more. Amos picked us up and took us back. Timely courteous and very helpful.
Great crew at the camp. Alejandro and his team did a great job. They went the extra mile helping land the fish and salvaging our lures from roots and tree tops.
By the end of the trip we were sharing family pictures and activities the families are involved in. We also learned how to make bows arrows and how to use them. I think all of us gained weight the food was great.
Great camp crew.
Everyone hopes to do this again some day.
Peter (Sportquest Holidays) says:

Glad you all had such an amazing trip, thank you so much for the review.
Charlie says:
Overall Rating:
I just returned today from fishing in Brazil.
Not sure that I even have the words to explain the incredible experience that we had this week.
Everything was fantastic from the fishing to the food.
The outfit as a whole went above and beyond was more than I ever expected.
Adam did a fantastic job running the camp and made us all feel very comfortable.
I will definately be back soon.
Thanks for a great journey
Mel (Sportquest Holidays) says:

Thanks for the review and it would be great to have you all back oneway soon.
Alan says:
Overall Rating:
It was a pleasure to share the River Plate camp with a group of great guys. the stories were absolutely as tall as they could get, the camp itself was great, cabins extremely clean, the service was tops, food was probably the best I have seen at any camp.
Mel (Sportquest Holidays) says:

Thank you so much for your review and kind words, we will make sure they are passed on to all the staff.
Willard says:
Overall Rating:
My peacock bass trip to the Matupuri in November was fabulous. We were the group that caught 1953 Peacocks for the week. I had a 1 day total, fishing alone of 143. On the final day I managed a 20lb, 19lb., 16lb and (2) 15lb
fish. a total of 88 Peacocks for the day.
With fishing results like I had it is easy to rate the experience as Excellent. However special recognition is due Daniel our camp host. His attention to the details of making our trip a success was truly incredible. I feel he is a real asset to River Plate. What a true gentleman.
The fishing report tells the tale of my guide Tunino? He grew up on the river and knows where the big Peacocks live. Although he spoke no English and I spoke no Portugese neither of us were at a loss for words as we admired all the fish. He was one of the best guides I have ever had and would request him every time.
Thanks for making this a most memorable trip, I hope to do it again soon.
Peter (Sportquest Holidays) says:

What a great detailed feedback, thanks a million. Plus congratulations on such an amazing trip.
John says:
Overall Rating:
The best Permit fishing we have ever seen, with so many shots we just had to catch one or two.
Peter (Sportquest Holidays) says:

John, wow you boys did clean up, what a trip. Now I wish I had been on that one with you. That is going to take some beating... Jealous Peter
Keith says:
Overall Rating:
This week's fishing experience and success was incredible in many respects.
We landed an impressive number of Peacock Bass, some of which were mammoth proportions. In addition to the 'count', our group was also pleased with the variety of tactics we could employ throughout the week. From topwater to subsurface, and from sparse to jumbo flies, our fishing was successful with a variety of methods and flies.... ... The lower water levels created a much different fishing scenario than last year's trip. Last year, with the high water levels we focused our blind-casting toward the bank structure and submerged jungle tree line where the Peacocks would be patrolling for a meal. This year was a much different scene – the river level below the jungle tree line, exposed sand bars, shallow flats and lagoons (or 'lakes' as the guides like to call them), and narrow river braids and channels. We would fish a variety of areas in a section of river or lake – bank structure if water was deep enough, drop-offs at exposed points, sand flats, and, most surprisingly, dead-center in the middle of a lake or lagoon. All of these qualities added up to a fishing experience that was much more diverse, intimate, and visual. Most apparent was the ability to see the Peacock Bass in some areas. The low water conditions concentrated the fish on some shallow flats or sand bars. ... Seeing Peacock Bass cruising the shallows puts an angler in the 'hunt mentality'. It was awesome to see a number of fish in the shallows and get to choose which fish you wanted to pursue… of course, it just so happened that we always seemed to choose the biggest Peacock when we had the choice! ...
On this trip, our group was fortunate to post remarkable numbers of fish for the week – almost 1850 Peacock Bass were landed." ...
Mel (Sportquest Holidays) says:

Keith tank you for taking the time to provide such great feedback. Look forward in having you back again with us next year.

Regards Mel
John says:
Overall Rating:
We flew by floatplane from Manaus to just inside the mouth of the Xeriuni where it joins Rio Branco (roughly 1 degree south of the equator). The water was high but we found pretty good numbers of smaller fish and had some 100+ fish days which are always fun. Although I occasionally loose a few fish with this little lure I absolutely love to throw a Heddon baby torpedo in bull frog colours and work it like a crazed critter scrambling for its life. With a 6' med homemade rod and a stradic 1000 CI4 carbon fibre reel I landed 100's or peacock up to 14 pounds on that little rig and lost only one baby torpedo (30# powerpro).... of course I also threw a variety of riprollers and pavon props along with the standard yozuris and rapalas and my own hand tied jigs but the baby torpedo is simply a blast with the bigger fish (gigantic explosions)
As we moved upriver we found lower water and started finding some larger fish and still found good numbers as well. The Xeriuni is an absolutely gorgeous river with lots of beautiful sandbars and loads of lost lagoons. I just love hacking thru jungle covered creeks to find a huge lagoon that has not yet been fished.....you just know there are going to be some monsters in there..
We had 4 extra anglers with us in this camp for a total of 12. The staff did a great job of handling the extra workload and other than a few trolling motor issues I'd have to say that everything we really well. The food was perfect and tasty as always.
My fishing partner Jeff and I boated quite a few teeners on a wide variety of lures. I lost 2 nice fish on some of my own hand tied jigs so even though I was bummed to loose them I was pleased to know that the new jig colours that I tried were well accepted.
All in all I wish the trip could have lasted a week or 2 longer but there is always next season.
Paul (Sportquest Holidays) says:

John, wow thanks for the detailed feedback I will make sure this is shared with future customers i am sure they will all find it a great help.
Mike says:
Overall Rating:
All went very well - flights on time etc. We could imagine things going wrong - weather/river conditions etc, but that would hardly be your fault ! The fishing was amazing we had so many fish and ALL on the fly so we defiantly would love to go back.
Peter (Sportquest Holidays) says:

Mike thanks for your feedback and taking the time to talk to me on the phone, so so happy that you all enjoyed the trip and thanks for all the pictures those Peacock Bass are sure amazing. Regards Peter