I see myself as being pretty lucky, to be honest with you, working for Sportquest has enabled me to fish many different countries around the world. From the icy cold Arctic conditions of Norway, boat fishing for Skrei Cod, to the tropical deep blue seas of Mexico, big game fishing for big striped Marlin. There is however one style of fishing that I do, beach fishing, getting to fish in untouched waters on the Lofoten Islands from the shore really has to be my favourite place I have fished and here is why.
The start of something new
Being a shore angler at heart I relish the opportunity to fish new areas and catch some fish from somewhere I have never dangled a line before. We had started to research a new shore fishing destination in Norway on the Lofoten islands and once we had everything in place it was down to me and another guide called Ross to head out there and do the test fishing. Now the fact of just getting to go to Norway and fish is exciting enough, we knew however that this area was more or less untouched by the shore angler. Some of the marks we had found looked like they may have hardly ever been walked on let alone fished from as these marks were off rocks that are a fair walk from the main road.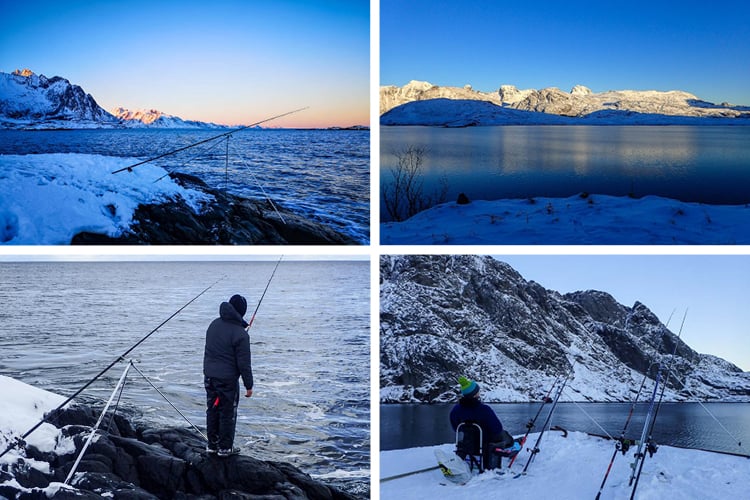 With marks like this, we can see why our customers always return!
Of course, we arrived and the excitement in my mind was of the scale, I love my shore fishing and the thought of some of the fish that may be present had the juices flowing. We knew that there was the chance of very big Cod and Halibut from this area and any of the marks we were fishing had the chance to produce a big fish. Every time I set up and cast out my drag was set and I would sit back and wait for that first click on the spool. That first movement as a fish that was large enough to take line picked up the bait and started to move off. The heart starts to race as it happens, in a split second everything slows down, jumping up I would grab lightly place my hand over the rod. Would the line start to scream off as a big fish feels the hook and makes a run for it, would the line fall slack as the fish runs towards me or would it all end in the blink of an eye as the fish drops the bait and moves off from the bait, never returning again.
Its not only the fishing that makes the Lofoten Islands special
Of course, there were many times that the rod whacked round and the bite was from a smaller fish but the thought that the next fish could be something special was what kept me going. This destination is set in stunning scenery as well, snow-covered mountains and beautiful wildlife make for the perfect shore fishing destination. Every day I was fishing here I would often just sit back and take it all in, be it the Sea Eagles flying close by, Reindeer walking nearby or the Gannets and puffins working just offshore. This destination had it all, for an angler like me it was perfect, relaxing for the mind, body and soul which after all is what angling is all about, isn't it?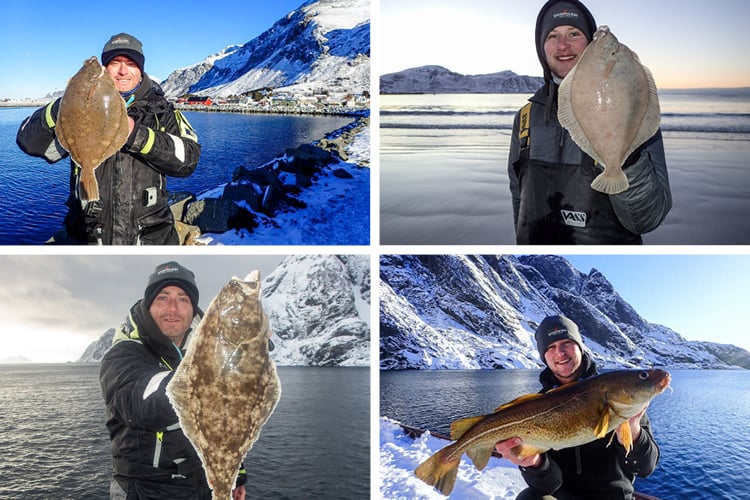 Just a brief look at what can be caught off Lofotens shores!
Whilst fishing on the Lofoten Islands I caught many fish, you never knew what was going to take the bait next, from the stunning Plaice with its red spots that make for perfect pictures in the snow, or snow Plaice as I like to call them, to the king of the Norwegian seas, the hard fighting Halibut. Now even a Halibut of just a few pounds will give a great scrap, I had 1 on my lighter gear which was great fun and this is a fish that you would be hard-pressed to catch anywhere in the UK. Just another great reason why I love the Lofoten Islands so much.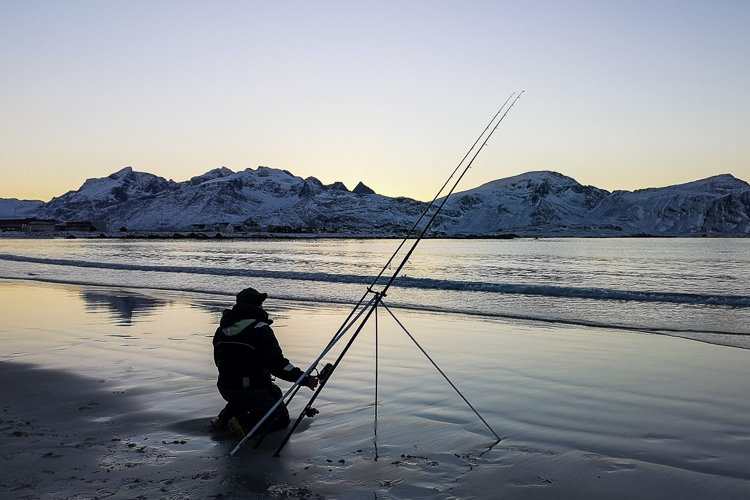 Setting up your rod waiting for it to double over!
So there you have it, my favourite place to fish on the entire planet is the Lofoten islands from the shore, hopefully one day I will get to return and fish these marks again. If not then at least I have memories, embedded deep in my mind that make me smile whenever I reminisce.
We currently have limited spaces available to join our hosted Lofoten Shore Trips in 2021 so if you fancy tackling these beats from the shore, be quick. Contact our office on 01603 407596 or reply in the comment section below. You can also make an enquiry here.
Tight lines,
Matt