Streamer flies are usually larger flies that are fished in an active manner to target larger predators. These types of flies are normally based on creatures such as small fish, Crayfish and other large invertebrates. When using streamers to target large Trout in still waters angler intervention is needed to put life into your fly. This is due to the diminished water movement that is found in still waters compared to rivers and streams.
Retrieving Streamers
There is no fixed law when retrieving streamers, it comes down to the angler's own imagination into what the fish want. However, when fish are caught the angler can often start to see similarities between the type of retrieve that the fish want on a given day.
Streamers can be used on any line type from floating to sinking depending on the water depth where the fish want to feed. Takes can often be savage as the Trout hit hard to kill their prey outright.
Tackle
Rods used for streamer fishing for still water Trout are normally in the #6 to #8 class range as that gives you the ability to cast larger flies in tricky wind conditions and tame big Trout when needed.
Reels need to be balanced to the weight of the rod and hold enough backing to deal with that fish of a lifetime scenario. Lines used to fish streamers should be aggressive front taper lines to punch these larger flies out into potentially windy conditions as the presentation is not as important as it is when trying to delicately land a dry fly.
Tapered fluorocarbon and mono leaders will give you the advantage of better presentation and if using hook tied flies a simple loop knot will allow for greater movement of the fly when working it, as well as when playing a hooked fish. The length of the leader should be determined by the clarity of the water if you are using a floating or sinking line and the type of fly you are using.
Method
It is probably worth considering that if fish are actively feeding on larger prey sources then, as long as you don't spook the fish, it will probably take. Because of this many anglers, myself included, like to work the fly through the water layers above the suspected feeding depths of the Trout. A benefit of working flies above fish is that it is far less likely to spook the fish as a fly stripped right past its face. However, sometimes the fish are not willing to come up to take a streamer so you will need to get the fly closer to the fish.
Another key thing to think about when trying not to spook fish still water Trout on streamers is wading. Do not wade unless you have to, the amount of anglers who rush down to the lake and wade straight in scaring any fish that was sitting tight is unbelievable.
One of the best bits of advice I can give you is to try to find some high ground when you arrive at the lake. Sit back and watch for 15/20 minutes and see what happens. Very often feeding Trout will give away their location as well as the prey type they are feeding on which will give you a massive head start before you have even made a cast.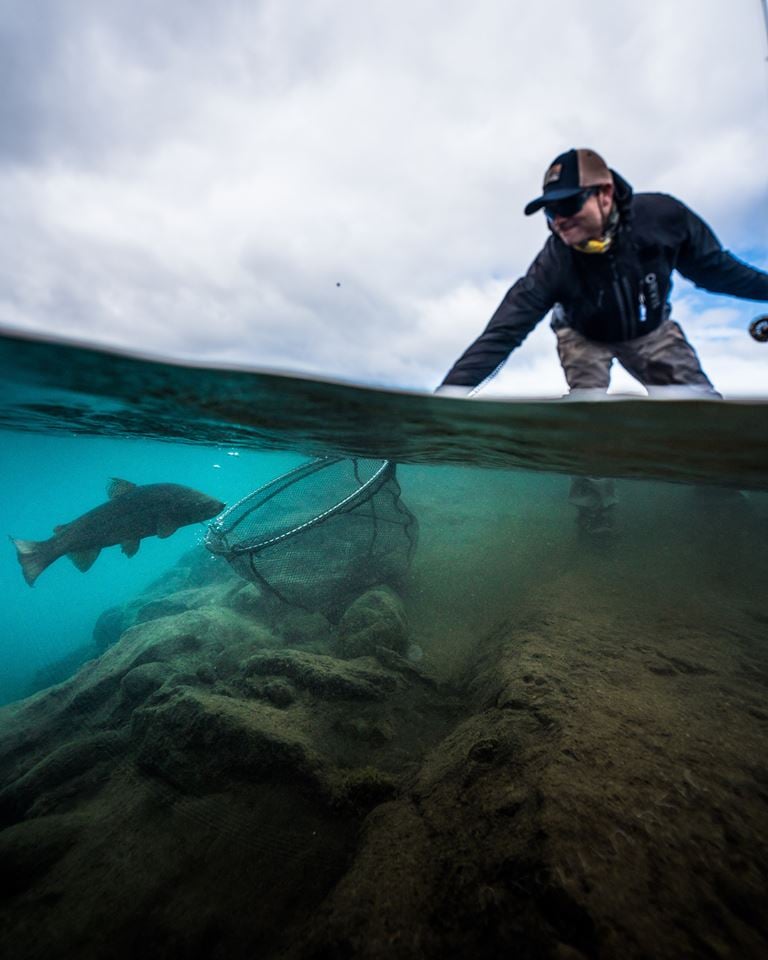 If you have any tips for streamer fishing for Trout in still waters, leave them in the comments below. Additionally, you can view all our top Trout fishing destinations on our website.
Tight Lines
Peter Collingsworth
CONTACT US
If you would like to discuss streamer fishing for Trout in further detail, you can contact our fly fishing team on 01603 407596 or by emailing info@sportquestholidays.com and our experienced team will be happy to help answer any queries you have.