Rio Marie is our Peacock Bass fishing destination located deep in the heart of the Amazon Jungle in Brazil. It offers travelling fly rods the chance to fish for some of the most significant numbers and sizes of Peacock Bass found anywhere in the world.
As well as offering standard trips to this remote location, in 2024, we're also running a dedicated Sportquest Holidays hosted trip hosted by our CEO Peter Collingsworth. So if you've been considering joining us, here are ten things you need to know about this exciting jungle location.
Ten Things You Need To Know About Rio Marie.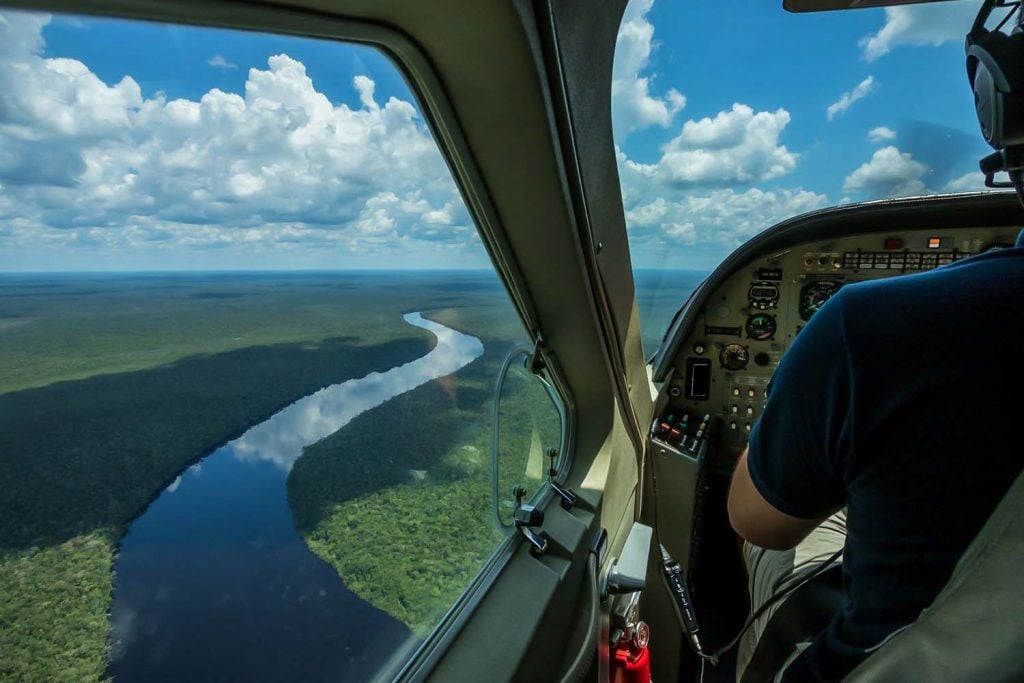 The largest Peacock Bass sanctuary in the Amazon…
Rio Marie is situated in the Rio Negro basin, the most significant drainage water globally, with around 710,000 square kilometres of land, making it one of Brazil's most preserved regions and offering a wealth of angling opportunities. It gives anglers a genuine chance to fish for some of the largest Peacock Bass and numbers of fish found anywhere in the world.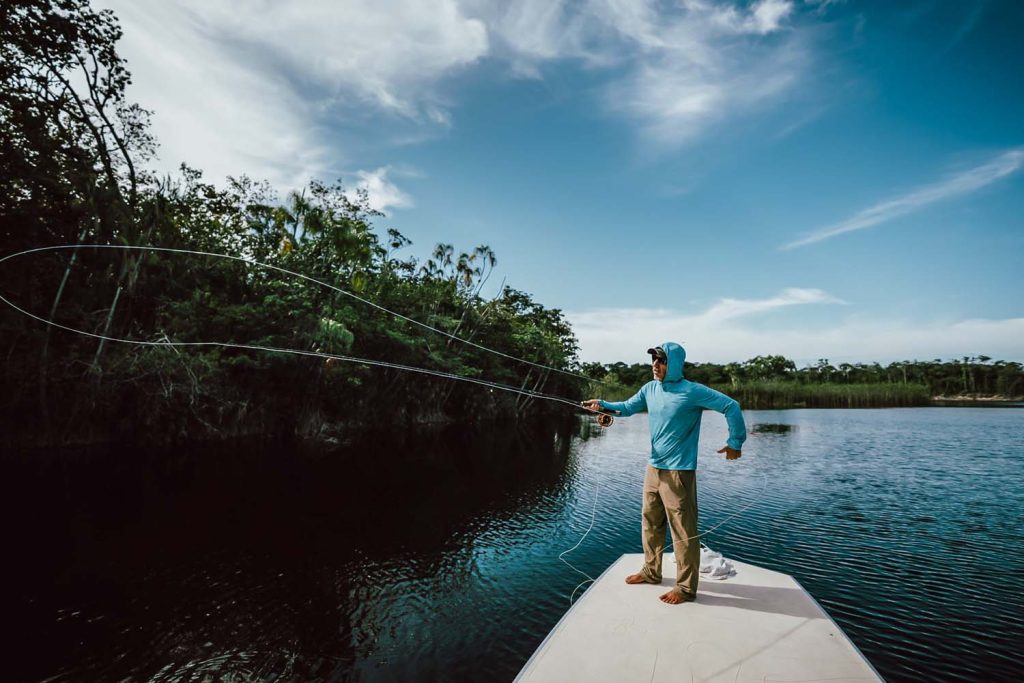 Over 800km of fishable water…
The Rio Negro basin comprises more than 180 known creeks, 60 lakes, and three significant tributaries; it provides a vast amount of pristine water and an incredible population of Peacock Bass, offering travelling rods the chance to hook and release larger-than-average specimens on the fly.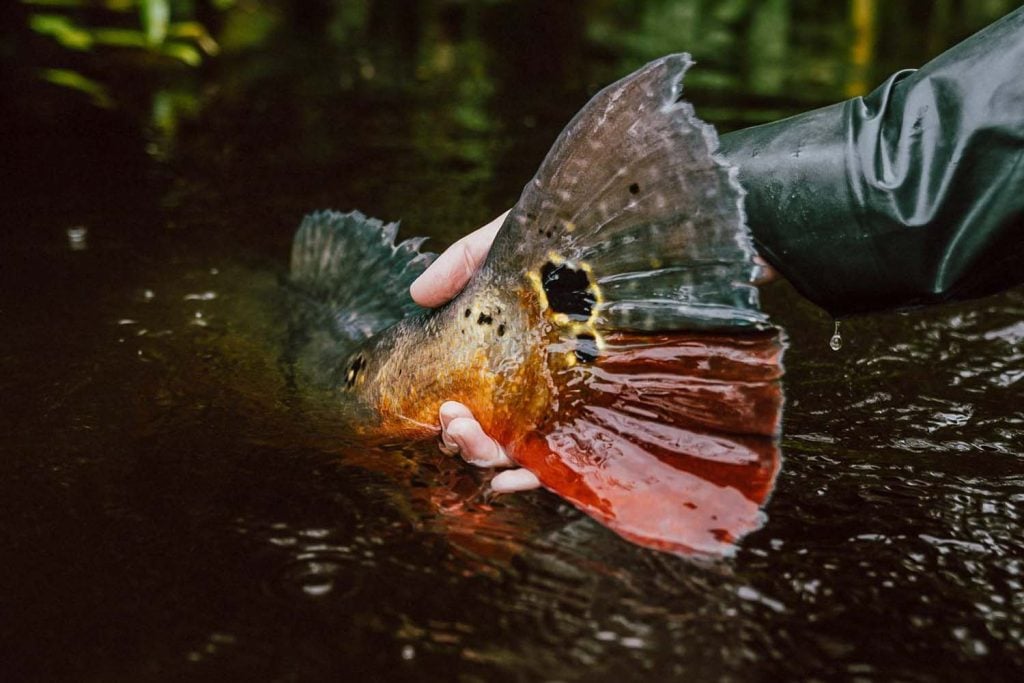 The season runs from late August to late January…
The fishing at Rio Marie runs from August to February, which coincides with the dry season for the upper Negro basin. During this time of year, the waters are typically at their lowest and most stable, which allows for the best fishing throughout the entire river system, including its numerous tributaries and lagoons. Of course, all fisheries found in the Negro Basin have variant conditions according to each year's hydrological cycles, but Rio Maries' headwater system, geographical location and immensity of its drainage mean it's much more stable than other regional destinations.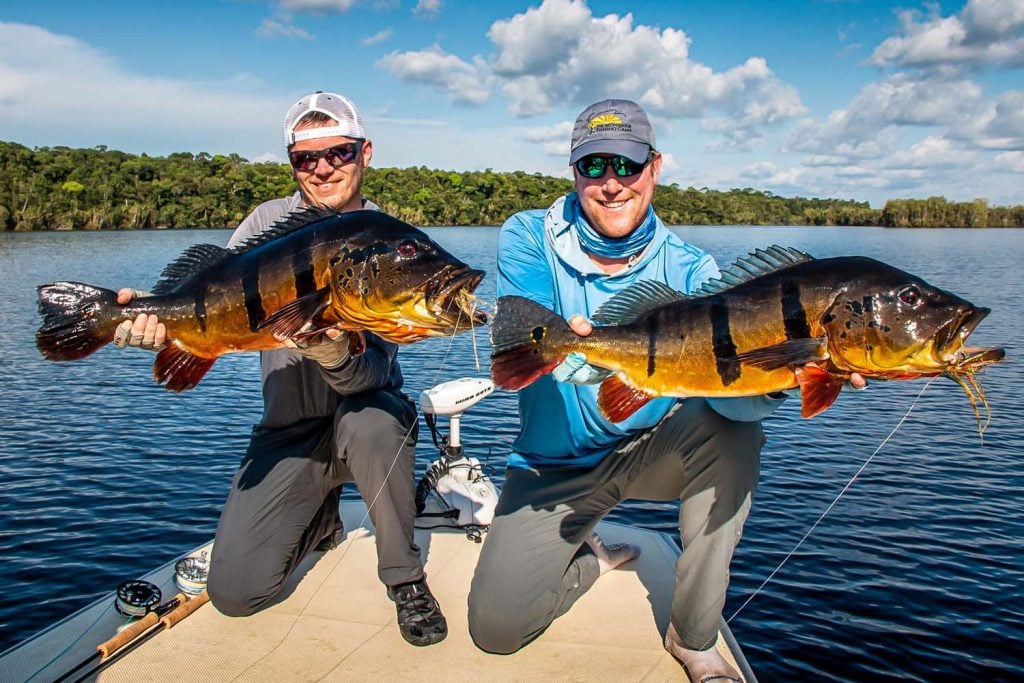 It holds more Bass than any other river in Amazon…
The fishing on the Rio Marie is some of the best found anywhere in Brazil, and this isn't a guess; it's a fact. Numerous studies have been conducted on this incredible waterway, and the results have shown it holds at least double the quantity of trophy-sized fish compared with any other destination in the Rio Negro basin. For travelling fly fishing anglers, this equates to a genuine opportunity to catch some of the largest Peacock Bass found anywhere in the Amazon Basin and the world. This fishing operation is undoubtedly one where anglers can pursue and conquer the dream of a world record on the fly.
Note: During the 2022 season at Rio Marie, Rodrigo Salles landed a giant 92-centimetre fish to tie the species' IGFA All-Tackle Length World Record.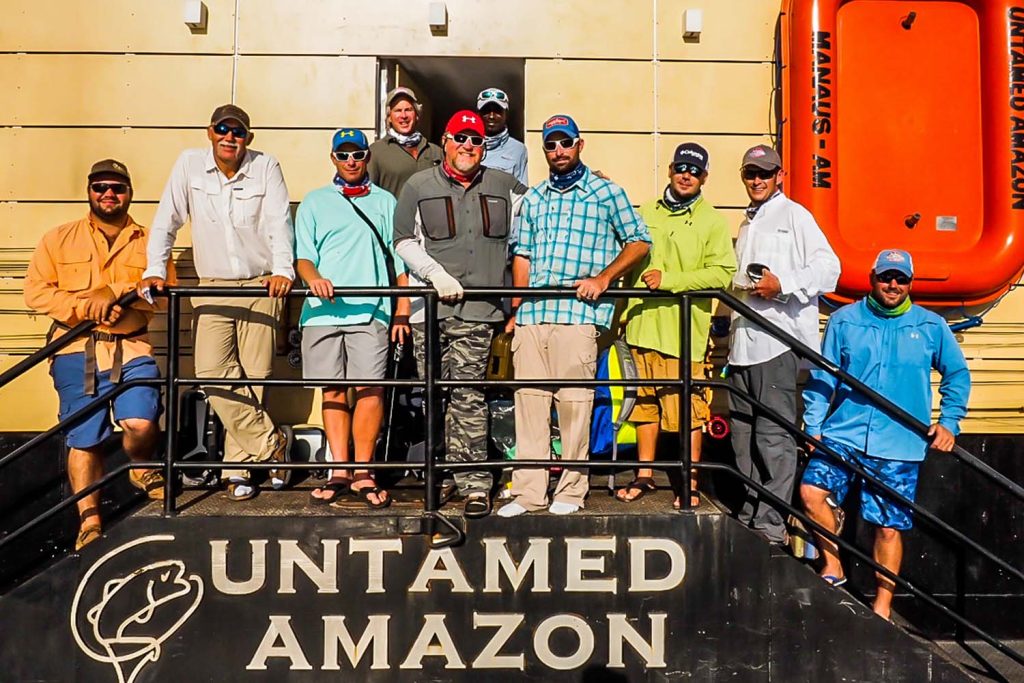 It's exclusive to only 12 anglers per week…
Rio Marie caters to just twelve rods per week, and with over 600kms of pristine and unspoiled water in which to wet a fly, the opportunities are endless. During our exclusive Sportquest hosted week in 2024, we have the whole liveaboard booked, meaning the week is for our customers only.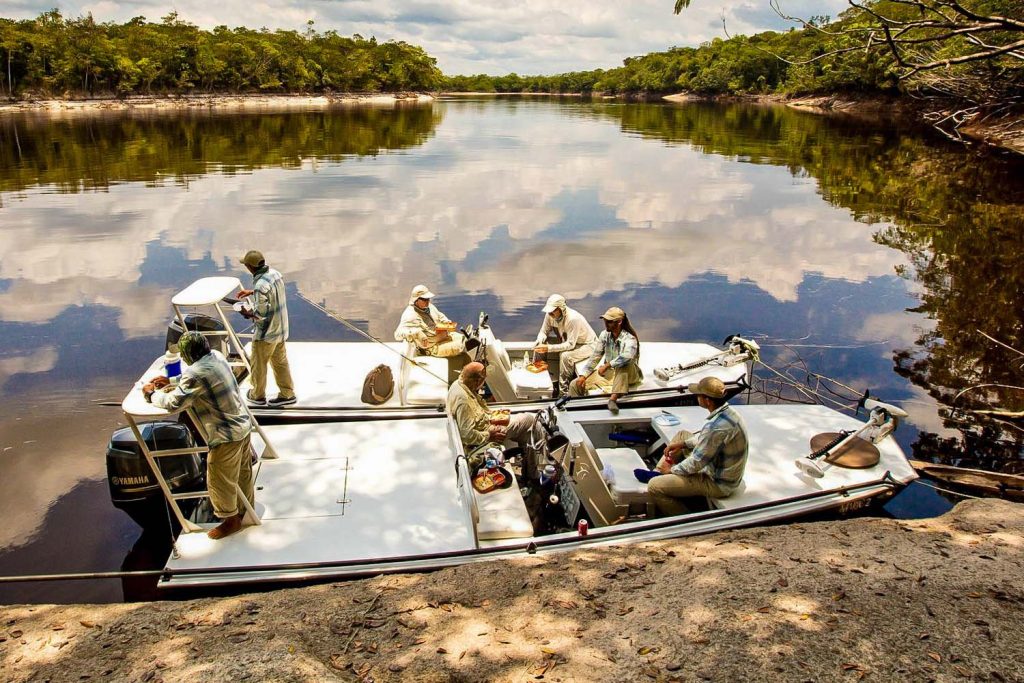 It features state-of-the-art skiffs and guides…
The fishing on the river is based on two anglers sharing one beat of the river, with one professional English-speaking fly fishing guide and a local Indian guide. All the fishing gets performed from specially designed, twenty-foot wide-bodied boats, which feature two casting platforms, a centre console, and 90hp 4-stroke motors and remote-controlled electric motors.
Note: The local Indian guides are also very knowledgeable about their area, and they know where the fish are. This guide couple is the key to a successful fishing week, and after guiding and fishing in the jungle for many years, they have complete knowledge of the people, flora, fauna, history and most of all, the fishing.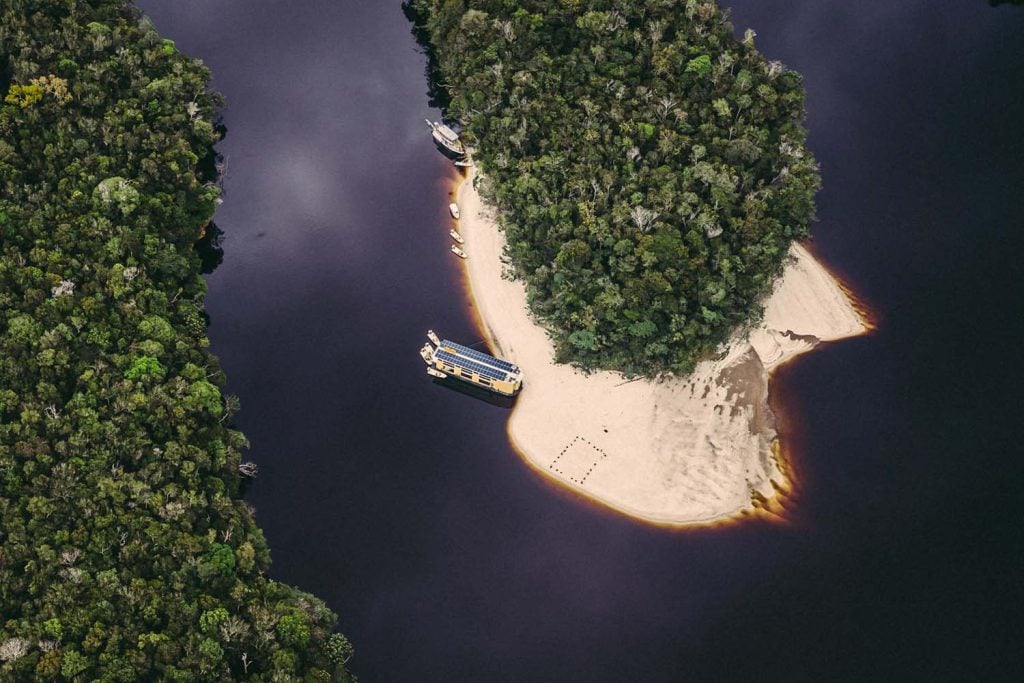 Fishing and navigating the whole of Rio Marié…
As the accommodation is a liveaboard, it can access the entire Rio Marie. A typical day usually starts around 5.30 am with coffee before breakfast is served around 7.00 am. Usually, anglers leave the Untamed Amazon liveaboard around 8.00 am and head to the fishing grounds. Anglers fish all morning until around midday when the fishing stops for a picnic-style lunch on the river. The afternoon fishing session continues until around 5.30 pm when the guide will motor you back to the liveaboard to get cleaned up, enjoy some cocktails and appetizers and before dinner, gets served around 8.30pm.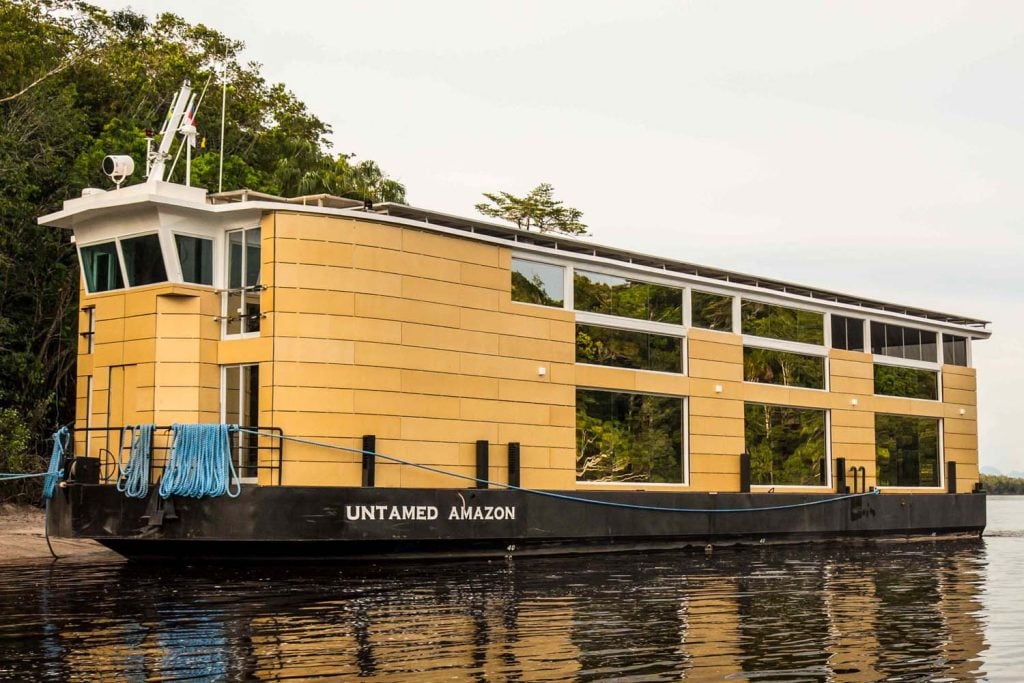 The Untamed Amazon liveaboard accommodation…
The Untamed Amazon is one of the finest liveaboard accommodations in the world. It features eight guest suites, each 18 square meters in size – 6 of which are double suites and two single suites. Six suites can accommodate two guests in super single beds and include a private bathroom, air conditioning and plenty of open space for clothes, equipment and storage. Two suites accommodate single guests, with private bathrooms, air-conditioning and plenty of open space for clothes, equipment and storage. The suites all feature outside-facing, ceiling-to-floor panoramic windows.
The upper level is for guests to relax, enjoy a beverage, and relive their fishing days. It features a spacious living and dining room and an open lounge where drinks and appetizers get served. There are also two big Jacuzzi tubs for up to 10 guests on this floor. This 3rd level is also home to the full commercial kitchen, where a trained chef and his team create sumptuous meals and serve as the command and navigation centre for the vessel.
Green shipping & solar energy…
The Untamed Amazon is the first vessel of its kind in the Amazon that uses solar power generation. The system has 96 state-of-the-art German solar panel generators and 3 tons of Hitachi Solar Batteries – the most advanced Japanese battery system for solar power generation. The Untamed Amazon is a project that brings a unique concept to boat design and has changed the game regarding a liveaboard fishing vessel. It offers a unique and remarkable experience. It features its own water filtration systems, and the vessel even has its own sewage treatment plant.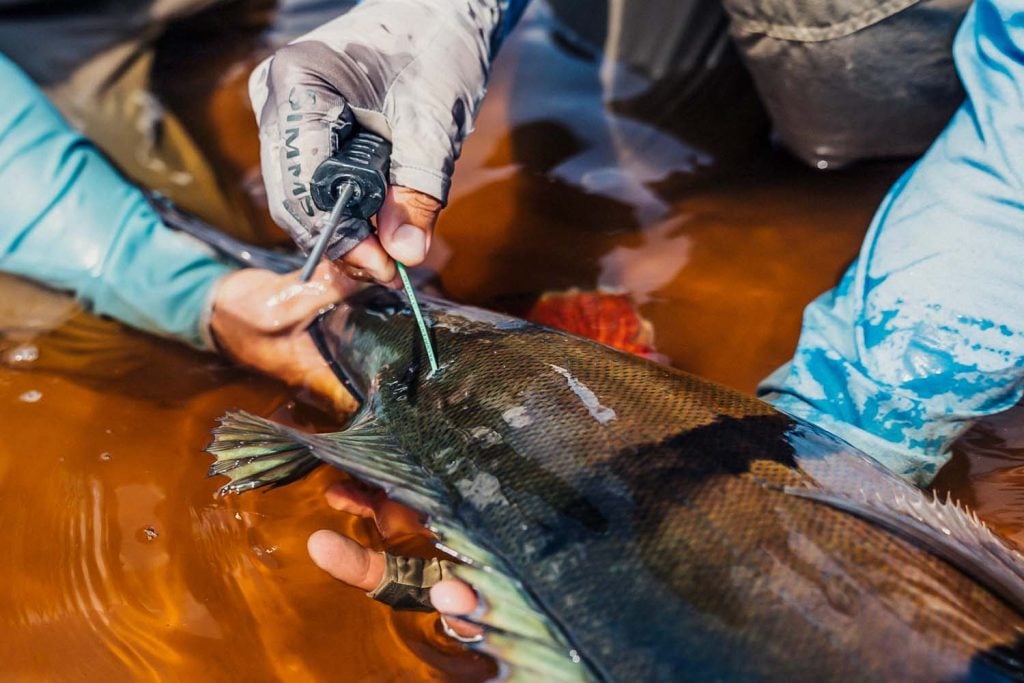 It promotes the natives, sustainability and culture…
The Rio Marie Lodge project was the first government-sanctioned operation in Brazil and developed as a joint venture between a private enterprise and an Indian Association. Fishing from the first green ship in the Amazon – the Untamed Amazon, specially designed for the Marie project, provides anglers with the chance to experience an unforgettable adventure through a fabled land and a rainforest home to more than half the world's species of plants and animals.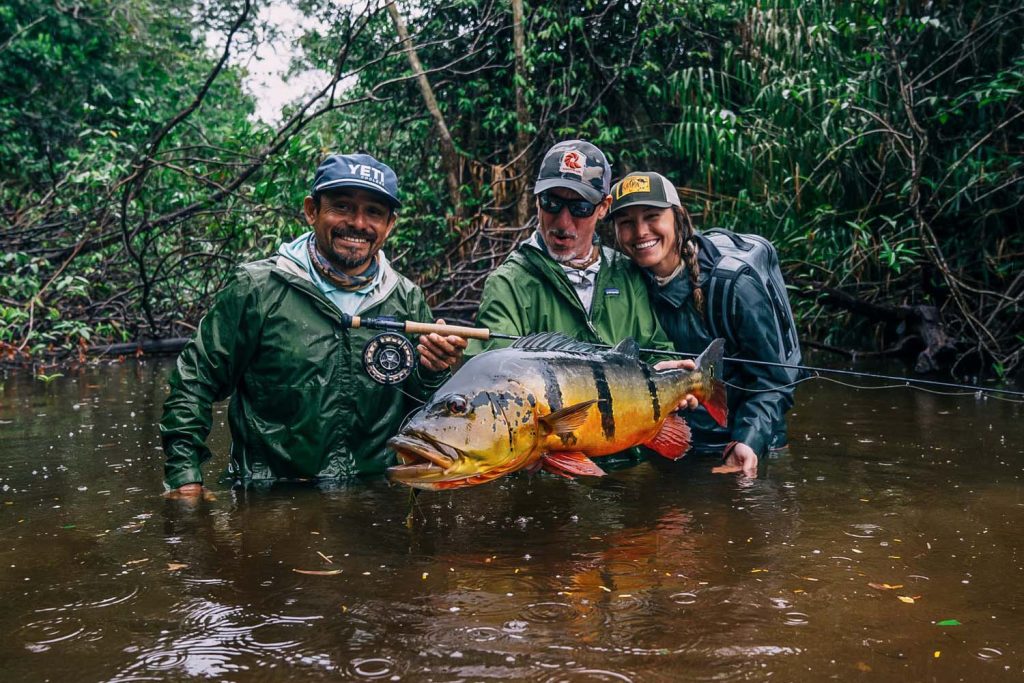 CONTACT US
If you'd like to join us on a trip to this incredible part of the world, we have standard trips and hosted solo traveller trips available. To view exactly what we offer, visit our dedicated Brazil country page here. Alternatively, contact our freshwater fly fishing expert Peter Collingsworth on 01603 407596 or via email at peter@sportquestholidays.com; he would be delighted to speak with you.